This week we are excited to announce that Tackle Guru have agreed with the Angling Trust sponsorship in-full for the England Under 15's National Angling Team to compete in this year's World Championship, taking place on Lake Vicario in Spain, August 2019!
Tackle Guru's Brand Manager, Adam Rooney, was proud to make the final decision, and said: "Our team are super keen to be working with the Angling Trust to help young angling, inspiring youngsters out there by giving them something to build up to and set them on positive tracks for their future in our sport. Finding funding for the very youngest Under 15's international team has always been hard, and we're keen to make it more professional.
"On top of covering full funding to send the team over there, we'll provide them with all terminal tackle they require for the World Championship, kit them out in full Guru clothing, supply the Team with Guru-Rive Team Seatboxes for each angler, and full Guru Fusion Luggage – the full outfit!"
"Our Guru Match Academy is a superb event for young match anglers that we're hugely proud of, doubling in size year-on-year so far. This ties-in well with sponsoring the team as we can bring-on, develop, and guide youngsters through the ranks. We're lucky to have England International, Matt Godfrey, and match ace Frankie Gianoncelli on board at our team, who control the Guru Angling Trust Talent Pathway. We've recently sponsored this program too, supporting youngsters with tackle they need to get them well on their way, with our team offering advice throughout.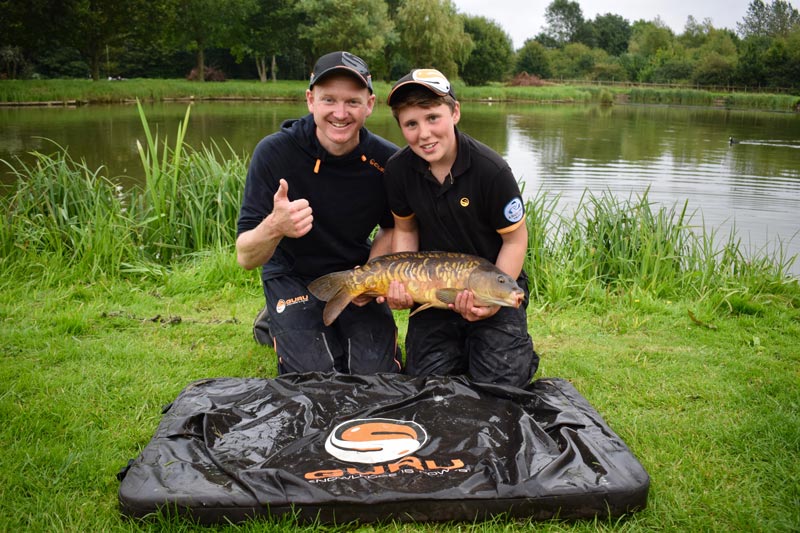 "With these two programs covered, sponsoring the Under 15s team will give all youngsters huge inspiration to get involved and stay engaged in the sport. As importantly, it will hopefully lead to more young anglers wanting to get into fishing, with the support we want to offer making it easier for them to do so. We're proud to be helping the youngest in our sport not just at world level, but through all our programs with this being the icing on the cake."
Tackle Guru's Matt Godfrey will be coaching the team for this year's World Championship, alongside Team Manager Joe Roberts, and the Tackle Guru media team will be doing regular updates of the practice week and match days, including Live coverage on the Tackle Guru Facebook page. The international team will be picked on the Talent Pathway Final taking place at Barston Lake on April 20th.
Joe Roberts was overwhelmed with the news and said: "It's always being a struggle with this youngest team, but it's an essential part of international fishing, and to have full support from Guru is amazing. Not only for the international team, but the willingness and enthusiasm from the company to help young angling through all their programs!"
Ben Thompson, Senior Competitions & Performance Manager said: "The Angling Trust is delighted to be working in partnership with Tackle Guru to support the development of young anglers - their significant investment in both the Talent Pathway and England U15's reflects our shared vision of ensuring our next generation of international anglers can flourish. Guru's commitment means we can continue to provide high quality coaching across the country and give our most promising youngsters the opportunity to compete at the highest level in FIPSed World Championships."
Clive Copeland, Head of Participation added: "The Talent Pathway has been hugely successful since it was introduced in 2012 with a number of anglers progressing through England's age categories. We thank Guru for their support and look forward to working with them to build on this success. We continue to work on developing sponsorship for our teams so they can continue to compete at the highest level. "