Canal anglers don't come much more experienced than Preston Innovations' Lee Newson and Graham West. The dynamic duo have put in thousands upon thousands of towpath hours over the years, and certainly know how to keep those fish coming.
We decided to put them on a popular stretch of the Grand Union Canal at Three Locks, near Leighton Buzzard, to see how two different approaches can yield some amazing results.
Lee's Squatt And Punch Attack
"I am all about catching large numbers of fish. It is what I have always done since serving my apprenticeship under mark Pollard on these very venues. Mark was always exceptional at catching big bags of small fish on this 137-mile waterway, and I can safely say I learnt from the best.
"For me, I believe that getting to grips with building weights of small fish will stand you in fantastic stead for any type of fishing. Cutting your teeth as a younger angler on canals such as this teaches you so much and it certainly proved to be a great learning ground for me.
"Catching between 150 and 300 fish is what I do best and I believe it to be the safest way to put together a good weight on this canal. This sounds like an awful lot of fish, but you won't see an angler who is appearing to rush here. Catching small fish quickly is about rhythm, not speed. Some of the best anglers at catching numbers of fish barely look like they are rushing, but they make sure they come back with a fish every time they ship back. Efficiency and smoothness are key.
"Simplicity is another big part of what I do. Everything is kept simple, from tackle to baits, but everything is done for a reason. My bait table for today consists of a pint of squatts, a handful of pinkies, a few big maggots, two pints of liquidised bread and half a bag of groundbait.
"I am going to just fish two swims today, breadpunch at five metres and a groundbait and squatt attack at about 10 metres just going up the far slope. These two areas will allow me to keep fish coming for the duration of this session.
"Starting on bread is a great way to have a strong first hour. Just one ball the size of an apple will draw plenty of fish to get your match going. It's important to make the most of this as bread fish are often a good stamp and 2 or 3lb can be caught in no time. This is where my no-nonsense approach to rigs scores – but more of that later."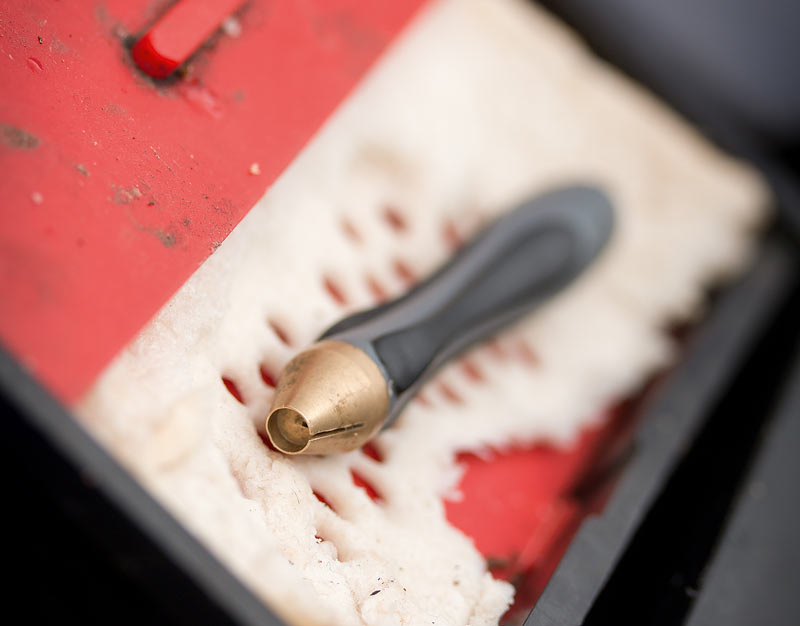 Breadpunch usually guarantees a few early bites.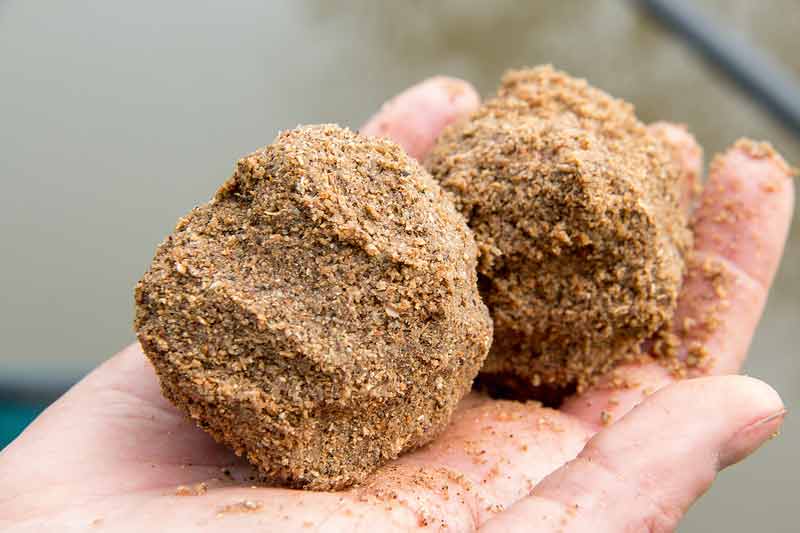 … and for his groundbait and squatts line.
Westy's Quality Fish Approach
"Like Lee, I have grown up fishing the Grand Union and there is no doubting that the small-fish approach is a consistent way to target this venue. But, this canal is stuffed with quality fish that can be caught from almost anywhere, and nowadays I like to hedge my bets a little and try and catch a few of them.
"Big perch, bream and smaller skimmers are all very realistic targets on most pegs here, especially if you target them in the right way. It's too easy to try fishing large hook baits and before you know it you are three hours in with hardly anything in the net.
"I much prefer to use baits and rigs that still allow me to catch smaller fish, but also give me the best chance of picking up those all-important bonus fish.
"Today I am going to fish three lines, the first of which is a groundbait and pinkie swim at 10 metres. This will be fed regularly with balls of groundbait with pinkies and the odd squatt. However, I won't loose feed all of the time, like Lee. I will feed every now and then with a full pouch of squatts to keep the fish on the bottom. Fishing baits like single pinkie, single maggot or double squatt on the hook isn't too selective, but just seems to single out those better fish from the shoal.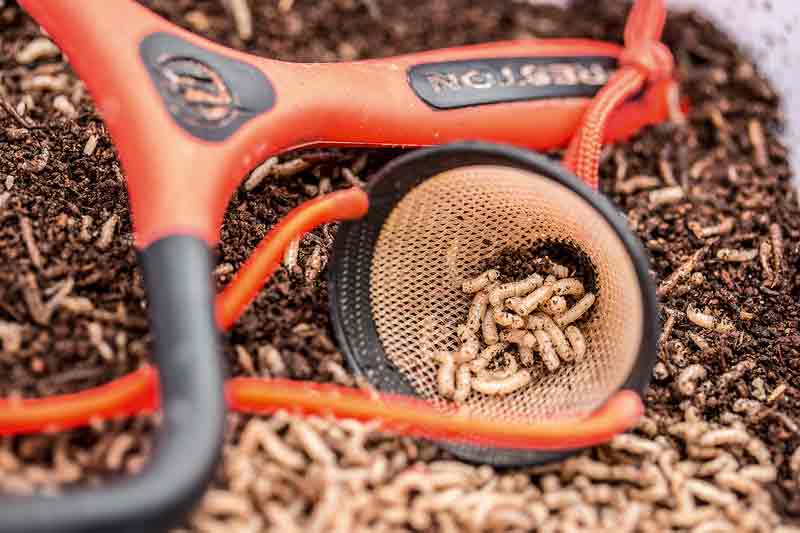 "The second swim is positioned down the inside shelf but is actually fished at 13 metres down the canal. I find this to be a great area to catch really big perch, so I feed it with chopped lobworms and a few casters and chopped maggots – a real perchy mix!
"The final swim is right across the canal, touching the boats on the far side. On some days this is the only place where you can catch, especially when the boat traffic is heavy. It is only two feet deep across to the boat but nevertheless it is often the best place to catch bream.
"This is going to be fed with small balls of groundbait laced with worms, along with some casters."
A Flying Start
Lee is the first out of the traps and as predicted his breadpunch approach has got him off to a great start. It is noticeable how quickly and effortlessly he is catching dumpy weight-building fish, fish that many anglers would have to play and net!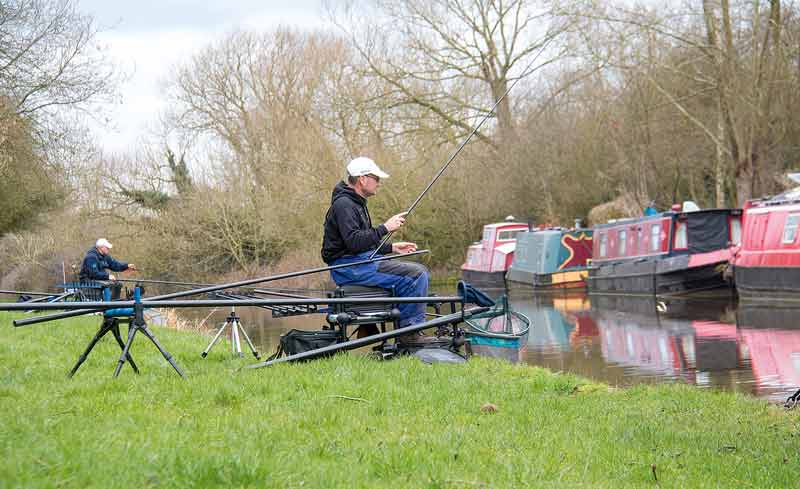 No messing, no faffing around.
"I really don't mess around on this canal. Over the years I have tried all manner of rigs and tackle, ranging from the absurdly light up to the heavy. Let me tell you that on this canal, if you are on fish then you really don't need any super-fine tackle or light faffy rigs.
"My rigs are simply a bulk and one dropper. They feature Preston Innovations F1 Maggot floats, which aren't exactly your standard roach float for the canal, but they are great; I dot them down into the surface film and find them easy to read. I also think shotting a float like this gives you superb presentation, as the floats sit perfectly in the skim that can affect lighter floats.
"The elastic is also beefed up. You won't find any soft set No2s here – I use a No5 through just one section of pole. I find this soft enough not to bump fish but it also gives me the clout to swing most of the fish I hook. This is all about making the most of the sometimes short catching window. If I can catch 3lb in the opening hour (very possible, too) then it sets me up perfectly for a good match."
In stark contrast, Westy has quite a slow start. He is picking up the odd small fish but nothing like what Lee is catching. "I would expect my swim to come on strong as the session goes on. Skimmers in particular are funny fish and can take a while to get their heads down. The same goes for big perch; they patrol these canals in numbers looking for a snack, so it can take time for them to arrive. This is where fishing a pinkie over the groundbait works as I keep catching a few small fish to keep me ticking over."
Westy Fights Back!
"Although it isn't a match today, there is always a competitive edge to sessions so to see Lee so far ahead is a little annoying! Fortunately my peg is starting to come good. The perch haven't turned up yet but luckily some good skimmers have started to feed and I soon add 10 to the net. A single red maggot is proving to be their downfall, presented on a heavy 4x14 rig slightly overdepth.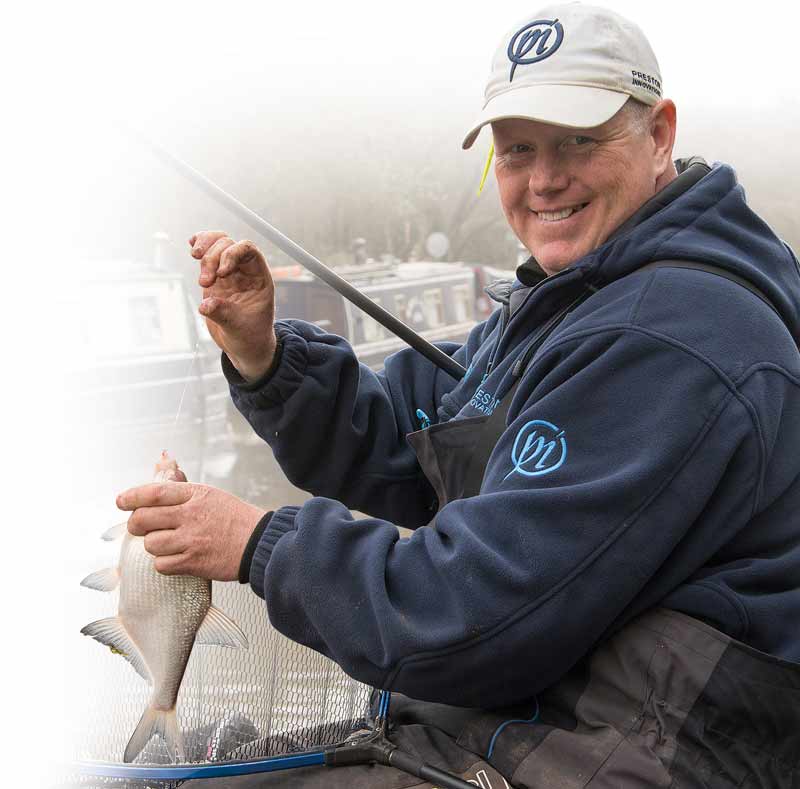 Fewer but finer.
"Interestingly the far-bank swim hasn't given up any fish yet and the lobworm swim has only thrown up a small wasp-like perch. The canal hasn't moved much today and the boat traffic is minimal, so maybe the fish are happy sitting down the middle of the canal in the deeper water."
Poetry In Motion
Lee switches to his groundbait and squatt swim, which has been loose fed for a good 90 minutes now, and it is absolutely solid with fish!
Specially made to fit in your hand.
"The bread really started to slow up despite a great spell on it, and my gut feeling is that the fish had backed off and were only too happy to feast on the loose-fed squatts.
"A switch to this line has got me flying again and I am also picking up the occasional skimmer too – lovely bonus fish. I only fed two balls of groundbait at the start on this line and try not to top the swim up again. Sometimes, though, a boat can be going a little too fast and really stir up that horrible silt. If that happens then I will feed another ball just to 'reset' the swim after such a dramatic disturbance.
"Loose feed is the key, though, and I try and keep a constant stream of squatts going through the swim to hold and attract fish. Again the simple positive rigs are all that's required. Just like Westy, I also like to try a bigger then normal hook bait and a pinkie or single white maggot are favourites of mine."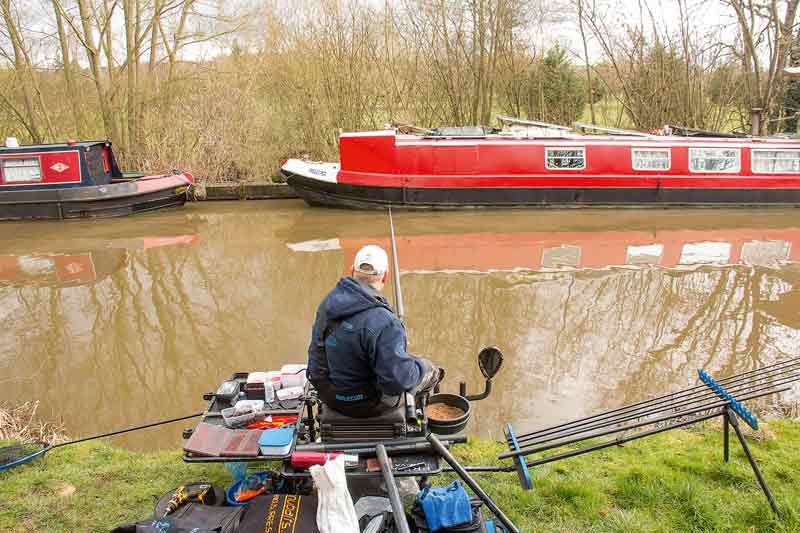 Against the boats is usually a reliable perch swim.
A Great Session
It has to be said that both anglers have absolutely bagged up today! Lee has caught 20lb of roach and skimmers on his simple two-pronged attack, while Westy hasn't been far behind and, as predicted, his peg became incredibly strong in the home stretch with lots of hand-sized skimmers. He even managed a late big perch (although it was taken on a pinkie and not his 'perch' swim).
It was no surprise to us to see why these two anglers are such feared competitors on the canal circuit.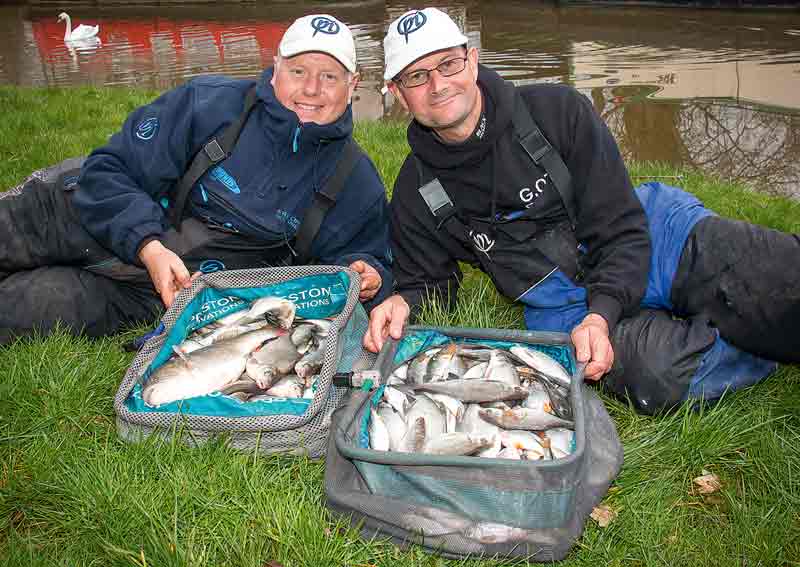 This is canal fishing at its absolute very best.
Like what you see?

Or buy a single issue