Lead fishing for me has been the most consistent way of catching on most of the venues I have fished over the years, purely because I am not looking to achieve perfect presentation. Essentially it is a bolt rig!
The setup is simple but the feeding is not. On some of the bigger match circuits, like the Southwest, there are large populations of carp and my theory is that unless you are chucking to an island, in really shallow water, little and often will not work. The purpose of this feature is to lift the lid on how this method works, but more importantly for some anglers, why it does not!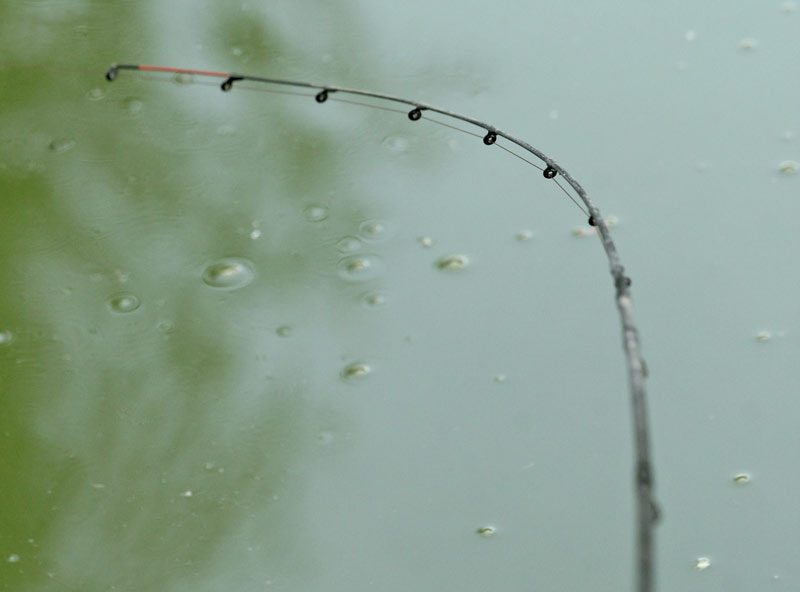 Setting the rod with a good bend in the tip improves the efficiency of your bolt rig.
On any venue across the country, carp and F1s will intercept falling bait and this is evident to most people who fish shallow, because fish can be caught in the top few inches of water. The reason they are feeding at that depth is down to feeding little and often.
My thinking behind this method, which, incidentally, has taken quite a few circuits apart over the years, is that fish move to the sound of bait hitting the surface. They then mop up what they find on the deck. Once they are in the area they look to grab the bait as it falls. It might be down to competition with other fish or that they don't like sucking debris off the bottom for too long. Who knows?
My approach is simple; feed as many pellets as you like, but do it in one go! For the record, I generally feed 6mm fishery pellets, and fish the same on the hook. Do not feed over the top of feeding fish because they will come off the bottom, which means that you will not be getting many 'wrap arounds' on the lead. I tend to feed three lines throughout a match, one at 10 metres, which I feed with the occasional pouchful of pellets, and two other lines ,where I just drop the lead over, feed once and leave it. Feeding one line consistently keeps the fish in the area and stops competitors poaching your fish, but you can throw a lead to either left or right of that area , feed it once and wait for the tip to go round. Once fish become accustomed to bait being introduced regularly they will come off the bottom, but to make this work you have to be disciplined in your feeding approach. Do not pick the catty up once you have chucked out. Some anglers will never make this method work for them simply because they cannot resist giving them a bit more feed.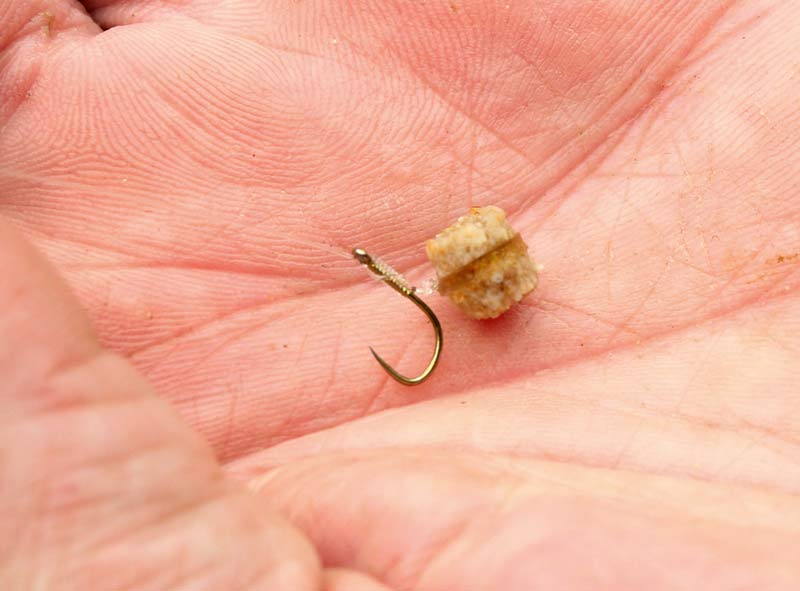 Giles uses 6mm pellets for feed and hook bait.
They are not hard to identify either as they usually state that "anyone can chuck a bomb" or "it's not proper fishing". To be consistently successful at this game isn't easy but this method levels the playing field and gives any angler the opportunity to win some money.
One final point about this lead/bomb fishing malarkey – you will not make it work if you set anything other than one bomb rod up, although many have tried! It's a disciplined approach and state of mind, but confidence is what you get after you have bagged up on it, doubt is what you get before.
Generally speaking, when it comes to feeding, about 30 pellets is about right, either in one go, or in two pouchfuls, but do it all together not 20 seconds apart. It takes fish, on average, 30 seconds to find the bait so liners are a good thing. Once the tip starts to indicate the presence of fish, just sit back and wait. Anything you do now will be detrimental.
My setup is dead simple, a size 14 PR 27 hook with a 6 to 8in hooklength. You do not need complicated rigs so any form of elasticated setup will not get you any more bites, only a few lost fish. I use 8lb Maxima main line, a free-running 1oz lead and snap-link swivel to which I clip the hooklengths.
This is the most effective bolt rig you can achieve, but you will need to put a decent bend in the rod. Fewer fish come off the hook this way, compared to the fixed leads that some anglers still use. The rod choice is simple, something very soft, ideally suited to silver fish approaches and no shorter than 10 feet in length. Short rods will lock up too quickly and cost you fish! The severity of the bites means you need to either set your clutch or buy a Baitrunner.
I start further out but invariably I fish two or three metres out in the last few hours as fish will start searching for food on this line. The beauty of this method is that once you chuck out, there's not much else to worry about. Shotting patterns and plummets are so overrated! The feeding pattern doesn't change – feed once and leave it alone.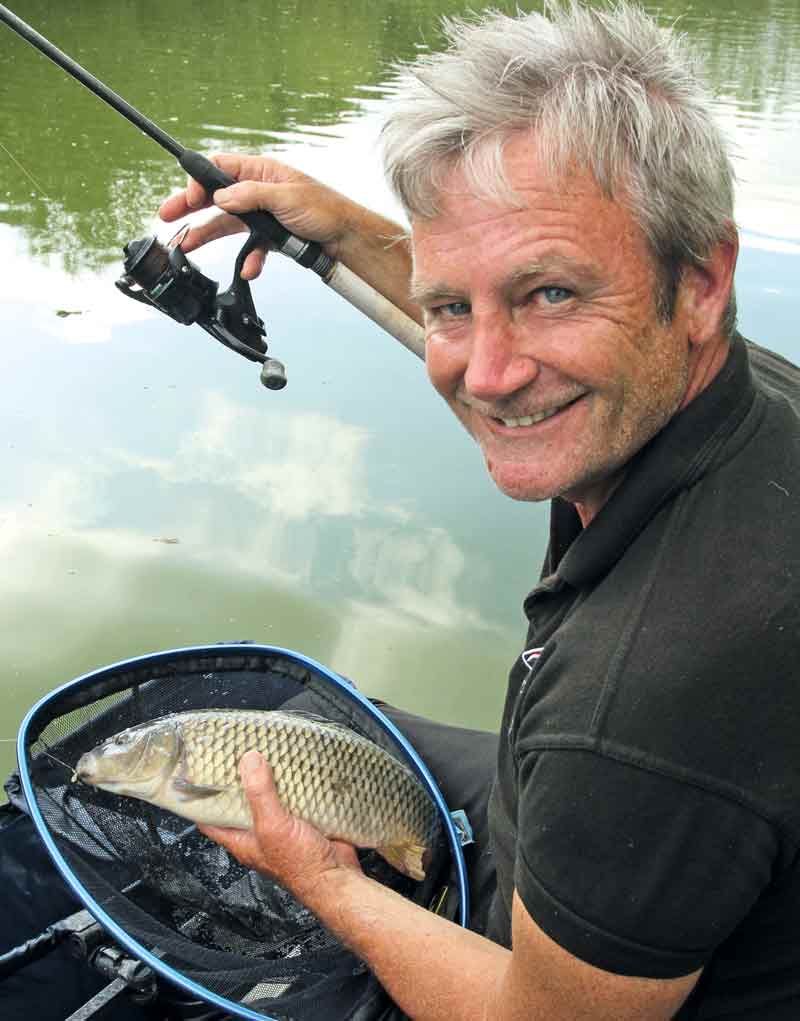 One rod, plenty of carp, many match wins.
My approach to fishing the lead is different, in relation to how quickly I land carp, but that is purely down to practice. I would rather land them in 20 to 30 seconds than play them for 10 minutes due to the stress and fatigue placed on the bigger fish. However, don't worry about playing styles; you've done the hard work so just land what you hook. Nobody has ever won a match by netting fish quicker than anyone else!
My approach is based on keeping the rod low, winding them to within netting range and then scooping them as they break the surface. Do not lift the fish to see if it will go in your landing net because it won't for a few minutes. Net them as they break the surface first time. It's easier to cast underarm for this method because I find it better to feather so as not to create too much disturbance, but to each their own. Do not use a line clip either as it serves no purpose
Remember that to make this work, you can only go to your peg with one rod. It is the hardest decision you ever take but probably the easiest match you will fish and possibly win. Feed it once and leave it or it will not work.
Corn and maggot all work the same as pellets but it's the feeding that people get wrong. My success on this method is 100 per cent down to feeding – don't talk yourself out of it!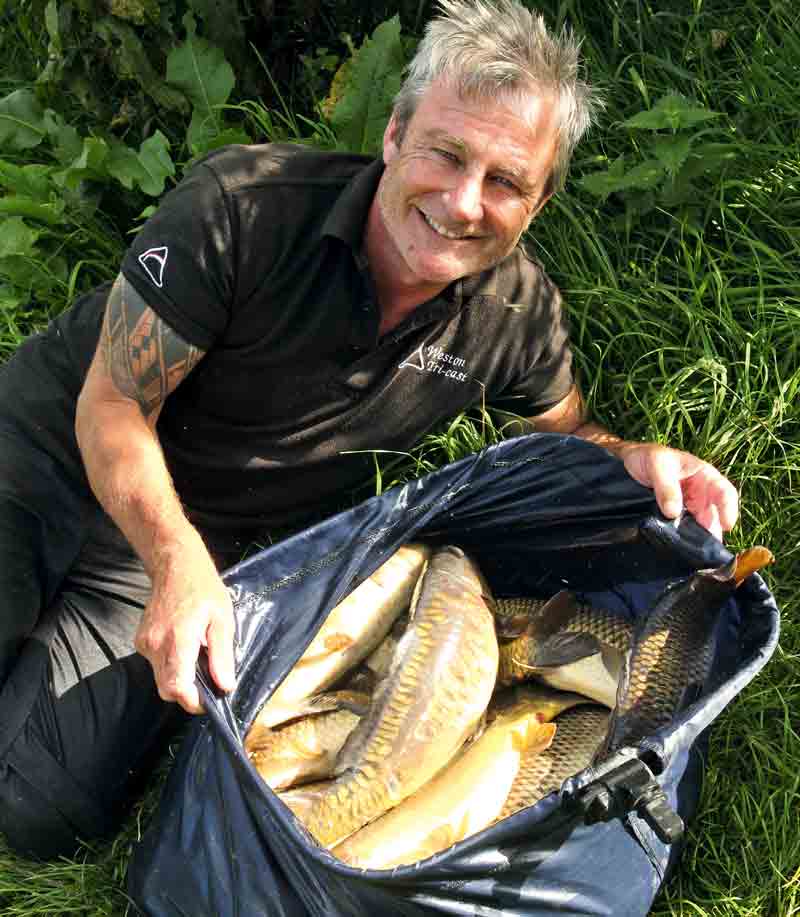 Have you got the bottle to try Giles' method?
Venue File
Tri-Cast Weston Pools
Location: Weston Pools, Oswestry, Shropshire SY10 9ER
Contact: 01691 671812
Website: www.weston-pools.co.uk
Like what you see?

Or buy a single issue