It stands to reason that the quicker you can catch, the more chance you have of putting a winning net of small fish on the scales – and the whip is the fastest fish-catching method out there.
For sure, the days when you have enough small fish in front of you to fish a whip over the course of a season are often numbered. But when you do get that golden ticket, you need to be confident that you have the knowledge, and tools in your armoury to make the most of it.
The whip can stand up on its own as a match-winning method, or on harder days a couple of hours on this line can give you the boost that you need to get you up the leaderboard or gain you valuable section points in team events.
In preparation for the third round of the Drennan Knockout Cup I have brought the Match Fishing cameras down to the fantastic River Thames at Culham, the venue for the upcoming round of the competition.
The River Thames is renowned for its large head of silver fish, including roach, dace and bleak, all of which are targets when using whip tactics. On the day of the match I expect that a weight of 15lb plus is likely to see anglers through to the semi-final. Depending on the stamp of fish on offer that could be 350 fish, possibly more!
Keep In Contact
Keeping in contact with the fish throughout the session is an important aspect of whip fishing; it is best used for speed when a great number of small fish are present and can be targeted quickly, and therefore any quiet spells can not only affect your overall catch but also knock you off your rhythm.
To ensure I am able to locate the fish in my peg I tend to set up a number of whips when fishing the method, to target different areas of the swim. This may be at different depths as the fish move about in the water column, or at different distances.
Throughout the session you will find that the fish you are targeting will often back off or sit at different depths in the water column, so keeping on the front foot is important to ensure you are fishing in the right place at the right time.
Due to the venue looking particularly coloured, something I had been informed was down to an algae bloom in the river, I expected that I would catch at short distance, making a whip approach to the day perfect.
At a distance of five metres I had a depth of eight feet. Here I set a deck rig up to start my attack, with the aim of hopefully picking up a few early fish from there before the fish started to feed in the upper layers later in the session.
To complement this line I also set a rig up on a shorter, 4.5m whip to target the upper layers. To begin I set the depth at three feet, a depth I feel is always a good starting point when bleak are about. By using a shorter whip with a shallow rig I am still able to fish over the same line despite there being much more line above the float. This keeps things very accurate and precise!
On days when the water is less coloured it is possible that I would struggle to catch in numbers at short distance and therefore starting further out and aiming to bring the fish closer as the session goes on would be a more advisable tactic.
Depending at what distance you are having to fish to keep in contact with the fish it may mean setting up a short-line rig on the pole to target much further out than would be possible to accurately fish with a whip.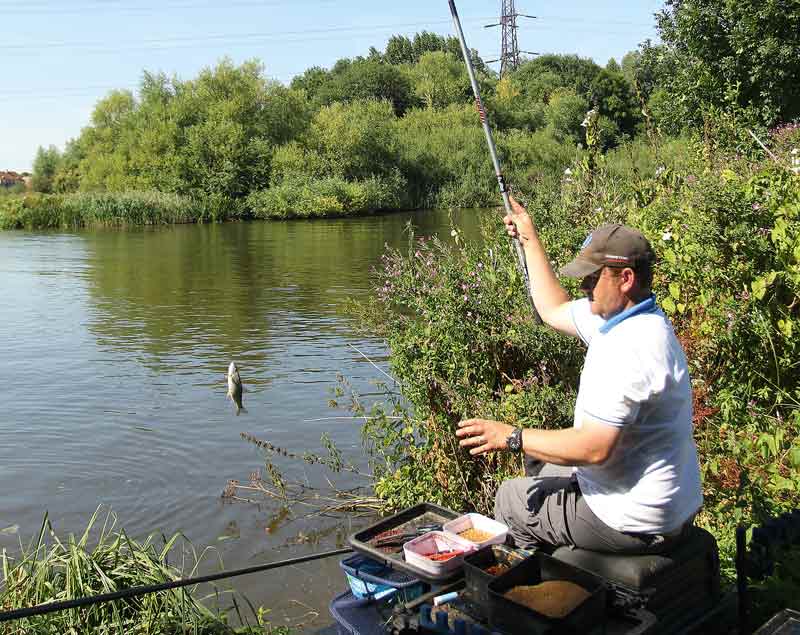 Spend time getting your rig the right length so that fish come straight to hand.
A Quick Change Of Plan
To start the session I balled in six big, soft balls of groundbait consisting of Sonubaits Supercrumb Lake and a helping of damp leam to give the mix some extra weight to help it settle in the swim.
Starting on my 5m Preston Innovations Absolute Whip with the rig set at dead depth I was surprised that despite putting down a carpet of groundbait, I almost instantly started to get indications as my rig dropped through the upper layers, and more often than not my float would hold up in the water as fish were intercepting my hook bait before it managed to reach the bottom and settle.
Unable to get my rig down to the bottom without attracting the attentions of surface-feeding bleak I was forced to reach for my 4.5m whip much earlier than I had originally anticipated. This is set up with a robust, wire-stemmed float set at three feet deep, a bulk of shot just above a 6in hooklength and a size 18 PR 322 hook tied to 0.09mm diameter Precision Power, on which I threaded a single maggot on to the hook and flicked my rig out.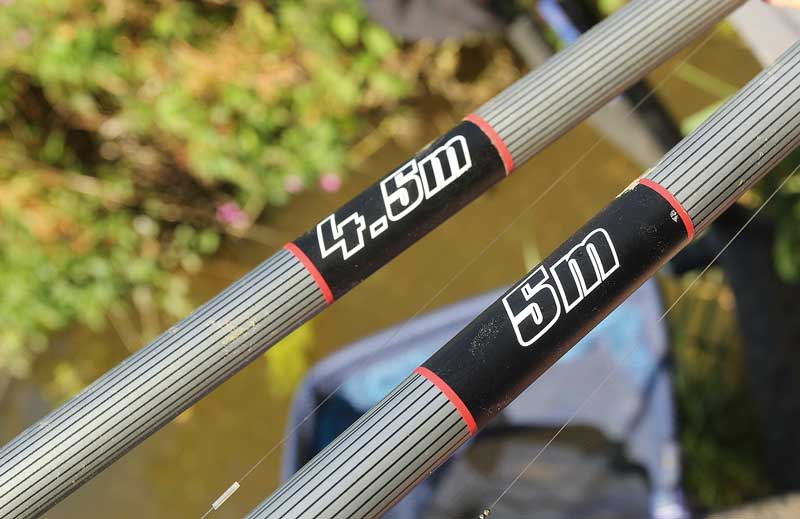 Switching to a whip just half a metre longer can keep you catching when bites die.
I was instantly greeted with bites on my shallow rig. Initially bleak were the main species on offer with a good run of them falling to my bronze maggot hook bait.
It didn't take long before a few dace and roach had moved into the swim and on average these were between 2 and 3oz apiece, making them well worth catching!
Get Into A Rhythm
Once there are plenty of fish in the swim it is very easy to start getting into a routine with your feeding, hooking and unhooking of fish. It doesn't take much practice to start getting it right either.
The idea, like a lot of shallow fishing across the sport, is to have your hook bait falling through the water column as naturally as possible among a quantity of loose feed, and in doing so giving the fish no indication that there is anything untoward with the bait attached to your hook.
Feed, flick your rig out, strike, unhook fish, feed, flick rig out and repeat. The process can be tiring on your arms and you are likely to feel the burn when you get home that afternoon, but the rewards far outweigh the effort.
If you are sat not doing anything the chances are you aren't doing it right or there are no fish in the area you are targeting, so a change of depth, change of feeding or change of distance can all help to locate some fish and get you back among them.
Once the fish are in my swim, maggots are my number-one bait to keep them occupied, fed by hand or catapult (depending on how far they need to be fed). Again this is trial and error with regards to how much you will need to feed to keep the fish where you want them, but it is always worth keeping in mind that the aim of the game is to have fish competing in your swim so that they are quick on to any feed that enters the swim… especially your hook bait!
Around 20 to 30 maggots per feed seemed to be keeping the fish feeding at a comfortable depth and in a nice tight ball that I was able to target easily by flicking my rig accurately in the same spot every time.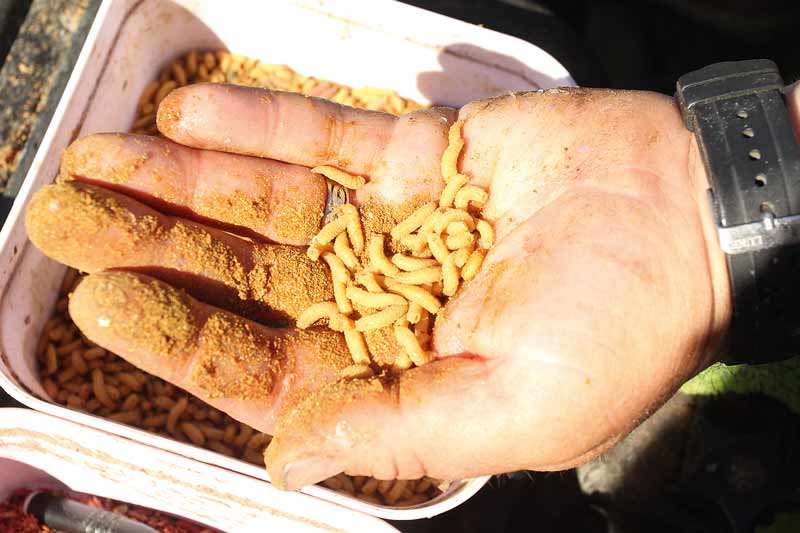 One-week-old maggots sink faster and are much tougher than fresh ones, meaning you can catch several fish on the same bait.
Non-Stop Action
A couple of hours into the session and things hadn't slowed down a bit; it was clear that after shallowing up to two feet I had found the depth that the fish wanted to feed in. Shallowing up even further to 12 inches saw bites slow slightly and a change back to two feet ensured I remained in contact with the fish.
Originally I thought that I may catch mainly bleak from this line, but as the day progressed more and more fish moved into the swim and seemed to be pushing the bleak out of the way to get to my bait first. Roach and dace were the main species but I also had a few small pommies, and even a couple of chunky perch got in on the action!
A key feature of my setup is that all of my whip rigs are set 18 inches shorter than the length of my whip. This allows me to swing the fish straight to hand rather than lifting the whip up – you'd be surprised how many lost fish this will help prevent!
To say I have had a nice day on the banks of the River Thames would be an understatement! Although I get more opportunity than most to come and fish this method I was unmistakably rusty, and if I came and fished the whip again soon I believe I would catch even more than I have today. My 350-plus fish have given me a total weight of upwards of 20lb… let's hope for a day like today come the main event!
Get a handful of small tricks right, and catching big weights of small fish on the whip is possible on your local river.
Like what you see?

Or buy a single issue