Can't believe the weekend is over already!
Had a busy week last week topped off with a trip to the Gloucester Canal to fish the Stroud Angling Club Friday evening match on Southfield Farm.
A beautiful evening of warm sunshine and my focus was to be the feeder, ahead of next week's Feeder Masters. Sadly, as it seems most of my fishing is in the cold and wet, I was left sporting some hefty wellies with my shorts… I need some lightweight trainers!
Anyway, with 17 of us fishing I wasn't too confident, but I pulled out Peg 15, which I wasn't too disappointed with.
I'd shared the journey with my dad, and as he was a good 20 pegs away my kit was launched from the van and I had to walk back and forth to the peg. Dad helped a fair bit but I wasn't getting the blame for him not being set up, so sent him on his way.
I set up two groundbait mixes, one for the feeder and one for the short-pole line, and after an hour, I'd had exactly nothing.
Actually, I'm lying.
I'd had the thread go on one leg of my Garbolino box, which had introduced me to (a thankfully dry) grassy bank faster than I'd hoped! I spent the next two hours sat on the floor – the red ants and mossies thought all their Christmasses had come at once!
Following a call to Dad to find out he was struggling too, I shallowed up on my pole line, loose fed some more pinkies and promptly caught a small skimmer. A couple more small fish in the net and then it died so I cast back out on the feeder.
Using my Cadence Wand I cast a small open-ended groundbait feeder and soon had a small roach, along with a couple of bites I'm embarrassed to admit I missed!
The canal couldn't make up its mind which way to tow and this, coupled with my new-found seat on the floor, meant I struggled to sit the feeder rod in a decent position.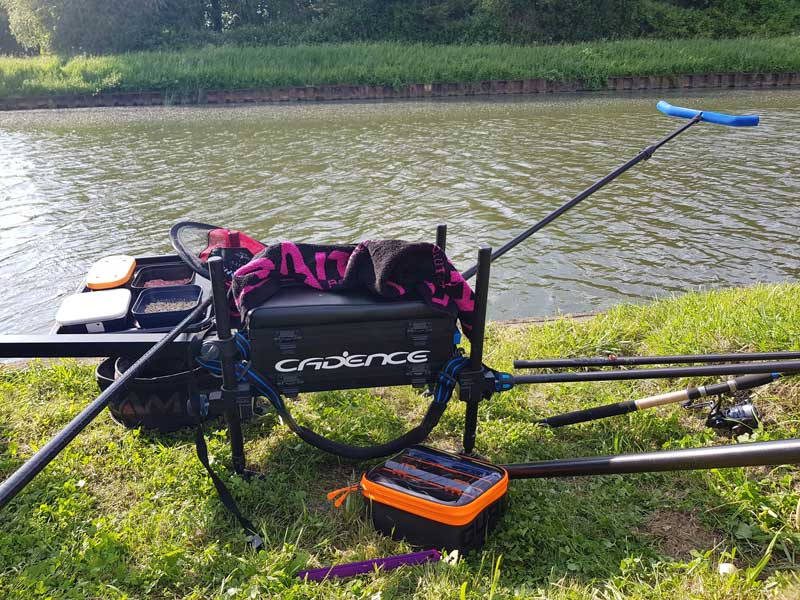 Thankfully, with 40 minutes to go and still only four small fish in the net, I had a knock on the feeder that I hit. It felt like a roach until it got to halfway when I assumed a pike had taken it. Standing up (carefully, so as not to go A over T and end up getting wet), I wound it in to see a small bream rolling to the surface and into my net just as my 0.10mm hooklength snapped!
Weighing in 3lb 9oz I took third overall, which I was pretty pleased with.
No idea where we are pegged for next weekend's match but hoping I don't end up sat on the grass again!