This year saw the Fish 'O' Mania final return to Hayfield Lakes, which left me with mixed feelings – on the one hand I was happy as it was closer to home so it would be easier to get down a few times for a practice, but on the other hand it has its challenges, including the big old fish that can go 20lb plus, meaning that no one is ever out of it.
I had a couple of practice sessions/matches and managed 18 carp for 107lb in one and 16 carp for 96lb in the other, catching a few fish and getting my confidence up. I also learnt a few things along the way that came into play in the final.
On the day I drew Peg 6, which was permanent Peg 71 and also an end peg, although I could only fish up to this side of the next platform. I was still happy-ish with the draw as it was an end, even though on the other end peg (61) there seemed to be a lot more fish about and a bit of a ripple.
I started shallow and managed a decent fish in the first half-hour for about 8/9lb, which was a good start… then nothing! I knew that Abbi Kendall on Peg 61 had four carp and a couple of the other girls also had a carp. I felt it was too early to try my margin but at 1.30pm I thought: "I'm not going anywhere and have nothing to lose," so I decided to feed my edge. To kick-start it I tipped in 6mm and 8mm pellets and a pinch of corn from a height to make some noise and left it for 15 minutes. After that time I repeated the process but this time I also fished it.
I started with an 8mm pellet on the hook and within a few minutes I'd had an indication and could see the odd swirl, so I knew the fish were responding.
I didn't have to wait much longer before the float buried and I was into my first carp down the edge, which was more than welcome! I repeated the process and alternated between 8mm pellet on the hook and double corn. I did foul hook a couple of carp that unfortunately came off, although I managed another three down the edge, one of which was around 12 to 13lb, which was caught in the last 30 minutes of the match.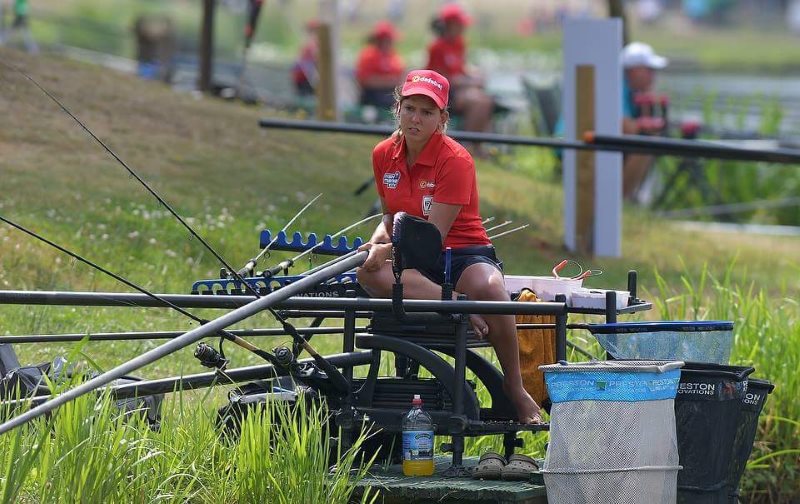 The rig I used down the edge was a Preston Innovations Margin Float from the Des Shipp Commercial range, with 0.19mm Power Micron main line to one of the new pre-tied KKM Mag Lock hooklengths, which was 0.17mm to a size 14 hook with a band. This was matched to 13 Hollo elastic.
After the whistle went I was unsure if I had won or not and knew it would be pretty close. Emma Pickering weighed in 17kg, and when the scales got to me I weighed my first two carp in ,which went 7kg 750g, so I had to have at least 10kg in my other net, which had three fish in it, including the big one I had caught last.
Sure enough the scales tipped round to 13kg, which meant that with a total weight of 21.210kg I had won the match and retained the Fish 'O' Mania title that I won last year.
I would like to take this opportunity to thank Preston and Sonubaits for their support, as well my friends and family for all the good luck and congratulations messages – they mean a lot.