All Go At Aston!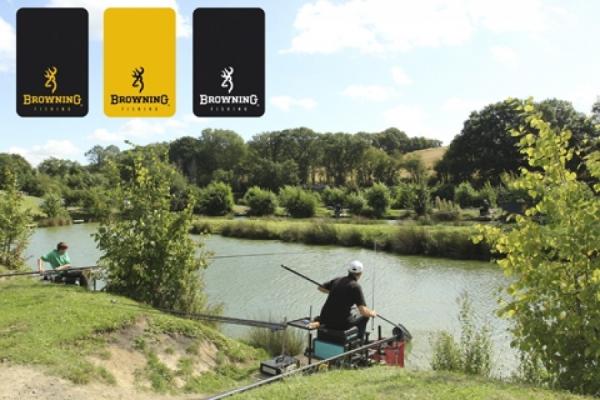 Browning Aston Park Fisheries Lead The Way…
The fishing has really taken off at Aston Park for the start of summer, with some exciting additions to the match and pleasure fishing format at the fishery.
Aston Park is without doubt one of the most popular pleasure fishing venues in the country, and Venue Owner, Alex Mitchell is keen to keep the punters happy:
"In conjunction with our venue sponsor, Browning, we have introduced a new Commercial King Monthly Day Ticket offer. You simply need to bring an old day ticket on a return visit, and we place this into a prize draw that takes place at the end of the month. The winner will be drawn out and win a brand new Browning Commercial King rod worth over £70! We like to keep the cost reasonable too and charge just £6 for a day ticket, with a concession ticket of £5."
The open match format at Aston has also seen some benefits from the fishery's close ties with Browning. Alex was very excited to tell Pole and Match Fishing magazines about this, and explained: "We were looking for a way to reward a good performance each week. This is not necessarily a match winning award, but something that we will change every month. For example, we may have a Silverfish Weight Of the Week, a Junior Of The Week, or a Biggest Fish Of The Week. This will come under the Champions Choice Performance Of The Week banner, and each week the winner will be awarded with a brand new smart Browning T-Shirt and Baseball Cap."
Last weekend, the match at Aston was won with 116lb of ide, and the winner, Mick Ward, walked away with the Link Peg money – taking home well over £200! The link peg is basically a rolling golden peg that takes place on all open matches at the venue that are over 10-pegs. There is no cap on this, so you can expect some mega-money to build up for anglers that are lucky enough to win this.
Aston Park has secured sponsorship from Browning for this years winter leagues already. The Silverlite Silverfish Winter League will see the winner of the final match receive a brand new Browning Silverlite pole package. For the last two years, this league has had brilliant attendances with over 40 anglers on every match, and some great fishing on offer! Bookings are already taking place.
What's On At Aston?
Tuesday over 50's match
Wednesday open
Thursday evening
Saturday open
Sunday open
Club booking welcome!
To book-on matches or for more information, contact the fishery on 07743845737.