Bag'ems Jamie Hughes Wins 50k Fishomania Final For The Third Time!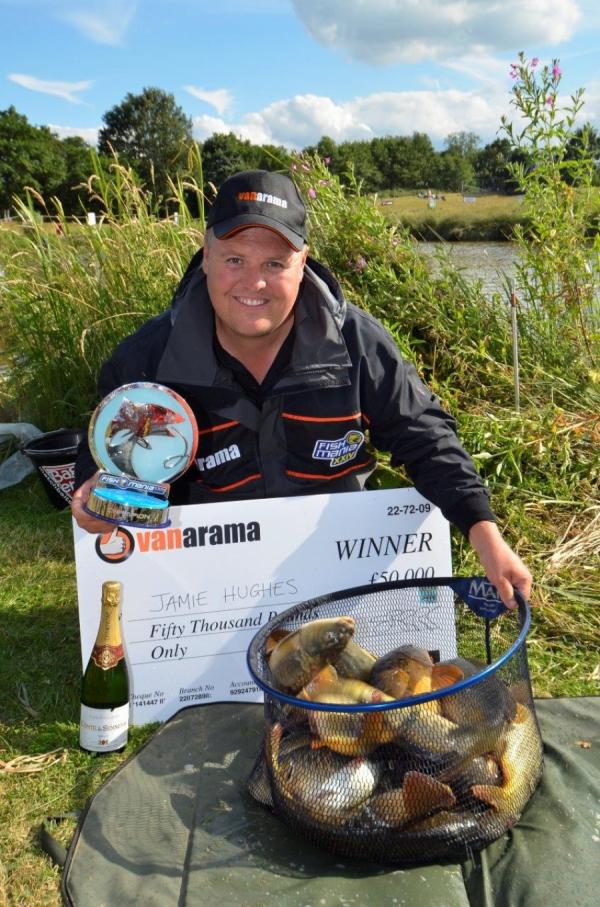 "Well... things have finally started to sink in after this Saturday's crazy events! sitting here, writing about winning a 3rd Fisho title is something I could never have imagined.
The draw for pegs on the previous night saw me pull out peg 7 which immediately gave me a massive chance, but the Arena lake can be very temperamental when under pressure and with 25 anglers pegged in a line so it proved. I felt that the match would be won somewhere from fisho pegs 5-15, as this area is where the fish are happiest to feed, so to find myself in this zone was a brilliant start.
I went into the match with a very loose plan of what I was going to do, silver fish had been feeding well in practice but some newly stocked carp could also be required to do well.
I began by trying to dob a few cruising carp that were in my peg to begin with, 2 fish after 15 mins was a great start and really settled me down, allowing me to focus properly on the fishing, after this the next hour was spent trying to catch anything on casters at 7m and 13m, it was slow to say the least and very clear that carp would be needed to put a winning weight together. I had fallen to around 6th place at this point and 2kg behind the leader. For the last 3 hours of the match, I focused all my attentions on catching carp. By feeding casters at 13m an occasional fish would show a bit of interest and by slapping a Bag'em 6mm pellet I could get an odd bite off fish cruising into the swim. I had a steady 2 hours doing this catching around 13 carp for 20kg, this put me ahead by around 6kg with an hour remaining.
For myself, the last hours was pretty uneventful with just a carp and 2 f1s added to my total. Fortunately, I had already done enough and despite an awesome comeback from Andy Power who put 12kg on the scales in the final hour to finish 2nd, my final weight of 26.900kg took the honours.
Id, like to say a big thankyou to Bag'em matchbaits, Map and everyone that supported me, without my family and friends winning, would have meant much less.
Can't wait to do it all again next year…….'
Jamie Hughes