Banishing The 'voices'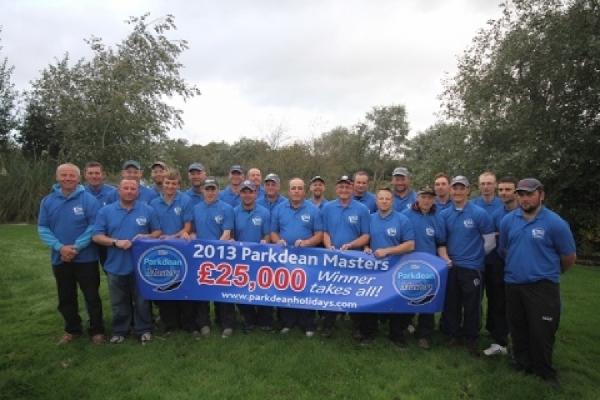 Tom Scholey on a great weeks fishing, and a lesson learned the hard way.
The highlight of my angling year is always the three or four White Acres Festivals that I fish. In my mind, they are without doubt the most fiercely competitive events in the match fishing calendar, attracting the sports very best names, and with each one being contested over five days, these are not events that you can win by just getting lucky.

I suppose my best result in Cornwall was a win in the Preston Innovations Parkdean Pairs Festival back in June with Matt Godfrey – a great week, but at a little under a third of the size of the spring and autumn festivals, hardly as prestigious. I have had my fair share of lake wins and section pick ups in the bigger events, but have never managed to finish above 30th out of the 180 anglers in a festival. I have set myself the aim of changing this over the next few years, which is why I was particularly looking forward to this years Preston Festival.

This year has been my most successful to date on all of the venues that I fish. Something has clicked into place for me, and where in the past I may have been indecisive, and cost myself valuable points, I am now making positive decisions – and enjoying some good results as a consequence.

There is one key thing that I have changed in my approach – and it is something I do before I even start setting up for the day. As stupid as is sounds, it is listening to myself.

Let me explain what I mean. I am without doubt unbelievably lucky to work in a job that allows me to surround myself with the best anglers in the country. I am perhaps even more lucky to live and travel with Matt Godfrey, who I would argue is the best angler in the country on current form.

The downside to this is that I have lots of 'voices' in my head when deciding how to approach a given peg. In the past, I have made the mistake of approaching a peg and fishing it how I think Steve Ringer, Des Shipp or Matt would fish it, rather than asking myself a far more important question – how I think I could get the most from the peg.

This year, I went determined to do my own thing, and pledged that I would decide how to fish my peg – without letting any other anglers thoughts or methods effect my decisions.

Looking back over the week, I had two great days, a good day, a day when I got it wrong, and something of a wildcard day where I think I got it right, but the fish didn't want to play ball, as is sometimes the case in this bizarre sport of ours.

Tough Competition

My 36 peg section was, in my opinion the most difficult in terms of star anglers – I had Darren Cox, Kieron Rich, Grant Albutt, Callum Dicks, James Dent, Matt Godfrey, Timmy Rowe, Stewart Lister and Andy Geldart to compete with - alongside a host of other stars.

I knew that I would have to be on the top of my game to achieve my target – which was a score of 31 points or more, which in theory would gain me a place in the £25,000 Parkdean Masters Final.

My best performance of the week was without question on the last day, when I drew peg 43 on Bolingey. Each big section is split up further into four smaller, nine peg sections – who you compete against for section points. I had the section of doom, with Darren Cox, Callum Dicks, James Dent and Gaz Malham all in my nine peg section.

With it being so late in the week, I thought that the going would be tough, and felt sure that a relatively low weight would be good enough to win the section, so I made my target 120lb. Past experience has taught me that the most crucial catching time at Bolingey is always the last two hours of the match, so the key is to catch what you can early, to make sure that you are still in the race then slay them when they finally switch on!

Everytime I have been to Bolingey I have made the mistake of pinning my faith in a late extraction on my five metre meat line, afterall, Steve Ringer, Grant Albutt and Des Shipp always catch loads on it – so I have to feed it right?

On this occasion, I decided against it – I have won scores of matches on more familiar venues by fishing down the edge, so I decided to concentrate on fishing up to an attractive looking bush to my left, and not risk splitting my fish by feeding both lines. I found a lovely plateau here, and though the depth was slightly more than I would have liked at about three feet, the fact that the bottom was flat made me sure that the fish would get there heads down, provided I fed in such a way that they stayed on the bottom.

I decided to feed Sonubaits 50:50 groundbait when I went on the line, that was wetted up into a slop, in the hope that it would lay inert on the bottom. I didn't include any loosefeed in this mix, and planned to simply fish four and five dead red maggots over the top.

I plumbed up three other swims, one on the short pole where I would look for an early couple of fish before abandoning the line, and two on the long pole at 13 metres, where I hoped to nick fish through the day. I was directly opposite Darren Cox, so was reluctant to go to any further than 13 metres for fear of pushing the fish out of my peg and into Darren's. I was keen to keep plenty of untouched water in between the two of us where fish could back off to, so hopefully I could keep picking the odd one off!

In terms of bait, I took a mixture of meat, hemp and micro pellets and a small tub of expander pellets for the hook, as Adam Wakelin told me he had caught well on them the previous day. Less is invariably more when pressured carp are the target, so I decided to feed very little, putting around ten micro pellets and 10 grains of hemp in before dropping my rig into place.

The day couldn't have gone any better – my negative feeding approach on the long pole paid dividends, and though Darren stole an early lead, with several good carassio, as the day went on my pole line got stronger, and I was probably leading the field with an hour to go. I was keen not to come off a line that was working for me, but with the 'witching hour' upon me, I just had to have a look down the edge.

To cut a long story short, they were there in numbers! I took nine carp in the last hour, including a couple of better fish, to finish with 127lb which was good enough for a section win and a lake win! If only it was always that easy!

A Good 'Edge'

It was also groundbait down the edge that helped me to my other section win of the week – from peg 31 on Twin Oaks.

Each morning at the draw, the previous days results are displayed, and when I drew the peg I saw on the board that Adam Wakelin had been on the peg the day before, finishing third in the section. I picked his brains, and he told me he caught most of his fish from a margin line which he fished towards the next pallet.

Again, the main part of the plan was to fish long pole and pellets through the day (though this time I opted to fish hard pellets.) I also fed a caster line down the inside, and chucked a pellet feeder over to the far bank cover.

A sneaky look down the margin on my first put in of the day, yielded a welcome 9lb mirror though after I had caught this fish I left the line well alone to encourage some fish to congregate in the area ready for the last hour!

The long pole line proved good for a few fish through the day, with the odd fish also falling to casters down the edge and pellet feeder. As the last hour approached, I was looking for snookers though, as Callum Dicks, James Dent and Andy Geldart had all caught better than me, from what I could see.

In went five pots of 50:50, and I was soon into a lively carp. Again, the line came alive for the last hour – and I ended up with seven carp, all between 4lb and 6lb. Those late fish proved crucial too – I nicked the section with 94lb, with James Dent finishing second with 88lb.

Must Try Harder!

One match where I really should have done better was my first of the week on Pollawyn. I was pleased to pull peg seven out of the bag. Although this rarely does enough to win the lake, it is a decent section peg – and the fact that I had managed to avoid most of the star names, with the exception of Timmy Rowe, who was on the next peg, made me feel I had a good chance of getting off to a decent start.

The plan was to fish three carp lines, one across to the island, where I could reach a nice bit of mud bank at a full 16 metres, and another two down the long edge to my left, that had plenty of overhanging cover.

Three silverfish lines were also plummed up, two for fishing casters down the edge – a tactic that has won me the section in a past festival on this particular arm, and a third across to the island in four feet of water, where groundbait, worms and casters were the bait of choice.

To sum up the day, I caught very few silverfish on my three dedicated lines, and with no early carp to go with them I spent the last two hours looking for snookers.

Because there are fewer carp up the arms, I thought a particle approach would be better than feeding groundbait, but I managed just two carp on it. In hindsight, I wish I had fished groundbait – as Tim Rowe on the next peg went from zero to hero fishing groundbait down the edge in the last hour, and Jon Arthur caught well on it later in the week too. Doh!

I ended up fourth in section with a measly 27lb.

Banishing Demons.

I have a love hate relationship with Porth Reservoir. I love the place, but it seems to hate me!

In five years fishing festivals, I think my best result at the place is a section third, and most results have been considerably worse! In fact the last time I fished the place I fell in, broke my seatbox, and came last in the section…. I'm sure you are getting the picture.

The strange thing is, I feel Porth should really suit me as everywhere else I go I do very well when pole fishing for silverfish on stillwaters.

Before going, I reminded myself of my new found philosophy – I was going to wipe clean all the previous bad experiences and approach the swim positively.

The good news was I drew end peg 40, which is always a decent section peg. The bad news was that I was in the same nine peg section as Andy Geldart, Kieron Rich, Callum Dicks, and none other than Matt Godfrey on the next peg.

I was going to need to be on the top of my game to get good points, that was for sure! The plan was to keep things as simple as possible, and fish for roach at 11 metres. I figured If I could come back with a fish every put in, I wouldn't be far off the pace. My only other line was to be on the short pole, where I would feed aggressively with the hope of catching fish quickly late on in the day.

I couldn't really see anybody else in my section thanks to a large tree to my left, but I managed to catch a fish every single put in, and had a lovely days fishing. I caught small roach, fishing maggots over groundbait with a handful of skimmers, and perch thrown in through the day. The fish never came short, and an attempt to catch some better stamp fish by feeding richer balls of groundbait laced with chopped worms didn't work either – but I had a busy days fishing, and wasn't complaining.

When the scales arrived, I tipped 12lb 5oz into the weigh net, which was more than I thought I had. My lead was shortlived – as Matt on the next peg recorded 14lb, but I beat the next few anglers including Andy Geldart and Kieron Rich, so I was looking good for decent points. There was still the Porth master himself, Callum Dicks to weigh in though – and he dropped 15lb on the scales from an unfancied peg to win the section! Although I could definitely have done better, and learnt some valuable lessons, I was pleased with a section third, and feel I have made a start at banishing the Porth demons!

…And The Wildcard.

The weirdest day of the week was without question day three, when I drew Trewaters peg 31. This is a peg that has been kind to me in the past, I drew it on the last day of the Preston Innovations Parkdean Pairs Festival, and managed a lake win, catching mainly on pellet feeder.

Lodge mate Neil McKinnon had drawn the same lake the previous day, and managed a lake win, catching on meat short, so I felt a two pronged attack of fishing meat short and pellet feeder couldn't fail.

In some respects I was right – Tim Rowe to my left emptied it on meat short, while Gareth Malham to my right caught a fish a chuck on pellet feeder. I sat in the middle fishing the same two methods and couldn't get a bite!

I ended up with 57lb for fifth in the section. A disappointing day, but I genuinely don't think there was a lot I could have done. I picked the right methods, and fished a tidy match, but the fish weren't in front of me.

Close… But No Cigar.

After the final day, I was pleased to achieve the goal I set myself at the start of the week, as two section wins, a third and a fourth, dropping a fifth gave me the 31 points I had set as my target. Looking back over the past few years on the News Reel website, there had only been one year when this number of points has failed to get you into the £25,000 Parkdean Masters Final….

Well now there has been two years, as although some people (including the new Parkdean Master, Andy Leathers) scored 31 points and got into the final, you needed to be dropping a minimum of 7 points to sneak in. I ended up 27th – must try harder!

Still, it was a great week, and I really enjoyed the company of lodge mates Jon Arthur, Neil McKinnon (who managed 9th on the festival) and of course, Matt Godfrey. Both Neil and Matt qualified for the final, with Matt finishing in a very respectable 3rd place.

Big well done to the 2013 Parkdean Masters Champion, Andy Leathers – and hard luck to my good mate Ben Fisk, who was very unlucky to miss out by just five ounces. I am sure it is little consolation, but I must have had half a dozen people who watched the match say that Ben put in one of the finest displays of long pole shallow fishing they have ever seen. I know how good he is at that style of fishing, so I wasn't a bit surprised to hear them say that.

All in all, it was an awesome week, and Matt and myself managed to win a few quid along the way, so it almost paid for itself. I can't wait to get back down there for the Garbolino Silverfish Festival now!