Cameron Powers Home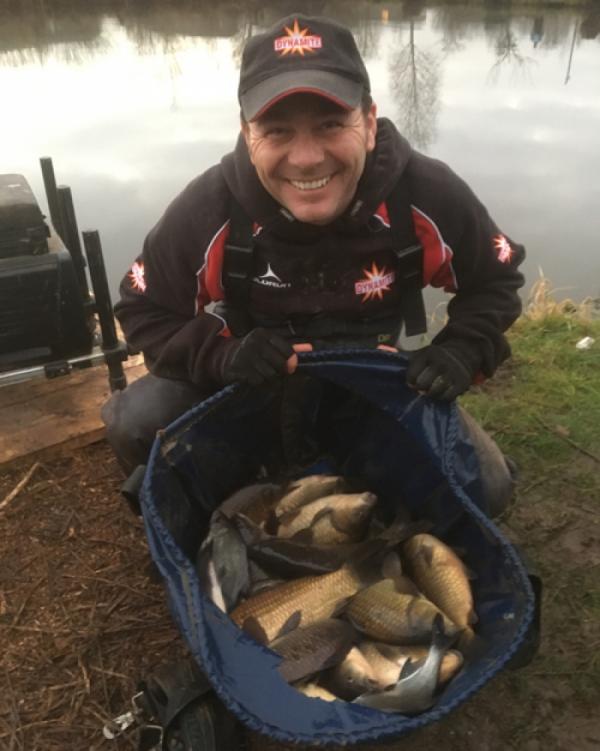 Sean steals the win in Round Two Of Lindhome Natural Baits League.
Dynamite ace Sean Cameron has won the second round of the Lindholme Lakes Natural Baits League, with a 43-14-0 net. Drawn on peg 63 on Laurels Lake, Sean found quality F1s on maggot tactics, feeding small balls of Swim Stim to keep fish coming.
In second place was Matrix rod Craig Butterfield, who put a 41-14-0 net together, again on maggots. Ryan Lidguard took the final frame place, with a weight of 40-4-0, again on maggots.
With 50 anglers fishing, three lakes were used - and although Laurels Lake dominated the frame places, the going was tough in areas. The stand out weight on Strip Pond was Nick Speed, who walked the lake with a 31-14-0 net of mainly perch! The Shimano and Dynamite ace broke his personal perch best three times in the course of the match, with his best fish weighing in at 3-5-0.
The best weight on Loco was Paul Christie, who caught 22-0-0 of skimmers and F1s to secure himself a section win.
The next round takes place this Saturday 14th January, with Bonsai, Laurels and Strip being used. To book on, anglers should contact Tom Scholey on 07971620489 or Matt Godfrey on 07917 711722.
Result:
1 Sean Cameron (Dynamite) 43-14-0 (Laurels 63)
2 Craig Butterfield (Matrix) 41-14-0 (Laurels 33)
3 Ryan Lidguard 40-4-0 (Laurels 45)