Catch the July issue of Match Fishing, on sale now!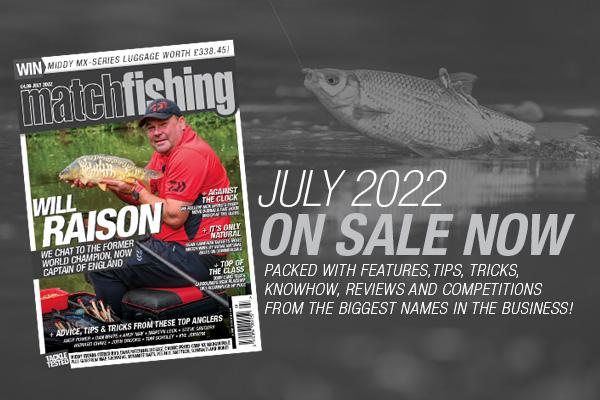 Match Fishing July 2022
Former World Champion Will Raison is on the front cover of the July 2022 issue and starting on page 26, he chats to us about his match fishing career and where he sees it going in the future. He also talks about his World Championship experiences and how he'd love to win the big one or the European Champs with the highly talented young crop of anglers that are now coming through on the international scene.
Also in this issue we follow every move of Nick Speed as he draws a great peg in the David Hall Memorial match fished at the prolific Glebe complex in Leicestershire. It was a five-hour match so see how Nick got on as he fished a corner peg for carp where there were almost too many options for him to consider!
We also have full reports of the first qualifier rounds of the Preston Innovations UK Pole Champs and the Garbolino Club Angler Of The Year and John Brooks is back with his monthly Veteran's Angle column. There's also plenty more top advice and tips from Dan White, Andy Power, Tom Scholey, Sean Cameron, Tony Curd, Andy May, Martyn Leck, Steve Gregory, Richard Chave and Kye Jerrom.
As always we've got plenty of new gear for you as well as Up Close looks at the Daiwa Matchman range of luggage, Tony Curd tests the new flagship Garbolino UK1 Accomplice HP pole and he's also testing the new Proto Carp NX 11.5m margin pole from Colmic.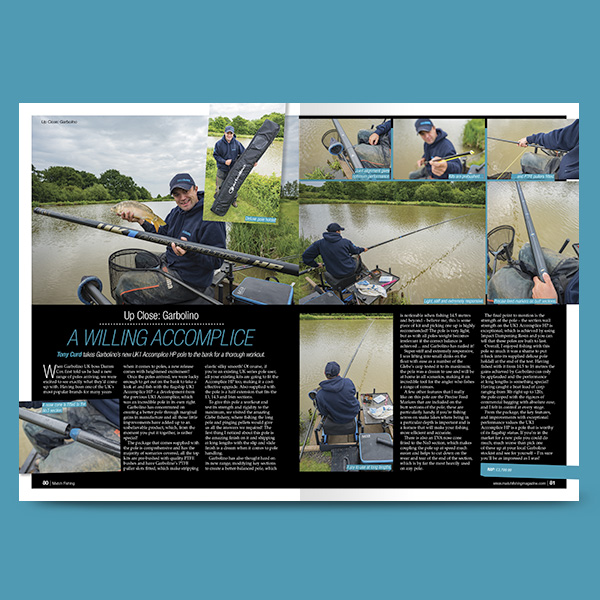 We also look at a new extending feeder rod from Middy as well as their excellent range of pre-tied hooks.
Finally, you can win a range of Middy MX-Series luggage in our free-to-enter competition.
EDITOR'S PICKS
AGAINST THE CLOCK
We recently joined Golden Rod Champ Nick Speed on a rare excursion to The Glebe where he fished in the David Hall Memorial match. Here's how he fared during the five-hour competition.
GOING FOR GOLD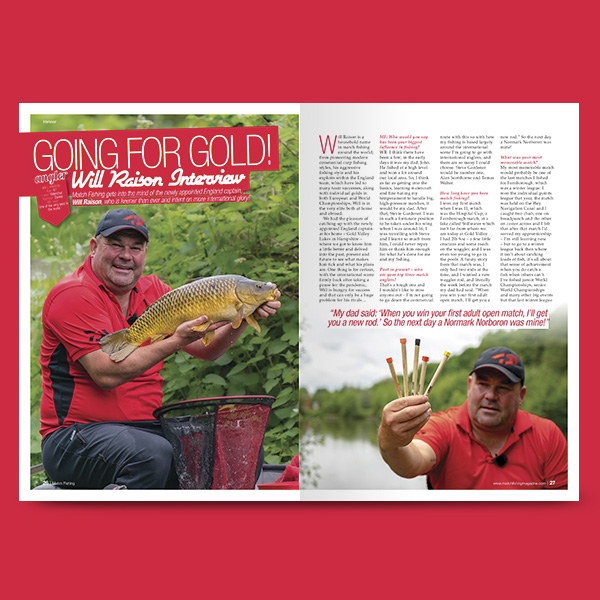 We chat to Will Raison, the new captain of the England team, about past successes as well as present and future aspirations.
THE LONG AND SHORT OF IT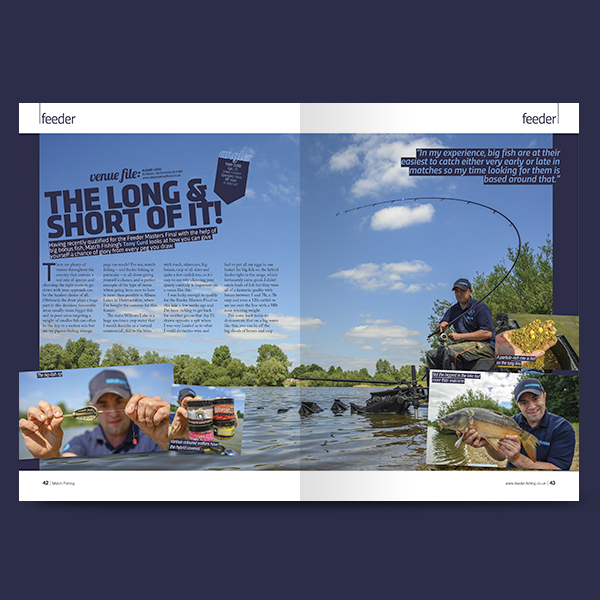 Having recently qualified for the Feeder Masters Final with the help of big bonus fish, Match Fishing's Tony Curd looks at how you can give yourself a chance of feeder glory from every peg you draw.
TARGET A TWENTY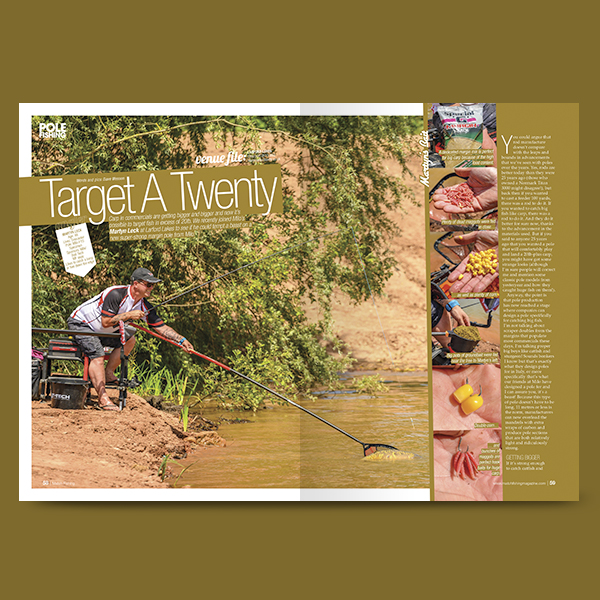 Carp in commercials are getting bigger and bigger and now it's possible to target fish in excess of 20lb. We recently joined Martyn Leck at Larford Lakes to see if he could tempt a beast on a new super-strong margin pole from Milo.
IT'S ONLY NATURAL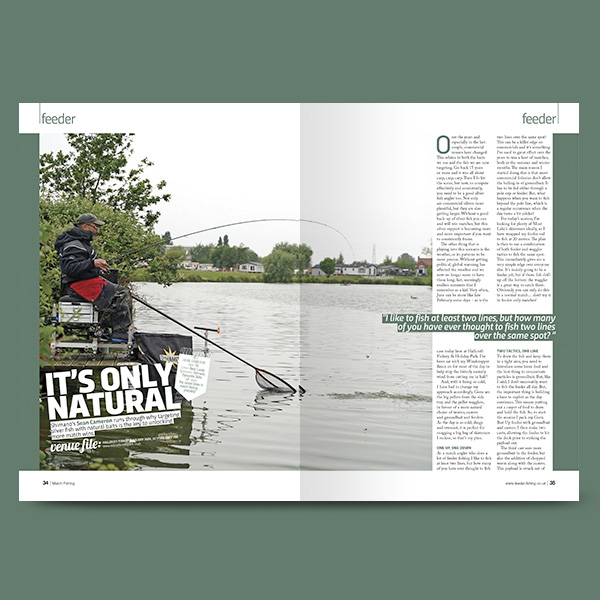 Sean Cameron runs through why targeting silver fish with natural baits is the key to unlocking more match wins.
VENUE DETECTIVE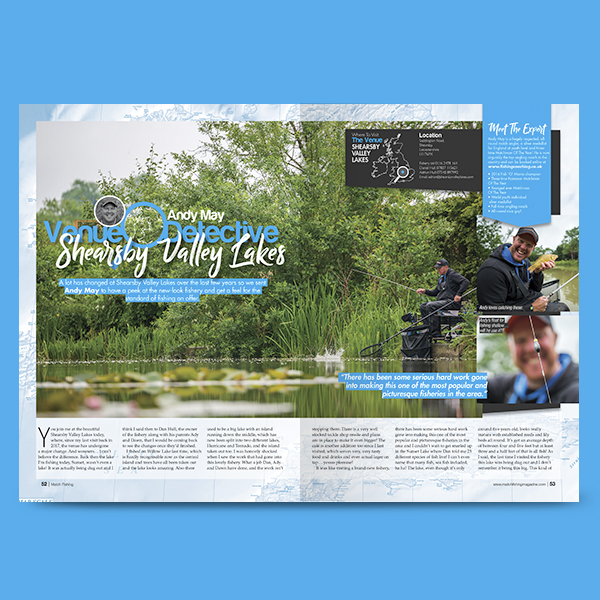 A lot has changed at Shearsby Valley over the last few years so we sent Andy May to have a peak at the new-look fishery and get a feel for the standard of fishing on offer.