Catch the May issue of Match Fishing, on sale now!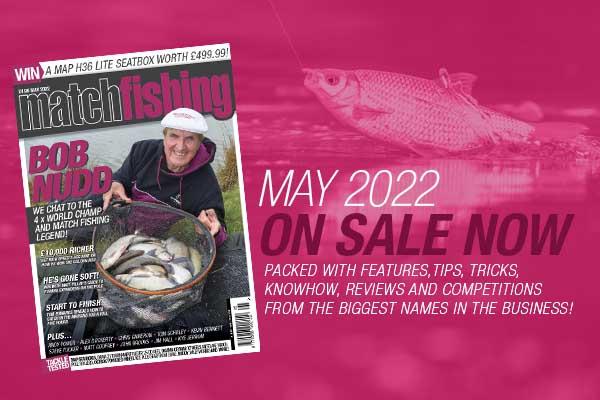 The May 2022 front cover features the unmistakable flat white cap of match fishing legend Bob Nudd. Bob needs no introduction and inside the magazine we sit down and chat to the former four-time World Champion about his current match fishing exploits as well as finding out some more lesser known likes and dislikes and what keeps him going at the age of 78. It's a fascinating insight into one of the greatest match anglers our sport has ever seen.
Also in this issue is part two of Matt Pillay's 'Soft Play' feature. Last month he showed how to use expanders on the waggler and this month, now the weather has warmed up, he's being more aggressive and demonstrates how to use them on the pole line.
If you've never fished soft pellets exclusively, this insight might persuade you to change your mind. Alex Dockerty is fishing the margins on the Method and staying with the Method feeder theme, expert Chris Cameron shows you a few tricks and wrinkles that will help you put more fish in the net.
Nick Speed reveals what he did to win the recent Golden Rod final at Larford Lakes and pocket a cool £10,000 in the process and he is also heavily involved in our exciting new £4,000 match event – full details are in this issue. Plus we've got plenty more top content from Kevin Bennett, Steve Tucker, Tom Edwards, Andy Power, Tom Scholey, Matt Godfrey and Kye Jerrom.
There's also plenty of tackle in our New Gear Section as well as Match Fishing's Tony Curd testing the new seatboxes from MAP, the new Okuma Ceymar reels, a new flagship feeder reel from Daiwa and some new pole rollers from GO Outdoors. We've also got a new seatbox from MAP to give away worth £499 in our latest exclusive competition!
EDITOR'S PICKS
Soft Play – Part Two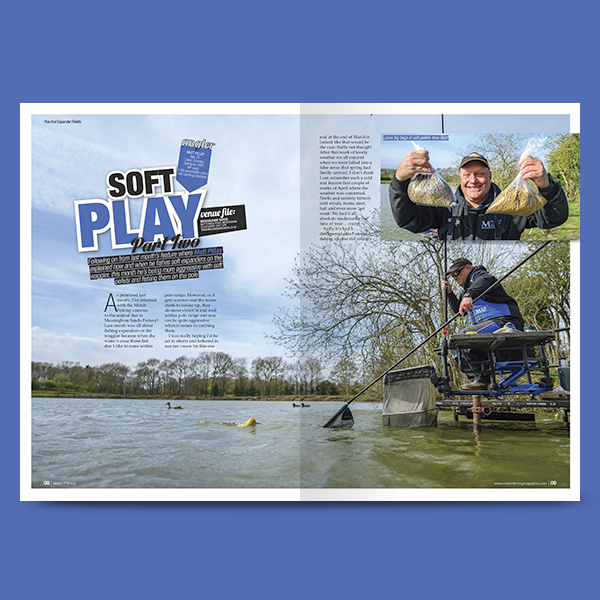 Following on from last month's feature where Matt Pillay explained how and when he fishes soft expanders on the waggler, this month he's being more aggressive with soft pellets and fishing them on the pole.
Bob Nudd At 78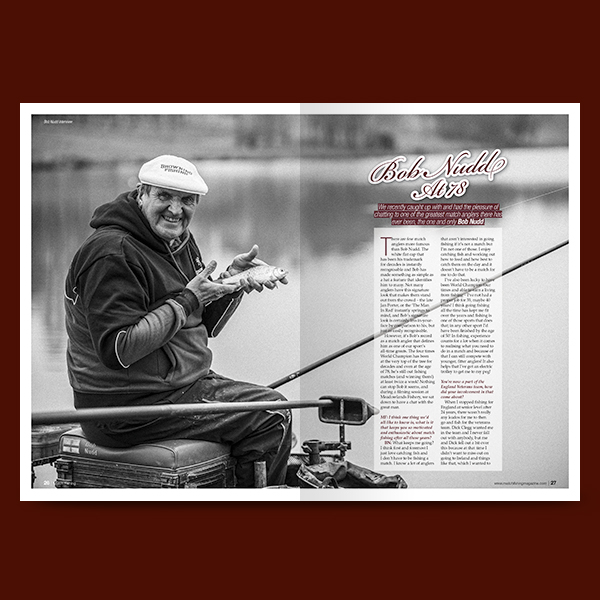 We recently caught up with and had the pleasure of chatting to one of the greatest match anglers there has ever been.
Starting From Scratch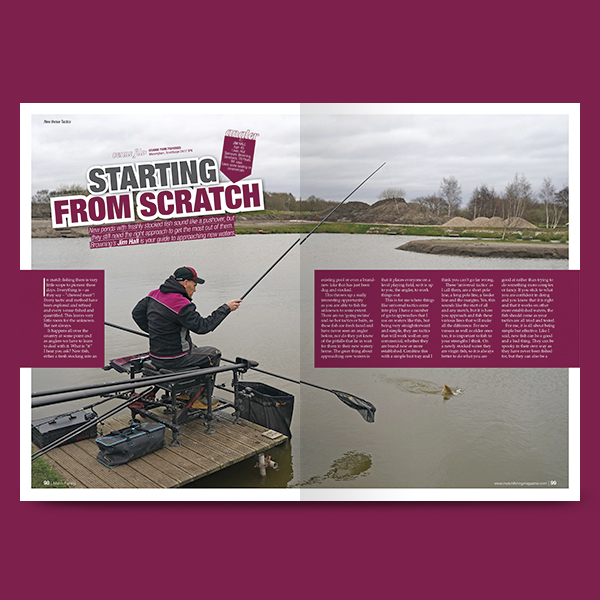 New ponds with freshly stocked fish sound like a pushover to fish, but they still need the right approach to get the most out of them. Browning's Jim Hall is your guide to approaching new waters.
One Method, Countless Options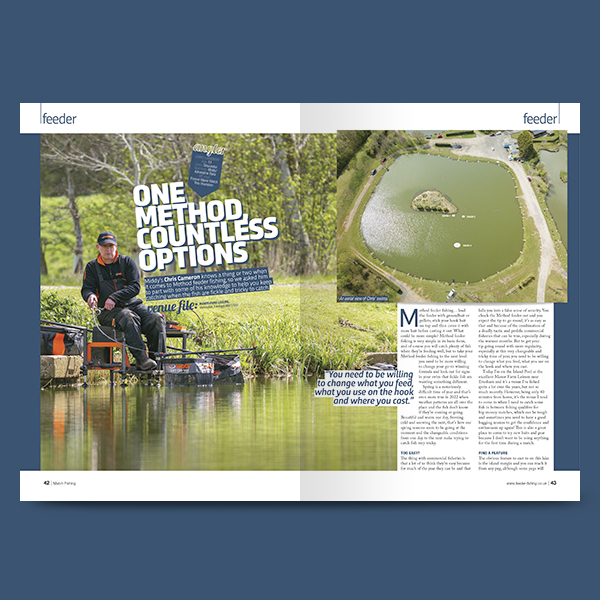 Middy's Chris Cameron knows a thing or two when it comes to Method feeder fishing, so we asked him to part with some of his knowledge to help you keep catching when the fish are fickle and tricky to catch.
The Golden Rod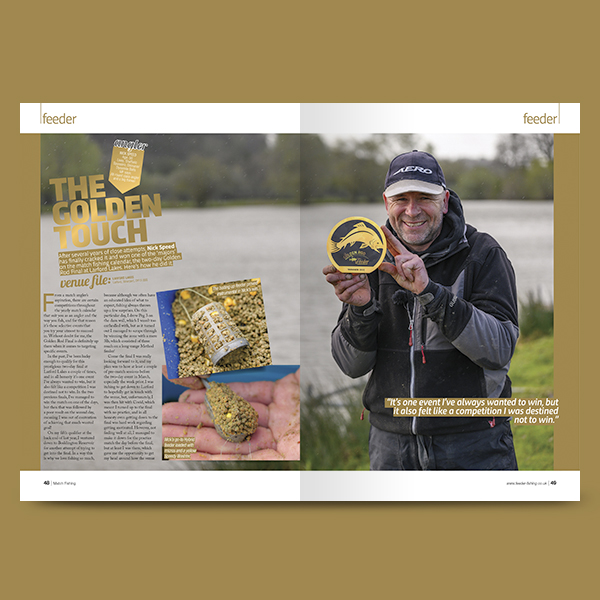 Nick Speed recalls his recent £10,000 victory in the feeder-only Golden Rod final fished over two days at the prolific Larford Lakes complex.
Marginal Benefits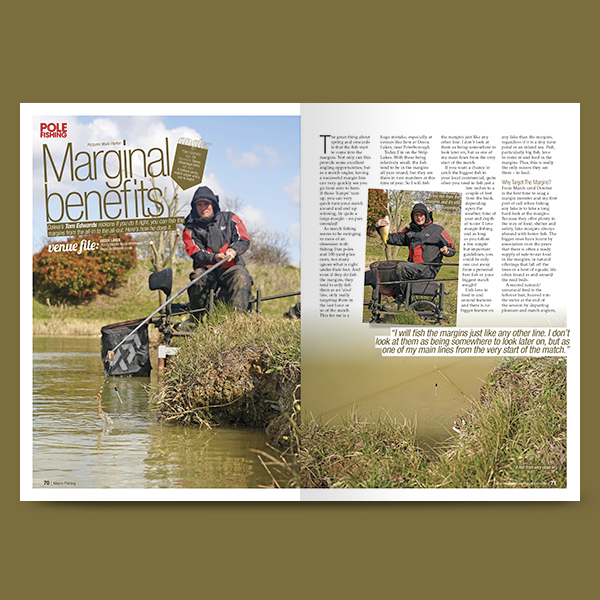 Daiwa's Tom Edwards reckons if you do it right, you can fish the margins from the 'all in' to the 'all out'. Here's how he does it.