Up Close: Browning Xitan Microbore Hollow Elastics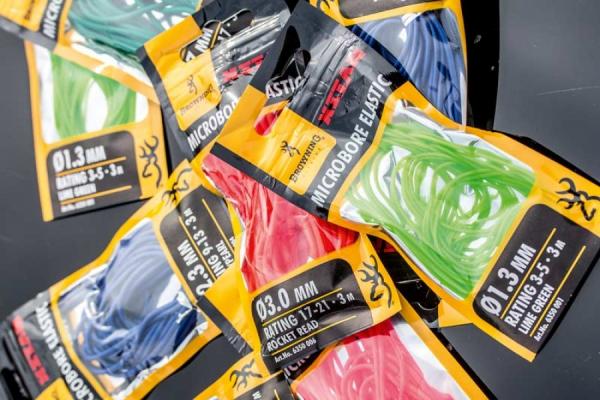 Match Fishing runs the rule over Browning's latest elastic range – Xitan Microbore.
Hollow elastics have quite rightly been the most popular choice for pole anglers for a long, long time now. What once seemed like a ridiculous idea became the norm and anglers everywhere have bought into the hollow elastic concept. And why wouldn't they? They are long-lasting, durable, user-friendly and they work!
Like all products, things evolve and new technologies and manufacturing processes crop up that can improve the performance of elastics.
The new Xitan Microbore elastic is a new design where the central core is 30 per cent narrower than standard hollow elastics. The advantage is that the overall diameter of the hollow elastic is reduced for its strength. This means that the elastic's overall weight is reduced, which makes it possibly the lightest elastic of its type out there, meaning pole performance isn't hampered too badly.
The different diameter interestingly doesn't affect the stretch factor and Xitan Microbore has an incredible 7X stretch factor, meaning that those bonus fish that charge away can be kept in touch with at all times without fear of this stuff bottoming out.
Microbore is smooth too. Its thinner inner core resists flattening out more than conventional hollows, which means that it runs incredibly smooth from the pole tip.
The final thing to consider is the durability factor and this elastic is as durable as it comes. In testing, Browning consultants found it outlasted many other elastics dramatically.
Xitan Microbore is available in six different grades between 3-5 and a huge 17-21. The lighter elastics have already proven fantastic for silver fish and F1s while the Rocket Red 17-21 is the perfect elastic for dealing with those margin lumps.
RRP: £11.95
Verdict: A superb range of hollow elastics that work well and outlast many others on the market.