Up Close: Dynamite Pellet Soak: Improve Your Pellets!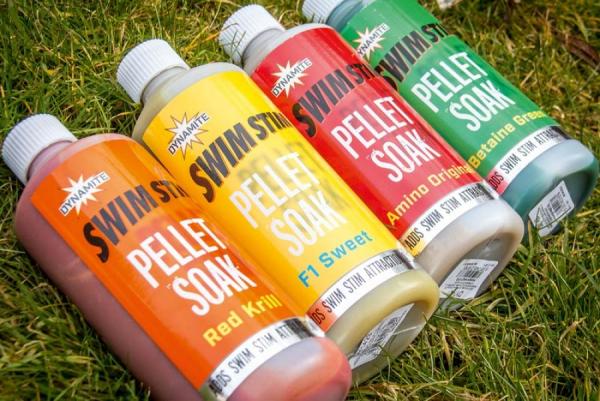 Joe Carass tests a bait additive that has become a must-have in his opinion. Every now and again I receive a product that I just don't really 'feel'. Perhaps a product that just doesn't get me excited or I can't see a place for it in my fishing. I must admit when I saw the Dynamite Baits Swim Stim Pellet Soaks for the first time that was the feeling I got. I just didn't get the point of the product or why anglers would need it.
But then I got my hands on some and started to have a play around with it and my opinion totally changed.
It was a bit of a chance thing actually. I was sat at home and noticed Nick Speed's Method feeder video on the Dynamite Youtube channel. I always like to hear what Nick has to say and I saw him using the Green Betaine Pellet soak to flavour and colour his fishery pellets. I am not one to jump on a bandwagon but I saw that and was immediately interested.
Out to my shed I went and out came the bottles of Pellet Soak ready for a bit of experimentation. The liquids are a little different to the various stick-mix-style liquids that are on the market these days in that it is actually quite watery. But this is potent stuff and is packed with attraction.
More and more times I buy a bag of fishery pellets that smell of pretty much nothing as the fishmeal content is becoming less and less. That is where these soaks come in. Rather than preparing the pellets by soaking them in lake water, soak them in these products and the pellets will receive a flavour boost that really helps those pellets stand out.
If you want a powerful fishmeal flavour then the brown coloured Amino Original liquid is the one to use. The three other liquids offer different flavours but also add a colour element to the pellets.
Pellets prepared using this liquid are not only more potent but the texture is improved no end. The liquids add a slight amount of 'tack' to the pellets too, making them perfect for a Method or Hybrid feeder.
The final test was to see how expanders turned out when they are pumped in this liquid. Again the pellets are packed with the flavour and colour as a result, but more importantly for me was the more durable texture that the pellets take on. The prepared pellets definitely stay on the hook better and they become denser and heavier, making them far more user-friendly.
These Pellet Soaks don't claim to be the next magic fish-catching additive that will catch more anglers than fish. But what they are is proper fish-catching liquids that genuinely do work to help you prepare pellets more effectively.
RRP: £4.99
Verdict – The perfect liquids to be added to any pellet. Particularly great at boosting fishery feed pellets, but also invaluable when preparing expanders.