Conquer The Cone!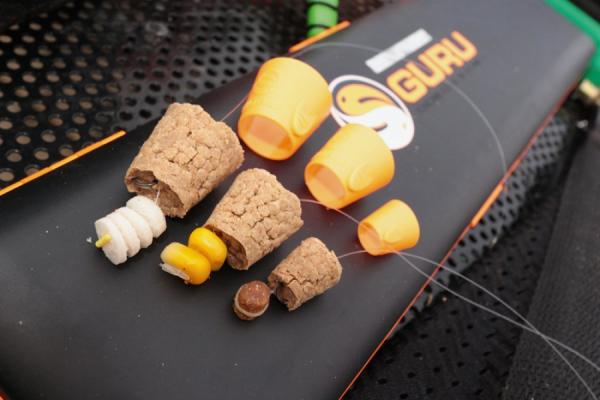 The pellet cone is a great tactic for cold weather when a bite or two can make the difference between a dull session and a match win. It's all about setting a one-bite trap in the correct place, ready to tempt a passing lump into having a go.
Pemb Wrighting is highly adept at catching in all conditions and the pellet cone is one of his go-to methods when the temperature drops: "It's great for offering a small pile of bait with the hook bait most prominent – the fish doesn't have to be feeding hard to want to investigate and then a bite won't be far behind."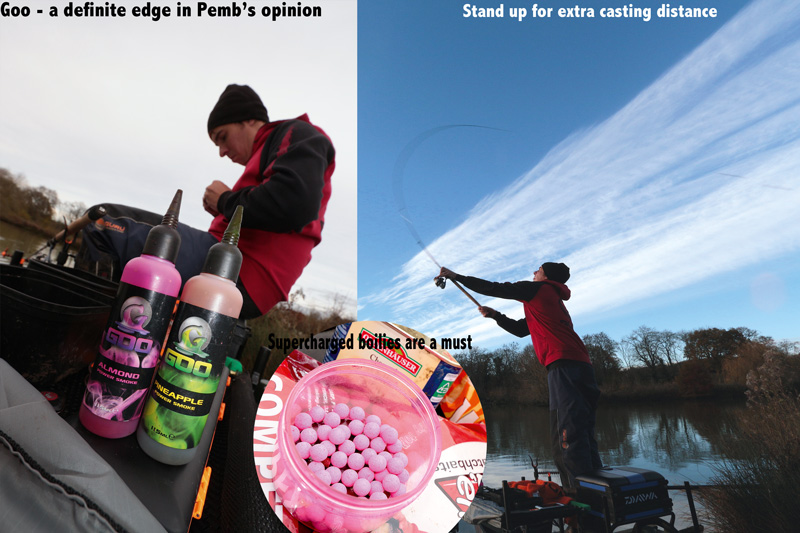 Today, Pemb has chosen Sumners Ponds Fishery in Horsham, West Sussex to demonstrate the effectiveness of the pellet cone and with the weather veering between Arctic blasts from one of the many winter storm systems and bright sunshine, the Guru-backed ace will need to bring his A game to get a result.
Location
As with any method, location is important and even more so with the Pellet Cone due to its bite-at-a-time nature. "Using your watercraft skills is essential, as always. But when you're angling for a fish at a time, it's even more vital to be targeting areas where they're holed up and the angler who can anticipate where these hot spots are will be successful."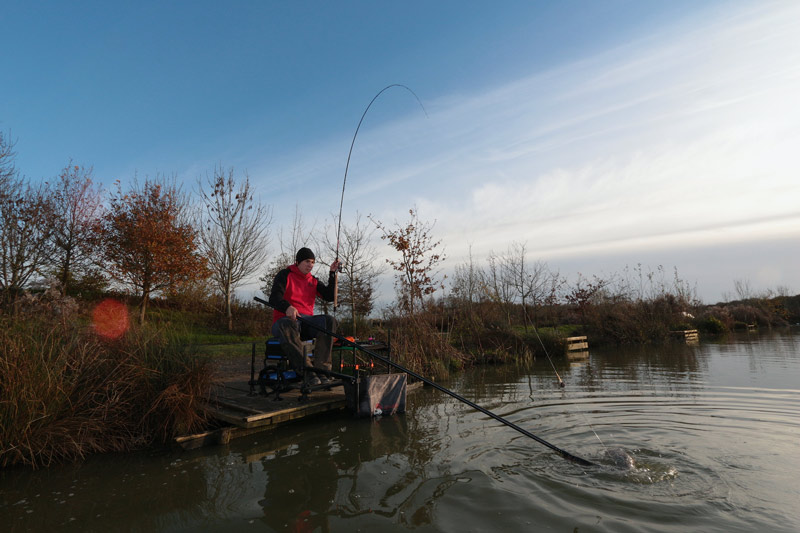 "Here, I'm starting off by targeting two general areas in front of me – one is an island and that's an obvious feature whatever the weather. The other is a little harder to work out but, in my opinion, more likely to produce fish in this weather, and that's a sunken island off to my left. I'll explore both of these areas thoroughly with the pellet cone and I know that if any fish are resident, I'll soon get a bite or a liner.
"Incidentally, liners are an important clue at this time of year – if you're getting them, you're not far off the fish and dropping short or switching the hook bait to a more visual option, such as corn, or something smelly like meat, might tempt them into having a go."
"Back to the sunken island; it's deeper than the other island feature and I prefer to target the deeper areas when it's cold, as these will retain the heat a bit longer when the cold wind is affecting the upper layers, as it is today. It's freezing when the wind gets up!"
"I'm dropping just short of the island so my rig will be sitting in the deeper channel before the island, and I'm flicking the odd pellet or two over the top to keep any fish in the area looking for food. This is a great tip if you know the area you're targeting holds a few fish – maybe you've seen them bubbling, rolling or disturbing the bottom – but no bites are forthcoming."
"As the session goes on, I expect to be exploring the water in front of me and there's a likely looking area to my left with some deeper water where I've seen fish bubbling earlier, so this will be worth a look."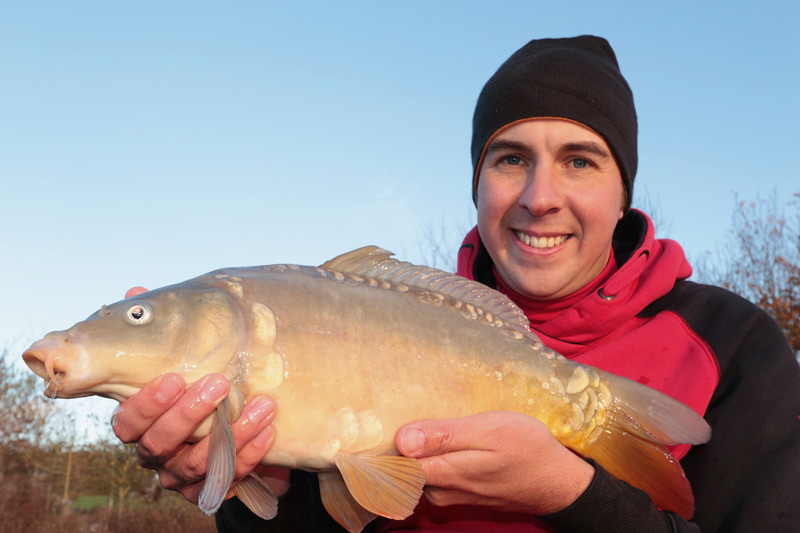 A little cracker!
"This is where the pellet cone comes into its own – if I fed over the top and they're not feeding heavily, I could easily spook them or they might have had their fill after a handful of pellets, but with the pellet cone I can be sure that my bait is the most attractive thing in the area and if they want to feed, there's only one option – my hook bait."
Pemb's Perfect Cone Setup...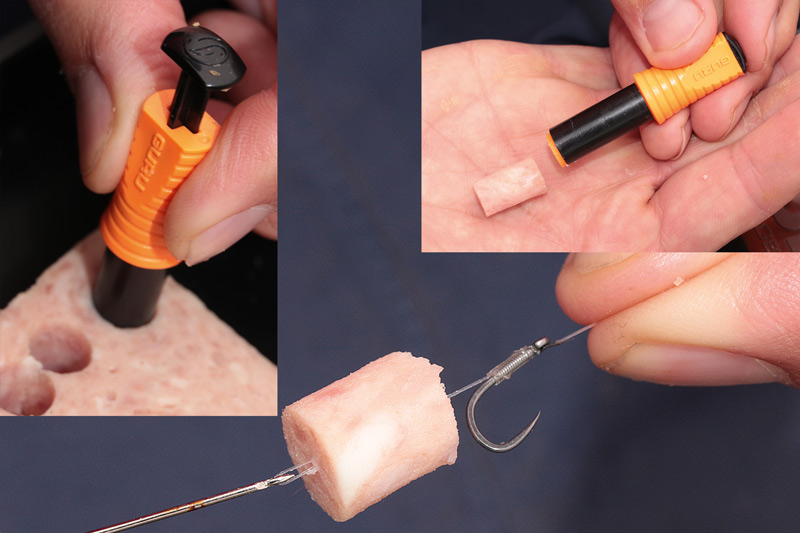 When the pellets are ready to go, I'll turn mt attentions to the hook bait, in this case, meat. A neat 8mm punched piece is ideal and having the Punch Box certainly helps to keep the bait fresh and to hand. I'll hair rig this to a size 12 QM1 hook to 0.19mm N-Gauge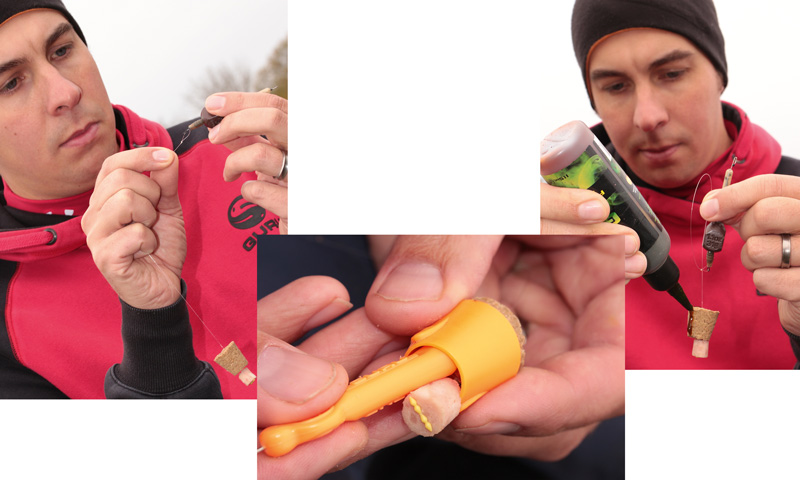 A great little tip is to use the handle of baiting needle to ease the compressed pellets out of the cone without damaging them. I then thread the hooklength with the come onto the X-Safe Speed Stem, add a dollop of Goo and it's ready to go.

Next, I'll select the right size cone and press the pellets into it, just firm enough so they stay on during the cast but break down one they hit the bottom. I'll then use a fine baiting needle to thread the hooklength through the cone and nestle the hook and bait just inside it.
Size Matters

Pemb carries three sizes of pellet cone, and throughout the session, he'll use all three depending on the distance he needs to cast and the temperature.0.
The Surrey-based product developer explains: "If it's freezing cold and the fish aren't active, I'll definitely kick off with the smallest pellet cone. This provides such a small pile of bait that even the most inactive carp or bream will pick up. The small one is also good for a longer cast as it offers less resistance."
"The medium size cone will come out when I know there are a few fish or larger carp in the area, to provide a larger pile of attraction via the micro pellets breaking down. The larger cone will come into play if, for example, I'm targeting a closer in spot which doesn't require a big cast or if conditions are good and the fish are getting their heads down. The more attractive nature of the bigger pile of pellets will help to draw the freely feeding fish in."
Hook Bait Choice


A majority of Pemb's pellet cone fishing revolves around the use of four hook baits, all of which play a subtly different role in maximising the opportunities in front of him.
"Kicking off with corn, this is a favourite for clear water and really cold conditions. It stands out so well on the lake-bed and fish are used to eating it, so it's a safe bet for a wary carp or two.
"Bread is another favourite, and I love a three or four punched pieces – it's probably the best all-rounder at this time of year. However, it's not the one when there are nuisance fish present as they will make short work of bread hook baits. "Meat is my go-to big fish hook bait when the water is coloured. It chucks out loads of scent and a dose of Goo enhances this no end – I carry a couple of different bottles and usually one will stand out as working best at this particular venue or in these conditions."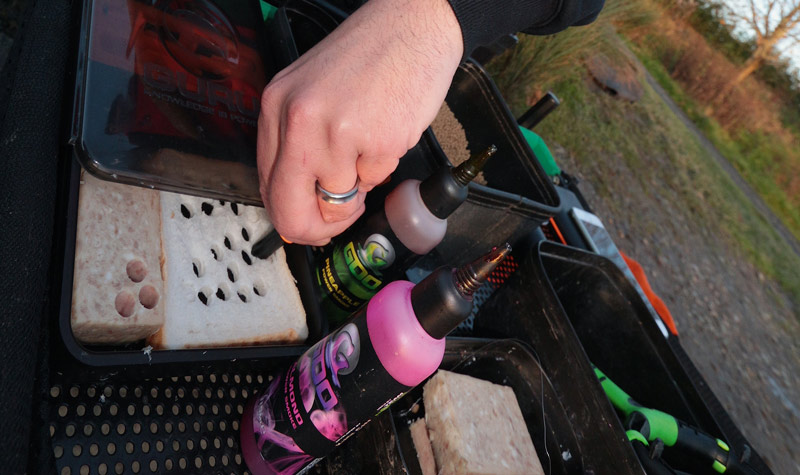 Don't leave home without some sliced white bread.
"Lastly, pellet is a great option in warmer weather when they're really having it and feeding well. I'd simply band a 8/11mm pellet and use it like that."
Pemb gives his pellet cone and meat hook bait a good dose of Pineapple Power Smoke Gook and it isn't long before a chunky Sumner's Pond mirror finds his way to Pemb's waiting net, proving that this deadly combination is irresistible on even the coldest of days.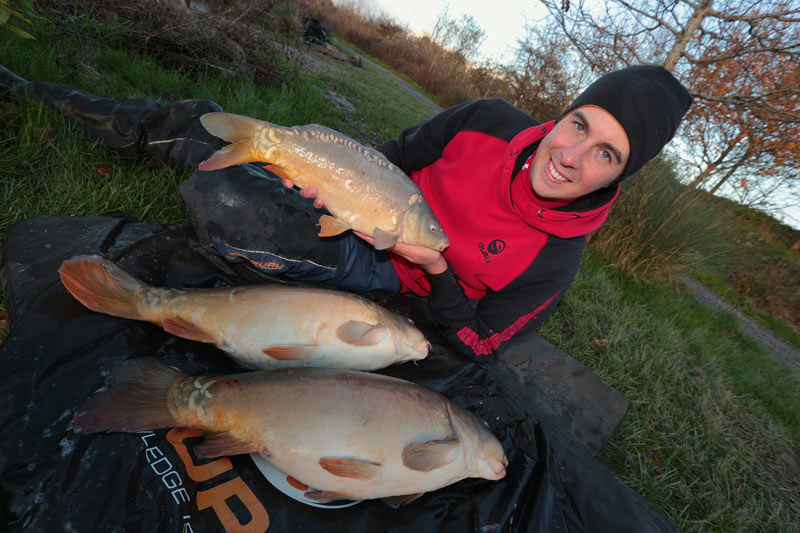 Tough going, but this is when the cone comes good!
Angler File
Name: Pemb Wrighting
Age: 29
Lives: Hampshire
Sponsors: Guru & Bag 'em
MF Says: The Future's Bright...
Venue File
Venue: Sumners Ponds
Location: Chapel Road, Barns Green, Horshame, West Sussex, RH13 OPR
Website: www.sumnersponds.co.uk
Like what you see?

Or buy a single issue