A Day To Remember!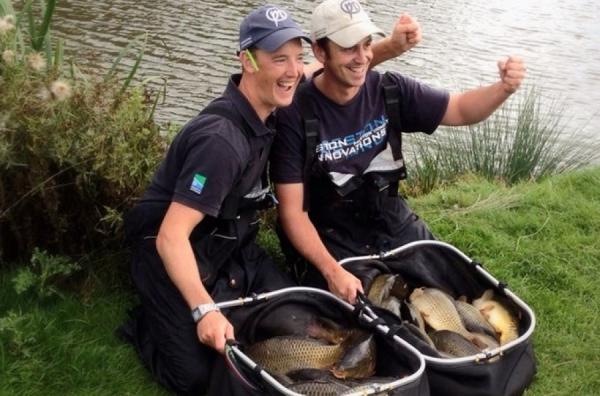 Lee Kerry on bagging 513lb.
I read with interest a few comments following the colossal weights taken in the semi final of the Drennan Knockout Cup at Cob House Fishery " That's not fishing" "I would rather catch 5lb of roach on a canal" "Totally Ridiculous"!
That's just to name a few.

I must say that on my way for my practice session I was thinking along similar lines. I couldn't believe that fishing such a prolific venue could be much fun. I did however go with an open mind because having got this far I wanted to go all the way in the competition.

My practice session went really well, First of all I couldn't believe what a well maintained and professionally run fishery it was. The café was the best I have come across for a long time and then there was the fishing. My session taught me that the fish would come shallow and short, but put your hands together (Shallow and Short!) and you had a method that was both reliable and enabled you to really motor if the fishing required it. I actually really enjoyed catching carp in such numbers.

They were in good condition, and if you got it wrong you had to wait for bites or foul hooked fish. There was definitely a way to catch more efficiently and as a match angler this is what I am always trying to achieve.

The match itself was an incredible thing to be a part of. There was pressure coming from four of the country's best anglers all who, like me, were desperate to keep the fish coming and make it to the final of one of angling's most prestigious competitions.

Personally I started on the deck in the margins around 3m out, I had opted for a more traditional bait approach of casters and maggots, and after a slow 5 mins I was soon into carp. Steve Winter and Michael Buchwalder went off like a rocket, and I was around 10-15 fish behind after 1.5hrs.

Even at this stage I was really enjoying the match, there was loads of fish to catch, so lots of small ways to up your catch rate to try and catch up, it was going to be hard as these guys don't give you an inch, but a change to shallow sent my catch rate through the roof and in the last 3.5hrs I caught at around 50 carp per hour and ended 20 fish ahead.

I was exhausted, my tackle had been tested to the limit and I had been concentrating for a full 5hrs!

You can read about the match in detail in Match Fishing Magazines next action-packed issue, but to those who don't think much to bagging on carp I urge you to give it a go one time, because although I won't rush to do it again anytime soon it was an experience that as a match angler I thoroughly enjoyed and will never forget!