Drennan's New Releases!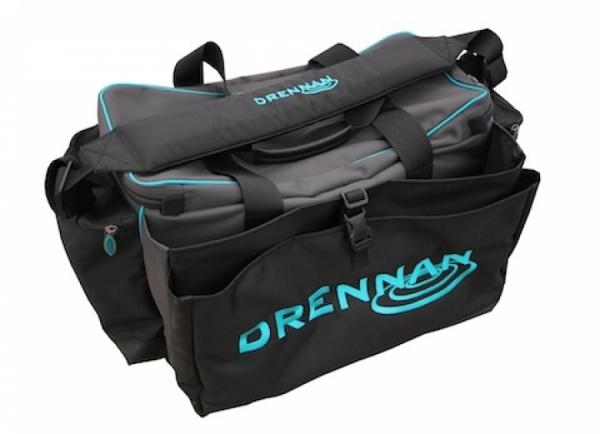 A little something to whet your appetite...
Aqua 1.1pt Maggibox
Drennan 1.1pt Maggiboxes are now available in our striking aqua colour scheme.
Like all Drennan bait boxes, they are made from a robust polymer that can be frozen without splitting. Maggiboxes come complete with a standard vented lid to allow bait like maggots and worms to breathe.
The 1.1pt Maggibox also complements the larger 2.2pt and 3.3pt Aqua Pellet Boxes, which feature solid Bait Seal lids.
RRP: £1.75
Medium Carryall
The Medium Carryall is the latest addition to the comprehensive Drennan luggage family.
Like the rest of the range, it is made from tough, water­proof fabric with a padded shoulder strap and carry handles. The main compartment has a 55-litre capacity with a 40cm height. The hard moulded base with Drennan logo measures 55cm x 25cm. Along with two handy zip-up side pockets it also has two full-length pockets for items such as keepnets, landing nets, riddles and trays.
RRP: £49.95
Features:
55-litre capacity
Rigid moulded 55cm x 25cm base
Tough, water­proof fabric
Two zipped external storage pockets
Twin net or side tray pockets
Small zipped internal storage pocket under lid
Padded shoulder strap
Padded carry handles
Small, Large and XL Carryalls are also available
2-Rod Hard Case
Measuring 1.9m, this 2-Rod Hard Case rod holdall should comfortably house 15ft three-piece rods and 12ft two-piece rods.
The durable, semi-rigid EVA material and central divider will protect your expensive rods and reels perfectly. It features a full-length zip, padded shoulder strap and carry handle, plus an internal tip storage pocket. It also comes supplied with a full set of neoprene Velcro rod retaining straps.
A larger 3-Rod Hard Case is also available.
RRP: £49.95
4-6 Tube Full-Zip Holdall
This compact 4-6 Tube Full-Zip holdall is similar in proportions to the existing 4-6 Tube Half-Zip Holdall, but features a main compartment that can be zipped open fully, plus the handy facility of being able to attach two Rod Sleeves to the exterior, for ease of transport.
Made from tough, waterproof fabric it also has a large three-quarter length side pocket for items such as umbrellas and banksticks.
RRP: £59.95
Features:
Length: Approx 195cms (6ft 5ins)
Tough waterproof fabric
Full-length, heavy-duty zip
Three-quarter-length side pocket
Two external Rod Sleeve fasteners
Reinforced semi-rigid base
Padded shoulder strap and carry handles
Larger capacity 6-8 Tube and 10-12 Tube holdalls are also available
Here's a link to the full PDF displaying Drennan's new products, information and prices.
Or, for more information and to see all of our latest products, visit www.drennantackle.com.