Feeder Fishing On Rivers - Lee Edwards
Why The Wye
The River Wye has long been synonymous with big weights of wild fish and late last year the Cadence Hereford Three-Day Festival produced weights that you would normally associate with commercial venues.
Weights over 100lb were recorded and the back-up weights were just as impressive with plenty of 50lb-plus nets of roach, chub and barbel. The fishing has always been phenomenal but in that festival back in November 2021, it was truly out of this world.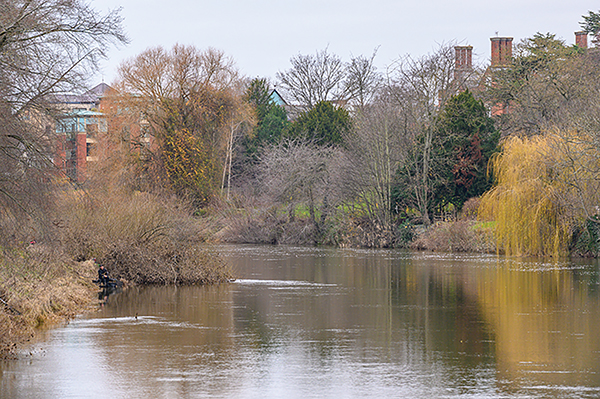 Before I go into detail about my feeder approach for this river, I just want to give you a rundown of that festival because it was so memorable for all of us that fished.
I was only a couple of days out of my 10-day isolation after contracting Covid and I was still feeling pretty rough, so I wasn't looking forward to it as much as I would have been had I been fit and healthy.
The format for the festival saw the venue split into three zones and every angler would fish in each zone over the three days with the winner being decided on points and then weight if points were tied.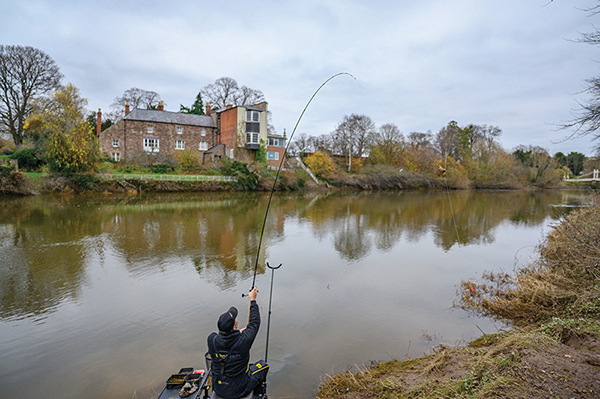 Wye Festival
On day one I drew Peg 58, which is just above the rowing club on the left bank. It used to be a very good dace peg and after the nearside shelf, the bottom here is very flat.
But the dace aren't there in the same numbers these days and after speaking with the angler who drew it the week before in a winter league, he informed me there was a big snag at seven metres which, combined with not feeling too great, didn't fill me with optimism.
I remember not being in a mood to do too much so I set up a couple of whips because there was a tinge in the water as it was still fining down after a rise, and the water was warm, so I knew it was going to fish well.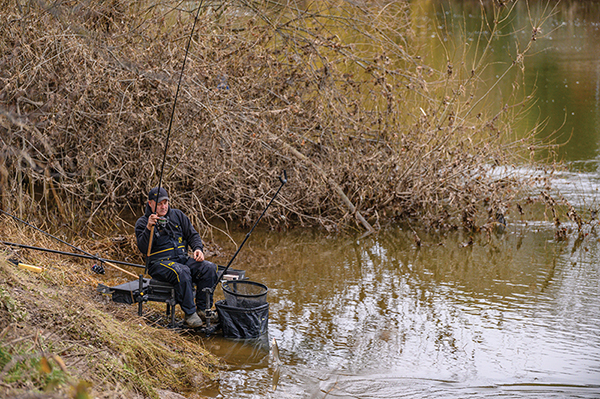 I found the snag and fished inside it at six metres, and I also had the same depth at four metres, where I fed casters and worms for some big perch and roach, and at six metres I fished for anything after balling it in in with plenty of hemp and casters in my groundbait at the start.
I caught straightaway, and fish were a good stamp, but it wasn't long before the pike moved in, and I was getting battered by them. Smaller fish weren't a problem because I could lift them straight out but hook something bigger like a 1lb roach and a pike had it every time.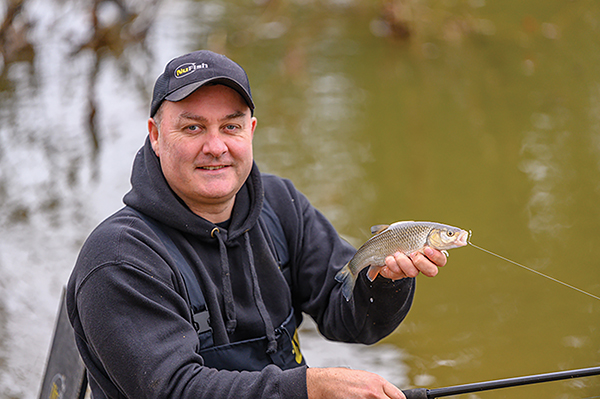 I reckon I lost 15 fish before moving down the side and catching a few perch, before the pike moved in there too. Anyway, I still managed to win the section with 86lb, and I reckon if it wasn't for the pike, it could have been a 120lb day!
On day two I was on Peg 93, which was three or four pegs above the bridge, and on this peg, there was no flat bottom, so I spent a lot of time plumbing up to find a good area to fish. I ended up fishing the same as the previous day by balling it in at six metres on a whip line and I also set up a stick float for fishing further down the swim.
The good news was that I never had any pike problems, but the fish were a lot smaller compared to the ones I caught the previous day. There were more of them though, and I ended up winning again with just over 100lb!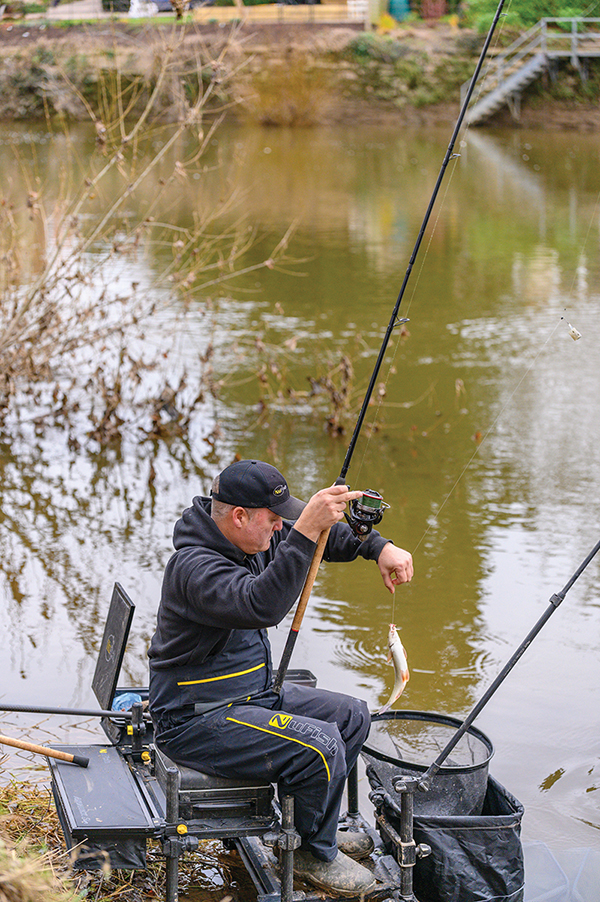 On day three I was up the top end on Peg 14, where the river is wilder, and the fishing can be more difficult. I really wasn't sure of my draw, but I knew there was a chance of some barbel from this area, but Dave Roberts and Danny Ashington had been on this peg on the two previous days, and both had only caught 20lb odd. I was feeling very rough, and Rob Brennan very kindly pushed my gear to my peg because it was a fair hike, so a big thank you to him for that.
I set up a rod for fishing the feeder or bomb with meat for the barbel (which I'm going to show you shortly), a short pole rig with a heavily overshotted rig because the inside was boily and turbulent, and a whip rig. I started off fishing for barbel and I had four of them in the first hour on the meat and I kept trying the pole in between because you tend to get a run of barbel here and then nothing before you get another run of them.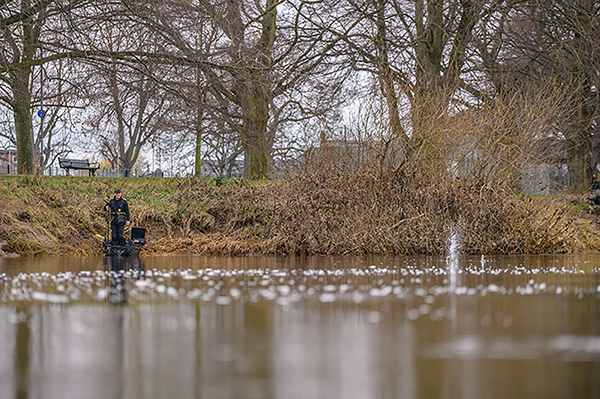 After maybe two hours I got my first bite on the pole and then started catching roach between four and 6oz, so I decided to get my head down on them. I caught them steadily throughout and then with five minutes before the whistle I saw a barbel rise across, so I had another chuck on the feeder and caught one around the 8lb mark with a couple of minutes to go.
So, I had five barbel for 30lb and 37lb of roach to win the zone again, to make it three out of three, which was the first time this festival had ever been won with a perfect score. That certainly made me feel a bit better!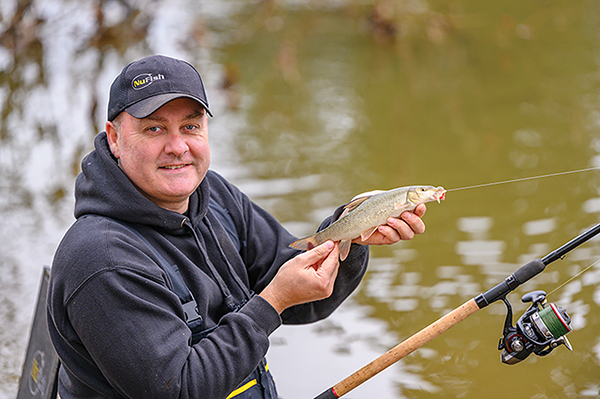 The Session
So on to today and I'm fishing Peg 99 and I want to see what sort of weight is on the cards from this area on the feeder and whether or not the barbel are worth targeting. I'm fishing a winter league here a few days after this feature so it will give me good idea of what I need to do if I draw in this area.
We've had a bit of rain over the last fortnight but it's very mild for the time of year, and the river is fining down perfectly. The level is perfect and so is the colour, so I should catch fish, although I'm not entirely certain what species I'm going to catch.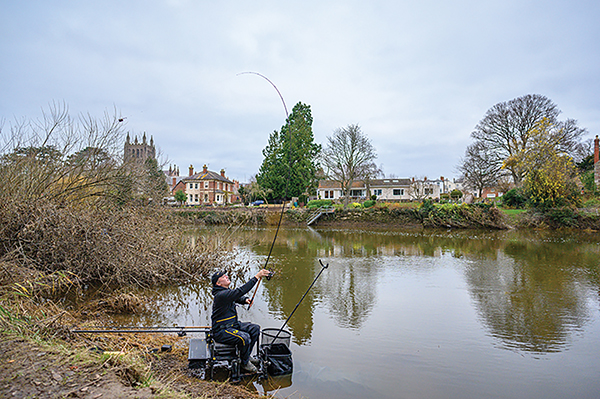 The first job when you get down to your peg is to decide where to fish and usually on this river, the main flow is always where the bubbles are that you can clearly see. On this peg they're all on a line about three-quarters of the way across but I'm not going to start by casting that far, I'll fish a line just past the middle to begin with and then I'll work my across if I need to later in the session.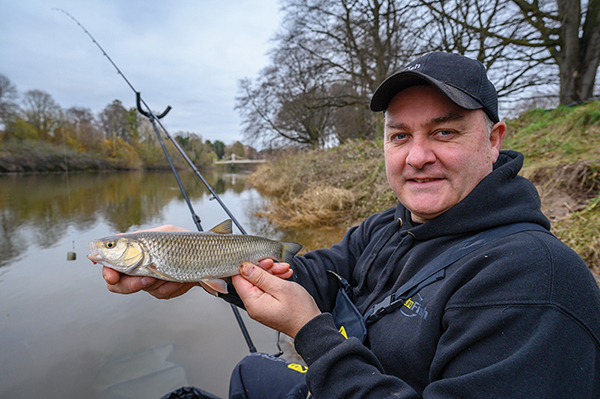 My main targets are barbel but there are a lot of chub in this area as well and today I'm catching one every cast to begin with, but they're only small at around 10oz to 12oz. The problem is there are so many of them that they get to the bait before anything else gets a look in so although I've started the session with maggot on the hook, I might have switch to meat to see if I can get through them and contact a barbel or two. I don't know of any other river where you can catch a chub every cast and class them as being a nuisance!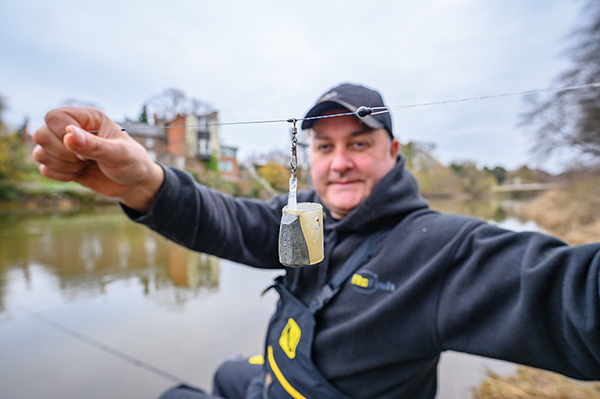 I'm using a 45g NuFish Smooth Hound open-ended feeder and to begin the session I'm loading it with a few cubes of meat with plenty of casters and hemp and then I plug the ends with groundbait, which is crushed hemp. It's perfect for plugging the ends of the feeder with and allows me to disperse the contents as soon as it hits the water.
When the barbel are in the swim and feeding, I'll stop using the crushed hemp and plug the ends with cubes of meat.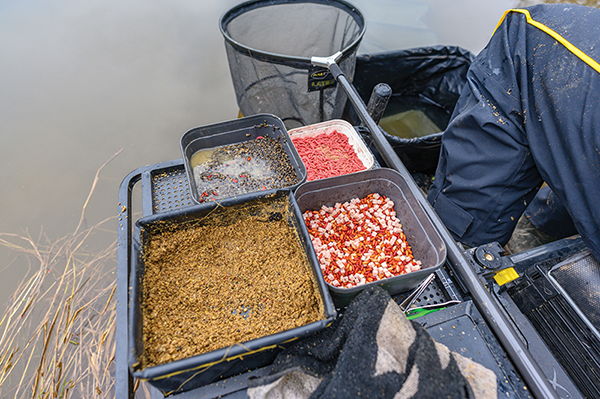 On this rod, which is a 13ft heavy feeder rod, I have 8lb line on the reel (I also have a barbel rod set up with 10lb line on the reel and 0.25mm hooklength with a hair rig for meat) and the hooklength is 0.22mm fluorocarbon, which I prefer on this venue because it's more durable than a traditional mono.
You can be fishing over bedrock and there are also snags to contend with, so a durable line is essential. The hook is a size 12 Gama Power and as you can no doubt assume, the fish in here aren't hook shy in the slightest.
Bouncing The Feeder
What is an interesting aspect with my feeder fishing on this river is that I like to use a light feeder, which you may have already picked up on. The lead on the feeder I'm using today weighs 45g, which on its own isn't enough to hold bottom.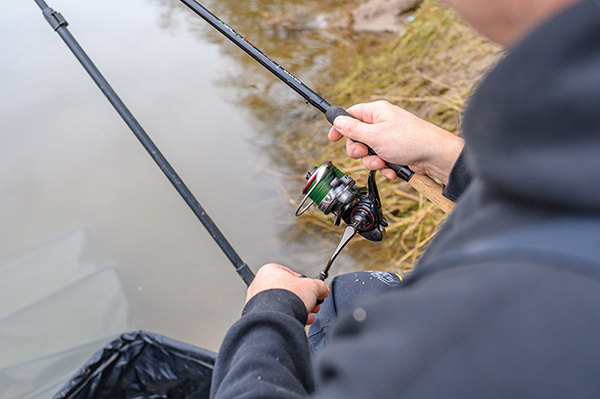 What I like to do once I've cast the feeder in is back wind to feed more line out and keep the feeder in position, and then I stop back winding, so the pressure builds up on the line and dislodges the feeder, so it travels down the swim, before back winding again to encourage the feeder to hold.
By doing this I can cover all the way down the swim but, more often than not, I will have had a bite long before it gets to the bottom of the swim.
It's a great way to cover the swim and find out where the fish are. Barbel, for example, will sometimes come right to the top of the swim if conditions are right and they're hungry, but more often than not they hole up in a preferred area and bouncing the feeder down the swim is a great way to locate them.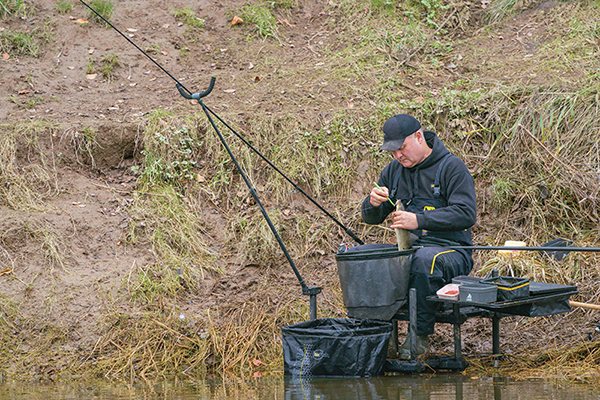 When I was a kid me and my mate used to fish the small streams near where we lived for trout, and we only had short wand-style tip rods, so we used to fish worms and maggots with ¼oz bomb rigs.
It was noticeable that when we fished faster flowing bits of the river and the bomb wasn't heavy enough to hold, we always caught more fish. I then began to experiment and in the slower sections I replaced the bomb with a AAA shot, for example, and by bouncing it down the swim I definitely caught more fish compared to nailing the bait on the bottom.
That lesson has always stayed with me and that's why I try and fish the feeder in a similar way with that principle very much in mind.
Starting on the open-ended feeder with meat, casters and hemp plugged with crushed hemp, I'm into small chub straightaway and I reckon most are coming around 30 seconds to a minute of the feeder hitting the water.
I back wind for about 20 seconds before stopping for 10 seconds and then back winding again to peel more line off the reel so I can hold bottom. Most bites are coming on the transition from either stopping back winding or starting it again.
The Process
The chub are a bit of a nuisance but eventually I manage to find a couple of small barbel and this prompts me to adopt the next stage of my approach and that's to swap the rod for one with heavier gear and fill the feeder with hemp and casters and then plug the ends with cubes of meat instead of groundbait.
This works better if barbel are main species feeding and I also swap the maggot hook bait for a large cube of hair rigged meat.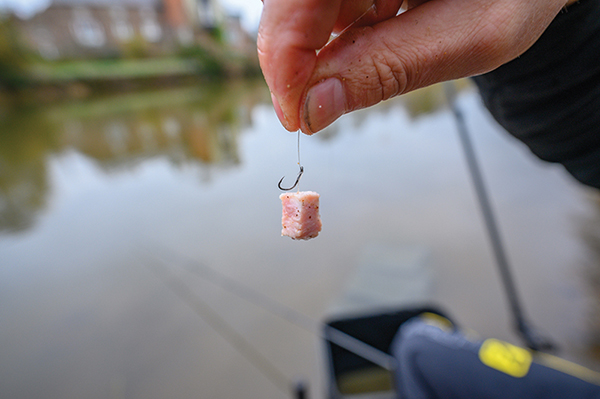 If this doesn't work but I feel barbel are in the swim, I'll change the feeder to a straight lead and bounce this down the swim with a cube of meat on the hook. This can work really well and get you an extra barbel or two. If it goes quiet on this or doesn't produce anything, I'll change back to the groundbait feeder and get back on the chub.
Today I switch to the meat feeder after catching a couple of small barbel and manage a couple of two to three-pounders before that goes dead, which prompts me to search the swim on the lead with a meat on the hook. Today this tactic doesn't produce a fish so I'm thinking the barbel aren't really in a feeding mood.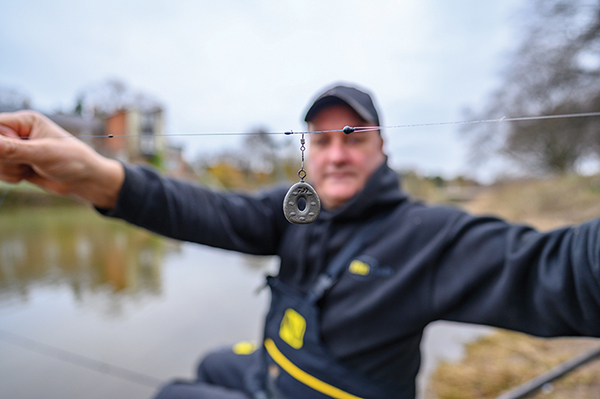 To get a weight I'll be better off fishing the feeder with groundbait with maggot on the hook and catching whatever comes along.
That's basically my approach to feeder fishing on this river. Start with the open-ended feeder plugged with groundbait with maggots on the hook, and then change to plugging the feeder with meat and fish meat on the hook if I start catching barbel or want to try and catch a bigger stamp of fish.
Once that goes quiet or doesn't work, I'll have a go on the lead and meat before switching back to the groundbait feeder again.
I may go through this process several times during a match, or one may be better than the others so that's what I decide to concentrate on. It depends on what species is feeding and how well they're feeding.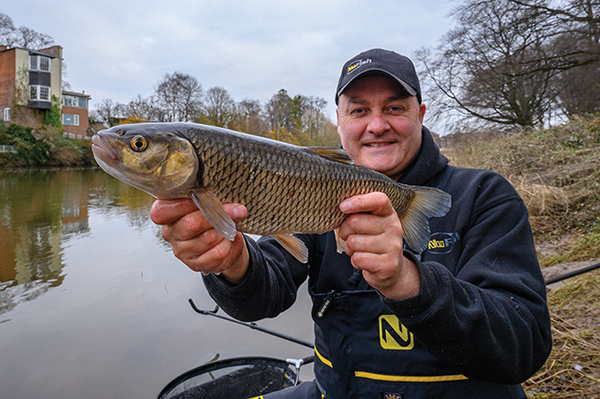 Today I've ended up with just over 40lb and it's fished harder than I was expecting, but a couple of the locals have said they've released some water from the dam, which has gone into the river and that can often be the kiss of death.
If you've never fished this river before I strongly recommend you give it a go if you like this sort of fishing. There really is no place quite like it. Doesn't matter if your favourite style of fishing is pole, feeder, stick or waggler, you can have a day that will live in your memory forever on this venue.