Festival Tactics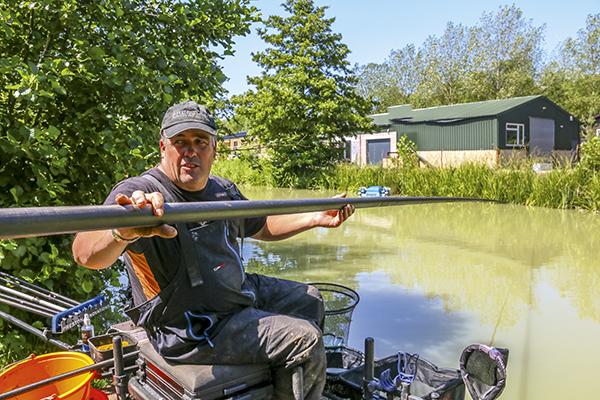 There's nothing I like more than having a good crack at winning a festival and these days we've never had it so good when it comes to multiple days of match fishing. Being consistent, getting good information and being prepared (as well as having the odd bit of luck along the way), are the things you need to be successful and string a succession of good results together that's hopefully good enough for you to win or frame.

I recently fished a four-day festival at one of my favourite venues at the minute, Ivy House Lakes near Swindon, and on the last day I was in with a chance of winning, but I'd need to use all the things I'd learnt from the previous three days to do so.

On the day in question I was down to fish on a small, canal style lake called Moorhen and it's one that I hadn't fished since Andy the owner had restocked it. Bear in mind this was the fourth day of the festival and many of the anglers, myself included, fully expected the fishing on here to drop off and get harder as the festival progressed.




There are carp in Moorhen and generally if you draw an end peg with the wind blowing into it, or a peg with shallow water across, there's a good chance of winning the lake. I drew smack bang in the middle, so I knew straightaway I was going to be up against it, and I was opposite a thick reed bed so I couldn't get in that crucial shallow water tight across. What I want to show you today are the tactics I used to win my section on that last day, because it was a result of things I'd learnt on the previous three days.
BAIT
Any venue with a mixed head of fish tells you one thing: you're going to need a wide selection of bait to cover all eventualities. The first thing on my tray is three-quarters of a bag of Match Method Mix which is great for carp or skimmers and can be fed in a number of ways, either down the middle or in the margins.

Next are the pellets and I've got some 4mm and 6mm fishery hard pellets, although the 6mm didn't really play a part during the match, apart from being used as hook baits. I've also got about three pints of soaked fishery micros and, just like the groundbait, they're versatile and can be used in different ways. I'll show you how I used them once we get fishing.
Then I've got 0.5kg of worms, and these were really important on the day, and two pints of red dead maggots. Finally I've some casters and corn, and I know this amount of bait can be confusing for people, but a certain bait can work brilliantly in a certain area of the swim on any given day, and that's why you need to cover your options.
RIGS
I won't go into too much detail here about the rigs but I have drawn some diagrams so you can see exactly what I used in each swim and all the components. The first thing that struck me when I got to my peg and plumbed up, was how deep it was close to the bank. On a few of the pegs on Moorhen you can get right across to fish the mudline, but where I drew the far bank was covered in heavy reed growth, which meant I couldn't get tight across to find shallow water. It was four feet deep tight to the far bank reeds and because I could easily hook some good fish there, I decided to set my rigs up on Short Stops so the elastic would power up quickly and help me pull fish away.

Because of the depth I felt it wouldn't be great for carp. But the good thing about this lake, and others on the complex, is that there are plenty of fish to catch other than carp and in particular there are plenty of skimmers to target. None of us really knew what a good weight was going to be either, so the question was, could I catch enough other fish like skimmers and small F1s to beat any carp weights from those pegs with shallow water across?

On the day I decided to fish across to the reeds, down the middle and also feed a couple of margin swims to my left and right. There's a rule at this fishery that prohibits anglers from cutting any bankside vegetation back and because of that, my margin lines were literally on a top kit, they were that close!

First job was to chop some worms as I was looking to feed these at 10 metres, which was just past the middle, and then start the match fishing across to the reeds at 14.5 metres on hard pellets, although I needed my dolly butt on the end to compensate for using short stops. I didn't chop the worms too fine as it had been warm and the fishing had been good, so I wanted to leave them in pieces about an inch long.

It's always tricky deciding what to do in festivals because you hear so many comments about how other anglers have caught. For me, the most important information to get is actually where in the swim others have caught and at what depth. What I did was mix the choppy in with some groundbait, together with a few dead red maggots; not a lot, just enough to make two balls the size of a large tangerine. I didn't want to feed too much, but enough to draw skimmers in and keep them in the peg. Then, to feed my margin swims to my left and right, all I did was throw in five or six grains of corn just to get something on the bottom.

I started across on a 6mm hard pellet on a size 16 GPM with a hair-rigged band, and loaded the medium Cad Pot with about 40 4mm pellets, which I dipped into the water to wet them before shipping out. I didn't add any water to the 4mm pellets up to this point because I think in the summer when it's warm, soaking them beforehand makes them go too soft and you get small particles coming off them on the way down, which I don't want. Dipping the pot before shipping out ensures they don't come out when shipping across, and also ensures they all sink.

The next thing I want to talk about is really important because I think it caught me so many fish over the festival, not just on the last day. My rig for fishing over was 4x16, which is heavy for fishing across in four feet of water, but because of the extra weight I could lower it in and be fishing straightaway.

I could also easily tell if the hook or any of the shot were held up by any reeds under the surface, and with light rigs it can be really hard to tell if you're caught up on something or not. It was so positive and when the fish were in the swim, I was getting bites quickly and a short lift of the pole was all that was required to set the hook.

Another rule here at Ivy House is that you must have at least nine inches of line between the float and the elastic, so I made sure all my rigs were nine inches exactly, and then I held the pole tip directly above the float ready to lift. So, after shipping across I would tap a few of the pellets out, not all of them, and get ready for a bite. My first fish in front of the cameras was a skimmer around 1lb and on the last day of the festival I caught 45lb of these; without them I would have finished third or fourth in the section and not won the festival. Once I got into the rhythm of dropping a few pellets in, lowering my bulk in right over the top and then lifting into a fish, it became a method of fishing across that had me catching faster than all of the other anglers I could see, even those fishing closer in. This was largely down to the heavier, more positive rig.




The fish varied over there too with skimmers to 1lb (but mostly smaller), stockie carp to 8oz, F1s to 1lb but they were mostly smaller than that. I was never thinking about trying to catch a better stamp of fish, my aim was just to come back with a fish every drop in knowing that I would catch some bigger fish along the way. But they were all good weight builders, even the smaller stamp, and once I was able to get into a rhythm I was on my way to beating anglers that were catching carp. Once I was catching, the only significant adjustment I made was to bulk all my shot down on the hooklength knot instead of having two droppers; this was even more positive and helped me to get bites even faster.

The session in front of the cameras was good because my far line started to die on me after a couple of hours and that's exactly what happened when I drew this peg on the last day of the festival. In those first two hours, all I'd done with the 10m line was throw in a few grains of corn on top of the initial feed. The 14.5m line definitely needed a rest and in the festival I ended up going back there later on but feeding it differently, but more on that later.

In the meantime, let's see what's on the 10m line because that's what I did a couple of weeks ago. I never caught a great deal on this line, but when I did catch a fish it was a decent sized skimmer so it was worth persisting with for a while. I didn't top up the 14.5m line with anything, I left it alone because I think fish live near the reeds anyway so there's no need to pot in more bait before resting it.

I've gone out with an inch sized section of worm on the hook, and when you're using worms as a hook bait, always make sure it hangs straight. I've got some bubbles on the 10m line so it will be interesting to see what fish are causing those. First drop in and the float doesn't even settle and I'm thinking it's got to be a small roach as I lift the pole, but then a skimmer about 1lb comes straight up to the surface. It will be great if a few of these have moved in on this line because they're real weight builders.

The only thing I have to work out now is how to feed it, because after catching that first skimmer I got a few silly bites and then even they tailed off, so I had to feed another small ball of groundbait, chopped worm and dead maggots. This worked straightaway and after missing a couple of bites immediately I then caught another 1lb-plus skimmer and it became clear that by feeding a small ball regularly I was able to get some fish coming regularly.