Gary Mathews Reports Back From Partridge Lakes Winter League December 4th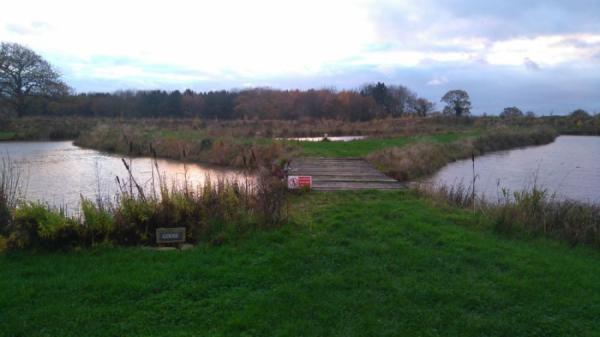 The Build Up

It was back to Partridge lakes today for the third round of the teams of four winter league. The weather leading up to the contest had taken a turn for the worse with a slight drop in temperature (although it still wasn't as cold as it should be for the beginning of December). The conditions had however, had a big impact on the weights that had come out recently and it had also been frozen at the start of the week, but, on the open match Saturday it had been ice-free so I was unsure on how it would fish after all the melted ice water had gone in but I was looking forward to it nonetheless.
On the trip down to the fishery I was surprised to see that the canal near me had frozen over and I was half thinking that I should turn back for the ice breaker but fearing that this would make me late I decided to head on but still hoped that Partridge would be ice-free. On arrival I feared the worst as the majority of the lakes were covered but luckily just cat ice which was a relief because smashing out channels in the ice with my pole if it was any thicker doesn't usually end well!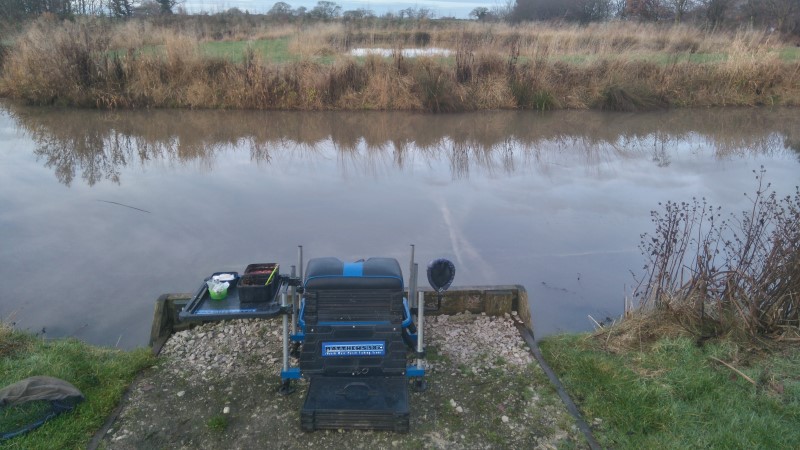 The team were in a surprisingly confident mood as one of them had managed to win the open here on Thursday, it was soon time for the rolling draw to start and the team captain came back with some reasonable pegs for a change. 121 covey five, 14 spey, 4 ribbon and I was on 171 covey six an area that I had fished before at this time of year but struggled, plus the peg is up against the flyer 173 so felt I would have my work cut out for decent team points today.

On arrival at my home for the next few hours I managed to tap out a couple of channels through the cat ice quite easily with my cupping kit ,towards my left hand side I cut it out to eleven meters which was half way up the far bank slope at around four feet deep and I didn't really expect the fish to be in any shallower water. Towards my right side I just cut it half way about six meters which would be my channel swim and i was quite pleased with how things had turned out as I had left lots of ice for cover for the fish to hide in. I was looking forward to giving it a good go because this type of fishing is something that I don't do a lot of these days!
The Rigs
My main swims for today were as follows ;
Pellets in four-feet which was tight to the side of the ice and I used a 4x14 Malman Roob float which had an inch spread bulk above the four-inch 0.10mm diameter Garbo hook length as this was a very positive rig it will show up the slightest touch on the float.

Maggots in four feet, I used a light 0.2g RW Maggie float which had a bulk+two dropper shotting pattern and my main line was the usual 0.14mm Garbo which had a six inch 0.10mm garbo hook length attached to it, this should enable me to grab the attention of any passing f1 as my hook bait fell in the bottom third of swim.

Channel in six-foot as it was relatively still on this swim as i was getting protection by the ice so i used an 0.3g RW Maggie float which had a bulk+two dropper shotting pattern and my main line was the usual 0.14mm Garbo which had a six-inch 0.10mm Garbo hook length attached to it.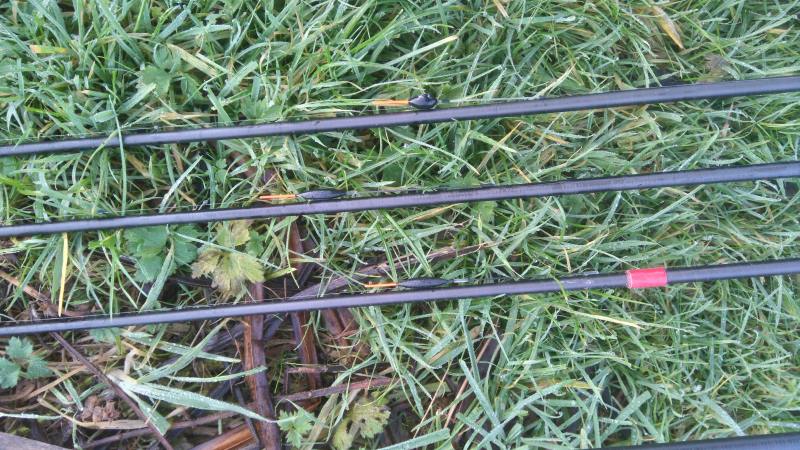 The Bait List

-2 pints of red maggots with a handful of white mixed in
-1 pint of micros
-1 pint of crushed expanders
-Small tub of 4+2mm expanders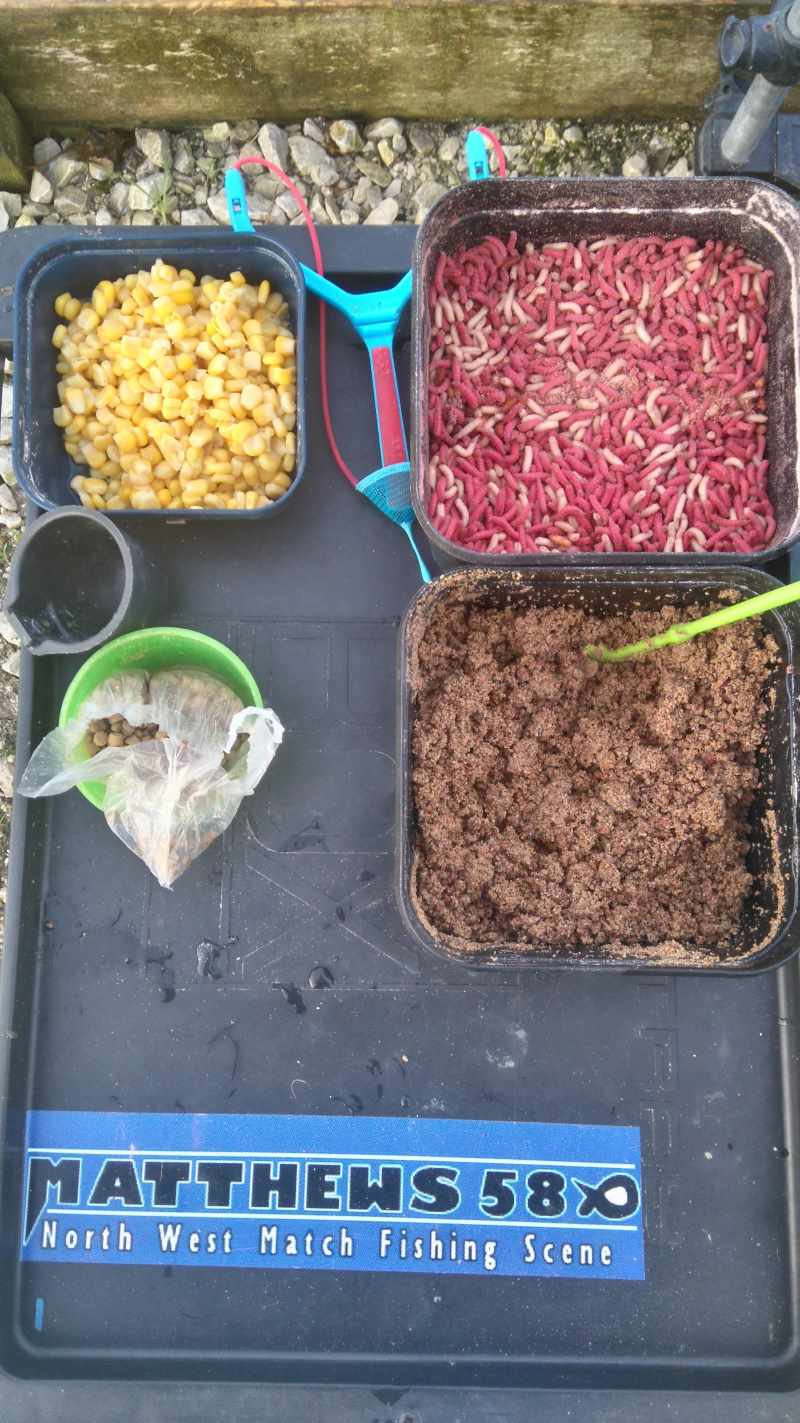 The Match

For a change I was set up with plenty time to spare but it was just ten minutes before the all in when the sun made its way from behind the far side trees which were in front of me and I just couldn't see anything on my original swims so I hastily had to re plumbed up a couple of new ones on the opposite side of my ice channel which at least meant I could fish my four-feet rigs at the start.
When the hooter sounded in the distance I began on my pellet line and tapped in a thumbnail sized nugget of Sonubaits Crushed Expander groundbait as I didn't really know what to expect from the fishing today, I then lowered my rig over the top of it but the glare from the sun was making things really awkward and with no bites coming in the first fifteen minutes I decided to risk tapping a few micros in to see if I could attract the attention of a passing f1s.
The lad to my left had already caught two fish so there seemed to be a few fish in the area, although to be honest I couldn't be sure if it worked or not as I was lifting into phantom bites because i was struggling to see my float with the low winter sun and on one of these lifts I foul hooked an f1 which I lost under the ice as i began shipping back.

Thirty minutes into the match I decided to go onto my channel swim because at least I was able to see my float but did feel that there was a few fish present on the four-foot line so hoped the sun might move enough for me to go back on my original swim soon. At this point of the contest the north easterly wind had started to get up as a consequence you could hear the ice cracking and it wasnt long before most of it from the margin to the channel had melted this had an impact on the fishing as everyone down the split where I was sitting remained biteless for almost two hours although I did see a couple of anglers catch from the opposite bank. During this middle spell of the contest I feel that I might have over fed the peg because I was setting up new swims at four-foot along the far shelve and also tapping in maggots which I felt was the best depth to try to find a few f1s but it didn't work.

Beginning to fear the worst with a blank on the cards but when I dropped onto my channel swim I finally managed another bite and not long after I had my first f1 in the net.
By kinder potting in six maggots every five minutes then lowering in my rig on a tight line I managed to add two more fish and I would only get an indication thirty seconds after my rig had settled so was constantly laying my rig in through the water.
After twenty minutes of activity the swim died on me, in hindsight I really should have put more lines in at this depth but instead I went searching along the far bank at four foot because that was the area that the other anglers seemed to be getting the most indications and I did manage a couple more f1s but it was noticeable that I would only be able to catch one fish on each swim.
On reflection after the match I feel I could have searched the water in between the pegs because that is what the lad to my left did and he overtook me in the last hour of the match. Whereas I really struggled as I had to resort to going tight across with all my shot under the float by doing this I had a really slow fall of the hook bait and hoped that this might attract the attention of a carp but I only managed a chub.

When the all out sounded it called time on a rather frustrating match I really needed to be more active searching my peg more to find out where the f1s were located. My corresponding silver fish league is potentially causing some bad habits and having a detrimental effect on my f1 fishing.
I knew that I had been beaten by the anglers either side of me but was hopeful that I had managed to get the better of the others in my section. One of the first to weigh in peg 173 managed 13lb , I had 6lb , peg 169 had 10lb , peg 167 had 9oz and peg 165 had 8lb which i felt was well within my grasp today so ended up a disappointing 4th in section.

On the team front we had a reasonable day with 12 points despite my poor performance this put us mid division on the day but more importantly kept us in touch with the leaders in overall 7th position with 33 points. There is still a long way to go yet , unfortunately I am going to miss the next round as I need to concentrate on my two remaining winter league matches at Old Hough where I need a couple of good results if I want to stay towards the top of the league but after that all my matches will be at Partridge lakes and I may even enter in the individual series if there is still places free
Like what you see?

Or buy a single issue