Guru Graduation!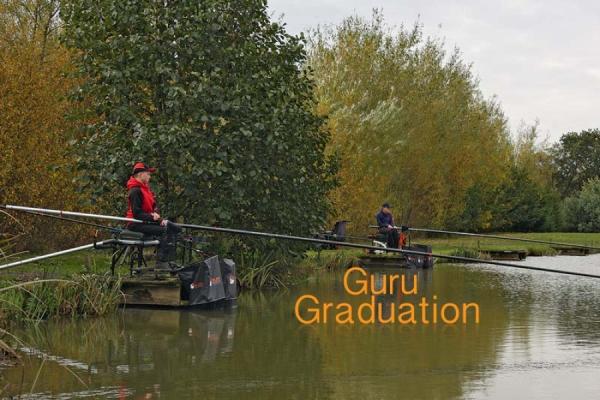 Match Fishing magazine gets on the bank with the first two graduates of the Guru Match Academy!
You'd have thought that, at just 14 and 15 years of age respectively, Rob Swan and Will McCranor spend most of their days locked in a dark bedroom playing computer games and glued to their iPhones, like many teenagers in modern society.
In actual fact, when not working hard on their studies during term time you will more than likely find them on the banks of one of their local fisheries, giving the adults a run for their money on an open match or festival.
Both are the very first graduates of the brand new Guru Match Academy. This is an event run by Guru, which sees a group of young match anglers coached over a two-day period, where over those two days the Guru stars decide between them which pair of youngsters involved is going to gain a sponsorship deal worth over £1,000!
We caught up with Rob and Will at the picturesque Partridge Lakes Fishery, in Warrington, to see how they were getting on since successfully acquiring their sponsorships with Guru.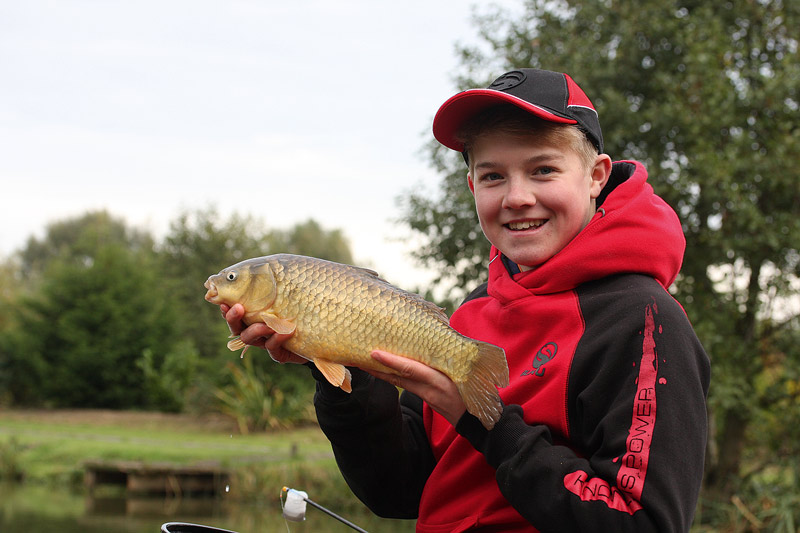 A nice F1, but would it be enough to beat Will?
Head-To-Head
To spark both of the lads' competitive nature it was decided that we would use the day to have a small head-to-head match between them both.
Regardless of the early start and the bitterly cold weather, both were in good spirits on the morning of the feature and their excitement was clear to see. Rob, a happy, lively character excitedly bounced around while Will, who is a little quieter ordinarily, was wearing a huge smile.
Following a conversation over a cup of tea that was very much needed to warm us up, it was decided that we would use consecutive pegs on the complex's Covey 4 lake. Pegs 85 and 86 were on offer and using a coin we flipped for pegs, resulting in Rob sitting on Peg 85 while Will was placed on 86.
Both lads quickly made their way over to the on-site tackle and bait shop and bought themselves a couple of pints of fresh maggots each, and made their way to their designated pegs.
Contrasting Setups
It didn't take too long before we noticed some differences in the styles of Rob and Will. Rob was clearly very concise in his setup; his box, for example, consists of just one deep unit, inside is a bait tub with all of his essentials – a plummet, some scissors, a pen, a couple of disgorgers, some electrician's tape and… a ruler (we'll get to that shortly).
Will, on the other hand, had multiple trays of rigs tied up, all very neat and tidy, drawers full of bits and bobs, some of which he might not use, but there for those occasions when they may just come in handy. Hooklength boxes in abundance, there was no way he didn't have everything covered; the effort and hard work he must put in away from the bank is admirable.
That wasn't to say Rob was not prepared, in fact the opposite was true. He had plenty of rigs tied up, all stored tidily in EVA boxes. However, what made him really efficient was that many of his go-to rigs were stored away, already attached to the top kits in his holdall.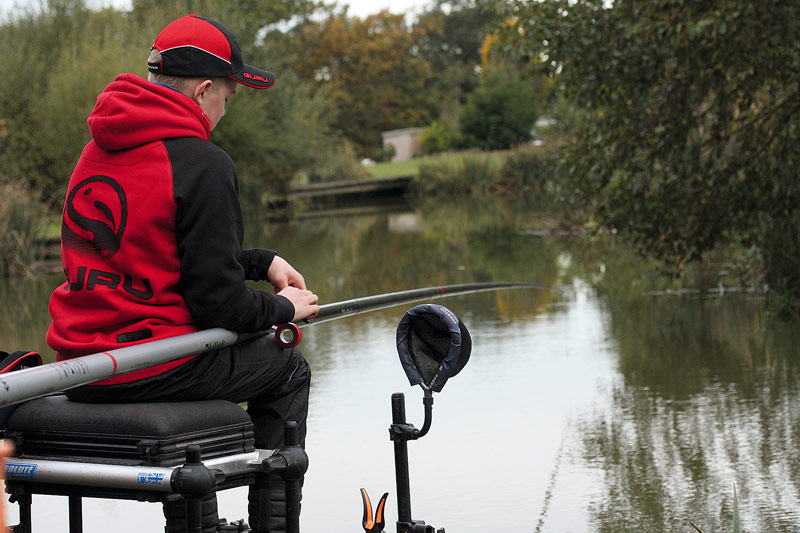 MF was impressed by Rob's attention to detail throughout the day!


What was interesting about Rob's approach to the peg was how precise he was when plumbing up. It is also where that ruler comes into play. Rather than just sticking a plummet on and finding any old depth, Rob's ruler has been adapted so he can hook it at one end and carefully wrap his rig around it – one turn equals one foot, two turns are two feet and so on.
Once his rig is set at his preferred depth, usually the depth he knows he has caught fish at on previous visits, or where he feels the fish will be sitting, he proceeds to find that depth around his peg. The next stage of his precise setup then involves marking exactly where on his pole he was when he found that required depth. Using insulation tape and a pen to write on the details he then marks exactly where on his pole he needs to hold it to ensure he is in the same spot every time.
Let Battle Commence
Both anglers had a similar approach to the day. A maggot line down the middle of the lake seemed like the banker with it being so cold, then lines in shallower water both to the island and down the edge would provide good options should the fish be sat out of the deepest water.
At 10.15am the match got underway, but both lads were biteless after the first 30 minutes, despite working hard to make something happen in their respective pegs. A look on the long pole then back to their original starting points still resulted in nothing. "Imagine if I blanked on my first-ever feature!" Rob joked.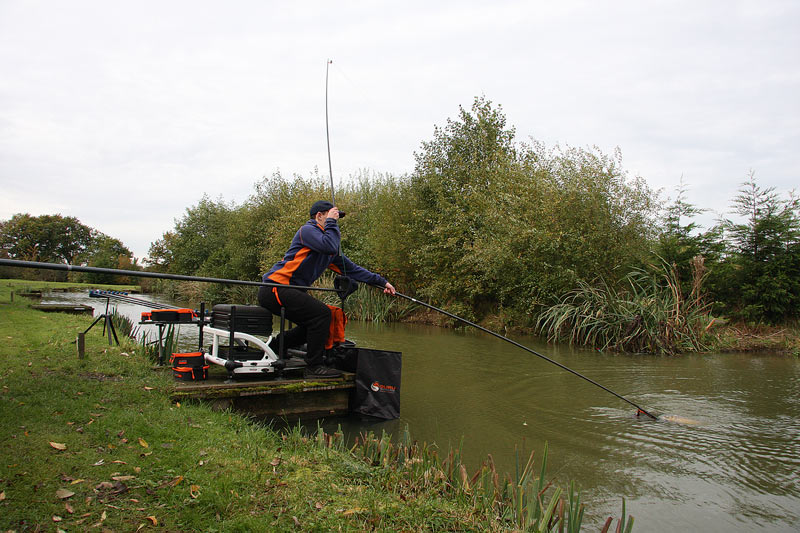 Will Started to pile on the pressure once he had a couple of fish in the net.
We didn't have to wait too much longer for some action, though, and before long Will had hooked the first fish of the day and a good few yards of green No10 Dura Hollo was being pulled out of his pole. After a short, yet cagey battle a mirror carp of around 5lb lay in his net. Head on the task at hand Will proceeded to re-bait and ship back out on the hunt for his next fish.
Shortly after that Rob managed to hook and land his first fish of the day, an F1 of 2lb that was caught using double maggot down the middle of the lake where he had been loose feeding two or three maggots fairly regularly. Knowing he was still behind he lowered his rig back in and it didn't take long before his float dipped again, and another F1 graced his net, this time of a slightly smaller stamp. "Getting worried now, William?" he shouted across to his team-mate, turned competitor for the day.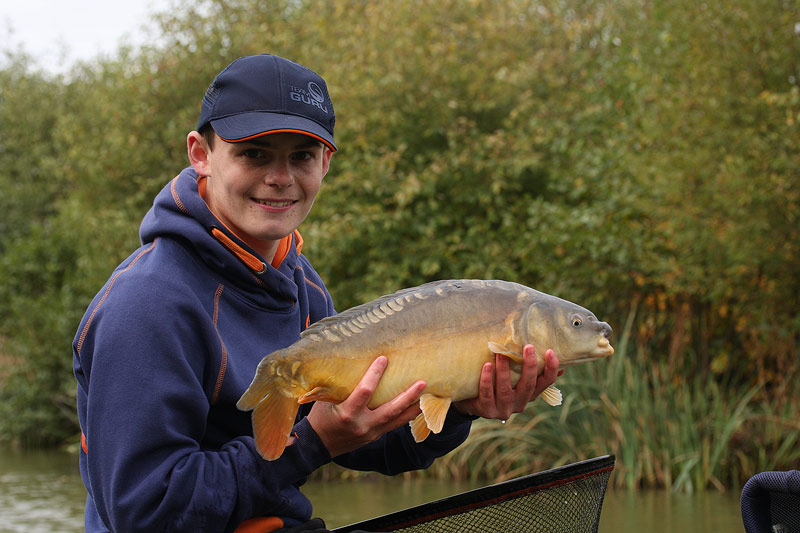 Another nice carp for Will as he takes a commanding lead.


Almost on cue Will again hooked a slightly bigger fish and used his side puller kit to good effect to land another mirror carp, this time of 2lb in weight. He didn't need to provoke Rob with a sarcastic comment, though; at this point he knew he was out in front with bigger fish than those Rob had caught so far.
Rig-Talk
Interestingly, both anglers had very similar setups and opt for handmade patterns throughout. Rich Wilson Dinks seemed popular, with Will using the standard Dink in a 4x12 for his maggot line down the track while a 4x12 RW F1 Dink was preferred on the island swim where he had three feet of water to the point of the island.
Rob had a RW Dink set up for his long-pole lines in 4x12 – again in three feet of water – the carbon-stemmed alternative known as a Maggie in 4x14 for down the track and one of the newly released Malman Titans for down the edge, a pattern of float that features a type of wire that can be bent but will always return to its original straight layout.
Both opted for a robust 0.15mm diameter main line across all of their rigs but it was at the business end where slight differences were made. Rob's hooklengths were all tied to 0.13mm diameter Guru N-Gauge and a size 18 LWG hook. Will on the other hand, had decided on a slightly lighter setup and was using a 0.11mm diameter hooklength and a size 18 Guru F1 Maggot.
Increased Activity
Having jumped on to the lake on one of its scheduled rest days we had been warned that the venue's maintenance guys might be round at some point during the day. It just so happened that they were actually stocking the lake while we were there! To our surprise within 30 minutes of those fish being introduced both anglers had actually caught one!
It did seem that the activity in the lake gave the venue a bit of a kick-start and before long both of the lads were catching a few fish. They even managed to pick up an odd one shallow despite the temperature not rising much at all throughout the day.
With just half an hour of the short match remaining things had slowed down for Rob. Will on the other hand, seemed to be having his best spell of the day and following a ghost carp that put up a spirited battle, four more small carp and an F1 followed in quick succession.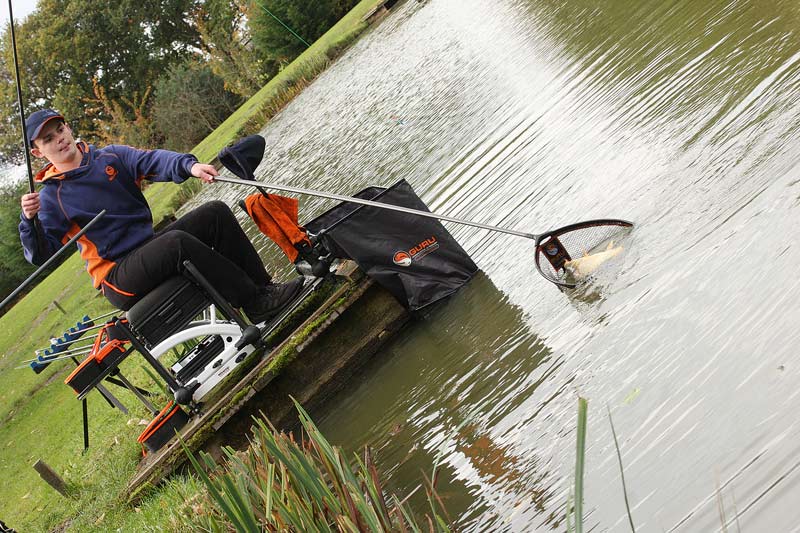 Another fish finds itself in Will's net.


A last gasp flurry of smaller F1s ensured Rob was hot on Will's heels, but due to the size of Will's fish it was pretty much a given what the outcome of the day was going to be.
Work Hard, Reap the Rewards
Having watched these two lads throughout the day it doesn't take too much to see exactly why they have got to where they have. Despite their age both Will and Rob are hugely devoted and passionate about the sport and put the effort in both on and off the bank.
In testing conditions, where it looked in the early stages that both would struggle, they were able to work their pegs well to make something happen. Neither panicked and both remained composed, believing that they would catch if they just plugged away.
Having spoken with both anglers at length about the Guru Match Academy, both Will and Rob feel that it is something that any young angler who is serious about their fishing should get involved with. "It not only offers the fantastic opportunity of sponsorship but coaching from some of the best match anglers in the country, an opportunity that will improve the skills of those involved massively," Rob stated.
Angler Profile
Name: Rob Swan
Age: 15
Lives: Carlisle
Sponsor: Guru
Pole: Daiwa Airity
MF says: Heading for the top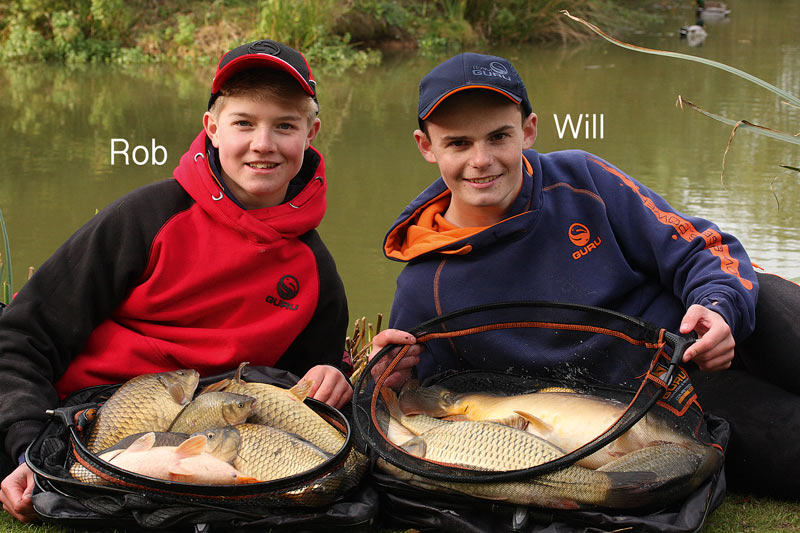 Angler Profile
Name: Will McCranor
Age: 14
Lives: Coventry
Sponsor: Guru
Pole: Preston Innovations GXR 3600
MF Says: A bright future beckons
Venue File
Location: Partridge Lakes
Address: Glaziers Lane, Culcheth, near Warrington WA3 4AQ
Website: www.partridgelakes.co.uk
Contact: 07469 981743
What Is Match Academy?
Match Academy is an exiting new event run by top match brand Guru and was held for the very first time at Makins Fishery on August 22nd and 23rd this year. The aim of Match Academy is to identify and develop the next generation of angling stars by focusing on talented youths aged between 13 and 17 years old.
All involved submit an application and successful applicants receive a day's tuition from top Guru-sponsored anglers such as Andy Bennett, Steve Ringer, Adam Rooney and Pemb Wrighting to name but a few.
The event is run over two days with a range of match fishing skills covered. This year 30 anglers took part and from them two were chosen to be on the receiving end of an amazing money-can't-buy Guru sponsorship deal worth over £1,000!
The Chosen Ones
By Guru brand manager Adam Rooney
"Choosing one angler from each day was really difficult, as every student had great attributes and the team and I had a really hard job on our hands.
"Day one we chose Will; although he didn't win the match, we were so impressed with how well organised and composed he was. Nothing phased him and on a difficult peg he managed to hold his own, swapping from bomb and waggler to the pole. His timing and chilled-out approach really showed he has what it takes to be a successful angler.
"Day two we chose Rob; now this cheeky chap grabbed my attention before the students had even wetted a line – his attitude and friendly approach on arrival was superb, which in my eyes goes a long way. The standard of angling on day two was fantastic, it was such a close contest it was going to be a hard shout on who to pick. However, from feedback not only from the tutors but the film crew and media team, this little man had a lot to offer. His organisation, composure, awareness and overall skills were that of a seasoned professional. But what made it for me was his happy-go-lucky friendly attitude and passion for the sport."
Like what you see?

Or buy a single issue