Hampton Springs – Silver Fish Match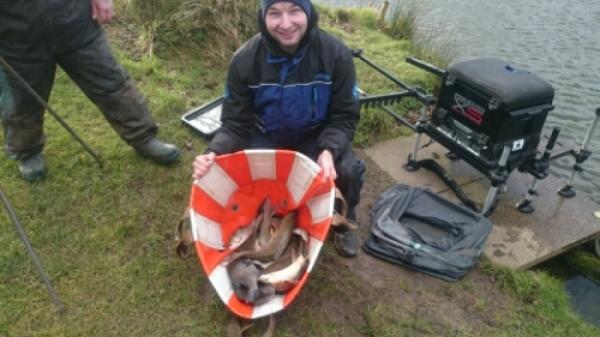 The Build-Up
Following on from a couple of good results in my most recent matches, I decided that I would try something a little different from the standard matches where F1 or carp are the dominant species. This would come in the form of a silvers-only match at Hampton Springs Fishery in Malpas, Chester.
I had been meaning to make an appearance here before now but other matches or events had prevented me from making the trip. Instead, Helen Dagnall and Dave Brooks, who had been asking me to book on with them, just rubbed it in telling me how well it had been fishing!
However, a free Sunday and I booked myself onto the match.
I had been keeping an eye on results and had also read a feature about Jamie Hughes at the venue, so with this information I didn't think I could go far wrong.
The Venue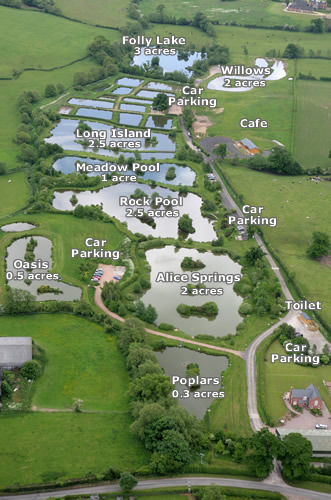 Hampton Springs consists of eight fishable lakes with plenty of variety across the complex, with waters containing a mix of pretty much every species possible – carp, F1s, tench, barbel, skimmer/bream, big perch, roach and ide, to name but a few! The complex also has good toilet facilities and an on-site café, with parking next to every lake.
The Draw
I arrived at the venue with plenty of time to spare before the draw, following the 35-mile journey from Lymm. This gave me a good opportunity to look at the lakes. Four would be included in the day's match: Poplars, Alice, Rock and Meadow.
Although the original plan was for the draw to be in the standard pegged layout, because of the expected heavy winds the organisers decided that a rover-style draw would give the competitors a bit more of a chance to pick pegs out of the wind and in areas that would produce fish.
Although this was without a doubt a good idea, and one that made perfect sense, for me, making my first appearance at the venue since the summer and not knowing it or its pegs like the rest of the 20 or so anglers, who had all fished Hampton Springs on an almost weekly basis over the last couple of months, it meant deciding on where I would pick to fish from was going to be difficult!
From the draw bag No7 stuck to my hand (meaning I had 7th pick of any of the pegs on the four lakes included). Not a bad pick but by the time it was my turn to pick a couple of pegs that I did fancy had already gone. In the end I 'panic picked' Peg 22 on Meadows, the same lake I fished in the summer.
The Match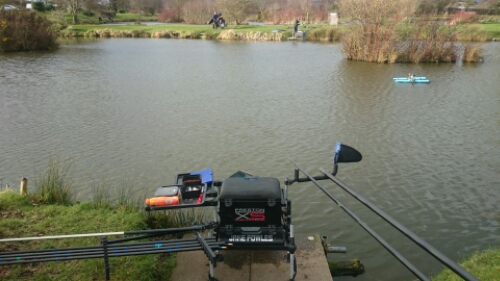 On arrival at my peg it was instantly apparent what my first mistake of the day was. Instead of being sensible and picking a peg where the wind would be off my back, I had chosen to fish with the wind cutting from left to right up the length of the lake. Not ideal!
I decided to set up three rigs, focusing on two main lines. One line at 13 metres, which comprised a 0.4g AS5 float (which I have noticed perform very well in windy conditions. Its slim profile seems to cut through the water rather than being effected too much by any tow or wind) down to a 0.10mm-diameter hooklength and a size 18 B911 F1 hook. This was teamed up to a size 8 Dura Hollo elastic. The swim was five and a half feet deep.
My second line, the one I envisaged I would catch the majority of my fish from was at siix metres. Here I found six feet of water, the deepest part of the peg, and I set up two separate rigs. The first consisted of a 4x14 Carpa Chimp float, a pattern with a rugby-ball-shaped body and a wire stem. My thinking being to have a wire stem to keep the rig nice and stable in the windy conditions. This was down to a 0.08mm hooklength and a size 16 Gama Green hook.
Rig two used the same hooklength but a 0.4g AS3 float.
My plan was simple, start on the long line feeding micros and fishing a dead red maggot or two over the top, hoping to catch a couple of decent fish from here. Skimmers, F1s, crucian carp, maybe, bearing in mind 'proper' carp did not count.
I would build my short 6m line up feeding casters, hoping to catch a real mixed bag of species from here once it had been primed.
At 10.30am the match started. I fed a small amount of casters on my short line. Just enough to cover the bottom of my cup, probably 20 to 25 just to put a little pile of bait into the swim but knowing I was hoping to loose feed this swim by hand, where the wind would allow it.
On my long line I cupped in a small amount of micro pellets with a small pinch of dead maggots mixed in and followed it straight in with a 4mm Bait-Tech Xpand pellet on the hook.
Despite the wind making it extremely difficult to present a bait on this line I did expect it to produce a few fish.
However, this wasn't the case and after a difficult first 40 minutes where presenting a bait was near impossible with the wind and also happened to be biteless, I had no other choice but to see if any fish had settled over my short line. I had been feeding five or six casters on a regular basis by hand over this line.
It didn't take long before my first fish of the day was in my net, a roach of about 6oz. I'd have taken these all day! My next few put-ins also produced roach, all ranging between a couple of ounces and 6oz.
After eight or nine my next put-in took alot longer to get an indication. When the float did finally dip I seemed to bump something of a decent size.
I went straight back in following a change of hook bait and got a bite within a minute of laying my rig in. This time I did manage to hook the fish, only to pull out of it just as it was coming up to the surface! I suspected it was a big perch, which the venue is known to house. They are renowned for having really bony mouths, and not setting the hook properly can often result in them getting off.
No matter, I continued to pick up roach and ide from my short line, continuing to loose feed casters over the top.
Ninety minutes into the match I'd had 15 to 20 roach and ide, all falling to a single-caster hook bait.
Similar to earlier in the match, my line went quiet. This time, however, I was prepared for what I expected was about to happen. When the float dipped I went for a proper strike into the fish to ensure that I set the hook properly. This time it wasn't going to get off and I slipped my net under a lovely big perch.
At this point it did seem that a few slightly bigger fish had moved into the swim and pushed the roach and ide away. I was waiting longer for bites but my next couple of fish were a skimmer of just over 1lb and a scrappy crucian carp again around the 1lb mark. However, after a good run of fish it seemed as though coming onto this line earlier than I wanted was starting to show. I always feel that this line needs around an hour for the fish to properly settle over it.
I took this time to give my long line another go to see if any fish were sat waiting for me there, and also to give my 6m line the chance to build back up, with fish hopefully settling back over my feed.
The long line did finally produce a couple of fish on this second visit, although only little blades of skimmers of a couple of ounces. I had tried dead maggot and pellet on the hook with no real success. Before long the wind picked up once again, making this line redundant yet again.
With just under two hours remaining, and approximately 10lb in the net, I was really in need of a good run of fish between now and the end of the match. The guy on the peg to my left had thrown his four or five small fish back and packed up for the day. The angler to my right was also struggling and finding it hard to get regular bites from his swims. The only person who seemed to be catching relatively consistently was Mark Davies directly opposite. He had caught a couple of F1s along with a barbel and a good-sized perch.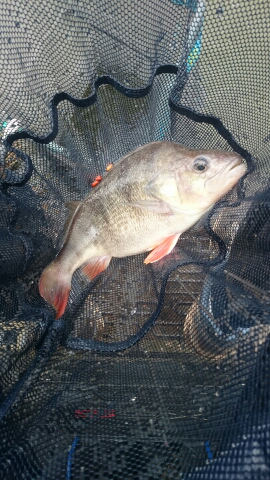 Going back onto my 6m line I was almost instantly into fish, again roach and ide being the most regular species.
After a few of these the swim went quiet once again. This time, however, it was not a perch. Instead, I found myself playing a good-sized barbel on my size 6 Preston Innovations Slip elastic. I have this teamed up with a Puller bung, which was essential in helping me land these hard-fighting fish.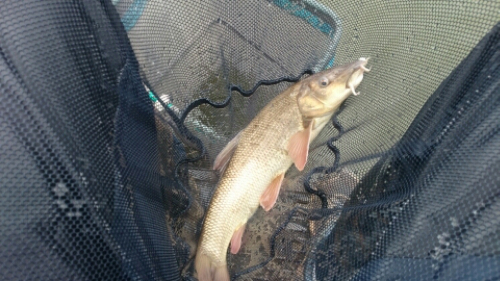 Over the next hour I managed to put another three in my net, each as hard fighting as the other and all between 11/2lb and 21/2lb. I actually found that laying my rig in about a foot past where I was feeding bait got me bites when fishing right on top of the feed wouldn't. Following these barbel I hooked my first carp of the match. I had done well to avoid them up until this point! Annoyingly, it proceeded to effortlessly stretch my elastic right up to the aerator to the right of my swim, wrapping my rig into the obstacle and ruining it. Typical!
Luckily I had a spare rig set up, which meant I didn't lose too much time. Unfortunately, the commotion must have caused the other fish to spook and it took a little while for my next bites.
I proceeded to put what fish I could manage in the net up to the end of the match, with mainly small ide falling for my caster or maggot hook bait. Again I found I was able to pick fish up fishing past my feed area.
With a couple of minutes remaining, almost simultaneously, Mark and I hooked decent fish. His didn't seem to put up much of a fight and he managed to get it into his net, a perch that I could see from across the lake to be a good few pounds. My fish took a bit more persuading and with the all-out passing there was no need to overly rush the fish in, although the prying eyes of my competition around the lake were wishing the fish off my hook. A barbel of around 2lb was the outcome and a good end to the match.
The Weigh-In
Meadow was the second lake to be weighed in, following on from Rock Pool, where the biggest weight was Paul Cooper with 23lb 2oz from Peg 28 (The peg I was told was favourite for the day's match).
I was first to weigh in on Meadow following a DNW from Peg 24. I had guessed at between 18lb and 20lb so wasn't too far out when my mixed net of fish registered 22lb 8oz, putting me into 2nd place. Already that early lost perch had cost me!
To my right had a good run of fish late in the match and weighed in with 11lb 4oz.
On Meadows the weights seemed less consistent than some of the other lakes, with a couple of people choosing not to weigh in following a difficult day. Mark, who had had a few more bonus fish than me and a 3lb perch last chuck, weighed in with 24lb 12oz, enough to secure himself 2nd overall in the match and meaning I had the second highest weight on the lake.
With Alice and Poplars left to weigh in and those who had been on those lakes admitting to having caught quite a lot, it was looking unlikely that I would make it into the frame, which was the top five overall.
To my surprise, I managed to sneak into 5th overall. Andy Spencer won the match from Alice Lake with 29lb and Wendy Locker slotted into fourth place, beating me by 2oz! In fact, there was just 2lb 4oz between 5th and 2nd.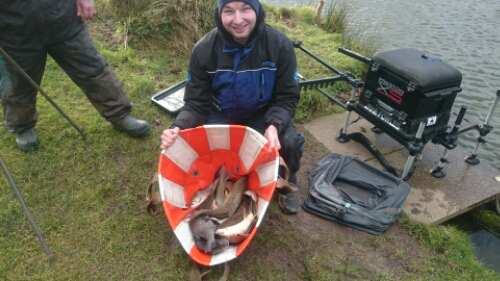 The Results
1st – Andy Spencer – 29lb (Alice)
2nd – Mark Davies – 24lb 12oz (Meadow)
3rd – Paul Cooper – 23lb 4oz (Rock)
4th – Wendy Locker – 22lb 10oz (Poplar)
5th – Jake Fowles – 22lb 8oz (Meadow)
Summary
It was a very enjoyable day at Hampton Springs Fishery. I decided on fishing this match knowing it was a change from the norm and I wasn't disappointed. Catching eight species during the match meant I never really knew what I was going to hook next. If the wind had stayed down I believe I could have stayed on my long line for longer, giving my short line more opportunity to develop, which ultimately would have meant that I would have caught more consistently throughout the match. For the second match in succession a lost fish has almost certainly cost me a place or more in the overall standings. It's something I need to eradicate from my performances. Nevertheless, I am happy with the end result, keeping up my run of framing in every match I have fished in 2016!
Please 'Like' my Facebook page: https://www.facebook.com/jakefowlesfishing/?fref=ts