Hayfield Lakes To Stage Fish'o'mania Xxv Grand Final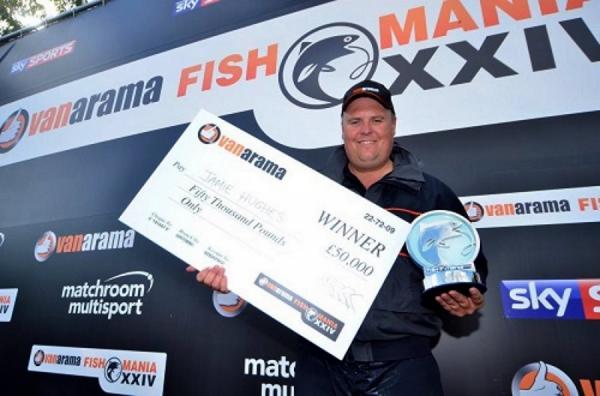 Matchroom Multi Sport are delighted to announce that Fish'O'Mania XXV will take place at Hayfield Lakes in Doncaster on Saturday, July 14 2018.
The annual 'FA Cup of Fishing' was staged at Hayfield Lakes on 11 consecutive occasions from 1997 and will return to the Yorkshire venue this summer with a field of 24 anglers, comprising 22 UK qualifiers and two international qualifiers.
Fish'O'Mania will celebrate its 25th anniversary in 2018 with anglers once again competing for the £50,000 winner's cheque on the Island Lake at Hayfield. The Ladies and Junior tournaments will also be staged on Saturday, July 14 at Hayfield Lakes.
Matchroom Sport Chairman Barry Hearn said: "We are thrilled that Fish'O'Mania will return to Hayfield Lakes in 2018.
"Fish'O'Mania is 25 this year and along with the team at Hayfield Lakes and our colleagues at Sky Sports we're determined to make this the best Fish'O' yet.
"Any match angler out there can enter the qualifiers and win through for a chance of landing the £50,000 first prize at the Grand Final in July. Fish'O'Mania is one of the highlights of the summer and I'm excited to see who will peg it up at Hayfield Lakes in the summer.
"Good luck to all of those entering the qualifying matches, we hope to see you competing at Hayfield in July."
Robin Goforth, Chief Executive of Hayfield Lakes said: "Maver-Dynamite Hayfield Lakes are delighted to welcome home the FA Cup of Angling, on its 25th anniversary.
"It's been 11 years since Hayfield Lakes hosted the Fish'O'Mania Grand Final and we've really missed this prestigious event and we look forward to working with Matchroom Multi Sport on bringing Fish 'O' back to Hayfield.
"We will work tirelessly to create an unmissable live event for the participating anglers, spectators in attendance and viewers live on Sky Sports."
Angling Trust Competitions Development Manager James Lewis added: "It's great to see the continued evolution of Fish'O'Mania and with the return to Hayfield as the final venue, there's sure to be an awesome competition for all the finalists.
"We've listened to the feedback from anglers last year and have made several changes to qualifier dates, locations and pegging in order to make the matches as fair and competitive as possible."
Details of the 22 UK qualifying matches will be released shortly. Spectator entry will be free of charge for the Grand Final at Hayfield Lakes, with tickets for free admission to be available HERE from spring 2018. A car parking charge of £5 per vehicle will apply.