How I Became Feeder Masters Champion – Darren Cox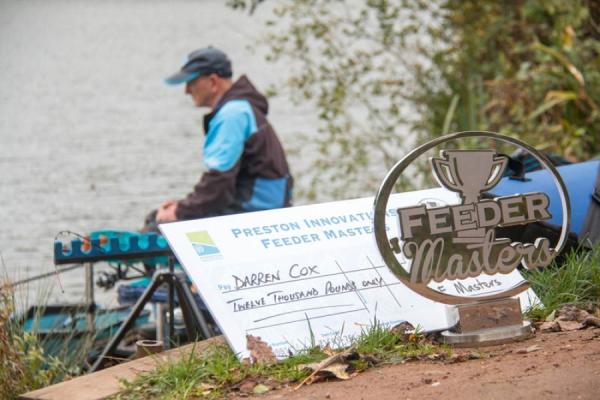 We join Darren Cox on the bank to find out just how he won the Feeder Masters trophy.
As I'd fished my last qualifier this year for Feeder Masters 2017 I had resigned myself to not reaching the final – I was due on holiday and had no more chances left. However, a ticket came up for Bough Beech while I was away sunning myself with the family; it was only three days after we returned but I grabbed it. My partner in crime, Si Fry, also had a ticket so at least we could travel together.
At the draw of the qualifier I thought I had blown that chance in the draw bag too; after talking to a few locals it appeared that my peg, the second in on the dam wall, was hopeless for skimmers as it was too shallow.
There had been an open match on the yacht club bank the day before and lots of roach were caught in the shallow water. That made my mind up – I would fish for roach at 20 metres all day. After 150-plus small fish and 14lb 12oz I sneaked into the final by a mere 2oz! I was delighted and immediately decided to spend one day per weekend at Bough Beech in order to try and get in tune with this huge expanse of water.
In the practices running up to the main weekend it had been fishing very poor. The algae had died back and the colour had dropped out of the water. As a result 20lb was a huge weight and there was talk of it being a very low-weight affair. I set my target of 45lb for the two days for a top-five finish.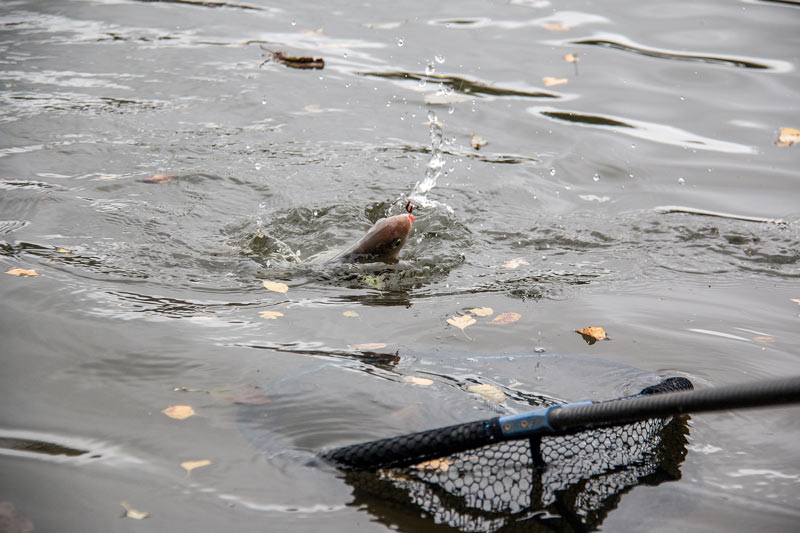 Sorting out the skimmers was key to success. Coxy soon realised the cage feeder was important to pull sh into the swim.
On the official practice I drew an area I had fished a couple of times past the tower and knew it was okay for a few fish. Most anglers were fishing at similar distances of between 50 to 60 metres to find the correct depth for the skimmers, which seemed to be around 30 feet of water. Again, most were putting up to 10 big feeders in at the start and then fishing bullet cages or window feeders throughout the match. What I learnt on this day helped me tremendously over the two-day final.
I had figured out that if I put lots of feed in at the start I would potentially miss a lot of smaller skimmers early on in the match. I had tried filling it in and it never did any good for me, so I decided to simply put on a medium 40g Garbolino Distance Feeder, have three very quick casts without a hook on and then go fishing.
This may sound very negative but you can get quite a lot of bait in these feeders and with very regular three to four-minute casts I was constantly putting a column of cloud through the water, which I am convinced attracted the smaller skimmers. I believe that these smaller fish also drag the bigger fish in later on. By using a 700mm hooklength at the start and two floating maggots I was fishing on the drop through this cloud and it worked a treat.
The Friday fished poorly on the dam wall again, and I was joint first in my section with Andy Powers next door, with 11lb.
My mind was set again on this plan with the option of swapping to a window feeder later to get more bait in if required.
The setups were fairly simple everywhere you drew at Bough Beech. Two 13ft Garbolino Distance Feeders for the main 50 to 60m line and a new Garbolino Essential 13ft Distance Feeder just in case I needed to cast further, or the wind got so bad that I needed this to get to the main line. I then also set up two shorter 10ft light Garbolino Bomb rods, which were perfect if I needed to catch roach at any point.
All the reels were loaded with Sakura Sensibraid 8X in 0.08mm or 0.10mm diameter. The starting hooklengths for skimmers were 0.16mm Garbolino Garbo Line with a size 14 Kamasan B560 hooks as the fish are wild and not hook or line shy. In my opinion it was more to do with how you fed them. My groundbait mix was also fairly simple and consisted of Thatchers dark and natural, plus Mainline Method Mix, which has a very high fishmeal content. I added a small amount of red and yellow Sensas Pastoncino to offer some specks of colour to what was a dark mix. I feel this helps hold the fish there even when there are not many feed particles left on the bottom.
On day one I wanted to draw on the natural bank as I figured that it would fish well after bait going in the day before and would deteriorate on the Sunday, as it is fished a lot less than the dam wall. I was pleased to draw on Woody Point opposite the yacht bank, as there had been some double-figure weights the day before. Mick Vials had been on my peg and he told me the distance he fished and assured me it would be okay after the bait he had fed!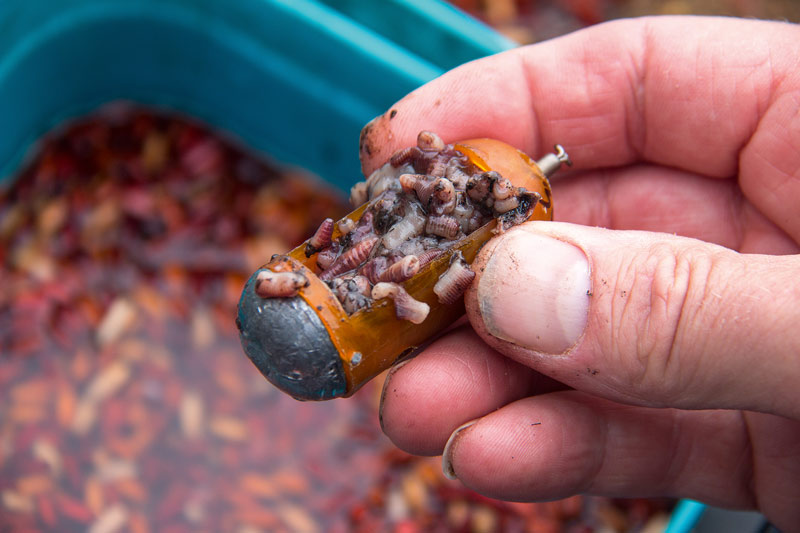 Don't be scared to ram the bait in the window feeder.
I started at 53 metres as I did the day before, with a long hooklength and the 40g medium distance feeder loaded with plenty of particles. I had a great start and after an hour and three-quarters had 28 small skimmers.
Then I had a 2lb fish and felt as if they needed more bait, so changed to the biggest 50g window feeder and a shorter 50cm hooklength. I packed the feeder with dead red maggots, casters and a few worms and the peg got stronger all the time. I had an odd better fish but lots of 10oz to 1½lb fish, which are perfect weight builders.
The secret was not to wait for a bite but cast every three to four minutes maximum, as the fish were responding to more feed. After a quiet 30 minutes I switched back to the distance feeder and caught a 3lb bream and a few more skimmers. This certainly triggered the fish back on to the feed.
A final switch back to the window feeder kept fish coming right up to the final whistle. I won that bank with 27lb 13oz, which put me third overall, with Steve Ringer topping the day with 32lb 12oz and Michael Buchwalder second with 28lb 8oz.
On day two I wanted to draw Pegs 5 to 12 or 18 to 25 to give myself a chance of some fish. I was delighted to draw Peg 7 but thought I would struggle to catch Steve and Michael, who were on 20 and 22, if it fished hard.
Again I opted for the same start but this time it didn't go to plan! I only had a few small skimmers in the first hour and they were catching big skimmers and odd bream on Pegs 3 and 4 to my right. Then I could see that the fish started moving up the section towards me as everyone to my right started to catch.
At this point I put my 50g large window feeder on and began putting as much chopped worm and casters through as I could, with quick three-minute casts. If the fish got to me I didn't want them to carry on past me!
Within 30 minutes I had my first decent skimmer. Then after that I probably had one of the easiest day's skimmer fishing of my career! The peg got better and better and I caught right up to the whistle. The one thing I had to do was to keep casting; they wanted feed and came straight to the feeder, then if I missed the fish I would have to recast. The best hook bait on both days was two floating red maggots, with two redworms being the best change bait when I needed a bite. When I thought there were some better fish in the swim I also fished two big pieces of worm, which worked at times on both days.
On the final day I fed a lot of bait and got through 1.5kg of dendrabaenas, one-and-three-quarter pints of casters, and one pint of red maggots and pinkies. The fish responded so well to the feed so I just kept it going in.
The rumours were that I had done enough to overtake both Steve and Michael and I guessed that I had around 38lb at the end.
My fish actually went 39lb 8oz, which won the whole day and gave me a total of 67lb 5oz. Thankfully it was enough to win the event overall, 7lb ahead of Steve and 10lb ahead of Michael, who was 3rd.
A wonderful end to an amazing event, which was organised perfectly from start to finish by Lee Kerry, Mick and Darren Vials and many others who worked hard. Bough Beech turned out to be the perfect venue with great hosts, and the fish responded to the feed all weekend.
I would love to be in the final again next year and hope I get some tickets and a few good draws on the way.
It is a pleasure and an honour to be crowned 2017 Preston Innovations Feeder Masters Champion!