The Irish Rover!
Webb's World
Dan Webb recalls the recent Northamptonshire County Cup, and a less than profitable trip to Ireland…
Well, there it is… 12 months have passed since I started writing these, er, chronicles. Yes, chronicles, I like that! Much has changed in that time, although I am a little disappointed that my two-page spread has now dropped to only one page and hasn't in fact taken over at least 12 pages.
To try and remedy this, I've sent Tom 300 photos from my recent trip to Ireland, so he has no excuse for short changing me again! I'm sure at least one of them will be good enough for a cover shot. I may not be an Andy Geldart, but if Des Shipp is handsome enough to get on the cover then I'm sure I am!
Anyway, as I'm writing this I've just competed in the nationally prized and prestigious Northamptonshire County cup. No, you're thinking of Warwickshire, I'm talking about Northamptonshire, the county famed for its… well, that's not important. Anyway, the Northamptonshire County Cup this year was on the Grand Union Canal in Leicestershire. (I thought that too, don't ask!)
As I was walking along the bank I could see an angler giving me the eye. As I passed he stopped me to ask if I was the lad who wrote for Match Fishing magazine. With a little pride and a cheeky smile I said I was. After explaining that I was actually 32, yet didn't mind being called a lad, we had a good chat about the mag. I found it a little strange that he didn't actually mention any of the things I'd written… and then the penny dropped. He thought I was Matt Godfrey! (I notice you haven't mentioned how you got on – I take it you didn't win anything then? Ed.)
Also in the last 12 months, I hope I've managed to provide a service to the people. Rob Perkins for sure must see me as some kind of good luck charm, as days after I named him as one of the worst drawers ever in this very mag he only went and won the Division One national. Even Alanis Morissette would be stunned by the irony of that one!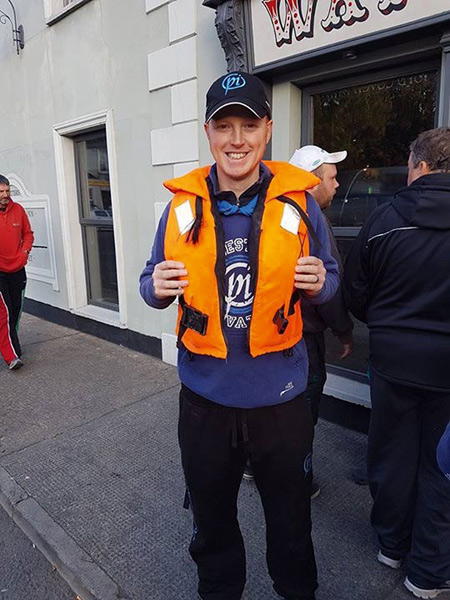 Just how big were the waves?
Well, after all this hard work writing 800 words a month, I decided to go on holiday. I'd already been on a family holiday, so I wanted a bit of 'man time' and could think of no better destination than the magnificent Lough Muckno in Co Monaghan, Ireland, along with 50 other like-minded individuals.
I thought seven days of late nights, early starts and fighting the elements wading out in an Irish lough would be the perfect rest! Couple that with the town council donating several thousand euros (a better investment than our pitiful pound) in prize money and free evening meals for every competitor provided by The Old Coach Inn and you suddenly have a very special event!
The weather was pretty good for October and the fishing was amazing, which lulled me into a false sense of security. I thought I'd fished in some wild weather until I drew on the point of White Island on the Wednesday. Gale-force wind is something most anglers have experienced, but fishing on a big open water adds a further dimension!
The vast expanse of water generates really big waves and being sat out in the water, laying gear down on the grass to stop it blowing away just isn't an option! I also made the schoolboy error of setting my footplate level with the water. At that height the biggest waves crashed over the canopy on my side tray and the spray and foam went over the cushion on my box, filling the trays with water! The waves would hit with such force that my platform would shake and I feared it would buckle underneath me. I had to keep checking on mini Mark Pollard on the next peg, because I was sure he was going to drown! I did say it was a man's holiday!
Luckily I got away unscathed from that one but it didn't stop the festival organisers from presenting me with a life jacket for the next day. I wasn't feeling my best, however. I'm sure it was the bag of crisps I had after last night's Guinness, as I felt fine before that!
In a state of slight disorientation while setting up in the morning, I tripped on a rock in the water and ended up sitting down in Lough Muckno. Luckily my waders survived but my leg was left battered and bleeding. Despite it being October I wore shorts for the rest of the week so that everyone could see my Muckno scars! I'm not very good with Greek mythology but I'm sure I must have also damaged my Achilles elbow, as try as I might I just couldn't win the festival and had to watch that Simon Willsmore drink all the prize money!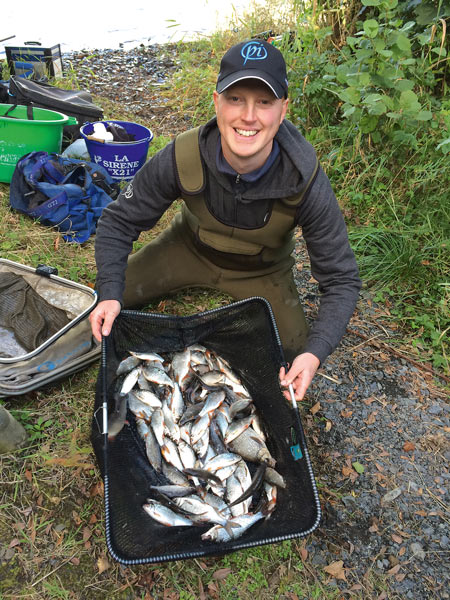 Plenty of fish but no prizes...


I even tried to sabotage his groundbait by weeing in it on the last day, but it looks like I actually relieved myself in Lee Klimczuk's by mistake as he got beaten both sides, something many thought was impossible! It upset him so much that he even went home early (not to the hotel, to England!), leaving poor Polly with the unenviable task of dealing with the winnings. Unfortunately Matrix hasn't designed a winnings trolley yet!
So here I am, home, exhausted and limping but boy was that a great trip. I love the place and can't wait until next year! I just hope I've got round to telling the wife I'm going before this goes to print!
Like what you see?

Or buy a single issue