The Italian Job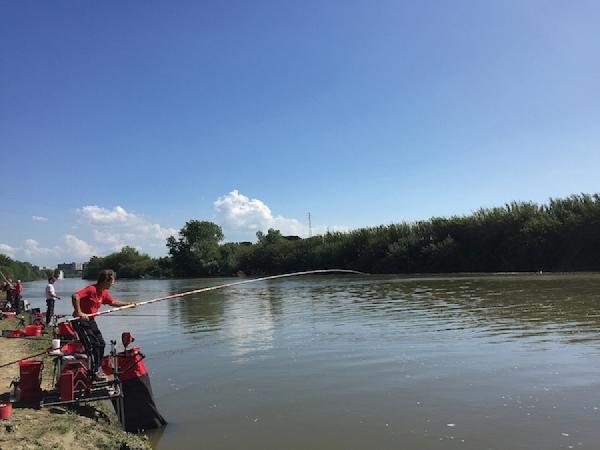 International Match Fishing
The License To Pull!
Match Fishing takes you to Italy's most prolific match venue, the mighty River Arno, where Steve Gardener is victories in one of the most demanding matches on the calendar…
The River Arno in Pisa, Italy, is my favourite fishing venue in the world. It is totally unique by way of the species you catch and the style of fishing required to catch them. At over 100 metres wide at the narrowest point and ranging from eight to 16 feet deep, it's not for the faint-hearted. One event on my calendar year after year is the Red Tetragon Pairs match on this venue, and this year I was lucky enough to win it with my partner, and Italian legend, Milo Colombo!
The target species are predominantly catfish, ranging from 1oz to double figures! The average stamp, however, is between 8oz and 2lb, and these fish have razor sharp fins that flare up to spike you. Each pectoral fin has spikes along them, as does the dorsal fin. I've had to learn a specific way of gripping the devils by grabbing them over the back of the head with three fingers to unhook them. There are also big carp that run to double figures, as well as carassio, bream and skimmers. These don't very often get a look-in, though, because the catfish are so aggressive. Oh, I forgot to mention the mullet! These grow to 4lb or more and don't half pull when you hook one.
The Event
Anyone can enter the pairs competition and if you fancy something different, I really would recommend it!
Milo and I picked up over €2,600 for winning. As a pair you draw a 20m-long section of the river to fish. The result is worked out on section points and you add your weights together and get a score of where you finish in your section. Of course, the obvious thing to do is spread yourselves out so there's a decent gap between you, but the nature of the river means that you can't always do that.
On some pegs there are massive boulders on the bottom and you have cliff-like drop-offs of a metre or more where you want to fish. Normally, we get the poles out as soon as we get to the swim and try to find a couple of flat areas to fish. Sometimes we may be sat 10 metres apart, while other times we'll be sat right next to each other.
Pairs come to fish the event from all over the world – Belgium, France, Spain, England, and of course Italy make up a real mixed field, who have a great laugh and enjoy this intense sport. There is a practice day on the Friday, but you're welcome to go before this to practice too, and the event consists of two five-hour matches fished on the Saturday and Sunday.
Bait Bonkers
There is a bait limit of 20 litres of groundbait and the same of stickymag. The key is making sure that you pace yourself each hour so that you don't run out. Often, I'll separate my mixes into four or five bowls so that I can pace my bait out throughout the match.
Maggots and groundbait really are all you need. Sometimes we have a few big worms for the hook too but I generally stick to using between five and 10 maggots on the hook. The groundbait consists of a base mix of Milo groundbaits that are quite heavy and sticky. These allow you quickly form a heavy ball – vital when you're regularly feeding and need a mix that goes straight to the bottom in deep and often moving water.
One addition we have been putting in the mix is strong fishmeal, in the way of Bait-Tech Halibut Marine Method Mix. This gives the mix some real potency and is a small addition that can make a difference. In the coloured and deep water I think it simply helps them hunt out your bait quicker.
The stickymag is mixed up like concrete! A mixture of maggots and fine gravel are mixed to a 50/50 ratio to ensure the balls are hard and heavy. Into a large bucket of these we use three whole tubs of sticky-mag. You have to virtually spoon the stickymag out of the bowl to get it and form a ball.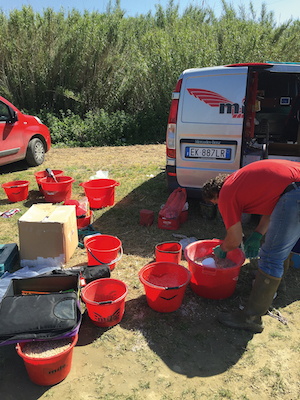 On the Arno the stickymag must be rock-hard... and plenty of it!
Rigs Of Steel
There's no scope for pussyfooting around with rigs. Main line is 0.25mm and hooklengths are 0.20mm. Of course, with such heavy line you need heavy hooks and elastic. I use size 8 and 10 hooks in the Milo Suehiro S463 pattern. These are forged with thick wire and a huge gape! This is matched with a 2.82mm Milo Concept Hollow elastic. Ideally you want a bit of elastic to come out on the strike, but only a few feet out when netting the fish so you have the power to get their heads up quickly.
The float sizes and kinds used vary massively depending on flow. Every time I go on this river the flow is different. Some days you may be able to hold your rig virtually static with a 5g round-bodied float, while other times you need flat floats to 40g to hold the rig still.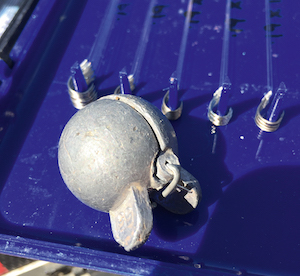 Now that's what you call a plummet
Varied Presentation
My approach with rigs is the same on all rivers, whether it be targeting catfish abroad or roach in the UK. I like to have a rig that I can present about half the pace of the river. This means I'm slowing the bait down but still running it through the swim pretty quickly. On this latest trip, a 5g round-bodied pattern was about right.
The next rig is for slowing the bait down even more and I aim to be able to run this rig through at a quarter of the pace of the river. This way the bait is slowly trundling over the feed area searching for fish. A heavier float of 8g to 10g was ideal for this.
Floats need to be round bodied. This helps you control it down over the baited area without it riding up out of the water. When you hold back on the float, you need your bristle to remain set properly and not have any of the float body lifting up.
My final rig is the nailing weapon for holding my hook bait bang still over the feed. For this I use a flat float and err on the heavier side. Anything from 10g to 30g, depending on the float, is used.
Shotting consists of a bulk and a couple of large droppers. On heavy floats I use drilled bullets as my bulk shot, while on the lighter 5g to 10g floats, a simple bulk of large lead shot is neat and effective. Of course, in Italy it's easy to nip big shot on the line because you are allowed to use lead! Droppers are generally No1 shot. When a fish moves one of these you see a very positive bite.
Feeding Tactics
Noise is very important when feeding for catfish. Throwing in your groundbait and stickymag feed is essential – I don't even set up a pole pot. They are also very greedy and if you feed too much or too often they will simply fill up and become difficult to catch. Ideally, you need to make regular noise and feed regular bait, without overfeeding the fish.
To start I feed 20 balls. These are the size of small tangerines. This way, I make lots of noise to attract fish without presenting them with too much bait.
Feeding throughout the session is simple and I always seem to end up feeding a ball of groundbait or stickymag every time I ship out. This allows you to get into a rhythm. When possible, I ship out and flick my rig into position and stand up to feed a ball of stickymag or groundbait as it is settling. Often, catfish will dash into your swim just after the ball hits the water and you will get super-fast line bites from them. By feeding as your rig is settling you can avoid this. Because of the bait limits, I normally feed twice with groundbait and then once with stickymag. In reality it's the maggots that the fish want, but by keeping a small amount of these in the peg the fish are always searching for them, meaning you get a quick bite after dropping your rig in.
Sometimes the fish do leave because all the anglers along the match length are fishing similarly. If you feel that the fish are shying away from you, introducing a couple of quick balls of groundbait and an increased amount of stickymag for a short spell can bring the fish back into the swim.
Experience Tricks
I had weights of 62lb and 84lb in the two matches this year but felt the fish had been pressured a little and exploring the swim with different rigs was vital. At the start of the day, fish were right on top of the feed and sometimes just above it. To maximise on this bagging period you needed to use the heavy rig and make sure you were super accurate when placing the rig in the swim. The fish move above the bait searching for food, so as soon as you drop your rig in you get a bite.
As the session progresses the fish begin to thin out and this is when they drop downstream further. This is when you need to pick up the lighter rigs and work your bait over the feed to find the fish. I have found that you can catch a lot of bigger bonus fish right downstream at the bottom of the feed area. Bonus carp and mullet seem to hand out here, as if they are feeding on the scraps of bait that drift down from the more aggressive catfish munching on the main bait area. Sometimes I'll purposely place my rig further down the swim to try and bag these bonus fish.
The final thing is patience, something that is vital when doing any aggressive fishing. You get a lot of bites and are sure to miss some. Another inevitable problem is foul-hooked fish. You need to keep calm and smooth, and fish through any frustrating periods. I generally ease off the bait and settle back into the feeding routine 10 minutes later. When the float does go under I always wait a few seconds to make sure it doesn't suddenly pop up from a liner. Often, the slower bites are the ones to strike at, while the super-fast ones are liners.
It's been a pleasure sharing the experience and tricks I've learned with you. If you fancy a change in your fishing, there's nothing stopping you making the trip that I do year after year!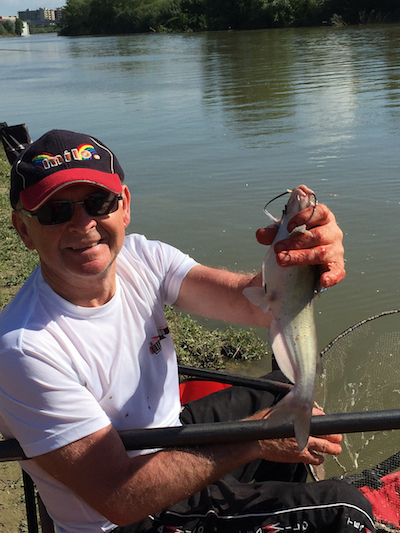 These spiky catfish are prolific, but have to be handled carefully when caught
Angler File
Steve Gardener
Age: 21
Lives: Surrey
Sponsor: Milo