Keeping Busy…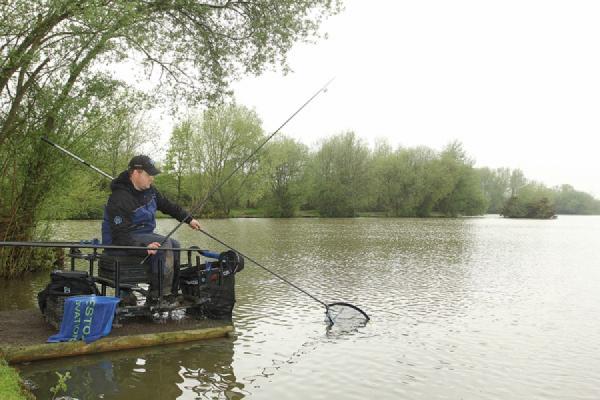 Top Kamasan Starlets team man, and Preston Innovations brand manager Scott Geens explains how the key to consistency often lies in targeting multiple species…
Good anglers win matches, but great anglers win leagues. I have always really enjoyed league and team matches as you always have something to fish for – whether it be one point or ten the incentive is always there for you to keep going.
As much as I enjoy the occasional open match too, they are often very predictable, with certain boss pegs or fliers dominating proceedings, if a good angler happens to draw them. There are also ways that you can turn average pegs into winners, but often these involve fishing in a feast or famine type way – which isn't conducive to consistency.
Whether it be a team match or a league, the key to scoring good points is almost always keeping busy, and keeping some small fish going in the net – and this is going to be the focus of my feature today.
Catch Everything


To illustrate how I like to approach this type of 'points based' match I have brought the Match Fishing cameras to the beautiful Packington Somers Fishery near Meriden, a former host of big matches including the Sensas Challenge, and also a venue that runs a lot of its own league matches.
Alongside a big head of hard fighting carp, Geary's Level where you join me today is rammed with silver fish. These include some real quality skimmers, crucians, tench and roach. A stocking that lends itself perfectly to the catch-everything attack that I am going to employ today.
So let me clarify first what I mean by 'catching everything.' After all, there is little point having a busy day putting together 30lb of silver fish if you need 100lb of carp to score good points. You must bare this in mind too – and always look to cover your options. If you think there is a chance of a good weight of carp, make sure that you feed lines for them and crucially fish for them when and if you think that they are feeding.
How many times do you see anglers targeting carp, but not actually catching them though? This is wasted time – especially given the fact that so many of our commercials have such a big head of other fish that these guys could be using to build a weight, and give themselves a better chance of coming away with valuable points at the end of the match.
My golden rule is almost always to try fishing for carp if you think they will figure, but set yourself a keen time frame and stick to it. Don't ever fall into the trap of sitting and waiting too long for something to happen when there are other, albeit smaller, fish to catch.
The Right Bait


Let's talk about baits first and there are two key things that you need to think about before deciding what baits to fish. Firstly, the size of fish that you are targeting. If, for example, you know that you are targeting a large number of small silver fish, but you need to catch a big weight of them, you should be looking to fish the short pole so that you can catch quickly. You also need to fish a bait that will get you a bite relatively quickly, something like maggots, pinkies or small pieces of worm.

Double caster often sorts out the better fish.
By contrast, you might find yourself in a situation where you are looking to catch quality fish, and again you have to tailor your approach accordingly. This is the situation that I am in today. The lake is relatively shallow and I feel that these quality silver fish will feed more confidently further out from the bank – so this is where I target them, on the long pole at 13m. If you are shipping a long way and targeting good stamp fish, you don't want a bait that will attract the attentions of small fish, so a decent sized piece of worm, a piece of corn, pellet, or caster will most probably be the choice of bait.
The second consideration when it comes to bait selection is the temperature and wind. Warm weather and more importantly high water temperature means that the fish will feed aggressively, so you should be prepared to be positive. To me, this means feeding fishmeal groundbait (I use Sonubaits Match Method) rich with worms. I will pot in a fair amount of bait at the start (six balls rich with bait today) and top up aggressively when bites subside to hopefully bring more fish into the swim.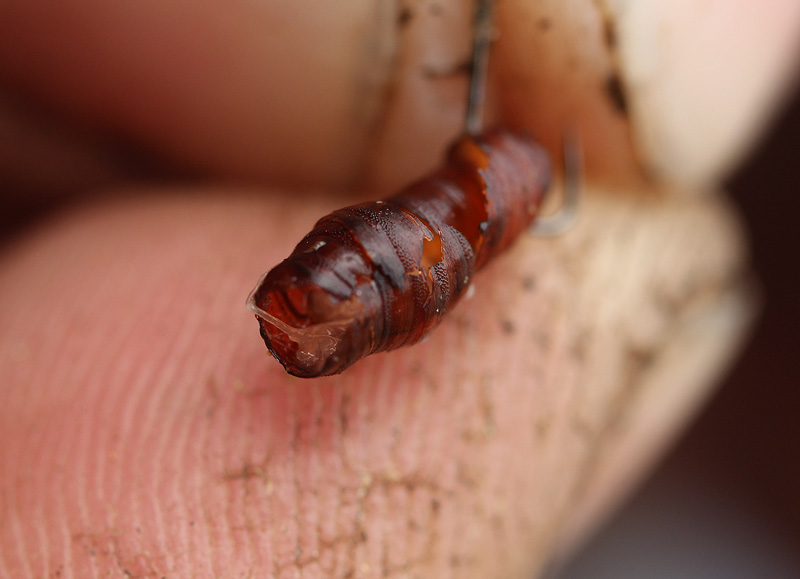 Scott is the man behind the Preston inline plummets


By contrast, colder weather might see me more inclined to feed less bait, and if the water temperature was really low, I might even introduce a sweeter mix (Sonubaits Lake) without any fishmeal in there at all.
Also, pay careful attention to the wind. Remember, if you are to catch the biggest fish you will have to present your bait well, so if you think that the wind could hamper your presentation, don't fish too far out. A breeze or slight wind can actually be a really good thing when you are looking for a big mixed bag, so never be reticent about coming closer in these conditions. Secondly, make sure you take the wind into account when deciding on your rigs, which is the area that I will look at next.
The Right Rig For The Job.


I have already mentioned the importance of good bait presentation when it comes to putting a big weight of mixed fish together, and 90 per cent of this is down to the rigs that you choose to use.
One of two distinct patterns invariably works for me. We will call the first one the 'ligger' and as the name suggests, this is for presenting a bait hard on the bottom. If there is a breeze or a wind on the water, this will be your main attack and the key thing to be sure of is that the weight of your rig is heavy enough to hold your bait still against any wind movement or tow. Use a pole support if necessary and fish up to 12 inches of line on the bottom if you think you need to. The key thing is your bait is presented still and where you want it.
My second mode of presentation, which I think will be important today is what I call an 'on-the-drop rig.' This doesn't necessarily mean that the fish will eat your bait on the drop by the way, more that they will often watch it as it falls through the water, then follow it down and eat it off the bottom.
Light floats generally work well when it comes to this kind of rig although it is important again to think about how quickly you need to catch. If you are looking for a few very crafty fish then fishing super light floats (3x8 or 4x10) can be devastating. If however, you think that the fishing will be relatively good as I do today and so need to catch a lot of fish, you need to fish a float size that allows you to do this. This means a 4x12 for me today, with a string of seven No11 shot.
Finally elastics, this can be one of the most difficult things to get right when targeting a wide variety of species. Today, I am using a Preston No7 Hollo elastic in conjunction with a Rolla Pulla Kit. Importantly, this means that even the smaller fish that I hook don't splash on the surface when I hook them, but any better quality specimens can be brought under control at the netting stage thanks to the Rolla Puller Kit.
Reading The Peg
After cupping in my initial balls of groundbait, I go straight in with my ligging rig and a piece of worm to see what has come to the party!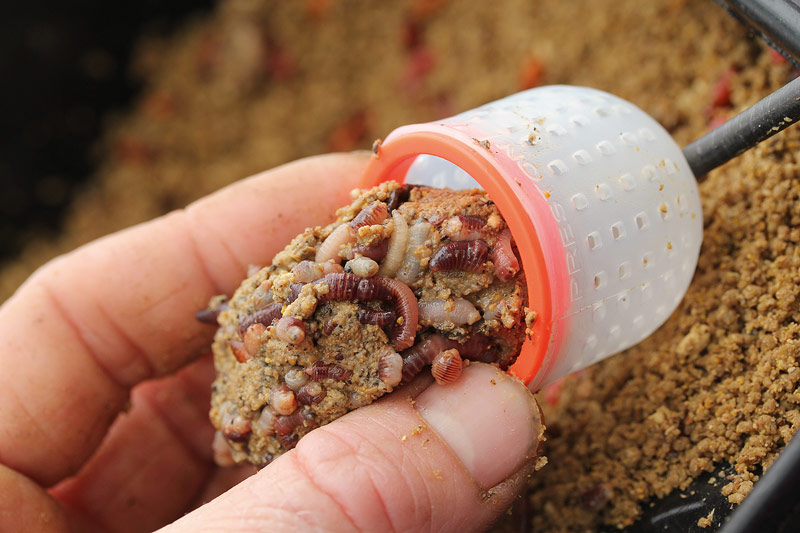 This ball is going striahgt to the bottom

A couple of small roach, a stockie carp and a small skimmer come in quick succession, before my swim goes quiet. This can often be a good sign, as it means something bigger has moved into your swim and pushed the small fish out of the way.
I sit biteless for around three minutes, before my float slides away and my first big skimmer of the day is hooked. At a little over 2lb, it's a welcome bonus, and is soon greeted by the waiting net.
The next thing for me to try and work out is how to top the peg up. Sometimes, a ball after every fish is required to keep better fish coming. Other times, simply loose feeding casters over where you are fishing is all you need to do to keep catching. Most commonly though, something between the two extremes is best.
The only potential drawback with loose feeding if you are not careful is that it can cause fish to come up in the water. No problem if you plan on fishing shallow – but when you don't have a great amount of depth like today, and with a multitude of species present, I would rather try to keep the fish on the bottom where I can catch them easily.
The best tactics today seem to be to introduce a large pouch of casters after every couple of fish, and top up with groundbait only when I go a long spell without any better quality skimmers making an appearance.
After around four hours fishing, we call time on the session, and I pull out my net to reveal almost 40lb of mixed silver fish, with a few of the venue's small stockie carp thrown in for good measure. Interestingly, as we drive off the lake I notice that the arm to the right of where I have sat is absolutely heaving with carp, which are shoaled up together ready for spawning. No doubt in a match situation, the pegs in this area would have beaten me. But my catch-everything approach would almost definitely have won me some coin and eked out a result from an area where I don't think there were a lot of carp to catch.
Angler File
Scott Geens
Age: 45
Lives: Wednesbury
Sponsors: Preston Innovations/ Sonubaits
MF Says: The best looking ginger in the West Midlands!
Like what you see?

Or buy a single issue