Learning From Practice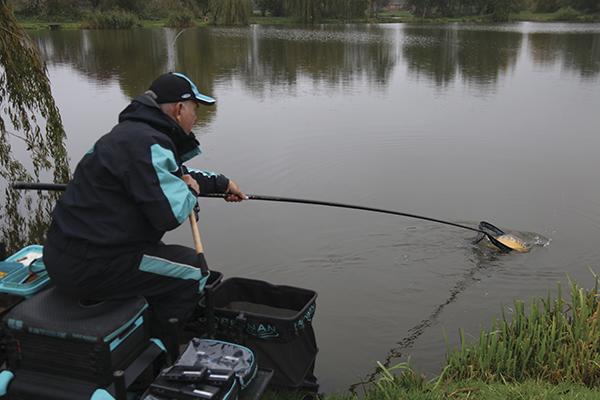 This year I am again fishing the Feeder & Bomb League at Lindholme Lakes. I was lucky enough to win this event last year and the fishing was outstanding, even on the coldest of days. These matches are on a Tuesday and with up to 40 anglers turning up for this midweek event it is worth putting in some effort.

There are 13 matches with seven counting, so it is not imperative to fish every match, but normally it's best to fish all the early rounds when the weights are much bigger than when temperatures drop through the winter months. It's run on weight not points and you can always get back in the running with a big weight on colder days when the fish start to ball up for winter. I have turned up today for some much-needed practice after a hectic year on the international scene and team matches with Drennan Barnsley.

The matches are split over three lakes and I have put my gear down on the bigger Loco Lake that might give me some pointers for the match. This is deeper than the smaller Strip Lake and Laurels Lake that are the other two to be used. I drew here on the first match last year and caught a little over 100lb for second in the match and a great start on a weight event.
I am more interested in trying a lot of things today rather than just filling a keepnet, to rule out a few things or find a better method of fishing. Because you can loose feed with a catapult and fish a bomb there is much more to do than when it's just a feeder event, and this is great for me as I like to keep busy during the five-hour match.
Where To Start
Armed with the knowledge from last year's event, bomb and bread was good for an early carp or two. This was to be my starting method with a very simple setup; my only reservation was that the lake was still carrying a little colour to the water and it might be a little early for this approach.

Using a 9ft Drennan Vertex carp feeder rod with a Shimano 4000 Baitrunner reel loaded with 5lb Drennan Camo XT reel line, which I use now for all my feeder work and bomb fishing, I have a sliding Arlesey bomb setup with a 30cm hooklength of 0.15mm Supplex fluorocarbon to a size 16 Kamasan B911 hook. Below the hook I have a 2cm hair to a Drennan Push Stop to hold the two 10mm bread discs in place.

Casting around 35 metres I could now start feeding my two bomb lines. These are to be fished at the 11 o'clock and one o'clock positions, with sweetcorn on the left-hand swim and 4mm pellets on the right-hand swim. I have been using 4mms on the pole on the other lakes and I wanted to try them on this lake on the bomb line.

I was just starting to think this was not the right start when the tip dropped back, resulting in my first double-figure carp of the session on the bread. Followed by a chunky F1 around 3lb this was a great start and food for thought if I drew this lake in the next day's match. I did miss a couple of bites too, and thought that rather than a 3/8oz bomb something a little heavier might be better for more positive bites for the following day.
Method Line
After this good start, it was time to have a look at the Method feeder line, which I had measured to 40 metres with my measuring sticks. I just started using these last year and it's great for remembering what distances I fished on some pegs from last year's event. The feeder must be free running at Lindholme and I use a small 30g Middy Flat-Bed feeder, which has little side walls and I really like the mould designed for loading it, coupled with a 0.15mm hooklength of Drennan Supplex Fluorocarbon to a size 16 hook.

I started with softened micros on the feeder with a spiked-on yellow Dynamite Washter hook bait. This was a good hook bait last year so I thought it would give me some idea if this was to work well on this event. My plan was to cast regularly every three to four minutes to start and get some micros in the swim. The fish are still feeding well, and I felt a more aggressive approach rather than a sit-and-wait would be better.

The rod I use for this distance is the 9ft Drennan Acolyte in the Plus version, which has a little more power than the Ultra that I use for the bomb fishing. Again, the same reel line and reel with a soft 1oz carbon quivertip. After 30 minutes I started getting indications that were fish near the feeder, but no bites. Incidentally I was still feeding the right and left-hand swims with the pellets and corn. It is important not to feed directly over the line that is going out to the Method feeder, which may result in liners from the closer swims.
These indications prompted a bait change and I swapped to a 0.13mm hooklength and a size 18 Drennan Silverfish Hair Rigger hook and single white maggot. The result was monumental with six big F1s and a small carp in as many casts.

I have experienced this a lot; where fish are caught regularly on one hook bait they can become extremely wary of that bait. I also caught a lot of fish last year on Dynamite White Amino Durable Hookers in 6mm that I fish on a push-stop hair rig. I tried this and again caught a couple of very quick fish to prove they still work well when fish are coming to the micros on the feeder. This bait is very tacky and micros stick to them, and I am sure that's why they work so well.
Bomb Lines
I was now happy with the feeder and it was time to try the loose fed corn line and the pellet line to see which the best approach might be. Starting with corn on a very simple running bomb rig, my setup for this type of fishing is a Drennan swivel bead and a 6in piece of Drennan Feeder Gum below to attach the hooklength to with a loop and a knot system that is not only very neat and tangle free, but also means you can fish very light.
I only have a 30cm hooklength of 0.12mm Supplex fluoro to a size 18 Kamasan B911 hook with a push-stop hair rig to mount the corn on. I have landed some huge fish on this setup and can remember catching carp of 17lb and 16lb on the rig last year on one of the latter matches.
The length of hooklength is not so important, I do straighten this out with a couple of turns of the reel to exaggerate the bite once the bait hits the bottom. I also tighten the tip round to the 3/8oz bomb, which again helps to hook bites with some very aggressive takes from the F1s. When playing fish I have changed a lot from my early days of carp fishing and now use the reel clutch a lot more. I much prefer this as I have found that F1s always bolt when near the net and I occasionally used to get broken when just using the backwind and tightening the clutch up.

I had fed this line for a good two hours and expected a few fish to oblige very quickly. To my amazement in 20 minutes I had just one skimmer to show after several cast around the baited area. The pellet line was much the same, which prompted me to feed the margin for my next gambit. The penny did drop eventually to what was wrong after thinking back to what had happened on the winter league the weekend before, when I drew on Laurels Lake and won the match fishing shallow with maggots, catching as shallow as two feet deep, with a 176lb weight of F1s.
The only other two big weights on the lake were where you could reach two feet of water close to an island. I am now positive that all the loose feed I had fed on Loco had generated a big number of fish intercepting the feed shallow, hence no bites on the bomb line but I did get a few liners with fish above in the 2m deep swim. I felt sure I would catch on a margin line in the shallower water.
Shallow Margin Swim
I could have fed this with a catapult but again I think this may have brought the fish up shallow. I had set up a feeding rod with a big open-ended feeder to introduce some micros and corn that I felt would be better rather than using groundbait on this line. In the event the year before I caught a good number of fish in short and this is one line I will always cover in the league matches.
My feeding rod is a Drennan ESP 9ft Stalker rod that has big rings and can easily cast a large feeding feeder with heavy 10lb reel line – no finesse needed! I introduced six feederfuls about two metres from the bank to a clip in around a metre of water. This I left for 20 minutes while I had another couple of casts on the Method line; I could still catch an odd fish to tell me that they were still on the bottom where I wasn't loose feeding bait.
Dropping the Method over this margin line was also good and I had a few quick fish from here, which again tells you the fish really wanted to be in shallower water. We have not had any cold weather yet and with the water hovering around 10ºC I can understand why the fish are still in the upper layers.
What I had learnt from this practice was now going to be built into my plan for the next day's match and this is how I think I should approach this lake: the bomb and bread I think is worth having around 15 to 20 minutes on for a chance of a quick couple of carp. I thought I would take a chance and not loose feed at all for a bomb, preferring a two-line Method attack – one about 25 metres where I would put 10 feeders full of micros at the start, fish the bomb and bread around 35 metres and then move on to the Method at 40 metres for regular casts to start with.
At around 2pm or maybe earlier, feed a margin line for the closing stages of the match. By then I would hope swapping around the two feeder lines would have been right to build a good weight backed up by some short fish. Now all I needed to do was draw on the Loco Lake.
Match Day
I would like to be reporting that I drew Loco and won the match, but as it went I drew on Laurels and still had a good day to catch 86lb for third overall, with two 100lb weights first and second. I was happy to stay in contention.
I caught well casting to an island with the Method and caught short over a bed of corn and micros. I had a few also on bomb and corn but this lake is much shallower than Loco in the open water; I believe the fish were following the corn down. I did feed large amounts spasmodically rather than feeding little and often, to keep the fish on the deck.
A 70lb weight was the best on Loco and I talked to several anglers and very few fish were caught over loose feed. I think my tactics would have been spot on for this lake so I will be watching the forecast for the next round.