Long Range Education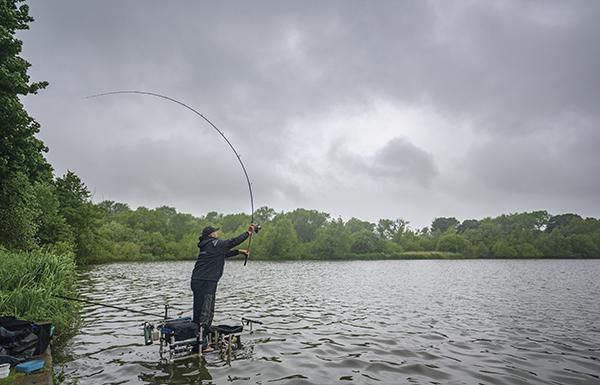 It's interesting to look back on many venues, especially big wild waters, where decade by decade and often year by year they evolve, and the species we target within can change as much as the techniques we use. Well, Worsbrough Reservoir, situated just on the outskirts of Barnsley, is exactly that. This venue was once classed as one of, if not THE, most prolific bream waters in the country during the 1970s ,1980s and early 1990s, where consistent match weights of skimmers/hybrids and roach were recorded throughout the yearly packed out match calendar.
For this reason, this beautiful venue was also the breeding ground for some of the world's best anglers, like Alan Scotthorne, Denis White, Tom Pickering and of course Dick Clegg, who formulated the formidable Barnsley Blacks team, which is arguably still one of the most consistent match teams in the world in my opinion. I maybe a little bit biased though, being part of the team for the past 13 years!
But I suppose it makes it more special in a way as I remember as a teen sitting behind the likes of Alan, Tommy, and Denis at Worsbrough, watching them fish on methods such as the slider in a majestic kind of way. They allowed me to drill them for information and they were my heroes, and then eventually I finally got to fish for the same team as them. However, during the so-called transition in the mid 1990s where commercial venues started showing up, this pulled a certain percentage of anglers away from these natural wild waters and it was at this point when Barnsley & District Angling Association decided to start a stocking program, and that meant the introduction of carp into the reservoir. Since then they've thrived and as a result this has turned Worsbrough into what I would class as a 'crossover' venue; plentiful with both silvers and now carp.
Natural Food
Now when it comes to an "eco" balanced water, Worsbrough has to be near the top of the list as this venue is riddled with natural food, which in turn results in prime conditioned fish. But, from a match angling perspective, it can be very challenging as there are days where you can witness hundreds of carp jumping out of the water at distance, but literally struggle to get a bite from one of these wary fish. That alone is enough to make me love this venue; you just never know what lies ahead for the next five or so hours.


However, if there's one thing that's blatantly obvious it's that these carp, and especially the larger strain of carp, much prefer to live out of casting reach the majority of the time. In my opinion this isn't necessarily down to bankside pressure, but more to the fact that this is where the main natural source of food comes from. The main feeder stream for this 60-acre reservoir is situated at approximately 180 metres (a fair old chuck!) and let me tell you this is a bloodworm haven and that's why the fish congregate there. On calm days I've often witnessed hundreds of carp all in a line at 200 metres feeding on a 'hatch', and for this reason, why would they even entertain moving on to our 'match distances' to feed on a less inviting food supply!
However, this is even more of a reason to test your wits as a match angler by inviting these clever fish to A) attract them into your feed zone and then B) entice them to take your hook bait. These two factors are the main reason why I love the challenge of Worsbrough, as in my opinion there's a lot more to distance fishing than casting a long way.
The Peg
To explain my approach on this wild water I met up with Match Fishing editor Dave Wesson in the 'shallows' on the Sheffield Bank. It's only when I plan to do a feature that I ever get the chance to sit myself in Peg 1, as in all the years I've fished Worsbrough, I've never drawn this peg in a match! Especially during the warmer months this particular area is the perfect spot to target carp, as for the first 10 pegs in the shallows the average depth is around four feet, which is ideal carp territory. When it comes to a match approach on this venue, taking into consideration everything I've mentioned, I nearly always place all my eggs in one basket because in my opinion, fishing at range is the most consistent match winning approach on this venue, regardless of the season. I'm not saying it wins every match, as often skimmers also play a big part in your weight but, potentially, every peg on this reservoir provides the opportunity to catch carp and by devoting your match plan to this approach you can also catch a bigger strain of bream as well as carp.
Over time, through trial and error, I've realised that there's a specific way I need to approach this venue to stand a chance of catching carp. First and foremost is distance, as I've already mentioned, as more often than not it's the distance that gets you among a larger percentage of carp. However, as with all feeder fishing, accuracy is just as important and I quickly realised that it was often the case that 'laying a trap' was the most effective way to get a Worsbrough winning weight. This is where the tricky bit comes in. There's a fine line between what distance you decide to comfortably fish and how far you can cast, because in my opinion it's completely useless if you decide to fish at a specific distance that's out of your comfort zone. That results in a loss of accuracy, but more importantly a loss of control with each individual cast.
On these wild waters every cast you make at range is crucial, especially during the colder months where only a handful of casts may be made. For this reason every compression needs to be efficient and from the minute you let go of that line you need to be in full control of the direction, but more importantly hitting your distance/clip positively. This allows you to land the feeder correctly on the surface, which in turn gives you better bait presentation and will result in lot more bites.
Balanced Gear
This is without doubt one discipline of angling where choosing the correct setup is paramount as you need a balanced setup to do the job. In this division of fishing those ultra-fine tweaks make a huge difference between your ability to cast 90 metres or struggling to reach 70 metres. My distance setup for ranges between 70 and 100 metres is the 13ft Aero X7 Distance Feeder 100g, as this particular rod has a thin blank but loads of power in the butt section, which makes casting at range effortless. Combined with a Shimano Ultegra 5500XTC, I've got what is in my opinion the best long-range casting combo I've used to date.