Maggot Dobbing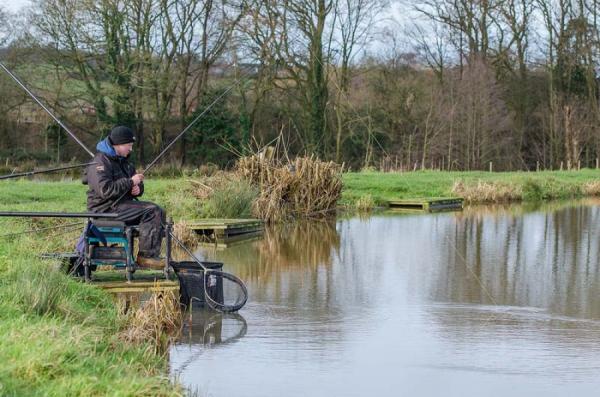 Dobbing is a bit of a Marmite tactic; it can be seen as extremely negative but it also catches a lot of fish, especially when the temperature plummets. Is there really any skill in it? We joined up-and-coming star Craig Goldstraw to discover the secrets behind his dobbing success.
What is dobbing? It's actually quite a vague description of a method that can take many different forms. Saying you caught dobbing is a bit like saying you caught on the feeder, or on the waggler; yes it gives an idea of how you caught, but with so many variables you're still left pretty much in the dark.
The most common assumption that most of us make is that if you caught dobbing, you caught on bread; after all it's the only bait a lot of anglers ever try when dobbing, but in the last few seasons I've been having a lot of success dobbing other baits, mainly maggots, and I've found that a simple switch of baits can get you bites in an area you previously thought was devoid of fish.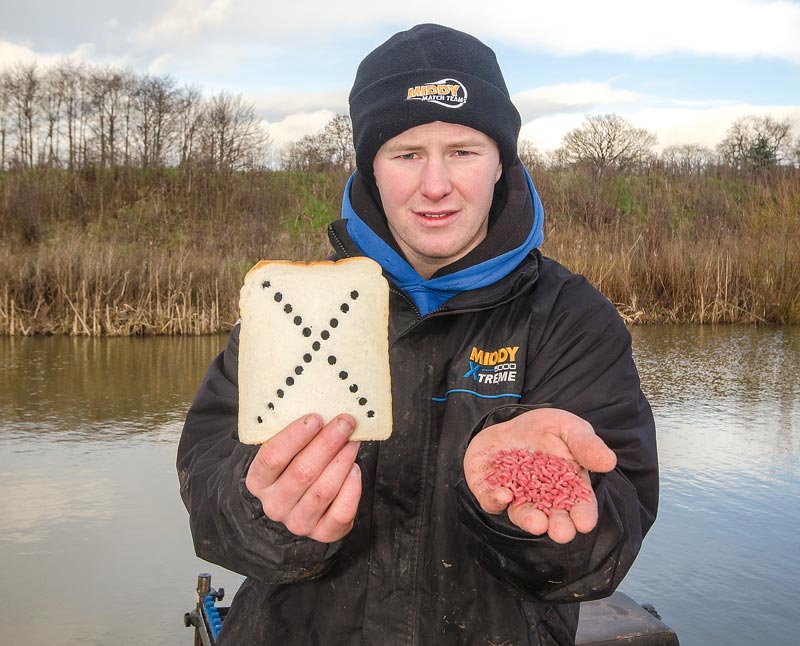 Think red, not bread!


I don't know exactly why maggots are so effective for dobbing but I do have a theory: fish see maggots dropping through the water all year long on most venues and therefore seeing a maggot in midwater is nothing new. Bread is rarely used on commercials and although it can be effective on certain days I do think that it's an unusual sight for the fish and they have a lot more time to inspect a bait in winter and can easily turn their nose up at anything that looks out of place or unsafe.

One other thing I've discovered, which again leads me to think that maybe bread isn't always the best bait for dobbing, is that the colour of your bait can really make a difference when it comes to catching. Surprisingly, whenever I've tried dobbing with white maggots they haven't produced half as well as red maggots, which leads me to think that maybe sometimes a darker colour can sometimes be more effective than a bright colour. With this in mind the bright colour of bread could actually put the fish off at times, rather than attract them.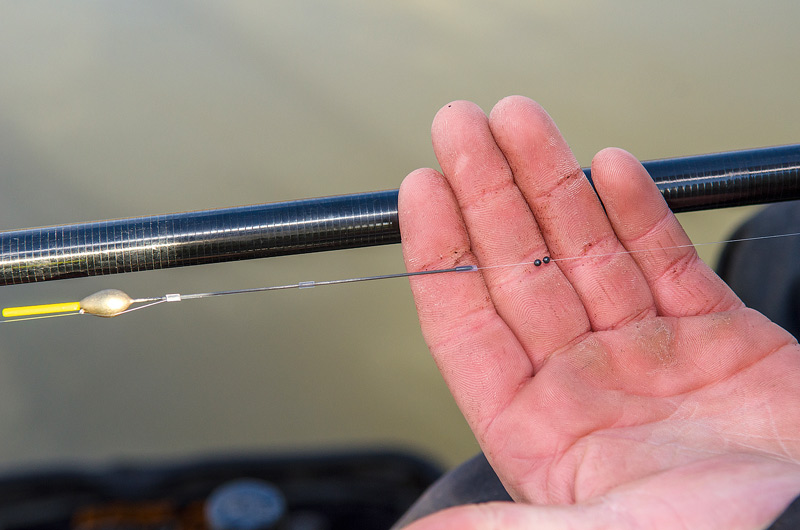 Well, that's the shotting taken care of.

The final plus point to fishing maggots, and this is one that I think can be a match winner in winter, is that maggots are not as selective as bread and you will pick up other species. As you'll be fishing off the bottom these are usually, roach, rudd, ide or chub, but a couple of pounds of these throughout the day can be equivalent to another carp, and the difference between framing and not.



The Right Swim


Like any tactic, dobbing won't guarantee you catch, regardless of what bait you use. The type of swim you're fishing can actually have a big impact on your choice to even try dobbing as some swims, especially open-water swims with no notable features, rarely produce a lot of fish to this tactic.
The ideal swim for dobbing is one in which you can reach either the far bank or an island with the pole, and any additional features such as reeds or branches or overhanging grasses can also help to hold and attract fish that can then be dobbed.
The final element that contributes to the perfect dobbing swim is depth; having 12 inches against the island or far bank may be perfect for summer but in winter, especially as the colour begins to drop out of the water, the fish prefer a little more water over their backs.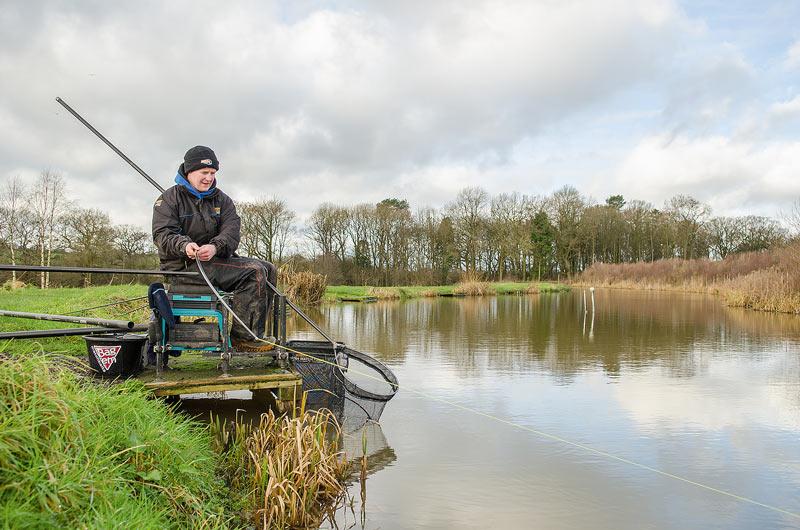 Take your time with the bigger carp.


The ideal depth for dobbing is around three feet; if you can find this depth against the features you'll usually find it holds a few fish all year round.



My Dobbing Rig


Fishing the correct bait, and ensuring it's presented naturally, are both massively important when it comes to dobbing, and having one without the other can easily leave you biteless.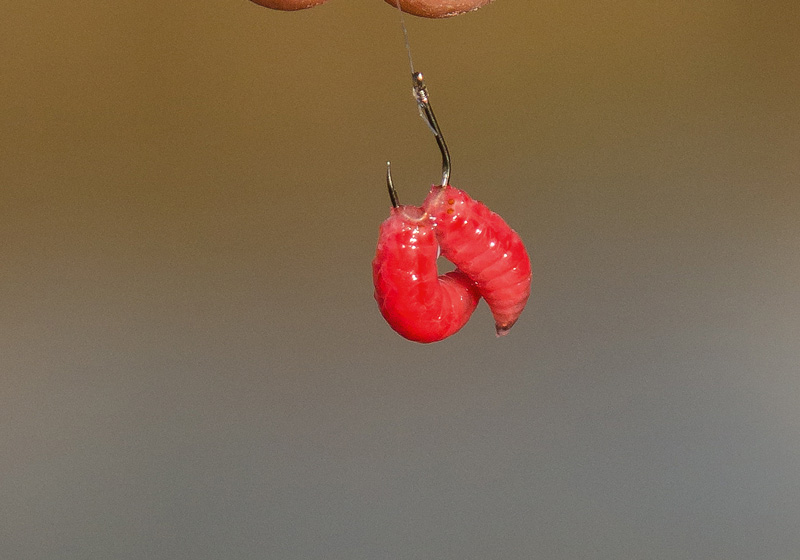 Yum yum!

Unlike most tactics when dobbing you're not feeding and therefore the only way to catch is to trick the fish into thinking that your hook bait is a random offering dropped into the water. With this in mind the manner in which you present your bait must be as natural as possible and this means fishing light: light floats, delicate shotting, thin, supple lines and small, lightweight fine-wire hooks.
I never feel the need to set up loads of rigs when dobbing as one rig can usually cover all my needs. My float choice is a 4x10 Middy Carp Grey; it's important to have a light float with a buoyant tip as this will be supporting the weight of your bait. You'll also find that when fishing against the far bank you'll fish into various light conditions and shadows and therefore a visible tip is really important.
Main line is 0.12mm Middy Lo-Viz to a 0.10mm hooklength. As I mentioned, this not only helps to give your bait a natural fall as the thinner the line the more supple it is, but it's also difficult for the fish to spot underwater as they inspect your bait. Hook choice is a size 16 Middy 63-13, a lightweight hook that is still strong enough to land any carp I'll hook when used in conjunction with a light hollow elastic and a puller kit.

The rig is shotted to give my bait the most natural fall possible and so the majority of the shot is placed just under the float with just one No10 shot just above my hooklength.



Getting Dobby


To demonstrate my dobbing tactics we've come to Cudmore Fishery. The lake we're on is around 14.5 metres wide and has an inviting far bank of stickups and it certainly looks fishy.
The first job is to plumb up, just to get a mental picture of the depth on the far bank, the nature of any shelves and the depth in any clear spots against the bank. I like to plumb up both sides of me as far as I can reach, and in this case it's meant slipping on another couple of sections and fishing at 19 metres. The more of the far bank you can cover the more chance you have of picking up fish.
I have just less than three feet against the reeds and a bit less where it cuts in, so I'm going to start the session fishing two feet deep. This way I can be safe in the knowledge that wherever I drop my bait it'll be sat off the bottom, hopefully in the line of sight of a few fish.
I'm quite methodical when starting my dobbing session, I want to make sure I cover all of my swim so I start directly in front of me and then switch between the left and right, slowly working outwards, making a mental note of any areas where I get a bite, indication or a fish.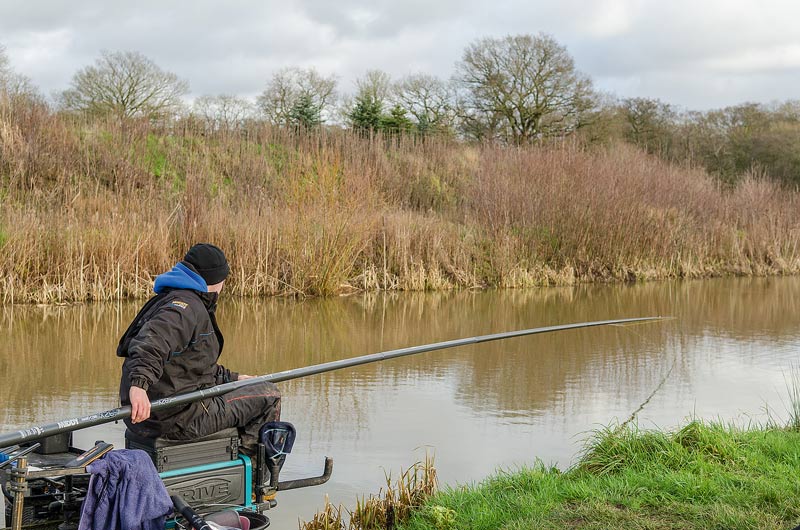 With the far bank reeds in reach, this was a perfect dobbing swim!

Baiting with double red maggot I ship out and lay my rig in; I like to give it a few minutes with a little lifting and dropping just to see if anything is in the area but bites on this method are usually pretty instant if the fish are there.
After 15 minutes of trying various spots I hook my first fish to my right; it's clearly a carp as several feet of elastic are pulled from the pole and I guide it away from the danger of the far bank. Once in the open water, I take my time to ensure that I land what is a lovely common around 3lb.
I drop in at the exact same spot next time but it seems it was a lone fish. Dropping further to my right I get a couple of indications, which leads me to think the fish may be further off the bottom. I shallow up six inches and am rewarded with an instant bite, which turns out to be a small ide. Several more follow from the same spot to give my catch a quick boost. With that area drying up I switch back to my original depth and go as far to my left as I can reach, and once again I'm rewarded with a quick bite that sees an angry winter carp make a bid for freedom! I put as much pressure as I dare on the light tackle and eventually I have another carp beaten and in the net.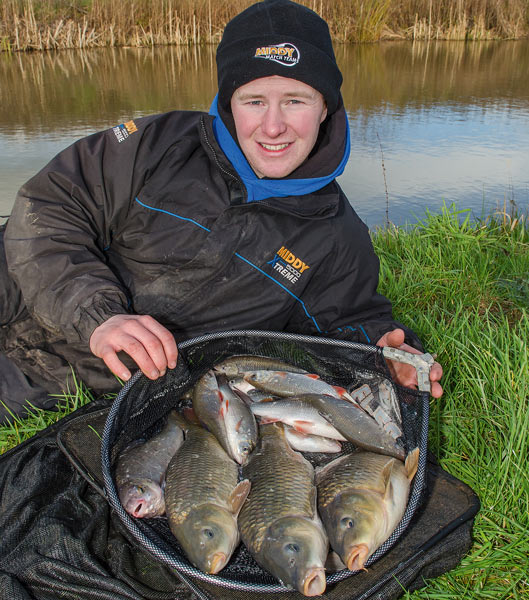 A nice catch from a short session on a cold day.


The temperature is really cold today and bites are hard to come by but I spend the next hour picking up the odd ide, and even a skimmer that was caught well off the bottom before I finally latch into something big again. It's another carp of similar size and it's soon joining the other in my keepnet.
I fish on for another hour but only a couple of ide are my reward so we decide to call it a day. It's not been a frantic session and each carp has come from a different spot, which makes me think that they're not here in any numbers. The three carp plus the silvers have pushed me into double figures in just a short session, and I'm sure I wouldn't have caught that weight if I'd fished bread.
Dobbing really can be a brilliant method and when used in conjunction with the right bait – mainly maggots – it can put fish in your net when many other methods fail. It's certainly a method I'll be relying on in the next few months and one I think should be in every commercial angler's armoury.
Angler File -
Name: Craig Goldstraw
Age: 25
Lives: Ashbourne
Sponsor: Joiner, Middy/Bag 'em
MF Says: Chief Punisher
Venue File -
Venue: Cudmore Fishery
Location: Pleck Lane, Whitmore, Newcastle-under-Lyme, Staffordshire ST5 5HW
Phone Number: 01782 680919
Website: www.cudmorefisheries.co.uk
Day tickets: £8 adults; £6 OAP/disabled/juniors
Like what you see?

Or buy a single issue