Maver Mega Match This Grand Final Date Rescheduled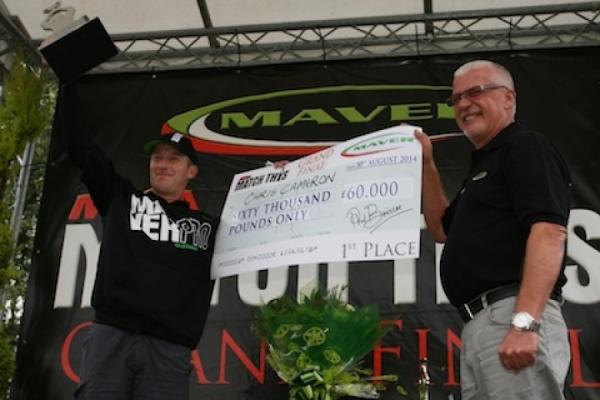 The Maver Mega Match This Grand Final has rapidly established itself as one of the most important and iconic dates within the UK match angling calendar.


Historically, the end of August sees all eyes within the angling fraternity focus on the prolific Match lake at Maver Larford to witness the sport's richest final unfold.
This year's final was no different with the event originally being scheduled to take place on Saturday 29th August. However, due to an unforeseen date clash with Evesham's river festival also taking place over the same Bank holiday weekend, Maver (UK) has taken the decision to reschedule this year's final until the following weekend. This now means the 2015 Maver Mega Match This Grand Final will take place on Saturday 5th September instead.
"It's sometimes difficult having to concede and rearrange dates for any event – especially an event such as Match This. However, I feel the decision to rearrange the final at this stage is the correct thing to do to avoid any unnecessary clashes which, at this stage, can be avoided" – Ben Hughes.
The decision to rearrange the date for the 2015 Grand Final has now been confirmed after much internal discussion. Arguably, there are enough anglers to compete in both events without there being any dramatic knock-on effect. However, maintaining the original date would have not only potentially divided members of the public who may have planned on attending both events, it also brings with it complication for those anglers that may well find themselves qualifying for both finals.
"We recognise there is a potential for some anglers that qualify for this year's Mega Match This Grand, to also have committed to the Evesham Festival. We do not want to put anglers in a potentially difficult situation where they can only compete in either one and are forced to choose" – Ben Hughes.
The 2015 Mega Match This Grand Final will, once again, award this year's winner with the richest prize in UK match angling. Last year's final saw Middy / Old Ghost rod, Chris Cameron, walk away with the largest Match This winner's cheque ever awarded at £60,000!
Tickets remain on sale at www.mavermatchthis.co.uk with qualifiers beginning on Saturday 4th April and have already recorded two sell-outs at Leicestershire's Mallory Park with a number of other venues close behind.