Maver Mega Match Qualifier Results Gold Valley Lakes, Boston, 27th May 2017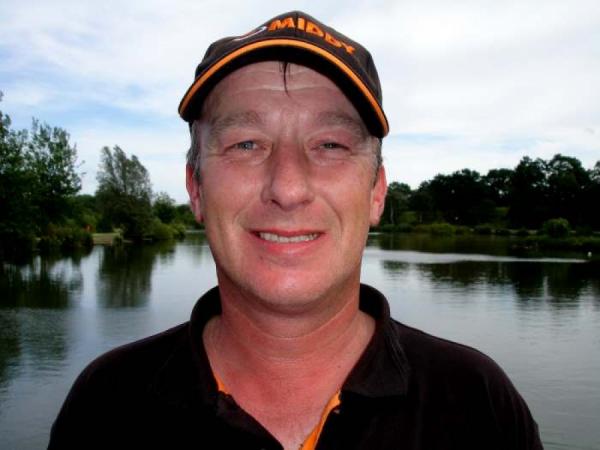 | | | |
| --- | --- | --- |
| Angler's Name | Weight (lbs/oz) | Peg # / Lake |
| Chris Cameron (Middy / Old Ghost) | 59-06-00 | 43 (Gold) |
| Mark Tester (Pulborough AS) | 57-00-00 | 1 (Gold) |
| Lynas Neale (Gold Valley) | 46-08-00 | 14 (Gold) |
| Geoff Vallance (Preston Innovations / Sonu Baits) | 39-06-00 | 11 (Gold) |
| Stefan Gent (Drennan Borden) | 36-00-00 | 20 (Gold) |
| Craig Meadows (Five Bells Fishing Club) | 32-12-00 | 45 (Gold) |
| Grant Thorne | 22-00-00 | 5 (Gold) |
| Glen Butler | 20-00-00 | 48 (Gold) |
| | | |
British Pole Championship Qualifiers: Chris Cameron, Mark Tester & Lynas Neale
This year's qualifier at Hampshire's Gold Valley Lakes, Aldershot, was a difficult day out for competing anglers. With temperatures leading up to the match during the week before sky rocketing to over 30°C, the resident carp were uninterested in anglers baits and were, instead, making the most of the weather fully focused on spawning. Unfortunately, sport on the day as a result, was very hard with weights recorded on the day only going to emphasise this. Most anglers resorted to pellet waggler tactics to catch odd fish with a relatively low weight winning the day.
Next to make his way through to the 2017 Mega Match This final was Middy's Chris Cameron (Old Ghost). The former Match This Champion drew peg 43 on Gold lake and opted to fish the pellet waggler to net ten carp up to 10lbs to offer a conservative 59-06-00 to the scales at the end of the five hours. Chris also books his place in this year's British Pole Championship final.
Taking runner-up spot on the day was Mark Tester (Pulborough AS), who drew peg 1 on Gold. Mark bucked the trend and, instead of fishing the pellet waggler, opted to fish long down his edge at 14.5m to find eight quality carp up to 15lbs for a final 57-00-00. Mark now joins Chris in this year's British Pole Championship final at Maver Hayfield Lakes on 20th August.
Local rod Lynas Neale secured third place from peg 14 on Gold offering 46-08-00 to the scales. Lynas started his match on the feeder, but after an uneventful start to the match, switched to pellet waggler tactics to find six carp to 8lbs and confirmed his place on the day as the third man through to the Pole Champs.
Preston's Geoff Vallance took fourth place from peg 11 with 39-06-00, again all his fish coming to the pellet waggler, to finish just ahead of fifth placed Stefan Gent.
Stefan took a level 36lbs of carp from peg 20, also fishing the pellet waggler.