Maver Mega Match This Result Heronbrook Fisheries (13.05.17)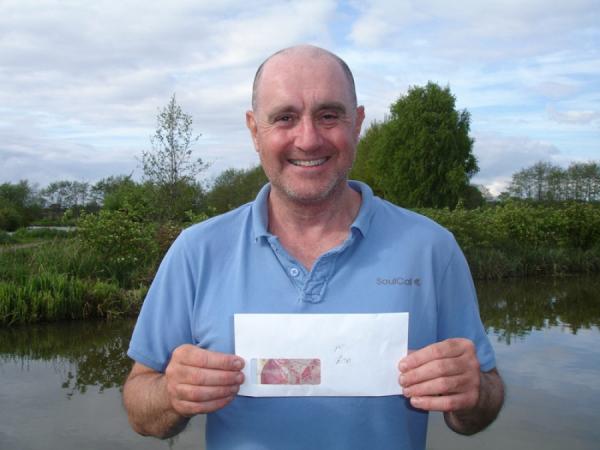 Heronbrook Fisheries, Slindon, 13th May 2017
| | | |
| --- | --- | --- |
| Angler's Name | Weight (lbs/oz) | Peg # / Lake |
| Damian Bracken (Garbolino) | 166-14-00 | 27 (Meadow) |
| Jamie Hughes (MAP / Bag 'Em Baits) | 153-13-00 | 23 (Meadow) |
| Andy Christie | 138-04-00 | 39 (Canal) |
| Matt Arnold | 129-10-00 | 21 (Match Lake) |
| Mark Fox (Maver Midlands) | 111-02-00 | 2 (Meadow) |
| Gerald Lees | 103-00-00 | 19 (Match Lake) |
| Steve Openshaw (Lingmere Fisheries) | 100-00-00 | 14 (Island) |
| Simon Symcox | 97-04-00 | 31 (Meadow) |
Qualifiers for Maver British Pole Championship: Damian Bracken, Jamie Hughes & Andy Christie.
Eighty-seven (87) anglers lined the banks of New Canal, Canal, Meadow, Bridge, Island and Match lake for this latest Saturday qualifier event. Conditions on the day were cool to begin with due to plenty of cloud cover and a stiff breeze making things feel a lot colder than during the week leading up to the match. By mid-afternoon, however, there was plenty of sunshine, which brought the resident carp and F1s up in the water where they obliged on pellet and casters.
Winner on the day, and making his way through to compete in his first Match This Grand Final, was Garbolino's Damian Bracken. Damian drew peg 27 on Meadow and caught carp and F1s pinging pellets and fishing caster shallow taking fish to 6lbs for a final 166-14-00. Damian also qualifies for this year's Maver British Pole Championship final taking place at Maver Hayfield Lakes in August. Damian fished a superb match to see off the challenge of MAP's Jamie Hughes just a few pegs away.
Jamie (MAP) drew peg 23 on Meadow and caught carp and F1s fishing pellet over to far side cover and meat short. Jamie found better quality fish to 8lb, but fell just short of Damian's match-winning weight offering 153-13-00 to the scales at the end of the five hours to just miss out on making his fourth Match This final. He does, however, qualify for the British Pole Champs.
Completing the main frame finish was Andy Chrisite. Andy drew peg 39 on Canal and confirmed a lake win with 138-04-00 of F1s caught shallow on caster. Andy will now compete in this year's British Pole Championship final for his efforts.
Former Match This finalist, Matt Arnold, finished in fourth place from peg 21 on Match Lake. Matt started his match fishing a hybrid feeder to take around 40lb before switching to his short line at just 5m on corn to take better quality fish to over 14lbs to end proceedings with a final 129-10-00.
Fifth place was taken by Maver Midlands man, Mark Fox, who drew peg 2 on Meadow. Mark fished most of the match short at 5m offering meat and worm over groundbait and micro pellets before switching to his inside line late on incorporating similar tactics to weigh in 111-02-00.