Mega Facebook Giveaway!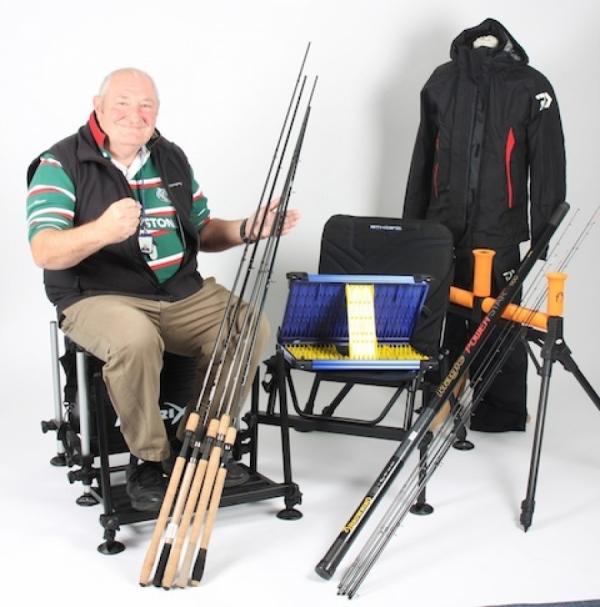 School caretaker, Tim Crofts, wins our £2,110.83 MEGA Facebook giveaway!
Here at Match Fishing magazine we decided to run a huge, mega, gigantic, gargantuan, tackle giveaway. We put the competition live on our Facebook page on Friday 7th November and announced the winner, which was draw completely at random, during Joe Carass' Facebook chat evening on Wednesday 12th November.
The competition clearly went down a storm as we received over 4,835 entrants and reached 175,552 people in just six days!
Tim Crofts, a school caretaker, was the lucky winner who visited the Match Fishing offices today to collect his mega prize. In fact, he got even more than he bargained for and also received two full sets (8 DVDs in total) of Alex Bones' Truth About Feeder and Truth About Pole Fishing DVDs.
Tim said: "Had it of been April I'd of thought this competition was a wind up - what an incredible prize." Tim, 55, is a keen match angler and went on to say: "This kit is certainly going to get some good us from me - I can't wait to get out on the bank!"
The addition of the DVDs boosted the already massive prize to an unbelievable £2110.83 total value. Tim has sadly experienced some tough family times of late, so it makes his win that bit sweeter knowing that we've been able to bring some joy to an avid reader of our magazine.
The prize consisted of:
Matrix Matchmaster Seat Box
Matrix Super Hooklength Box
Matrix Ethos Feeder chair
2-piece Daiwa Rain suit (Large)
Frenzee Precision FXT Pole roller
Garbolino G-System 11' Mini Carp rod
MAP 11' STI Parabolix Waggler
MAP 12' STI Parabolix Waggler
MAP Matchtek 10' Light Bomb rod
Middy 10' Carbon Live Light Feeder rod
Old Ghost groundbaits, sausages, maggot meal, krill and t-shirt
Browning Black Magic Power Star Pole 11m plus extension
1 set of The Truth About Feeder Fishing DVDs
1 set of The Truth About Pole Fishing DVDs
A huge thank you to the manufacturers who kindly supported this competition and all of you who entered.
Like our Facebook page and get involved with us so you don't miss your chance to win big, just like Tim.