Mega Match This Qualifier Event At Monk Lakes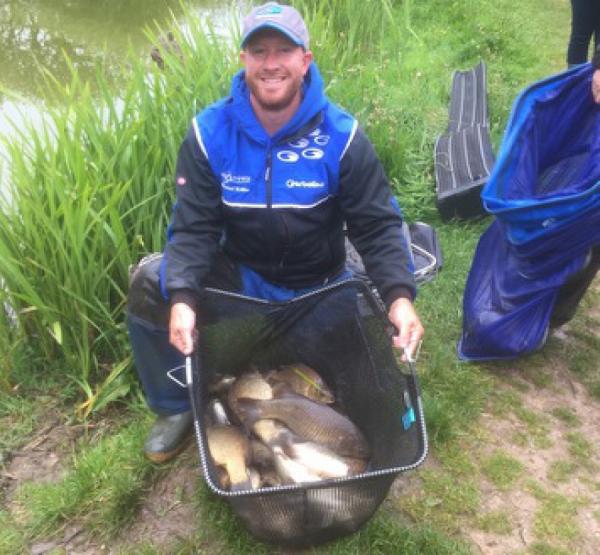 Following Saturday's Mega Match This qualifier event at Monk Lakes, Kent, please note below the full and final result:
Monk Lakes, Kent, 8th July 2017
| | | |
| --- | --- | --- |
| Angler's Name | Weight (lbs/oz) | Peg # / Lake |
| Mike McMillan (Garbolino / Bait-Tech) | 198-06-00 | 65 (Lake 2) |
| Adam Southgate (Oakwood) | 196-04-00 | 55 (Lake 2) |
| James Taylor (Harlow Angling) | 189-13-00 | 66 (Lake 2) |
| Mark Tullet (Cresta Tackle / Bag 'Em Baits) | 183-10-00 | 113 (Lake 3) |
| Robbie Taylor (Guru / Dynamite Baits) | 173-02-00 | 91 (Lake 3) |
| Mark Goddard (Bag 'Em Baits) | 150-02-00 | 135 (Lake 3) |
| Mark Brown (Browning Wickford) | 141-02-00 | 56 (Lake 2) |
| Chris Vendervleit (Drennan / Bait-Tech) | 136-14-00 | 58 (Lake 2) |
Garbolino's Mike McMillan booked his place in another Mega Match This final after topping the fifty-nine (59) strong field at Kent's Monk Lakes. Conditions on the day were hot and sticky with very little wind offering any sort of comfort. Anglers were given plenty of room, which made for a superb qualifier with very little separating the top two on the day and numerous one hundred pound plus catches being recorded from all three of the lakes used.
Mike drew peg 67 on Lake 2 and endured a bit of an unsettled start losing fish early on before getting into his rhythm offering pellet long at 16m. Mike enjoyed a good run of fish before switching to his edge line late on in the match offering pellet over groundbait to end the day with forty (40) carp up to 6lbs. Upon the scales reaching him, Mike confirmed a weight of 198-06-00 to, once again, earn his place in September's minimum £50,000 Grand Final at Maver Hayfield.
Finishing close behind in second place only just missing out on this year's final was Oakwood Angling's Adam Southgate. Adam drew peg 55 also on Lake 2 and starting his match mugging odd fish with 6mm pellets before looking down his margins during the final ninety minutes to weigh in a superb 196-04-00. Adam qualifies for the British Pole Championship final in August instead.
James Taylor (Harlow Angling) took third place from peg 66 on Lake 2. James caught pinging pellets down the adjacent bank to weigh in 189-13-00 at the end of the five hours booking his place in August's British Pole Championship final for his efforts.
Fourth place on the day was taken by Mark Tullet. Mark secured an overall lake win from peg 113 on Lake 3 with 183-10-00 of carp caught on the long pole and 8mm pellet at 13m and down his edge late on to take the last of the British Pole Championship qualification places available on the day.
Rounding off the top five on the day was Guru's Robbie Taylor (Dynamite Baits). Robbie drew peg 91 on Lake 3 and decided to keep things simple offering pellet at 14m to catch 173-02-00 of carp averaging between 4-9lbs.
British Pole Championship Qualifiers: Adam Southgate, James Taylor & Mark Tullet