The New Canal Rules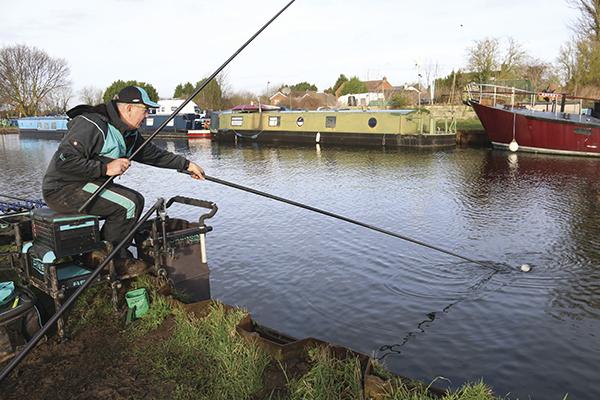 For today's feature, I am on the Stainforth & Keadby Canal at Thorne, a place I have fished many matches on over a good number of years. To say it has changed though, is a bit of an understatement!

Bloodworm used to be the main bait, catching up to 20lb of roach to win matches, but now it has got to the point that I rarely even consider using this great bait. The reason being that the stamp of roach is now so small that you need to catch 200-plus fish for probably less than 8lb.
With skimmer and bream weights now taking all the top places, this is the only way to go if you want to win matches here, and even a section prize. I won one winter league match last year with 28lb and another this year with 19lb made up of bream and skimmers, and in this article I want to take you through how I targeted these fish.
Flat Is Best
Three years ago I made the change to using small flat floats on the canal, with great results. Holding a bait static is a must to catching these fish and with the flow continually changing, I felt that I was now fishing all through the match in the correct manner. The float I use is not a normal flat float but one that has the base of the float and bristle all in line of each other. This means that even if the canal is standing still, the float will still sit upright instead of the bristle leaning like a normal flat float. This has no adverse effect when the canal sits still and means that I only need to set up flat floats.

The models I use were made for me some years ago and given to me at a World Championship. The only other float I have seen similar is one that Colmic makes and works just the same in varying flow. On one match this year, after a vast amount of rain, I needed 3g to hold the bait still; this is not normal for this canal and usually floats from 0.75g up to 2g are the biggest I would normally need.

Fishing with a front rest on the box to hold the float perfectly still is a must and I now have some longer arms on the front of my Rive box that allow me to fish static even in the strongest of windy conditions. The box lid also has a pouch for the butt of the pole. Having the right setup helps for this form of bait presentation.

All the floats are set up with a bulk and three spaced No8 droppers that are plenty big enough in the gentle pull of the canal. I set them up on 0.129mm Drennan Supplex main line. This line floats and will not affect the small flat floats like some sinking lines will when sat waiting for bites.

Hooks are a new Kamasan prototype that are a black nickel B511 in a size 16. These are capable of landing a bream but have enough finesse to catch the smaller skimmers too. Fluorocarbon is also great for this type of fishing as a hooklength, as being slightly heavier than normal line it again helps to keep the hook bait still, and I use 0.95mm Drennan Supplex Fluorocarbon that is also strong enough to land a bream. These fish can be large and to give you some idea of how big they run, one match this year was won with five fish for 24lb.
The Correct Elastic
Choosing the right elastic for catching skimmers is very important if you don't want to lose these soft-mouthed fish. A solid No5 elastic through two sections of pole is spot on in shallow swims up to a metre and a half (five feet) deep. Deeper water requires a little more power to set the hook and I step up to a No6 on the Stainforth & Keadby, again through two sections of my Drennan Acolyte pole, with this canal being two and a half metres deep. Because it's through two sections, the No6 elastic is still very soft and will not bump off the fish on the strike.

A lot of modern poles have wide bore tops and my Acolyte has a 4.5mm internal bush in the tip section that helps the elastic to run ultra-smoothly and I never have problems with elastic hanging out of the pole tip. One big advantage is also to fit PTFE bushes with small-bore holes in them, which we supply at Drennan. This keeps the elastic off the walls of the tip section, but it also cuts down on water entering the top kit when the pole tip is being submerged to control the float and help to present a still bait when trying to catch skimmers.

A big percentage of this type of fishing is done using a front pole rest to maintain a still bait and although a small-bore PTFE helps to stop water entering the pole tip, it is not enough to stop it completely. You must fit clean caps to the No4 section that stops this altogether by creating a vacuum. It is a lot easier to strike the pole tip out of the water when the pole tip has no extra weight from water running into the top section. You can also break the pole if it is not set up properly for fishing in this manner.

Usually I have about six inches of the pole tip in the water, which helps the float to sit properly and stops any movement of the pole and rig in windy conditions. This can be increased in strong winds but be careful when striking with extra pole under the water as this again can lead to breakages. Side puller kits are also no good at all for this way of fishing as they break the vacuum and allow water to enter the top kit. If you want to use a puller system for the elastic the only option is a base puller for landing fish easier, but I still prefer just the normal base bung with winder for the elastic system.

Tensioning the elastic is also worth a mention. With solid elastic I always stretch the elastic once in the pole to its full capacity, let it return inside the top kit and remove an additional three inches and then tie on the plastic pole elastic connector. This gives a little tension to the elastic to stop it hanging out of the tip section. I have tried lots of different connecters but always return to the Drennan plastic connecters for solid elastics. I only use water as a lubricant as I feel that other lubricants eventually clog up the end sections and don't work as well as just water.
Plumbing The Depth
On this canal, I find it best to fish at the bottom of the far shelf, which is at around 13 metres on most pegs. This is not always the length I fish, as if the wind is from the side and strong I wouldn't hesitate to come closer to aid presentation. The bottom is flat back to around five metres, and even at the bottom of the near shelf I have caught skimmers in matches in the past.

I plumb up first with a normal ¾oz plummet on the hook to find where the far shelf starts, and then once I am happy that I am on the flat bottom I replace this with a clip-on plummet on the bottom No8 dropper on the top of the hooklength, setting this so the bristle of the float is almost level with the water on a slack line. The line does stretch a little and holding a tight line can give a false reading, so let the line relax to the float.

I now know that the No8 is just off the bottom and I have the 20cm hooklength entirely on the bottom. The line above the float can now be cut to the right length and again this can vary according to the conditions. If it is windy, I prefer around a metre of line, cutting this down in flat calm conditions to 80 centimetres, which is the shortest I feel I would go.




Feeding Less Catches More
It will probably surprise you that I don't use any groundbait at all, preferring a leam soil type mix to get the particles to the bottom via a pole-mounted 250ml Drennan pot.
I use three types of leams: normal Sensas Terre de Somme, Black Terre de Somme, and VDE black earth. I use one pint of each, whisked with a drill and sprayed with an atomiser until it starts to ball slightly.

I put this into a bowl and add 150ml of casters, dead red maggots and dead red pinkies in equal quantities. I then add about 100ml of finally chopped worms to complete the mix. This may seem a ridiculously small amount of bait for a five-hour session, but if you overfeed it fills the swim with small fish and you get torn to shreds by them.

I start the session by putting the pole in the rest and laying the rig downstream. As it normally flows from left to right I pick a marker on the moored boat opposite, exactly where I think the hook bait and float will be sitting with the pole in the rest. This I where I cup in just two balls of the mix as big as a tangerine to kick the swim off.

I will always start on this line; I have lost count of the number of times I have caught a skimmer first drop in on this canal and always start here with this in mind.
On today's session, I also loose fed casters on a short pole at five sections, but this was rendered useless due to lots of pike activity. I had several fish taken by pike and they are always a problem when sat on your own, but not the same in matches with lots of anglers on the bank. This short swim I treat more of a rest area for the long pole as it can be good on some days to add a few fish to the net.

Topping the skimmer line up is done with extreme caution and I will not feed again until I am sure the particles that I fed at the start have all gone. I top up with just one golf ball of the mix, but even this can sometimes be too much and I may reduce this to a marble if small fish are a problem.




I swap hook baits around a lot but my favourite for the skimmers is a dead red maggot and a fluoro pinkie. Small fish are sometimes a problem for this hook bait though, so double dead red, single caster, double caster or a piece of worm can all produce a fish and are good alternatives. Experimenting with hook baits is a great way to keep the bites coming.
With locks on the canal it is imperative to keep an eye on the water level and I normally have a marker on the nearside tins as it can change up to 150mm in the day, up or down.

By the end of my session I had fed nearly all the mix I had prepped at the start and finished with around 5kg (11lb) on what was a difficult day with major pike problems. These types of small flat floats can be used in lots of situations; even on lakes where undertow can create flow they can work well, and are a good addition to your armoury. Give them a try.