No Roach, Same Approach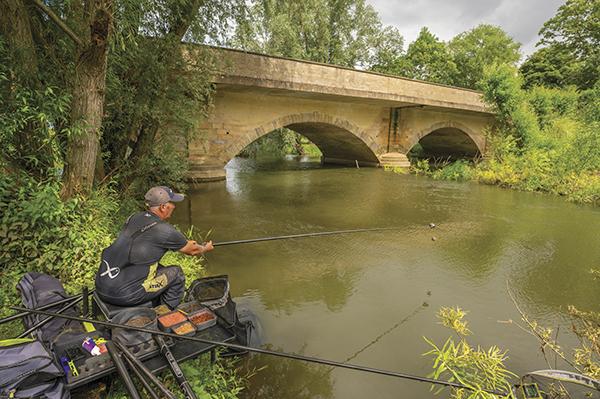 There's nothing quite getting back on the rivers again after an enforced three-month layoff, and typically the fishing on most river venues can be described as iffy during the first few weeks of the season. This year has been a little different with a lot of natural behaviour of animals and plants being a month behind compared to what they typically are because of our strange weather patterns. That means the roach have yet to switch on on one of my local stretches of the River Ouse near Newport Pagnell and as I've got a ticket booked for the open match here next weekend, I thought I needed to get on the river and have a practice.
I'm fishing the Sherington stretch and the matches on here are usually every two or three weeks and are usually sell-outs but limited to around 45 pegs. It's probably one of the most idyllic looking stretches of the Ous,e with plenty of reed beds, gravel runs, shallow areas, deeper areas, streams entering the river, overhanging bushes and trees… you name it, this stretch has got the lot. After the Sherington stretch the river then runs downstream to Olney, which is the most noted stretch of this part of the Ouse with match anglers and they run opens on that stretch every Tuesday or Wednesday.
The Peg
The peg I've chosen today (or more accurately Dave the photographer has chosen!) is the peg running on to Sherington Bridge and it's one of those pegs that you'd run to in match. However, without the roach feeding at the minute, it becomes a different proposition and I'll be fishing for small dace, small chub and perch mainly, and the target weight realistically is between 8 and 10lb.


Even though I'm not expecting to catch roach, I don't change my approach with regards to baits and feeding and I'll fish and feed the same as I would if roach were the main target species. For me that means feeding groundbait and pinkies and then loose feeding casters and maybe some hemp over the top. The groundbait will concentrate the fish on the bottom and the loose fed casters will hopefully draw fish up from downstream. I could possibly feed a chopped worm line as well for perch and if it was match I'd probably do this, but today I want to try and see what weight is possible by targeting the small dace, chublets, bleak and hopefully the odd roach too in close. Normally though, once we get further into the season it would be out and out roach here but like I said, my approach to baits and feeding would be exactly the same in that scenario. There are odd skimmers here too but enough to target them, and if any do show up I'll catch them on my groundbait and pinkie approach.
The Perfect Mix
There is a tinge of colour in the river today and it looks perfect, but even if it was clear I'd still go with the groundbait and pinkie approach. I like a dark coloured mix and I think it's important to offer the fish some food content in the groundbait, which helps them settle over the feed for longer.