Pole Fishing With The Stars!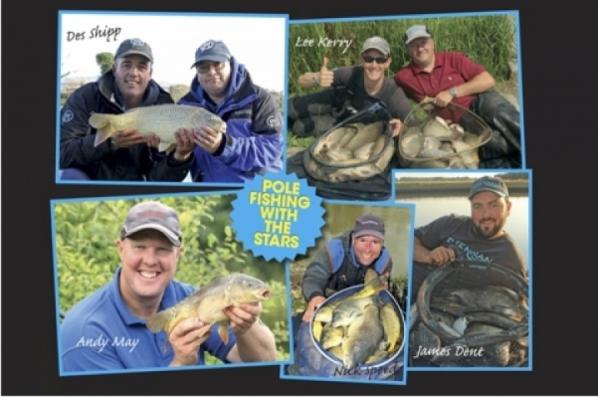 Unbeatable value for the Pole Fishing With The Stars weekend!

Taking place on May 2nd and 3rd at Garbolino Lindholme Lakes near Doncaster, is the unmissable Pole Fishing With The Stars Weekend!
The first event of its kind, this academy weekend will see 10 of the country's top pole anglers come together to offer a unique opportunity for you to enjoy quality coaching from the very best in the business.
Star anglers are set to include England internationals Des Shipp, Lee Kerry and Callum Dicks, former England ace, Dennis White, current Fish 'O' Mania champion Andy Geldart, top coach and Pole Fishing's resident Venue Detective Andy May, England Youth Internationals James Dent and Bradley Gibbons, Fish ' O' Mania legend Steve Cooke, Shimano & Dynamite-backed angling coach Nick Speed, and Match Fishing magazine's Joe Carass.
Taking place on the venue's prolific Laurels and Willows lakes, each star will showcase a different angling discipline, giving you the chance to learn as much as possible.
Each angler will specialize in a certain topic, style or method of pole fishing, giving in-depth demonstrations. You can ask questions in detail, and the stars themselves personally answer them whilst in action!
Split into two separate one-day events, the weekend will see anglers spend half an hour with each of the stars, in small groups of six. Groups will then rotate through the course of the day, until time has been spent with each of the star names.
The cost of attending this event is just £99, which will include breakfast, lunch and tea with cake with your angling heroes at the venue's beautiful lakeside café. It's your opportunity to ask any burning questions and have your problems solved on the bank in live action!
To book your ticket now, click here: BUY TICKETS NOW
Group Discounts!
A new, group discount initiative has been introduced for the Pole Fishing With The Stars weekend. The promotion will see any groups of anglers who want to book in for the event rewarded with a free ticket for every four tickets that they pay for.
The deal will prove good news for those who have already bought tickets too, as if they are able to sign up four friends for the event, they will have the cost of their ticket refunded.
Pole Fishing Editor, Tom Scholey explained: "A number of clubs have have been in touch with me who have members who were thinking of travelling a very long distance to attend this event, and this deal was primarily put in place to help them out.
We thought if they can bring their friends along with them, not only will it cut down on the travelling cost as they can share a vehicle – but it will also prove a nice incentive for them to make the journey if one of the party is able to take part for free.
To cash in on the deal, get in touch with Tom Scholey with the four names of the people who have purchased tickets at: [email protected], or by calling 07971 620489, and we will arrange for the fifth ticket to be dispatched free of charge.