Pole Vs Whip - Andy Neal & Danny Ashington
Short Or Long?
On certain venues that are crammed with silver fish, you can often be faced with the choice of whether you get your head down and go all out to catch small fish or whether you hedge your bets and try to catch fewer, but bigger fish.
There's no quicker way to catch winning nets of small fish than the whip, and there's no better way of presenting a bait to fool those bigger, more wary fish than the pole.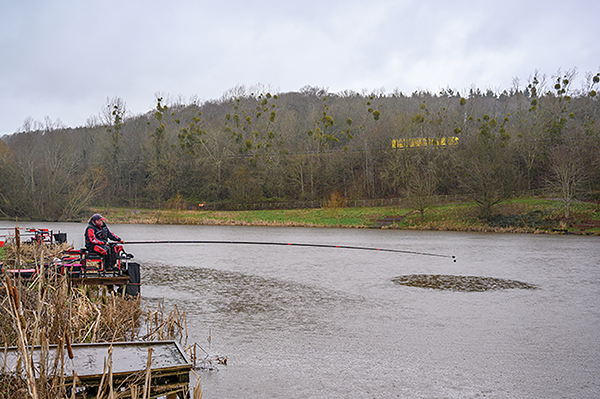 We caught up with Milo's Andy Neal and Danny Ashington, who were going fish the two methods against each other to see which one comes out on top.
A real shame was that the day we picked to put these contrasting styles against eachother is that it was cold, wet and windy, although being down in a valley, our anglers were at least afforded some protection from the strong wind.
The day in question was a Monday and we had just suffered from a very wet weekend, meaning there had been a lot of dirty rainwater flowing into the lake, which was going to make the task of catching fish more difficult than it would have otherwise been.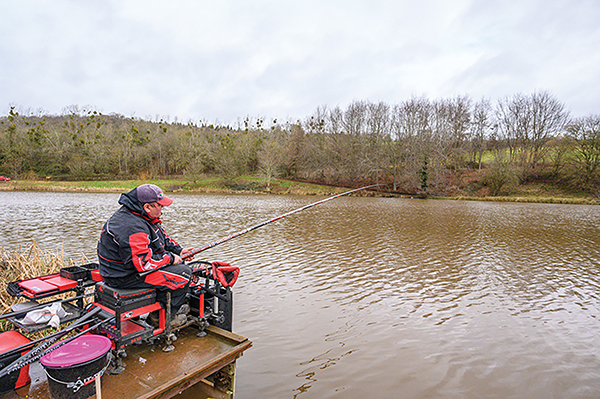 Because Andy Neal is the boss, he decided to fish the long pole, which left Danny Ashington with the task of trying to catch on the whip. Any other day and plenty of fish would definitely be on the cards but, after all the rain and with the conditions on the day, he was surely going to be up against it.
"We'll see how it goes, but with all that rain over the weekend it could completely ruin my chances of catching on the whip," commented Danny.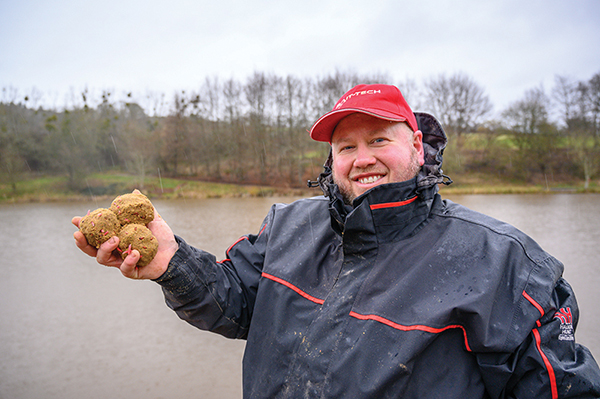 "If the influx of cold water has pushed the fish out into the deeper water, I could be sitting here all-day watching Andy catch! I'll give it a go though and I've mixed up a bag of Bait-Tech Karma and added 50ml of casters and 50ml of dead maggots to the mix.
The plan is to feed three balls at the start and then take things from there. Hopefully I'll get some bites straightaway but in these horrendous conditions you never really know.
This is a fantastic venue that's full of skimmers of all sizes and I think if conditions were favourable, I could give Andy a real run for his money on this whip line.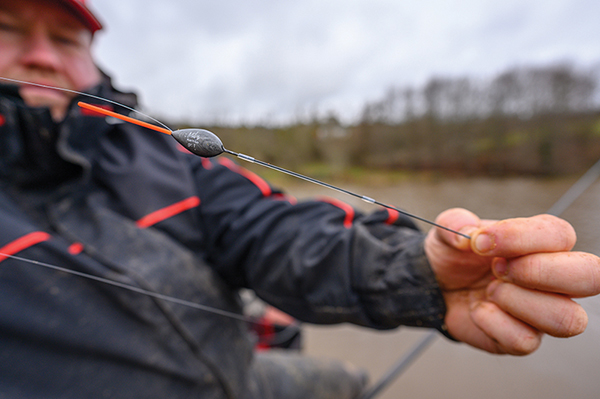 "I've got three whips assembled – 3.5m, 4m and 5m lengths – and all the rigs are made up on 0.15mm line. The floats are Milo Clarius patterns, and these have the line going through the body, which makes them perfect for fishing to hand.
I've got a 1g float on the 5m whip and a lighter 0.75g pattern on the 4m. Hooklengths are 0.10mm and the hooks are Milo T213 in a size 18. I've got a 3.5m whip assembled as well but in these conditions, I doubt whether this will get picked up until it's time to pack it away at the end of the session!"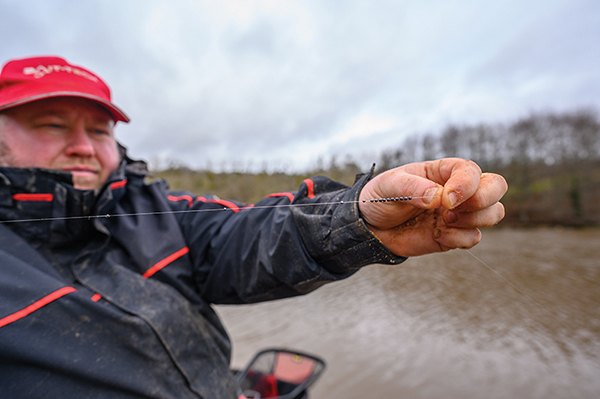 Andy was definitely in a more buoyant mood when it came to his chances of catching, but he too was concerned about all the rainwater that had entered the lake.
"This is most likely going to be harder than we both hoped it would be, but we'll see what happens," he said. "I'm going to start the session by feeding five balls of groundbait containing corn, dead red maggots and 2mm pellets.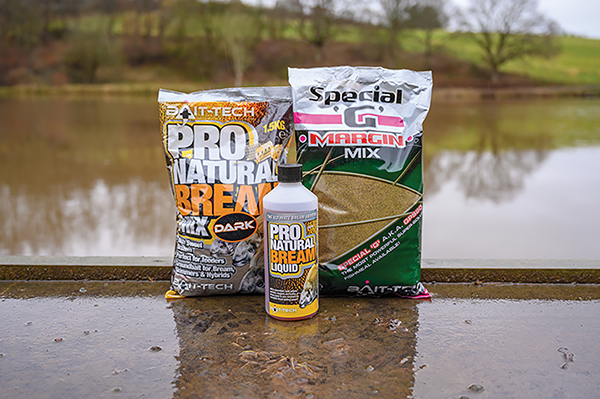 My mix is a bag of the new Bait-Tech Special 'G' Margin mix and I've added some Pro Natural Bream Dark to darken off the mix. I've also added some of the new Bait-Tech Pro Natural Bream liquid to add something sweet to the mix. I know this lake gets carp fished a lot, so they do see a lot of fishmeal, so in that sense I'm happy to use a fishmeal-heavy mix for them.
"Just like Danny, I'm going to introduce these and then see what happens and take it from there. In normal conditions 40lb to 50lb of skimmers is on the cards, the same can be said for Danny on the whip.
"I've got two rigs set up today, one at 0.8g and the other is a lighter 0.6g setup to tackle the 6ft deep swim. I've got 0.15mm main line with a 0.10mm Krepton fluorocarbon hooklength to a size 16 Milo Stadio T213 hook.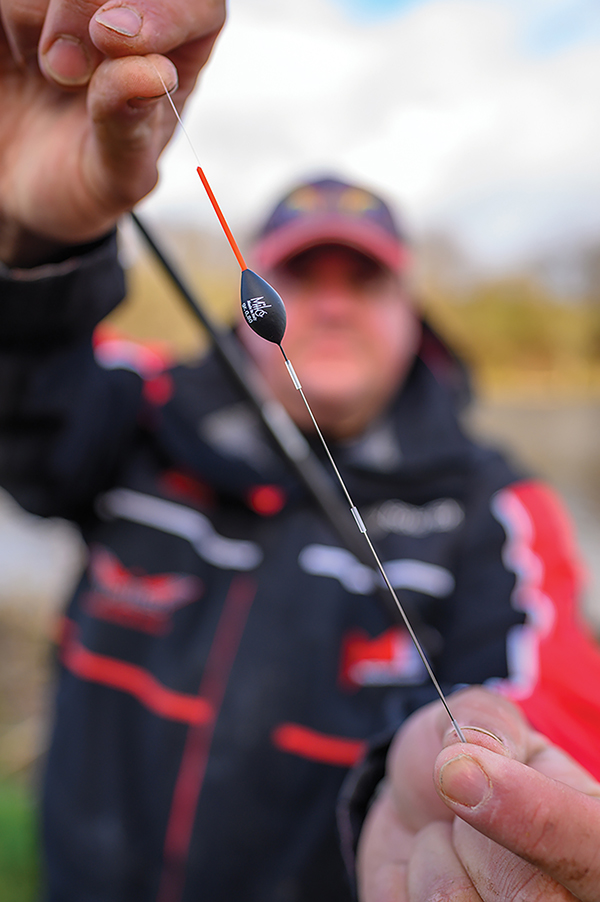 The shotting is simply a bulk and two droppers but I do have some smaller shot built into the bulk, which gives me options if I need to move them around to change presentation. The floats are rugby ball shaped Milo Alans with wire stems and hollow bristles for visibility."
After an hour's fishing I think both anglers were wishing we'd chosen another day for this feature as the weather was horrendous! It was cold and wet but fortunately (more so for Danny) the wind wasn't affecting presentation too badly even though the effects of it were beginning to cause the lake to start towing from right to left.
However, after battling the elements the rain began to ease after an hour, so we asked them both to update us on what was happening: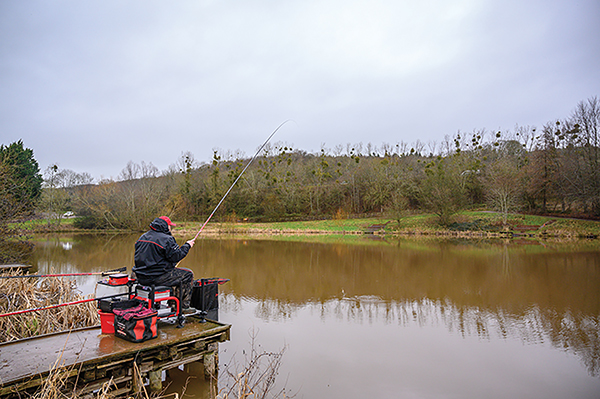 Danny: "I started off catching some really small roach on single dead maggot so at least I was able to get a few bites, and they were coming right on top of the groundbait I fed at the start.
I've also been feeding fairly regularly with a small nugget of groundbait containing a few dead maggots and casters, but the fish have been small. I have had some runs of slightly bigger fish, which are the ones you need to catch to build a weight, but then they disappeared again and it was back to catching small roach.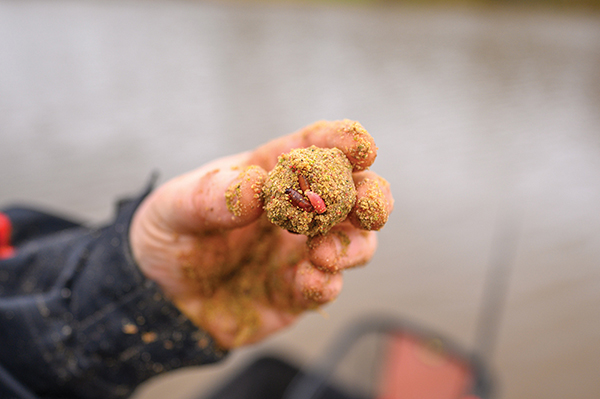 "Interestingly, I've not had any skimmers on this line but Andy has caught them because he's fishing much further out. I'm fishing a 5m whip and when you account for the depth of the peg (about six feet) and the length of line between the tip of the whip and the float, I'm probably fishing six metres out but in today's conditions I don't think I'm far enough out.
The fish are coming in bursts really, like they're drifting in and out of the peg, but I have had a bonus 2lb perch, which isn't the sort of fish you want to be hooking on whip gear!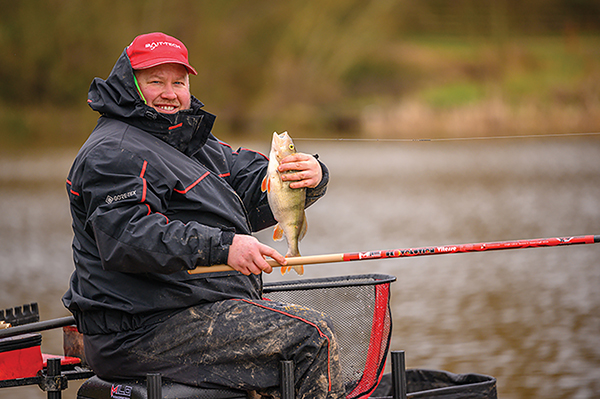 "I'll keep plugging away though, and feeding some bait and hope the fish will settle down and stay the next time they arrive in the peg. I might also get some skimmers move in if I'm lucky."
Andy: "To start the session I fed those five balls of groundbait, quite a fishmeal-heavy mix with a bit of sweet added to it. Since I fed those balls, I've been invaded by small fish, which is a bit frustrating when I'm trying to target those better skimmers.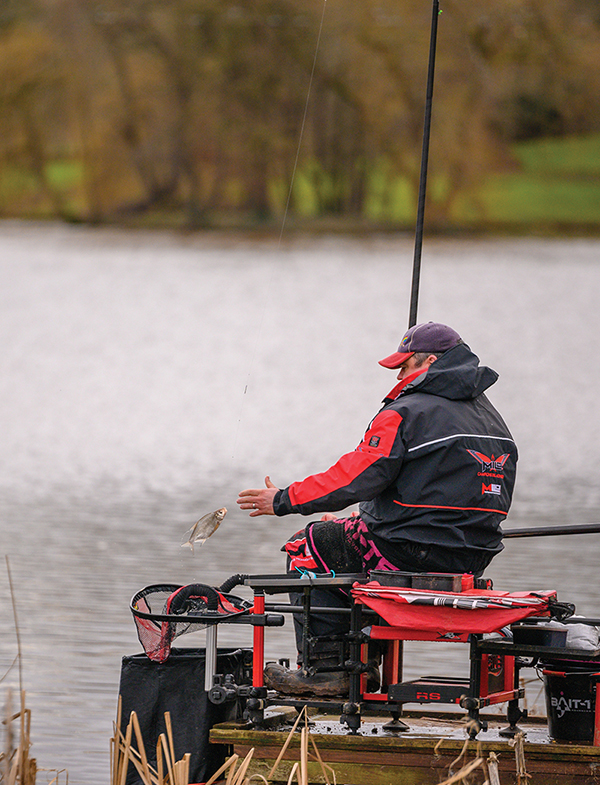 I'm trying to combat this by feeding small balls of micros containing the odd grain of corn and I'm now starting to get the odd indication from those better fish, which is giving me something to work on.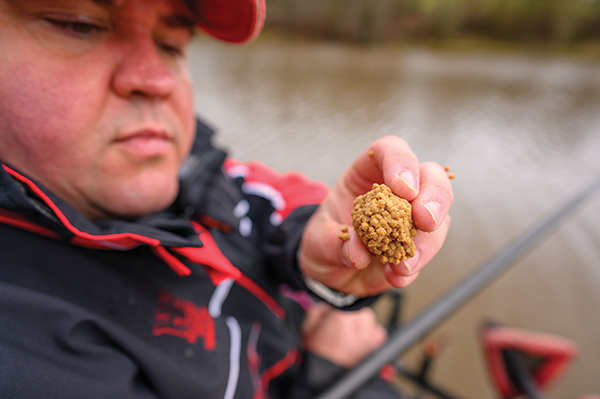 "There are a lot of better fish in here and sometimes it's hard to get through the small fish but I think feeding the micros and corn is going to be the way forward.
My only worry is that the bigger fish don't want to feed today because of the conditions. It's also harder when you're effectively pleasure fishing and not fishing a match, which will thin out the small stuff.
All my fish are skimmers though, even though they are small, which is the complete opposite to Danny, although I did see him playing a decent fish earlier on.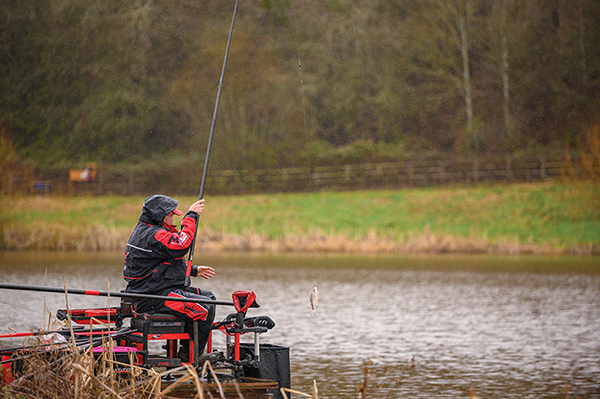 "One of the things we wanted to see today was whether or not it was possible to catch these better skimmers close in and also whether or not pellets are the best bait and not more traditional offerings like maggots and casters.
At the moment I'm thinking pellets but, in terms of weight, I think Danny and I are very similar at the moment."
As the session progressed both Andy and Danny caught fish in bursts and although Danny was predictably catching more in terms of numbers, Andy was catching the quality.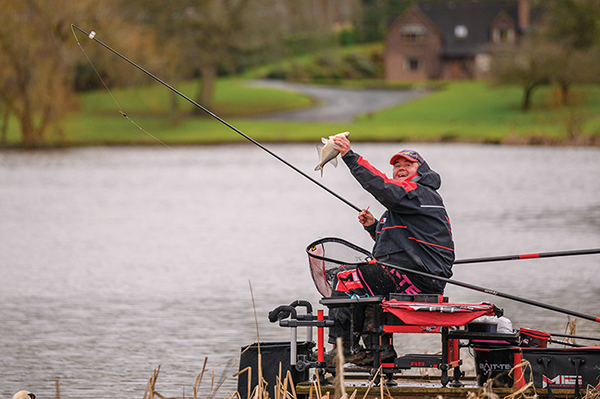 A few small skimmers eventually turned up in Danny's peg, which was interesting, so to finish the day off we asked them both what they'd done to keep the fish coming.
Danny: "After catching so many small fish, I changed to feeding micros and fishing pellet on the hook and I had a few better quality roach straightaway.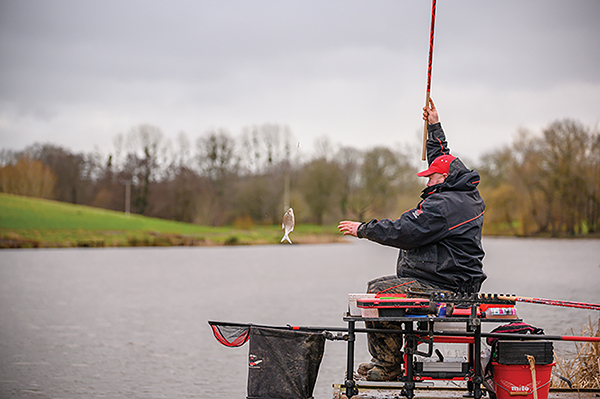 I then caught two 6oz skimmers on it before it slowed and despite me feeding more micros it hasn't really picked up again to the same level. I get bites eventually and they're slightly better skimmers, but when it's like this you might as well be fishing the pole because you can get behind your rig and present the bait better and also work the bait by lifting and dropping etc.
"Certainly in terms of skimmers, they don't really want to be this close in today, although I know plenty of them do get caught short on this venue, but it needs to be warmer really. It's really towing now because of the wind and short lining would allow me pick up the tow better and maybe catch more fish."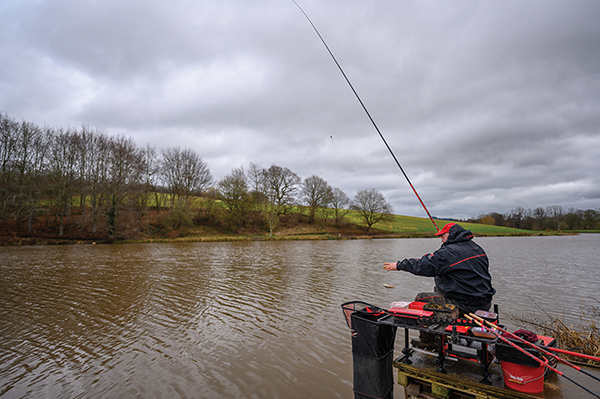 Andy: "This has turned out to be a very frustrating day for me. I catch a couple of decent skimmers and I think they've moved in and I'm going to catch a few, but that's it! I'm then left not being able to get a bite for ages, not even from a small skimmer.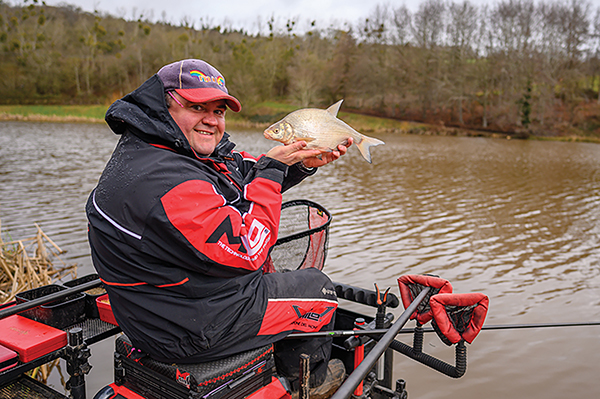 Then I'll catch the odd small fish before I get a couple of better ones again and the process is repeated. I think all that rain yesterday has killed it really and the fish don't want to be on the bottom, but that's the only place they can be caught. Normally when it's towing like it is now, you can nail the bait to the deck and catch them but that's not happened today.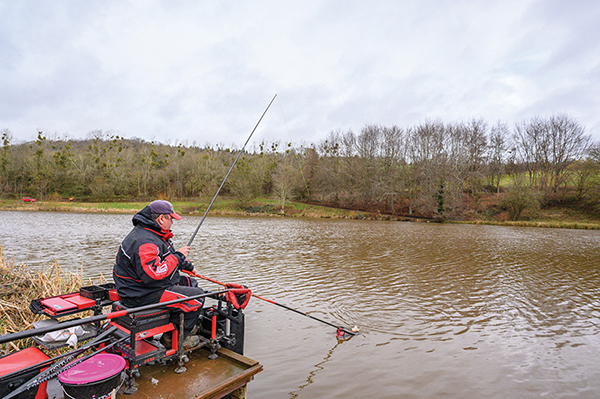 "I'm feeding small balls of micros instead of groundbait and I have caught some better fish with corn on the hook since I've done that, but even though I can present the bait nicely I can't put a run of fish together.
Unfortunately for Danny, it's not been the best of days to be fishing the whip, but he's caught enough to emphasise the fact it can compete with the long pole if those small skimmers are in close!"