Preston Innovations Mag Store Hooks Competition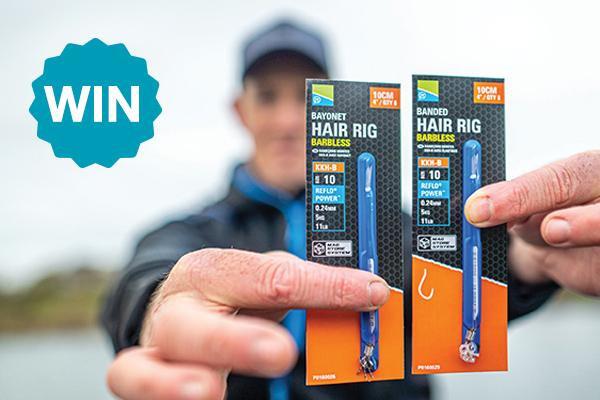 The compeition is closed, the winner was Barry Pegram from Essex.
We're giving you the chance to try some of these Mag Store Rig Sticks for yourself, for free! One lucky winner will receive 10 assorted KKH-B sticks and 10 assorted MCM-B sticks, plus two empty Mag Store System boxes to hold them, worth a total of £94.98.
When you're fishing the Method or pellet feeder you need a nice short hooklength tied to a strong, sharp hook and you need each hooklength to be the same length, most usually four inches long. But who wants to spend hours in the garage, shed, spare room or kitchen tying them (and heaven help you if you drop a hook!)?
Preston Innovations Ready Rigs are constructed from the highest quality materials and tied to precise specifications to create rigs suitable for all anglers and taking away the need to tie your own. Let's face it, they are probably tied better than most of us can manage to do too!
Each pack contains eight hand tied rigs, which are stored on the rig stick, with a sticker identifying the hook pattern and diameter/breaking strain of line. These are already very popular in the KKM-B pattern tied to four inches of Reflo Power line, and are now available in the stronger KKH-B version. Preston claims this super-strong pattern is the ultimate hair-rigging hook for big fish and features a PTFE coating for durability and anti-glare properties. It has the same out-turned eye and beaked point but in a thicker and forged wire for added strength.
In two versions, with either a hair-rigged bait band or wire bayonet – the banded rigs can be used for pellets and wafters while the bayonet rigs are ideal for boilie and Band'Um hook baits.
Available in Size/Diameter/BS: 16/0.19mm/7lb 6oz; 14/0.21mm/8lb 15oz; 12/0.21mm/8lb 15oz and 10/0.24mm/11lb.
Also available are the same rig sticks but with Preston Innovations' MCM-B hooks. These are perfect for commercial bagging and feature a circle design to help eliminate fish loss, have a PTFE coating and are available with either a band or a bayonet hair rig, in Size/Diameter/BS: 16/0.17mm/6lb 12oz; 14/0.19mm/7lb 6oz and 12/0.19mm/7lb 6oz.
RRP: KKH-B £3.75, MCM-B RRP: £3.75
Mag Store System boxes are available to store the Rig Sticks in and the 4in versions have space for 10 sticks, enough to keep you going for a session or two! Magnets inside the box keep the Rig Sticks in place until you need to remove them, hence the Mag Store name!
RRP: £9.99
For your chance to win, simply correctly answer the following question. Good luck!(multiple entries will disqualify you):