Rewriting The Script - Graham West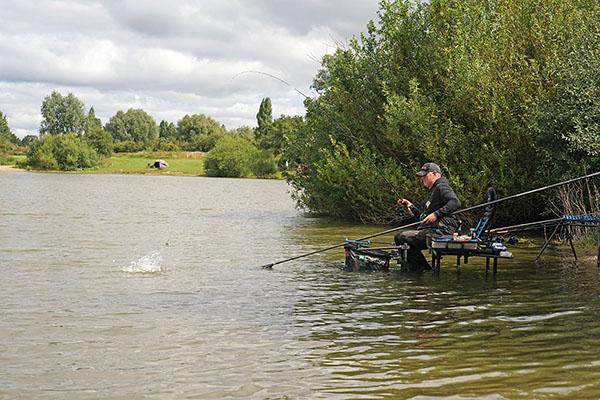 As match anglers, we all look forward to our next contest on the calendar, especially if it's at our favourite venue. It often means we can have a plan of attack already starting to build up in our minds.
Every venue has its good areas; Barston...in the teens or (possibly) 'the best peg in the Midlands' - peg 124; Meadowlands peg 1 in summer or 'the deeps' in Winter; on the 'Gorse Bush' at Tamar too are all well-known prolific pegs, which quite possibly get fished every single day of the year.
There's always a steady flow of bait going in to these pegs, which will keep the fish there. However, there's always two sides to that debate.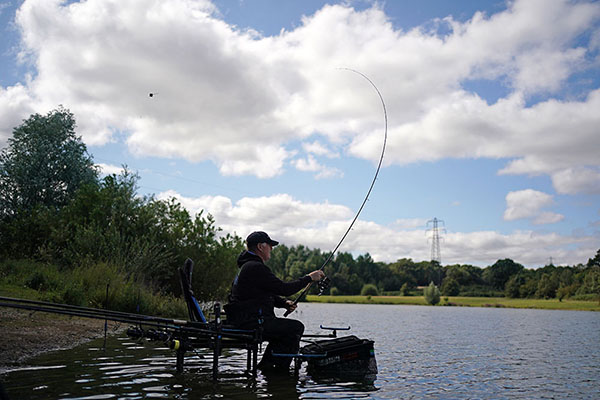 Firstly, is it that as there's always bait going in, the fish are always there? Or is it that due to the fact there's always bait in the area, the fish will only feed when they want to, because there's always a supply of food on the bottom and they get caught every day.
Now I'm not going to deny that over the years I haven't drawn some 'bungholes': I have! Take for instance when I drew peg 124 at Barston for two matches on the bounce. The first was the Golden Reel qualifier, in February, where I won the match with 38lb, the following match was 'feeder only' and I struggled to catch 78lb and came nowhere.
Catch these pegs on the right day and it will be the easiest match win you'll ever have, but it's not always plain sailing on a peg that is fished every day. Many a top class angler has failed on "the best peg in the country" on numerous occasions and this what leads me on too where you find me today…
Albans Lakes, near St Albans, is a complex of three fish-filled lakes set in in beautiful and peaceful surroundings. The three lakes are called Match lake, Willows Lake and The Farm Lake and today, I'm on their specimen 'runs water', Willows Lake.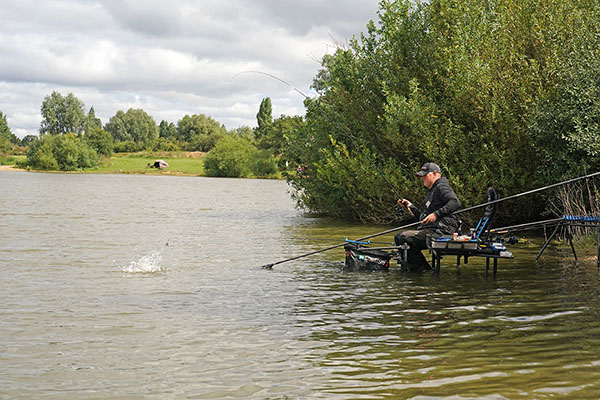 Stuffed full of carp and big bream, it's a lake that has seen me record some staggering weights in the past, fishing the Method and cage feeder, with my best day being 27 carp up to 22lb and 20 bream. It is as I like to call it a 'guaranteed hauling lake'! In fact, I've NEVER failed to catch carp and bream, even in the depths of winter from this lake.
Peg 55 – which I'm fishing today - sits out on a point and commands a vast area of water, so this is always my favourite peg to have a 'net bulging' day. And so it was.
My plan for the feature was to look at how sometimes even the best intentions don't always go to plan and that by switching feeder types, but still fishing down the same hole, can make all the difference.
My intended plan of action was to fish both the Method feeder and cage feeder, into the same swim, at 50 metres, letting the fish dictate which style of feeder they preferred on the day. As I mentioned earlier, I've never failed to catch carp or bream on this peg. It's an absolute 'flyer'!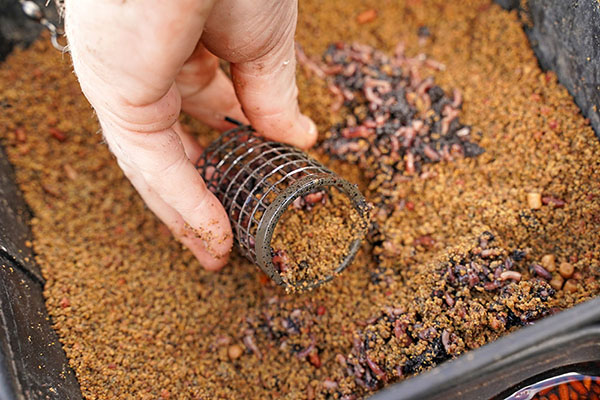 The Best Laid Plans…
I've started the session off by casting in 10 Bait Up feeders at 50 metres. I have then switched to fishing a Method - at the same distance – but just off to one side of the initial feed. As a rule, I usually catch a few carp in the first hour, until I move on to the baited area. By this time, the peg is 'solid'!
But, after an hour, I've not even had a sign! "Humm…this is very strange" my inner monologue keeps nagging annoying at me. What's even stranger, is that I've not seen any carp crashing on the surface, not just in and around the swim, but anywhere on the lake…and I always see carp boshing!
"Never mind", I think, I'm sure when I fish onto the baited-up spot I'll catch a few. This is something that I'm super confident of. And so, my next cast lands perfectly in the centre of the large baited area. Fast forward 30 minutes and not a sign! This is not looking good.
"Maybe a chuck with a cage feeder will do the trick?" is my next though. First chuck with the new feeder set-up and as predicted round it goes. It's only a skimmer of around eight-ounces, but at least it's a start. Plus, I'm sure I'll have some bream as the day continues. After all, why wouldn't I? I know this lake like the back of my hand.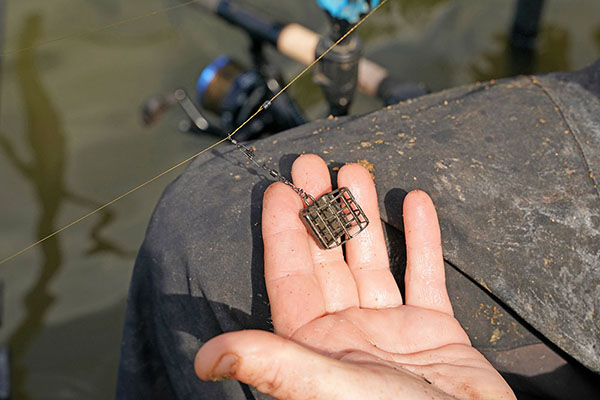 My next chuck quickly goes round again, rewarding me with another skimmer, around six-ounces this time. Now the alarm bells are ringing. This certainly wasn't in the script!
Rewriting The Script
Three hours on and things are much better. I'm still only catching the odd small skimmer and it is slowly dawning on me that the big fish hauling day I was hoping for isn't going to happen. I've been here enough times to know this by now.
So, I am now faced with a dilemma. Do I risk sitting it out, hoping the big fish arrive for the cameras? To be honest, I'm seeing no signs that the big fish are in the area or even feeding! To make matters worse, there are the usual handful of long-stay carp anglers dotted around my area too and I've not heard a single bite alarm rattle off!
So what now I think. Going by what the lake is telling me, I'm going to have to completely change my plan. I could see by my catch rate that the small skimmers in the lake were feeding and feeding reasonably well, but fishing for them at 50-metres was never going to help me build a weight.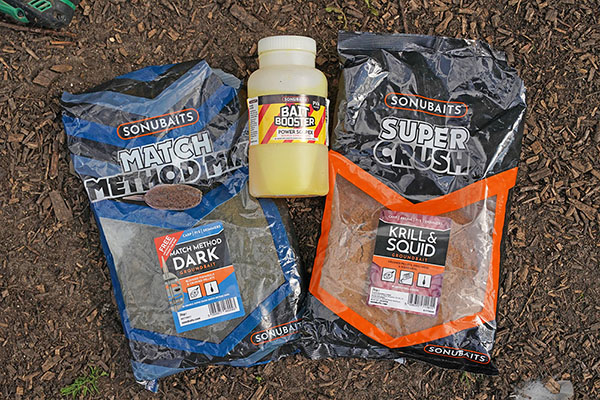 So, I've taken the decision to try and build a short line at 16 metres. As I was ideally looking to catch big carp and big bream, I've only brought a few heavy fishmeal groundbaits mixes with me. Not wholly ideal for targeting skimmers, but needs must.
My initial 50-meter mix is made up of 2kgs of Sonubaits Krill and Squid groundbait, with a half a bag of Method Match Dark added to darken it off. I've wrapped my Feeder Feeda baiting-up rod at 16 metres and after rapidly feeding half-a-dozen Bait Up feeders packed with my groundbait mix, as well as a few casters, dead reds and worms, the near line is primed.
A Change Of Tackle
As I'm not only looking to cast over the pole line, I go up the bank to get my 'silvers rods'. These are Preston Innovations' Super SL's, paired up with a520 Extremity reels. These I have loaded with 5lb sinking feeder mono Again, I quickly wrap the rods to the same distance as the Feeder 'Feeda' rod, so everything is accurate and over the initial feed.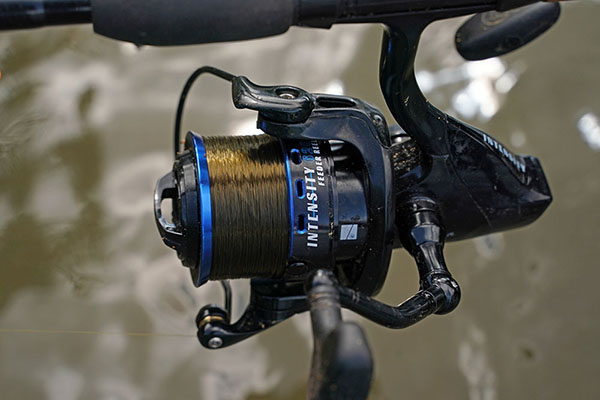 I've chosen to fish mono over braid because I'm fishing so close and there is a faint possibility of hooking a carp. Braid would be far too savage in this situation, so mono it is. As with all feeder fishing, making small changes whilst fishing can make all the difference, so I've binned my 'big chuck' feeders and I'm now armed with a 15g cage, a taped up 15g cage and small window feeders, along with a variety of hook length and hook sizes.
By the time I've got myself sorted, it has probably been 20 minutes since I'd fed the short line, so it's had some time to settle and hopefully drag some small skimmers in to my peg.
Keep Your Options Open
The 'short line, feeder approach' has become even more popular over the last few years as 'feeder only' matches have taken their grip over the match scene. Long gone are the days of fishing just one line at 40-50 metres, catching bream.
Nowadays every feeder angler has to be prepared to 'mix it up', utilising the whole of their peg, to get the best out their draw. My mind set has now completely changed from earlier in the day and I'm 'in the zone', on my short line. This is totally different to long cast fishing I was planning on.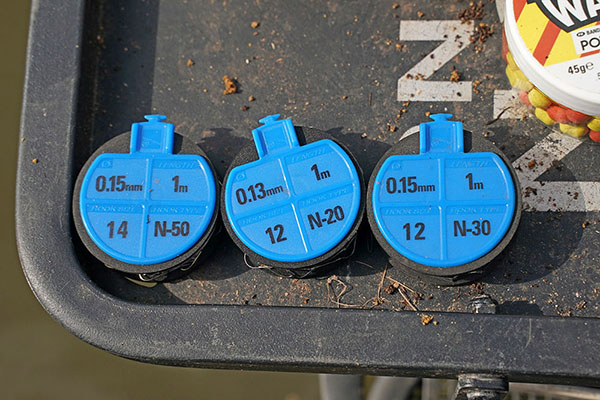 Today is going to be more a case of short, sharp bites and fast and furious action; almost like a fish race. This is going to be about catching numbers of fish, to get a good weigh, so total concentration is needed. Making quick changes is key on this short line, I find.
Small things like hooklength sizes can make a huge difference to your catch rate and how quickly you can get a bite. Also, hook sizes and patterns will make a massive difference. With this in mind, I'm using N-20 Wide Gapes, in a size 12. This may sound big for skimmers, but the aim is to make sure every time I reel in, I've got a fish on.
Having a hooklength from 15cm to 45cm allows me to work my way through different presentations, to find out which is the most productive on the day. Changing feeders is the same. Some days the fish want it with bait coming out of the feeder as it's falling through the water to create a cloud to draw them in.
But then, sometimes a taped up feeder or window feeder, so virtually nothing comes as it falls through the water, only emptying out on the bottom, is the best. These are all things you need to put into practice throughout your session, to keep the fish coming.
A Change Of Fortunes
Making the change to fishing short has been a great decision. The fishing has become fast and furious and it's honestly been like flicking a switch. The script was to come to Albans Lakes, to fish for carp and bream with Method and cage feeder on the same line and have a net bulging day has gone wholly out of the window.
But this is what we, as match anglers, are faced with every time we fish a match. We all have a plan in our minds and we spend hours preparing for this plan. If we are all totally honest, we all like to have a pre-conceived plan and most times, if that plan doesn't work, we blame the fishery as not fishing very well, or I've not drawn very well!
I've fished this peg many times in the past and never failed to catch a big weight of bream and carp, but today it just wasn't going to happen. Yeah, I would have enjoyed the day if I'd caught 150-200lb, but I've come away from this feature today absolutely buzzing. Even though I have caught nowhere near that weight. I've had to work really hard today, to change the plan and put some fish in the net.
As a regular contributor to many magazines, I always like to take the safe option when getting in front of the cameras, let's face it, who wants to read an article where the angler catches nothing. I've done many articles over the years, but this really stands out for me as being one my best.
After rewriting the script, I've had a fantastic day catching over 200 fish in three-hours on my short line, for an estimated 27-28lb. I even managed to catch probably the smallest carp in Willows, at about 3lb, but on a super soft rod and light lines, it was fantastic!
In conclusion, always have a plan, but make sure you're in a position to make a change if needed. We as anglers think we know what's going on under the surface, but do we really? After all, the secret of change is to focus all of your energy not on fighting the old, but on building the new…