River Thames Championship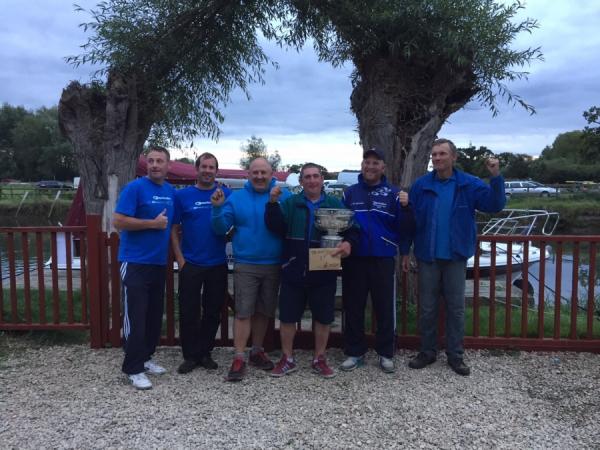 Richard Chave reports on this years River Thames Championship!

0n Sunday 20th September 132 anglers (22 teams of 6) lined the banks of the River Thames between Lechlade and Rushey, to fish this iconic and long standing competition, winners are engraved on the trophy going back to 1950!
This year's team winners, Garbolino Blackmore vale Gold totalled 100 points, 7 clear of the next two teams, local experts Turners Tackle, Led by recent Thames festival winner Paul Passmore, and their second team, Garbolino Blackmore vale marine, both on 93, but Turners edging ahead on weight.
The winning team of Mike Berntsen, Rich Chave, Gary Etheridge, Simon Hebditch, Kev Bennet and Rob Randall, based their plan around catching the hoards of small fish that have featured in the river this season using whips for bleak up in the water and gudgeon on the bottom. although individual 3rd placed man Kev Bennet, added 3 late waggler caught chub for 10lb to join his 8lb of small fish caught in the first 4 hours.
Individual winner with 22lb 8oz was Drennan Oxford's Matt Herbert who was also amongst the Chub at the bottom of the Radcott section, landing 4 big ones to add to his earlier small fish net.
Personally I drew at the top end of Rushey and caught bleak and the odd dace on 3m 4m and 5m whips using slender floats between 0.3g and 0.6g around 2ft deep, and on a 5m whip also with a slender 1gm float for gudgeon perch and roach. I fed about a pint of bronze maggots for the bleak and nuggets of groundbait and soil containing pinkies for the gudgeon to weigh 8lb 1oz.