Tackle & Guns Trade Show 2014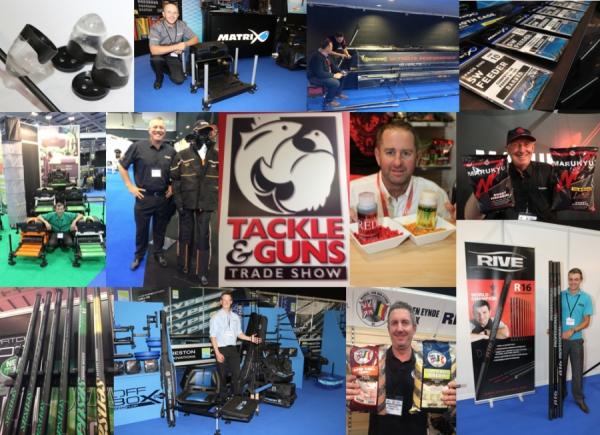 We bring you some of the highlights from the 2014 Tackle & Guns show.
The 2014 Tackle & Guns show has seen a huge range of new tackle releases for you to get your mitts on over the next 12 months. We will have a detailed run-down in the December issue of Match Fishing, but for now here are some highlights from what we saw.
Maver
Maver had a very eye-catching stand and star of the show for the company were the new UFO and Z-Frame seatboxes. These boxes feature a four-leg frame design which excludes the need for a middle leg. Made in Italy, perhaps the most desirable feature is the actual colour of the seatboxes. They are available in orange, green, white and black. The boxes come supplied with lots of extras such as side trays, spray bar and keepnet arms. They are going to be available for between £600-£700 and judging by the response at the show, they are sure to be popular.
Other interesting products were the Monkey Match reels, Jamie Hughes pole floats and a range of Enigma poles which come in at very competitive price points.
Frenzee
You can't help but admire Frenzee's products and although they didn't have lots of new stuff for 2015, they still had some lovely new items. Notably the Clear Soft Pots are sure to continue the success of the original black and orange Soft Pots which are incredibly popular across the UK's commercial venues.
The FXT clothing also looks very smart and brings fantastic quality at a great price.
Preston Innovations
We have already spoken very highly of Preston's new kit on this website but the company had even more new gear to show us at T&G. Perhaps the most interesting was the Off Box Pro attachments. This clever system features a new feature called Snap Lok. This basically sees all of the Snap Lok attachments interchange with each other allowing you to keep the Off Box knuckle in place. Particularly useful are the keepnet adaptors. The adaptor can be left attached to the keepnet and simply clipped into the knuckle. These adaptors are sure to be a popular sight.
The Mini Plus rods really caught our eye. The original Mini rods have been around a long time now and these Plus models update them perfectly. They feature improved actions, better fixtures and fittings, and come in some new lengths. The 10ft 6in model is sure to find favour with anglers needing a little bit more beef in a rod.
Browning
Browning looks set to continue its pole success with the launch of the Xitan Z14-1 Advance which builds on all of what was brilliant with the Z12. A stunning pole, the Z14 is feature packed and also has several package options to allow you to select what is right for you. There were queues all day to see the Z14 and it is easy to see why!
The Champions Choice Silverlite was also well worth a look, a pole designed for the serious silverfish angler. It is a refined and stripped back pole that is super light and super stiff and is a joy to use.
Marukyu
The Luxus range of groundbait has been brilliant for Marukyu and that success is set to continue with the introduction of the Black Sweet Fishmeal. This mix has been designed and developed with cold-water commercial fishing in mind. Its fine texture makes this incredibly easy to mix and the sweet aroma is sure to be ideal for skimmers as well as carp and F1s.
The Credence Corn range has two new additions in the shape of a white and a red version which look to be ideal hook baits for a variety of uses.
Matrix
Matrix continues to impress and the Super 36 Box is perhaps its biggest release for 2015. Built on the foundations of the massively popular Superbox, The 36 takes things onto the next level with the addition of 36mm legs for increased stability. The footplate has also been improved and cosmetically it looks fantastic.
Our favourite product which could easily be overlooked was the SW Feeder hook. It is a barbed feeder fishing pattern with the classic wide-gaped curve shape which is so popular. However this shape can be a touch springy. Matrix has resolved this by forging at the base of the shank which removes the spring from the hook. A brilliant idea and one which deserves to be very well received.
A range of Match Master luggage with some nice touches has also been released. The two-rod sleeve was of interest as it includes measurement sticks and a handy strap system that sets the sticks three metres apart. A neat idea.
Rive
Rive always has a popular stand and this year was no exception. As usual it had an array of its wonderful seatboxes on show but it was the new R16 Professional pole that set tongues wagging.
This ultra-stiff 16m pole was one of the stiffest and best-balanced poles that we have ever seen. It is a true length design with a generous spares package and some great touches that just add that bit of class. We were extremely impressed with the R16 and can't wait to get on the bank with it.
Rive also has a huge range of rods that are simply sublime along with two nice reels which are the first for the company.
Ringers
Ringer Baits launched two liquids at the show with the famous Ringers Red making a re-appearance. A new yellow version is sure to be popular with both liquids featuring the effective shellfish smell and attractors. The liquids have a strong colour and can be used to dye all manner of baits.
Sonubaits
Sonubaits showcased its new silver-fish-based Super Crumb range which created a stir amongst the visitors. The four-strong range offers mixes that do a specific job to help conquer a range of natural water situations. The four mixes are Lake, River, Bream and Black and we are sure they are going prove very popular among natural-venue anglers.
Van Den Eynde
It was great to see Van Den Eynde back in the UK and with some really nice new products. The range features mixes such as Supermatch, Expo and Hi-Pro Carp which have been around for years, but also some new releases to fit modern-day commercial fishing.
Mixes such as the Super Krill Carp and Super Green Carp are supplied in 2kg bags and are ideal for use on all kinds of commercial venues. The show also saw the famous RS Elite Expanders make a comeback which is sure to please pellet fishing fans.
Sensas
Sensas had a range of new Power Match poles for 2015. Built on the successful '4-series' the new 900 poles looked fantastic. Manufactured using Nanoflex technology there are four poles in the range (934, 954, 974, 984), They look classy with their simple graphics and are supplied with Sensas' trademark spares packages.