Venue Detective: Furnace Mill Fishery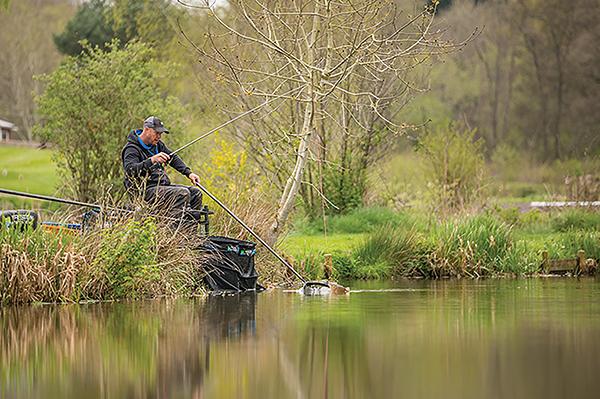 Venue Detective - Furnace Mill Fishery.
I won't lie, I had at least two sleepless nights leading up to this month's Venue Detective at the stunning Furnace Mill Fishery. I have been wanting to come here for years, ever since seeing the venue on the Great Rod Race with Matt Hayes where his challenge was to catch loads of roach and another where he caught a carp on the fly rod!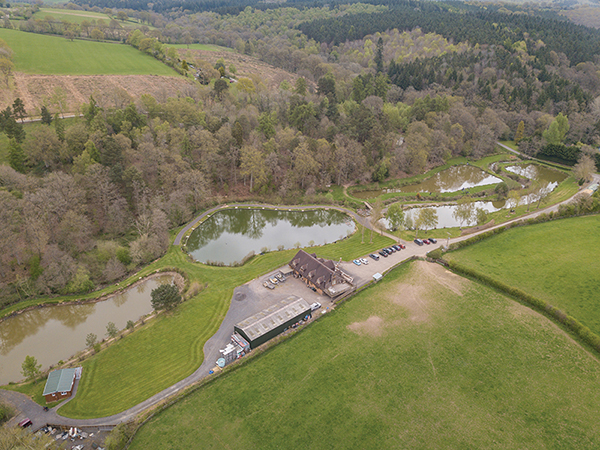 I can remember him setting up fishing a short pole and smashing out loads of quality roach and ever since then I've always wanted to come and have a fish here.
I actually came and did a bit of filming with Preston Innovations four weeks prior to this when it was absolutely freezing but we still caught millions of fish. I wanted to get among the great big roooooaaaach that day but instead got all snarled up in F1s.
So, with today being considerably warmer, I couldn't wait to show you the stamp of these immaculate looking F1s. The owner of Furnace Mill is Ed Brown and he's a lovely bloke, and what a fishery he has created here too! There are four lakes on site: Furnace, Mill, Mucky Meadow and Willow. I'm fishing on the Mill Pool today but all the lakes are full of fish so it really doesn't matter where you go.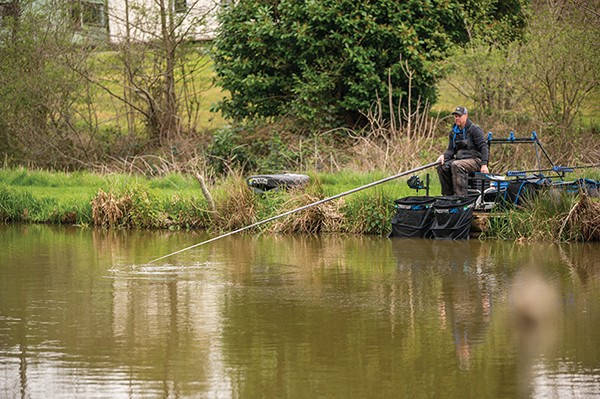 There is also a shooting range here for high powered air rifles… niiice! Ed stocks fishery own pellets and all other baits are allowed and I've decided on a maggot, corn and groundbait attack today. I'm going to be fishing my favourite shallow method at around nine metres where I can comfortably loose feed maggots, also I will be fishing a swim in the left-hand margin feeding groundbait and I'll be using corn on the hook.
Depth-wise, as I found out last time it's only just over two feet everywhere from a top kit out to the middle of the lake. The lake is very silty too so that's why I want to get up in the water as soon as possible to connect with more fish. For starters though, I will be fishing on the bottom until I start getting line bites or foul hookers!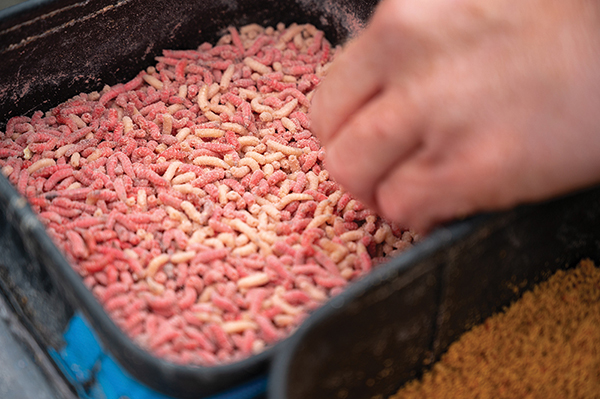 Bait
I've got five pints of red and white maggots with me that are left over from last weekend's exploits, a bag of Sonubaits Power Scopex groundbait and a tin of corn for the hook. I could have gone down the selective route and fished pellets to single out the F1s, but there are lots and lots of silvers in this lake and it would be nice to hopefully get among the decent roach and rudd too.
Rigs
I've set up three rigs, two to fish at nine metres on the bottom and up in the water, and an edge rig. Anything you can do to stiffen your pole up for F1 fishing you must do, so I'm using a short No3 section and F1 kits. For fishing out on the bottom, I'm using a 4x12 F1 maggot float shotted with five No9 shot spaced evenly up the line.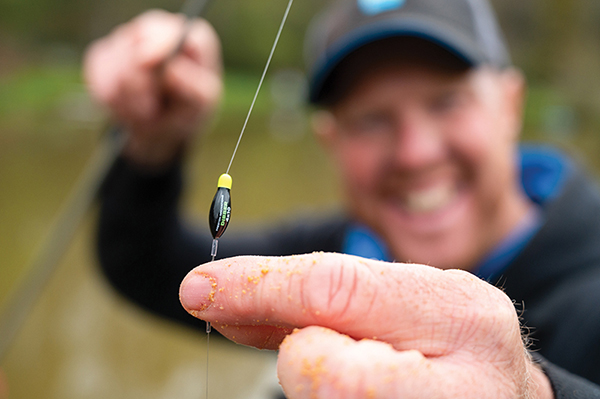 Main line is 0.16mm Accu Power to a 4in hooklength of 0.11mm and that's finished off with a size 18 SFL-B hook. I'm using a No9 Dura Slip elastic, which I absolutely love in these short kits for F1s and silvers. I've plumbed up to the bottom of the body on the float but made sure to pick an area that had a flat(ish) bottom… cheeeky!
The lake is very silty so you must have a good plumb around to find areas where people have fished before and the fish have scoured the lake bed out and made it that bit deeper, errrr, not that I will be spending long on the bottom!
I've also done a shallow rig to fish over this using the exact same line and elastic but fishing an inline 4x10 dibber and set the rig at 10 inches with a small bulk of four No10 Stotz just above the hooklength, which is just two inches long. I'm using the same elastic on this rig.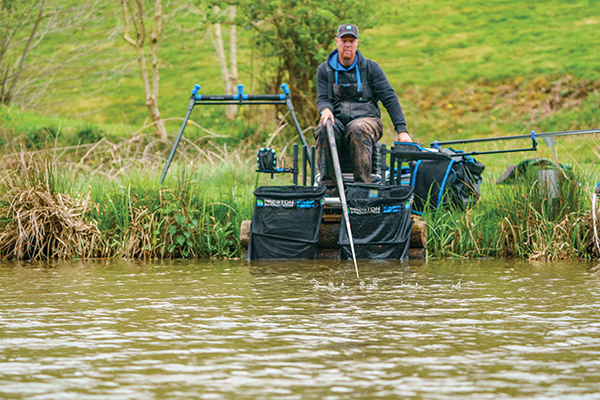 For the edge I'm using 0.18mm Accu Power main line to a 4in 0.15mm hooklength and a size 16 GPM-B hook. Float is a size 4x14 carp shallow and I've shotted the rig with six No8 shot just above my loop to loop. Elastic is 11 Dura Slip through a short kit. Again, I'm making sure to find a little area that isn't too silty when I plumb up, it's actually a little deeper close in than it is out at nine metres!
The Session
To start with I double feed around 40 maggots out at nine metres and then feed the margin with a large pot of groundbait and a few kernels of corn. I've already lots of small silver fish in my peg, mainly rudd with a few roach, hence the fact that I've brought lots of maggots with me to try and feed them off and get through to the F1s.
It's straight on with double maggot on the deeper bottom rig and for the first 10 minutes I can't get the rig to the bottom as there are sooo many little rudd from 1 to 4oz, it's absolutely alive with them. On the couple of occasions the rig does get to the bottom there are lots of 'Gary the gudgeons' waiting for me, goo on the Gazzers!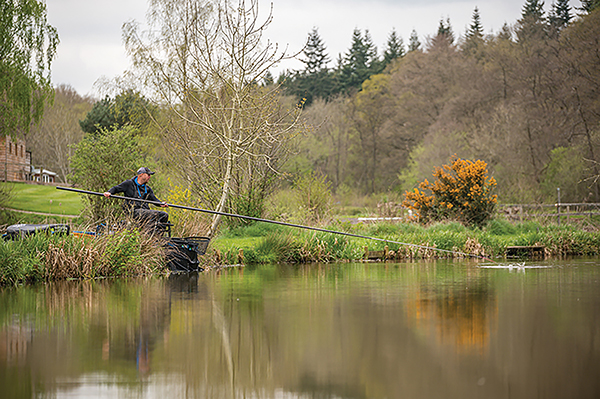 I decide to leave this swim, but carry on feeding quite aggressively, to give the edge a try as already there are signs of fish here. I suppose on venues with F1s you can get on them straightaway down the edge, unlike carp venues where I like to prime the margins first.
Probably my favourite way of shallow water fishing is to sneak the loose feed bait in and fish a standout hook bait over the top and with these large Preston Toss Pots it's easy to feed groundbait nice and accurately and present the corn right in the middle of the pile.
Literally as the rig settled I wallop into a… 'Thomas the tench' – wohooo! I then catch a lovely looking common around 4lb, which went mental in the shallow water. After just four feeds though, I start getting liners and notice lots of bubbles.
I replumb and already the fish have scoured the bottom out so definitely this way of fishing the margin isn't right. I know I hate fishing paste but that would definitely have been right today. I have bubbles and signs of my float all the time over the next 10 minutes but don't catch any fish so I've definitely ruined this swim, oh dear!
Back out on the 9m swim and we are 20 minutes into the session and I'm 'windmilling' in maggots and noticing the odd F1 starting to swirl. I try the shallow rig this time and I'm constantly slapping the water and flicking the rig into my loose feed.
There are still lots of rudd around, but I catch my first F1 too and slowly but surely, they start to rock up proper and within 30 minutes of starting I'm into a nice run of absolutely stunning F1s. In among them though I'm catching some lovely rudd too, including golden rudd and some big roach, but as so often happens with F1s they soon dominate and it's literally one every chuck.
I know I must bore all of you silly banging on about shallow fishing all the time but there really isn't a faster, more efficient way of putting a large weight of fish together. Just make sure though, that in match conditions you set a few different rigs up to cope with different scenarios.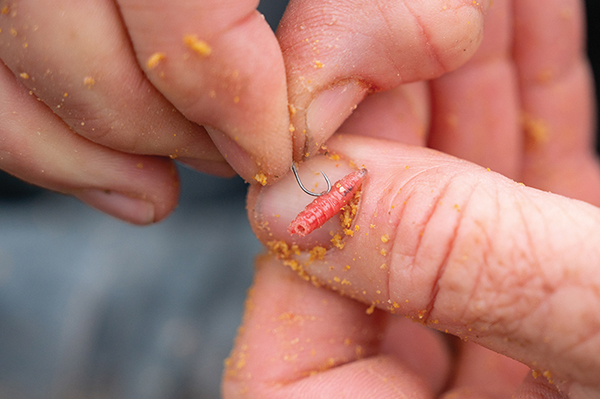 You will need a through the water rig and possibly a jigga rig too, and of course where floats aren't required you definitely need those kind of rigs! As it is today though, and with the water being so shallow, the F1s are feeding within 10 inches of the surface. Most of the time I'm seeing a big bronze flash before the pole tip gets dragged under, it really is unbelievable fishing and for at least 50 minutes I catch an F1 every single go in.
When big weights of F1s like this are on the cards, it pays to have a heavier setup too with stronger elastic, line and hook to really get the job done as efficiently as possible. There's an argument for white top kits over traditional black top kits too. My preference? Personally, I think it's a confidence thing, if you think it makes a difference then that will make you fish better, but the pole still casts a shadow etc so just be mindful of that on really bright days.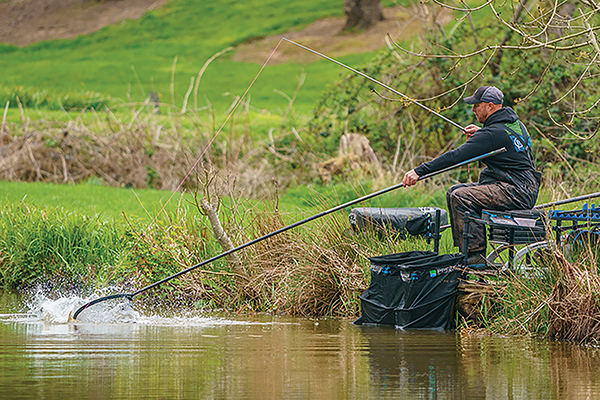 Around 90 minutes into the session and it's just amazing fishing with lots of beautiful 2 to 4lb F1s gracing my landing net. I've still been feeding the margin swim and give it another try, but three foul-hooked fish in three goes tells me I've got that swim completely wrong and ruined it with far too much feed and the wrong feed, errrr, I'll have to go back shallow again!
Another another 20 minutes on the shallow swim it's still ridiculously good with the F1s taking the bait as soon as the rig hits the water. In just two hours fishing I've upwards of 80lb of F1s and I reckon I managed double figures of just rudd and roach too!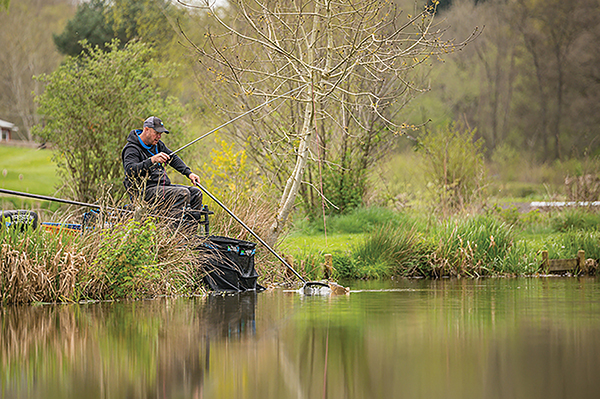 What an absolutely stunning venue Furnace Mill is, and the fishery is right in the hotbed of fisheries within the West Midlands. I know I say I wish I lived closer to lots of venues I visit, well, this time I really do mean it. Probably the best couple of hours fishing I've had in years, come and give the place a try folks and you will just want to come back time and time again. Just look at the size of those F1s, wohooo, gooo on the fisheyyyss!