Venue Detective: Pipehill Fishery
Venue Detective: Pipehill Fishery
You join me at the beautiful Pipehill Fisheries today in Lichfield, on what is a rather mild day considering all the absolutely freezing cold conditions we have been having of late.
I first came across this venue a few weeks ago just after Christmas when I was struggling for a venue that would be nailed on to get some bites. Then a good mate of mine, Tony Grigorjevvvsjsjjjsjjsjsssjjss suggested a trip here and wowsers it didn't disappoint, catching double figures of decent roach with an odd skimmer.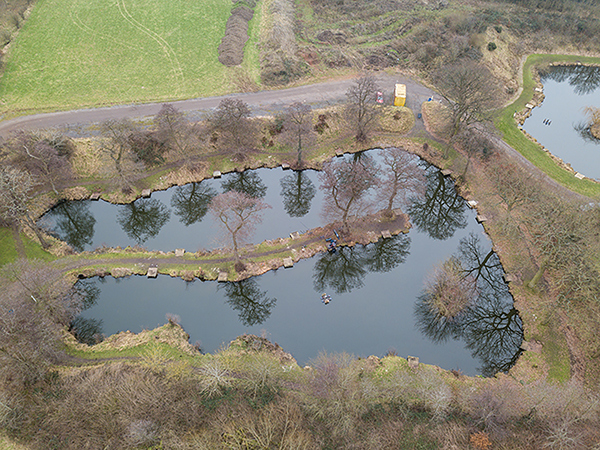 I had to bring the Match Fishing cameras along for another go to show you lovely lot what's on offer. I would target the skimmers more this time now that I have been shown a great way to target them by some bloke called Jamie Hughes (he's won a few matches in his time that lad!) ha-ha!
A lovely bloke called Andrew Hulme owns the fishery and with a working farm on site too he is certainly very busy. There are five lakes on site and none of them are over two acres in size.
The fishery is set in beautiful countryside and the lake I'm on today, Alders, is one of the more established lakes, with a load of fish in it. Mainly roach to be targeted this time of year along with skimmers, hybrids and the odd big perch.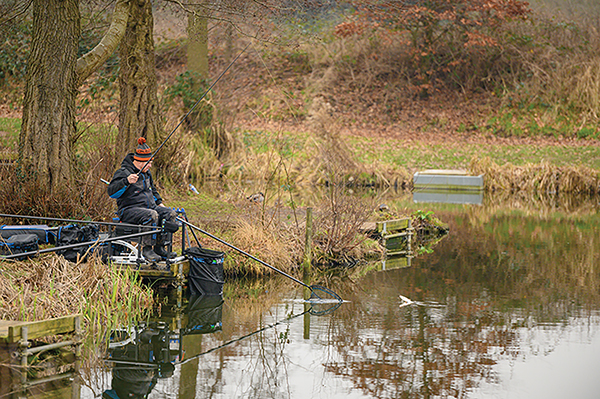 There's also lots of carp and crucians in but I'm not sure I will be getting a visit during the session from those.
I spent a good 20 minutes talking to Andy and his passion really came through, he has created some lovely looking lakes and mixed some up a bit to cater for all anglers. There are lakes on site with F1s, chub and ide too and the venue was getting busy even though it was a gloomy midweek day, great to see!
The peg I'm choosing to fish is smack bang opposite an aerator towards the bottom end of the lake – I fished the peg opposite the last time I was here! I'm looking to target two areas today, one slightly to my right at seven to eight metres where I'll be loose feeding maggots, and another on an angle to my left at 11.5 metres where I'm purely going to feed micro pellets and fish a 2mm expander on the hook and try and target the skimmers.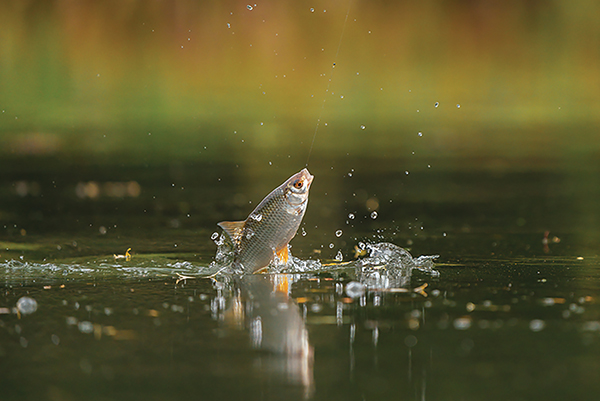 Although the air temperature is decent today the water has literally just thawed from two days of ice and it's proper cold as I go to soak some 2mm pellets!
Bait
Although the water is freezing, I've still got plenty of bait to feed, ha-ha! I've got two pints of red maggots and one pint of white maggots, one pint of disco pinkies, some 2mm Sonubaits expanders and some 2mm micro pellets. I've soaked the micros in water as soon as I got to my peg, and they will be good to go within an hour.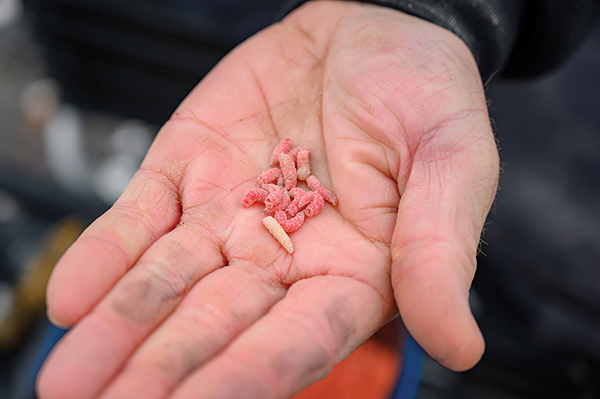 Rigs
I'm setting up three rigs today to cover everything. The first rig is for my short maggot line where I'm using a 4x12 F1 Fine float and shotting it with my new favourite shotting pattern in the world, which is a tapered bulk.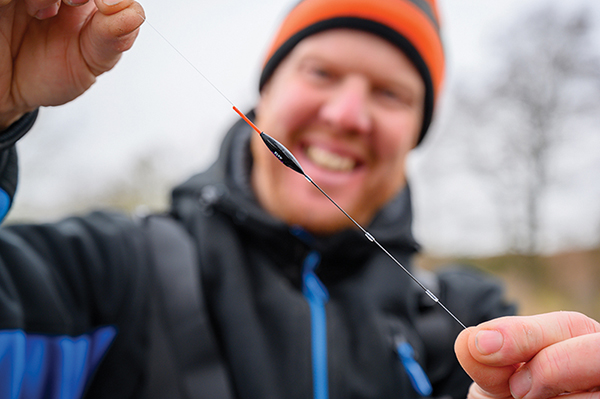 Basically, for any form of fishing on the drop in the bottom third of the water this rig is the one to use, it catches soooo many fish that you can potentially miss out on with other shotting patterns. I'm using 0.14mm Accu Power main line and have a 4in 0.08mm hooklength with a size 16 black Gama hook.
So, shotting-wise I start with a No11 just above my loop to loop, then five inches above that I've pinched on another No11, four inches above that another No11, three inches above another and then I have four No9 shot in a small bulk of around two inches.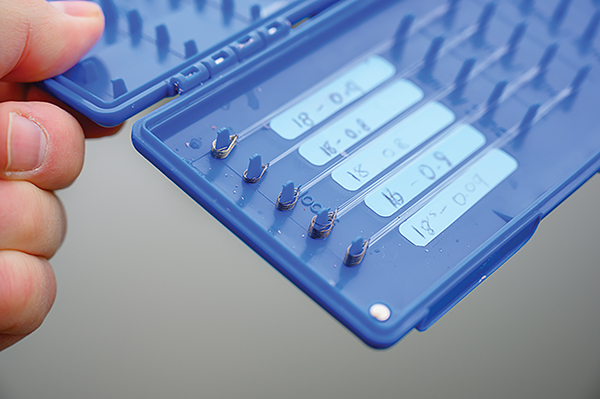 All my shot are within 20 inches, but by tapering them it allows you to pick off fish through the water by holding a tight line. It really is an awesome way of fishing and if you watch Winning Ways, you know that Jamie and I bang on about it all the time.
My second rig is to fish very positively for skimmers and I'm using the exact same line and hooklength, but this time a much heavier 4x16 F1 Fine float. Shotting-wise I'm going very positive with three No9s spaced three inches apart and a bulk of five No8s around four-inches above my last dropper. With these little skimmers they bite worse than crucians, so you must fish positively for them.
The last rig I've assembled is a shallow one, ha-ha, I've got to have a token shallow rig set up! I'm using a 4x10 F1 Fine float and have spread six No11s through the rig and set the float to fish around three feet deep with a good three feet of line from pole tip to float as the water is very clear.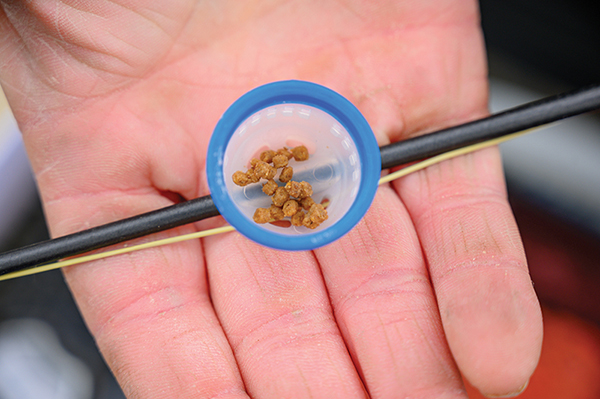 I'm using single No6 Slip elastic through the two rigs for on the bottom and a No5 Slip for fishing through the water. I've got the exact same depth of just over five feet on both swims too, lovely!
The Session
To kick things off I go and pot in around 20 maggots with a few pinkies on my short swim. This is purely just to get things going before I start loose feeding, for me anywhere with roach or ide etc you must loose feed rather than pot as you draw more fish in and those particular species of fish will much happier feeding off the bottom.
I'm also feeding the pellet swim to my left at 11.5 metres with literally 10 micro pellets… sayyy whaaaat! It's so hard for me to feed so little but my word does it make a difference.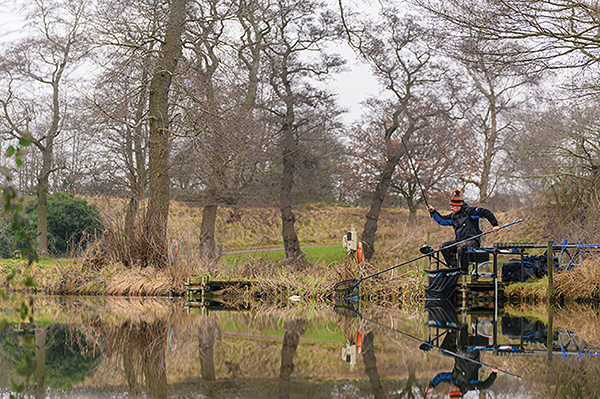 Groundbait is banned here but if allowed then the best way of targeting little skimmers is to literally feed a thumbnail of expander groundbait lightly squeezed, but micros can work just as well as long as you don't overdo it. I'm going to top up this swim every 15 to 20 minutes and wait a good 90 minutes before trying!
It's on with a side hooked red maggot and with this rig it's important you lay it in right. I'm flicking the rig from right to left and then holding a tight line to my back shot. Most of the bites you get are just as the bristle starts lowering when the light No11 dropper shot start to settle… wallop, I hook into a decent roooooaaaach straightaway, wohoo, it must be getting on for 1lb, what a fish!
Next put in I'm into another decent roach, around 8oz this time. Both bites came just before the rig reached the bottom.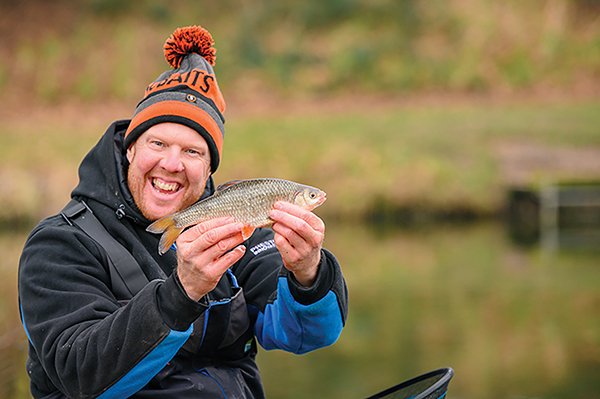 I'm feeding a dozen or so maggots and then lifting my rig out and laying it in. What has been happening of late is there are no fish feeding hard on the bottom, so either lots of lifting and dropping or completely lifting the whole rig out has been far better than just sitting waiting for a bite.
This proved to be the case for the first two hours on the short line. The fishing was lovely and steady but if I left the rig in for more than a couple of minutes I wouldn't get a bite. It was far better to feed a few maggots, count to 10, lift the rig out then lay it back in, and this resulted in regular bites from some lovely looking roach – the fish were absolutely freezing.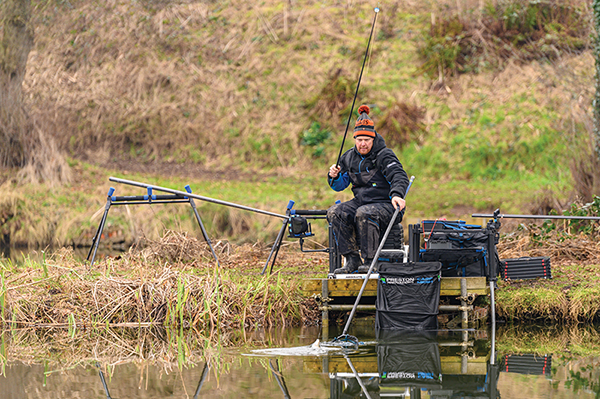 During this time I'd probably fed the pellet swim on six occasions and it was now time for a go. I shipped out with a 2mm expander and tapped in 10 micros! Now, where the maggot through the water rig incorporates lots of movement, with this rig it's all about getting right over your pile of feed and sitting and waiting, and basically every little wobble on your float needs to be struck – I can't tell you how horrendous little babbi skimmers are at showing a bite!
I wait four minutes before walloping into a lovely skimmer around a 1lb, niiiice. Next go in I wait two minutes for another skimmer around 6oz, and because I had that last fish fairly quick, I don't feed on the third drop and catch another skimmer within 90 seconds!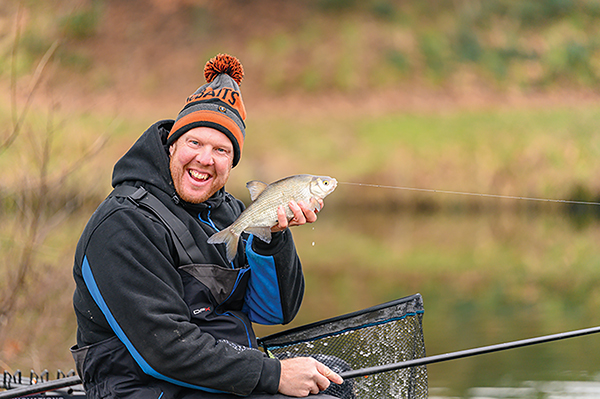 It's definitely worth mentioning here that you have to suss out the required feeding pattern for skimmers. Feed too often and you will blow your peg, feed too little and you won't draw them in; that's why I'm convinced a little bit of fishmeal groundbait is best in conjunction with micros for these skimmers at this time of year. They often come to the scent of the groundbait, but there's no actual bait for them to eat, well, other than your hook bait, wohooo!
My fourth fish gave me the best bite yet and no wonder as it was a carp, which was great fun on light gear. To be fair though, it didn't really fight as the water's too cold for that and a lovely 4lb common was soon in the net, wohoo! I caught a few more skimmers and a roach on the pellet line but bites were far too slow so I went back on the short maggot swim, where I'd been feeding every few minutes and was straight into roach again.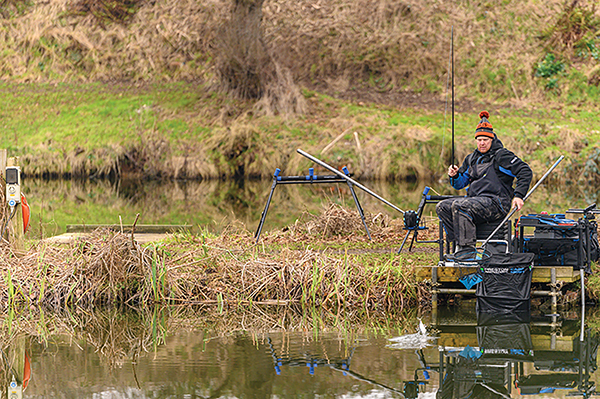 I did miss a few bites so tried shallow for two quick fish before they dried up, then it was back down on the bottom and I decided to feed a little heavier and try and force the roach towards the bottom.
This worked for a bit until I hooked a carp that snapped me round the aerator! A quick go on the shallow rig again towards the aerator this time and a few more roach, but by far the best swim was the short maggot line just constantly lifting the whole rig out and laying it in.
I've had a brilliant three hours fishing today and caught a good 20lb of fish, mainly roach but with some lovely skimmers and a bonus carp on a day where I'm sure I wouldn't have caught half of that at other venues. What a lovely place this is and one I will be returning to in the summer, and I proper can't wait.