A Week I Will Never Forget!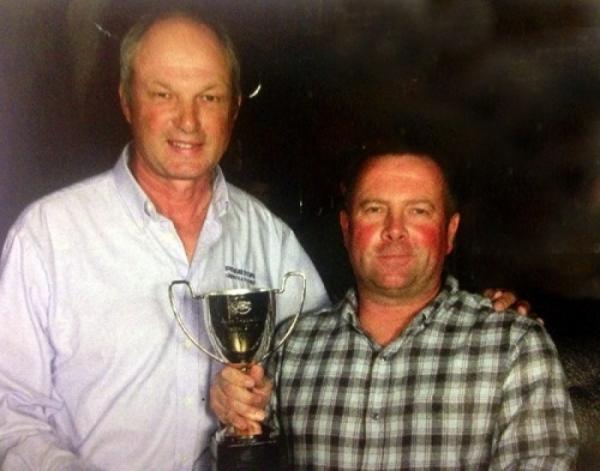 Martin Holmes tells you how he won this year's Preston Innovations Festival at White Acres.
Instead of a love-hate relationship, I have had a hate-hate relationship when it comes to the Preston Festival at White Acres! I have sworn on more than one occasion that I would never fish it again. In the half dozen or so times I have fished it I have drawn appallingly, and probably fished just as bad too! And, I have never picked up a penny other than a section win by default!
In the spring Festivals, however, I have fared much better and have had two top 10 finishes in the Milo Festival, coming 9th in 2009 and 3rd in 2012. I have also finished agonisingly 11th two years on the trot in 2011 and 2012 on the Dynamite Baits Festival.
Anyhow, I still didn't take much persuading when my usual caravan sharing partners, Martin Beardsmore and Chris Kitchen, started talking about booking on again. I'm weak I know, but I just love the buzz of fishing the White Acres festivals. It's like an illness that I don't want anyone to find a cure for!
I had drawn D Section, and I had never had this rotation before – but I was glad that I would be getting Porth Reservoir out of the way on the first day!
Day 1 - Porth
I said before the draw that I wanted to be anywhere other than in the 70's section. Bream had been caught in this area the previous week on the Maver Festival. I didn't fancy blowing out on Day One by fishing for small fish and then getting beaten by bream weights, or setting my stall out to fish for bream and then not catch any.
The inevitable happened and I drew peg 73. James Hawkins had drawn peg 72 and he set up just two rods: one for breaming, chucking to the buoys, and a skimmer rod for chucking short. I had set up two rods and half a dozen pole rigs for fishing long and short. James has a good track record for catching the reservoir's bream and after a chat he dissuaded me from "filling it in" on my long chuck bream line, so I took the big feeder off and just attached a medium sized Method feeder. On the "all in" I feed my two pole lines and then launched my Method feeder with groundbait and a small 8mm boilie as far as I could comfortably and accurately cast, which was about 75 turns towards the buoys. I then sat and waited five minutes before re-casting.
I repeated this for the next 45 minutes without a bite. I was in good company, because neither James or the lad on 71 had, had a bite either. I had a quick look on my long pole line (and got barracked by James for bottling it!) and it was solid… with plips! The first decent fish I hooked got "piked" right over my short pole line. I pulled for a break and luckily for both me and the 3oz roach the pike let go. I then turned round to see James carefully playing his first bream of the day which turned out to be a big skimmer about 1lb 8oz.
I could hear talk of Paul Christie getting a 4lber on peg 77, so I made the decision to bin the long pole and stick it out for bream on the tip. But I intended to keep feeding my short pole line by hand as a back-up. After two hours I got my first pull and I played a 2 1/2lber to the net like my life depended on it! Interestingly, James was netting a smaller 1lber at the same time. This was to happen twice more during the match, where we would both get a bite out of the blue at practically the same time.
Over the next hour and a half I had a further six very tentative bites with the best fish going about 3lb 8oz. I knew I was beating the pegs around me but didn't know what was happening further down the section. I made the decision to sit it out on the tip for the rest of the match, and stuck to the plan for the next hour and 20 minutes without a bite.
With 10 minutes to go I had a look on my short line and caught half a dozen small roach, but it was hardly frantic and I had to wait for bites. The scales arrived and peg 71 was winning the section with 10lb. My 12lb 10oz was enough to win the section with the peg 71 taking 2nd spot. So, I was on the leader board after Day One, but down in 19th place due my low weight. A nice start nonetheless.
Day 2 - Bolingey
My preferred draw is always the section on the smaller left hand arm. I believe it's the fairest section with no pegs being real flyers. It was no surprise that I drew in a section I didn't want to be in, namely the "big hitters section". Over 200lb had won this the day before from peg 16. I drew peg 26 which although is an end peg it's also a peg that is a bit "hemmed in" with an island at about 18mtrs. But it also has lots of open water to the left. It's also a peg where you cannot see how the rest of the section is fishing as most of the pegs are behind the island in front of you. The peg hadn't been drawn the previous day, but peg 25 had struggled by the look of the weigh sheet.
I started the match short on meat and hooked my first fish after about five minutes. I played a big mirror (about 15lb) to the net and nearly had it first scoop. It had one last run and inexplicably the rig broke above the float and I lost the lot. Not the best of starts!
I was soon underway again and hooked and landed a carp of similar size about 10 minutes later. Three smaller carp in the first hour meant I had about 30lb in the net and I was beating everyone I could see. I then went long 16m shallow with pellets and had a golden spell where I had about 40lb of big F1s and two carp in the 2nd and 3rd hours before the sun came out and the wind dropped and changed direction. The shallow fish just disappeared, then Craig Elkin round the corner to my left stated to catch shallow on peg 12. The fish had obviously followed the wind out of my peg.
The fourth hour was a real struggle and I only put two small carp in my net on the short meat line. I feed my margin line to my left with groundbait with 90 minutes to go and in the last hour I had five carp on worm over this line to finish with 119lb. This was good enough for 2nd on the lake but more importantly I had won my section again. I had narrowly missed out on winning the lake by a few pounds to Nick Speed on peg 22.
The lost big fish at the start had cost me money but not points thankfully. The pegs at the back of the island hadn't fished, so I had probably drawn the right peg on the right day. So, with two sections wins I was 2nd on the leaderboard after Day Two behind Jon Arthur on weight.
Day 3 - Pollawyn
If I could have picked a peg with a great chance of winning the section, I would have chosen Peg 13, so I couldn't complain when I drew peg 12. When I checked the board from the previous day, Lee Edwards had drawn it and only weighed in 13lb, however.
On the bank the wind was horrendous and any thoughts of fishing the long pole were quickly dismissed with the forecast showing no signs of the wind dropping throughout the day. I started on the Method to the island and had two skimmers and a small F1 in as many chucks. Andy Nelson on Peg 9 caught a carp on the Method after about half an hour and I knew he would be the one to beat in the section on the day.
I switched to bread on the bomb and didn't add anything to my meagre catch in the first hour. I then fished the bomb with meat at around 16 metres after having fed it with my pole pot and had four big carp in the next two hours before switching to a short pole line, again with meat. I had a further three big carp on this line before the all out. My 60lb was enough to win the section, with Andy Nelson coming 2nd with 48lb. So, after 3 days I had 3 section wins and I was now topping the leaderboard for the first time ever, with Des Shipp breathing down my neck in 2nd place!
Day 4 - Trelawney/Twin Oaks
I was hoping to draw a peg on Trelawney between pegs 12 and 18. I drew peg 20 and I was more than happy when I learnt Ben Fisk had won the section from it the day before. I had a quick chat with Ben at the draw and to be fair to him he told me how he caught the previous day even though he also had still had a great chance of still winning the festival himself. I'm not sure if he told me "the truth, the whole truth and nothing but the truth" but he gave me a good account of how he caught. In all honesty though the peg fishes itself when you're sat on it if you know what I mean.
I started short on meat and had four F1s and a carp in the first half hour before I started to get plagued with roach. I then fished to the island with pellets and had a short burst of about half a dozen F1s before that line also died. I then fished shallow about two metres off the point of the island again with Pellets after feeding it for half an hour and it was black with F1s and the odd carp before this line died too after about an hour.
I had feed my right hand margin from the off with meat and like all my other lines, there were lots of F1s to be caught, but they too only stayed for a short while. It was then a case of chasing them down the bank until I was fishing in front of the reeds at 16 metres. I then had a good spell catching carp between 3-6lb towards the end of the match.
I was the first to weigh in and my 82lb held up with Nick Speed coming second from end peg 32 with 60lb. So with four section wins I knew I would definitely be fishing my first Parkdean Final on the Saturday. I was also almost guaranteed a top-three finish and even a festival win if I didn't cock it up on the last day!
Day 5 - Trewaters/Acorn/Canal
I was relieved to draw a peg on Trewaters for the final day. I have had a great run of results on this venue with six section wins on the trot. I don't mind Canal and Acorn but they can be peggy and I think both lakes at Trewaters are pretty fair sections so I was confident of getting a good result from most pegs.
I drew peg 47 on the bottom lake and the previous day's weigh sheet showed that Alan Scotthorne had fished it and weighed over 40lb and got beat by Ben Fisk in the section. I had a chat with Alan and he didn't fill me with much confidence when he said he could only catch long lining it to the island. With the wind gusting to 40mph I was never going to try this!
At the peg the wind was off my back and I could have fished any length of pole I wanted but I decided to stick to what I knew and started on the feeder to the island. In the first half hour I had two small F1s and everyone else on the lake that I could see were catching far more than me. A look on my 5m meat line brought a couple of small F1s and then some small skimmers so I switched to the long pole shallow with pellets and had two F1s in two drops then not a bite for half an hour.
I was now falling even further behind everyone else. I tried down the side, back on the feeder and short again and other than the odd small F1 or skimmer I couldn't string a run of bites together.
After three hours I looked down at my clicker and I had 15lb in my net. I literally stopped fishing for a few minutes to get my head together and looked around the lake to see how everyone else was catching. Nick Speed two pegs to my left was catching on the long pole after having had a good two hours on the feeder at the start of the match. Andy Leathers to my right was catching long lining it to the island. James Hawkins on the end peg to my right was still catching on the feeder. So it seemed that there wasn't one particular method that was dominating.
Out of desperation I decided to put a chopped worm line in to my right hand margin at six sections, just beyond a small sedge. I chopped about half a kilo of worms and started by Cad Potting the slop in and fished a small piece of worm on the hook. After about 10 minutes I had a run of F1s that were far bigger than the ones I had caught anywhere else in the peg. I then caught four big skimmers on the trot before I caught half a dozen carp and then the F1s moved back into the peg. I was playing catch up and everything I hooked was netted in record time so I lost track of how quick I was catching.
The match finished and I was cursing for not trying this earlier! All I could think was that I had probably thrown away any chance I had of winning the festival. I had put everything in one net and had stopped using my clicker after three hours. I pulled my second empty net out and Nick Speed shouted over asking what I had. I said words to the effect of not very much, probably about 35lb. And that was what I honestly thought I had. My plan had been to catch 40lb and start a new net. I packed up dejected and when the scales came around Clint asked me the same question as Nick and I gave the same answer. When I went to pull my net out I knew instantly I had cocked up. I put all the fish in the weigh sling and they bottomed the scales out. Clint estimated that there was nearly 70lb in the net but capped it to 60lb as per the festival rules. My heart sank, what an idiot!
Someone said that I would still will win the section with that, as 58lb was winning up to me, but there were still four anglers to weigh. I followed the scales and it seemed to take an eternity, as I knew that both Andy Leathers and James Hawkins had both caught. Fortunately for me my capped 60lb was enough to win the section and it confirmed that I had won the festival!
A lucky escape, but as it turned out I had done enough by winning four sections on the first four days, but it would have been an uncomfortable wait if I had come halfway down in my section and then had to rely on other anglers not winning their respective sections.
What a week! I learnt later that I was only the second person ever to win this festival with five straight section wins. I can't tell you how proud I was to have won it, and how glad I was that I was talked into giving the Preston Festival another go!