Win With Bread And Hemp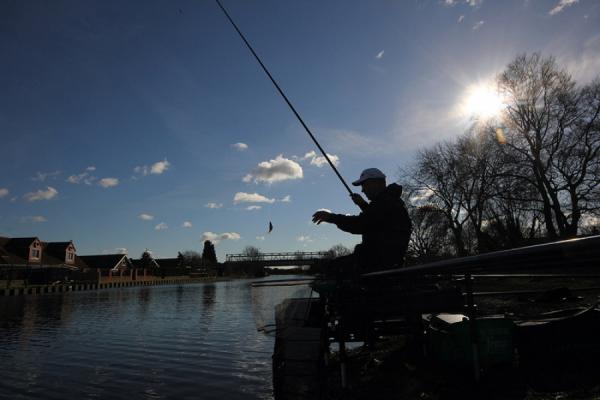 Where once bloodworm ruled supreme, bread and hemp seem to dominate on Alan Scotthorne's local canal. We met him to see how he utilises two of the best roach catchers available.
I have fished my local Stainforth & Keadby Canal for many years because it is so close to my South Yorkshire home and offers such consistent sport. Roach are always the main species, with just the occasional match won with skimmers and bream. From winter through to spring it has a reputation for being dominated by bloodworm and joker. However, times are definitely changing…
Despite its dominance, there has been a growing trend where other baits are being used more and more in matches and with surprising results. I think it was probably all brought about by the fact that one winter, around three years ago, bloodworm and joker was not available in England for a very long five-week period. This was due to the really low temperatures throughout Europe and it meant anglers had no option but to try other baits. Of these, two really stood out for catching impressive weights of roach: bread and hemp.
Super Seeds



Hemp for feeding (left) and Monster Hemp hook bait (Right)
Hempseed has always been considered a great summer bait for roach. It is capable of very large weights and roach can get into a feeding frenzy at times. Using these little black seeds in winter, however, was a rarity on the Stainy. That was until some anglers discovered it could lead to weights of up to 20lb!
It has now become very common to feed hemp on a long-pole swim. This year in particular you have really needed to catch on hemp in the last two hours of a match to do well. The overall size of roach you catch on hemp is far superior to the ones caught on bloodworm, too. I don't know what the explanation for this is. I can only think that joker attracts all the small fish and the bigger and wiser roach don't get a chance to get to it. This is borne out by the fact that, after introducing joker, the first few roach you catch are normally of a good size, in the 2oz to 3oz class. Soon after, though, most of the fish are less than an ounce and not such good weight builders. Added to this is the problem of lots of small perch being in a swim fed with bloodworm and joker. It is therefore difficult to win a match by just fishing bloodworm and joker for the entire duration. Catching the much bigger roach on hemp is therefore vital and these traditionally begin to appear much later in a session.
Breadpunch Power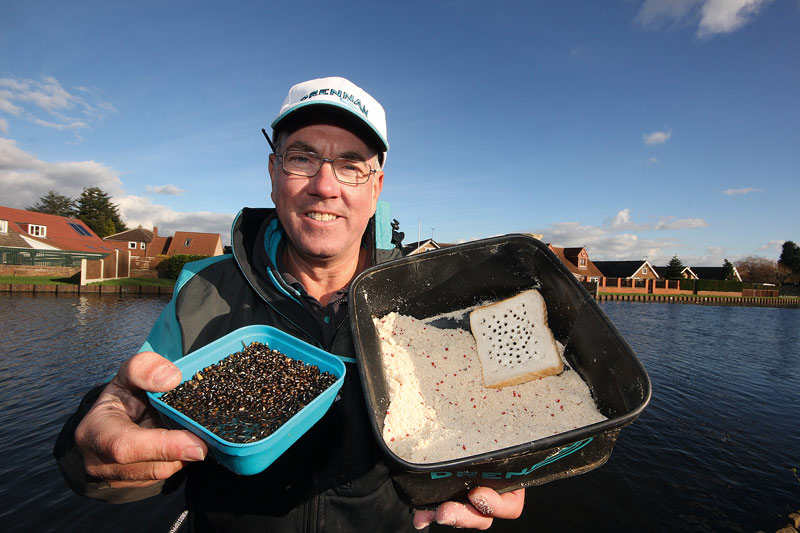 It doesn't take much bait to catch a lot of fish
Another very effective option instead of bloodworm has been fishing with punched bread. This is also being used on my local canal for roach with great effect and they are normally a slightly better size than the bloodworm fish.
Unlike hemp, bread is also quite an instant bait that can bring an immediate response. It therefore makes sense to start by fishing with bread and end the session with a flurry of better fish on hemp.
By being quite aggressive with the way you fish with bread, it is possible to catch well for at least two or three hours. That is precisely how I have approached today's session. I have caught 90 fish on punch before finishing the session with much bigger roach on the seed.
I have spent some time this season fine-tuning my hemp and bread approach, so I want to share with you how I make the most of these low-cost baits.
Preparing Bread Feed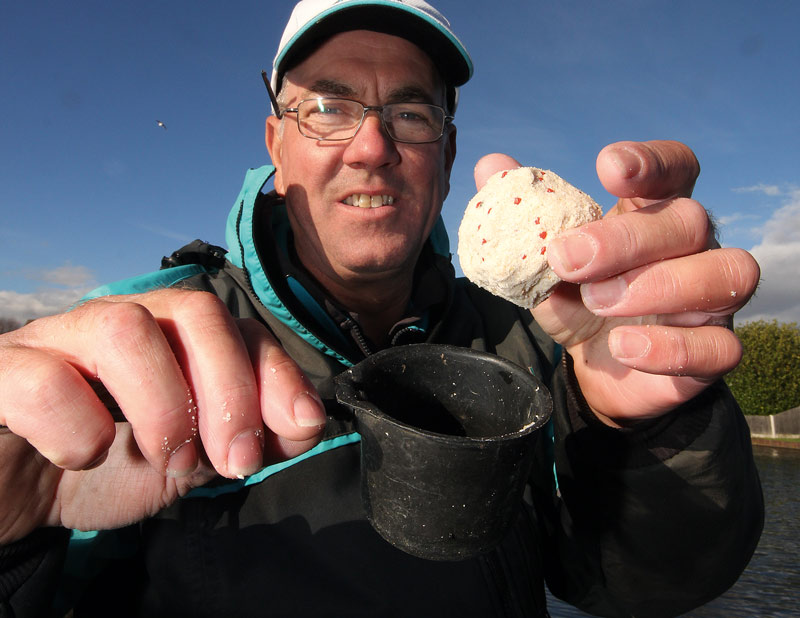 This is Alan's initial amount of feed
Using cheap loaves of sliced white bread, I remove the crust from each slice and then spread it out on a flat surface for a couple of hours so the bread dries out a little. I then put these slices through a liquidiser and pass the resulting crumbs though a pinkie riddle or sieve. This creates perfect liquidised bread for feeding.
I normally liquidise several loaves at a time, portion it in polythene bags and store it in the freezer. Then, the night before a match I take two or three bags out so they are fully defrosted in the morning.
My liquidised bread feed is okay for shallow venues, but this canal is 2.5 metres deep, so I need something to help it go straight to the bottom before breaking down. I therefore also add Sensas Punch Crumb. This fine white groundbait is stickier than liquidised bread and gives the mix much more binding power. A third to half of my mix is Sensas Punch Crumb and, using a drill and whisk, I spray it with an atomiser while whisking until it binds together easily. I then add red 2mm aquarium gravel for extra weight. I prefer red, but I know others choose to use white, so it is just personal preference.
Bread For The Hook
Next is the hook bait. For this I prefer good quality, medium-sliced Warburtons. I bring three slices to use just as they are. I also have another three that I've placed in a microwave on full power for 20 seconds and then compressed with a rolling pin to flatten them slightly. This gives me two hook-bait consistencies to try; normal bread straight from the bag is best when bites are coming quickly, but microwaved bread stays on the hook much better. Importantly, keep the slices in an airtight bag to maintain their freshness.
How To Hook Bread

1. Alan usually starts with a 5mm punch. Pull the hook through the slot and up into the bread...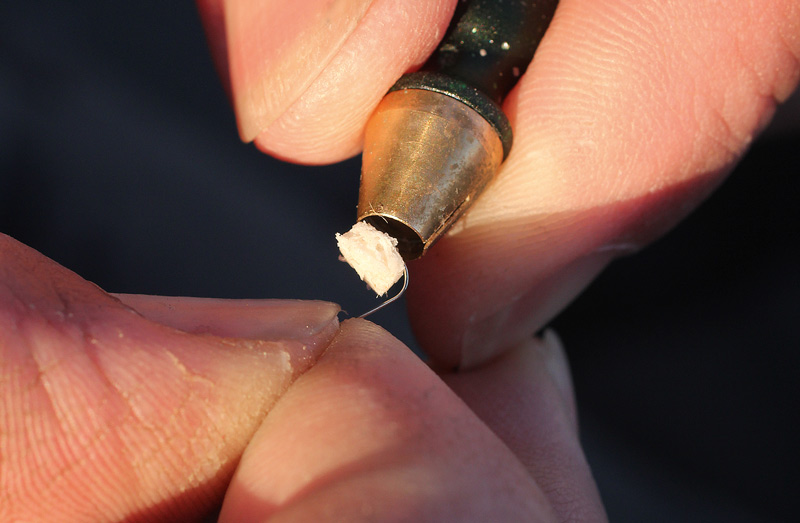 2. ... before drawing the bread out of the punch head...

3. ... then gently move the pellet of bread onto the bend of the hook
How To Hook Hemp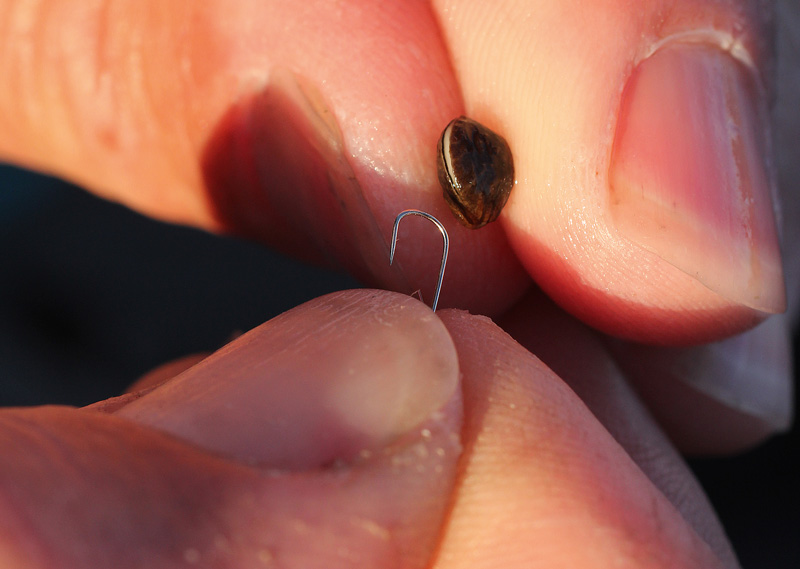 1. Gently force the bend of the hook into the seed that has only just split

2. The seed will grip the hook well enough to stay on.
Where To Fish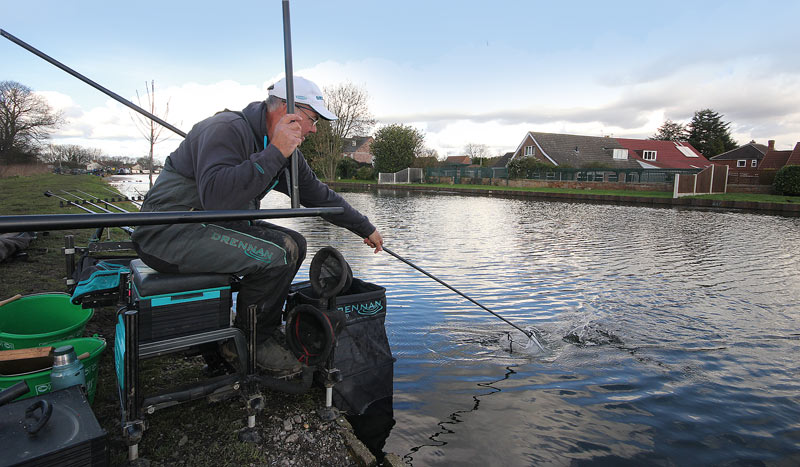 This is a typical canal with a slope on the near side going out to about five metres. The bottom is then flat until it starts to rise again around five metres from the far bank. I will plumb to fish on this flat area at about six to seven metres. The canal is affected by boats and lock gates, so it will occasionally tow slightly and usually from left to right. By fishing where the bottom is flat, it allows you to run over the baited area much easier than if you were fishing on a slope.
At the start I feed just one large ball of bread feed that just fits inside a 250ml Drennan pole pot. Because I know that this canal can move at times, this is cupped in a metre to the right. This means if the canal does start to run I can set up my rig above the baited area and then run over it with ease. Interestingly, I have found that a lot of fish intercept the punch hook bait when it is above the baited area. When the canal is flowing, I think the fish must swim through the baited area and then drop back below the bait; hence you catch a lot of roach upstream of the feed and not just downstream like you might assume.
The ball of bread feed is squeezed hard so I know that it will get to the bottom exactly where I want it. The extra weight of the gravel also means it will reach the bottom quickly, even if the canal is flowing. I know for a fact that the fish will soon spread the bait out across a wider area as they attack the ball and give you a slightly bigger area to fish over.
Bites normally come instantly after feeding bread, so once I am catching I can monitor the amount of bites I'm getting and decide when a re-feed is necessary. This happened after about 25 minutes today and by this stage, I had already caught 20 fish. Roach are aggressive feeders, so I topped up with two more big balls of bread in the hope that this would last a little longer.
The canal then flowed for a period and, as expected, the fish fed very well when this happened. I caught really well until I had a lapse in sport and a big pike became a nuisance, grabbing a better roach on the way in. It was no match for my 0.075mm hooklength, however. Once netted, I took it for a walk and released it further up the canal for its troubles!
Positive Bread Rig
Rigwise, fishing with breadpunch is very similar to fishing with bloodworm. I therefore have a simple setup consisting of a bulk of No8 shot with three No10 droppers spread over 40 centimetres. This is a good starting rig with a 0.6g Drennan prototype pencil-type float that I have been working on.
This is on 0.107mm Drennan Supplex line with a 15 centimetre 0.075mm Supplex fluorocarbon hooklength to a size 18 Kamasan B511 hook. I leave around 80 centimetres of line from float to pole tip so the rig can travel across the baited area easily. This is connected to No3 Preston Slip elastic through just the long tip section of my Acolyte pole. This cushions the strike well but also ensures fish can be swung to hand easily.
I have started using this shorter length of elastic more and more on venues like this and with lighter elastics up to No6. It is better for controlling bigger fish and makes swinging fish of different sizes much better. It even helped to succumb a 12lb pike in double-quick time between the roach action!
I set the rig three centimetres off bottom because this seems to be the optimum depth. I can then work the rig over the swim and top up with more feed whenever I feel the fish are backing off. This has kept the swim ticking over and in a little less than three hours I've caught around 90 fish for over 8lb. A great start!
Breadpunching


My usual hook bait is a 5mm pellet of bread, but Drennan produces a cracking set of six punches with brass heads ranging from 2.5mm up to 7mm, so it's just a case of experimenting with what the roach want on any given day. Normally it is the size of fish that dictates the best size of punch.
I also find it better to use a bread board that I have made myself from MDF. This doesn't damage the punches but gives a hard base to punch onto, helping with speed when hooking up. A rigid side tray also helps when repeatedly pressing down hard with a punch.
Switching To Hemp


While fishing my closer bread swim I regularly catapult hemp much further out on to a long-pole swim. That is at 15 metres towards the base of the far shelf. As soon as I have positioned my rig into the closer swim I loose feed the hemp swim with a catapult. This helps to slowly build up the area ready for the last two hours.
I feed up to 30 grains every drop-in and after missed bites, so I had probably fed this area around 120 times while fishing bread. You have to be disciplined with the regular feeding but it really is worth it if the roach are there and ready to be caught.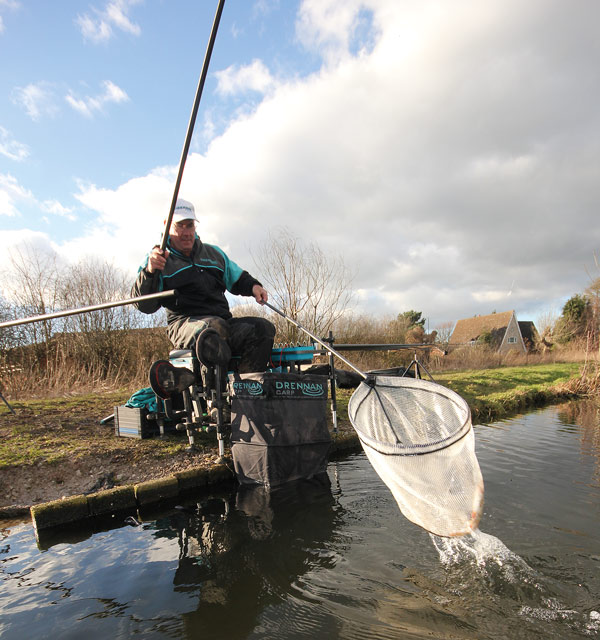 Hemp tends to sort out a better stamp of roach
Preparing Good Hemp


I prefer freshly cooked hemp and always have two sizes. For the hook, I use Sensas Monster Hemp, but it can sometimes be difficult to cook. The best way I have found is to place it in a saucepan, cover with water and bring to the boil. I then carefully pour off the water and replace with cold water and reboil. I repeat this up to 10 times. The finished hemp is then nicely split and the shoots are snow white and perfect for roach.
For feeding I use normal sized hemp cooked in the same way. I think changing the water regularly really helps to ensure the kernels are bright white and contrast well with the black shells. This is important because roach hunt by both sight and noise.
Hemp Rigs
I set up two very different rigs for hemp. The first is my positive rig and features a 0.4g Drennan AS6 pole float that has a 1.5mm hollow bristle and a carbon stem. This is set at exact depth with just a single bulk of No10 shot positioned 80 centimetres from the hook and no droppers at all. This is quite an unorthodox setup but allows the hemp to fall very naturally. When you get a bite on this rig you rarely miss it! It also seems to pick out the bigger fish. A 0.09mm Supplex fluorocarbon hooklength to a size 16 Kamasan B511 hook to No5 Preston elastic completes the setup.
My next rig is a little more traditional and consists of a 0.2g pencil float with strung-out No11s. It also features a 0.08mm hooklength to a size 16 B511 and is usually fished around 20 centimetres off the bottom.
Hooking Hemp
I hook hemp by forcing the bend of the hook into a seed that has only just split. With a little practice, you can feel when the hemp is wedged nice and securely. This should grip the hook well and still leave enough of the hook point showing to hit bites.
There are other ways to hook hemp, such as pushing the hook through the small indentation (where it was originally attached to a stem) and out of the split, but I feel this masks the hook slightly so I prefer the way I've already explained.
Feeding And Presentation


Once I begin to fish the hemp swim I often find it is better to not actually feed while your rig is in the swim. This just leads to missed bites and all sorts of silly indications on the float as the fish dart around in a frenzy! So, when I ship in with a fish or rebait, I then feed with the catapult. This is normally with up to 40 grains of hemp to keep the fish down near the bottom, where they are easier to catch.
I often vary the presentation and lift and drop the hook bait until I find out how the fish want the bait falling through the swim. The angler that works hardest with this bait definitely reaps the rewards.
Usually, the longer you can wait and build up a hemp swim the better, so be patient. That is why it works so well in conjunction with a more instant bait like bread. It is a great way to catch roach, so get out and try both of these relatively cheap baits for fantastic results!
Venue File:


Venue: Stainforth & Keadby Canal
Location: Thorne, near Doncaster, South Yorkshire
Day tickets: £3 on the bank; £2 juniors and concessions
Controlling club: Thorne District Angling Association
Website: http://thorneanddistrictaa.weebly.com
Like what you see?

Or buy a single issue