Win one of two fantastic MAP SUV Feeder rods!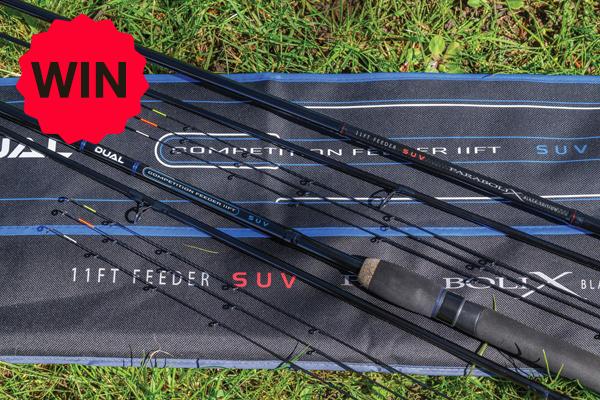 This competition is now closed, the winners are Phillip Davies from Carmarthemshire and John Button from Stourbridge.
You don't always have to head for the top models to get premium performance and nowhere is this better demonstrated than in MAP's two rod ranges that fly just under the flagship Parabolix Ultra II range, the Parabolix Black and DUAL. Available in several float, bomb and feeder models these rods perfectly cover all your commercial and natural angling needs without breaking the bank… and we're making them even more affordable by giving you the chance to win one!
We have an 11ft SUV Feeder rod in each of the two marques and with 25 per cent more power than standard feeder rods, these 'stepped up versions' offer more power throughout the blanks, making them ideal for commercial carp fishing and popular with anglers who wish to punch feeders out further.
The Parabolix Black Edition rod range fulfils all the requirements of the modern match angler. With a choice of nine rods in the range, there's a rod for all fishing situations, from silver fishing on natural venues to commercial carp fishing. The prize 11ft SUV Feeder is made from ultra-high modulus carbon, has a parabolic action and unique handle design, a casting weight range of 25 to 65g, and is fitted with oversized guides and a Fuji reel seat. It is supplied with 0.5oz, 1.0oz and 1.5oz carbon tips and neoprene rod wraps, with an RRP of £220.
The DUAL SUV Feeder Rods are true all-round models but again are slightly more powerful than the standard models. They are capable of casting Method feeders a long way and catching big weights of carp on commercials or bream on natural venues. They are very versatile rods and cast well, but still retain an awesome fish playing action. Made in high modulus carbon, the 11ft SUV prize model has a casting weight of 35 to 65g quality guides, a hook keeper ring and is supplied with three carbon tips rated at 0.5oz, 1.0oz and 1.5oz, plus neoprene rod bands, with an RRP of £165.
Thanks to those nice people at MAP we have two of these rods to give away, one each to two lucky readers. The first name out of the hat gets the 11ft Parabolix Black Edition SUV Feeder worth £220, the second wins the 11ft DUAL SUV Feeder worth £165.
Total prize value is £385!
HOW TO ENTER
For your chance to win one of two fantastic MAP SUV Feeder rods, simply answer the following question. Good luck!