Win a Middy Reactacore X120-3 Pole!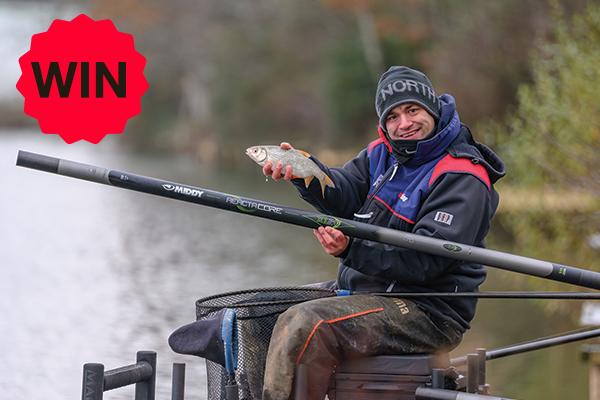 This competition is now closed, the winner is Neil Townend from Bristol.
In the January issue of Match Fishing Tony Curd was highly impressed with Middy's budget busting new pole, saying: "If you're looking for a pole that offers 16m capabilities without spending a crazy amount of money, Middy's Reactacore XI20-3 model might be just the pole you've been looking for!
"Looking through the pole and its contents in the supplied holdall, for a pole that carries an RRP of £1,359 for the 16m package I was pleasantly surprised. It is supplied with a match kit inside the pole, and also has four Max22 Karp 2-Kits plus a cupping kit, making it a real ready-to-go package.
"The top kits across Middy's new Reactacore poles have been made shorter to allow the elastic to work to its maximum, improve stiffness and to give the pole an improved fish playing action too but they've thought carefully about the length loss of doing this, and the Maximus Wrap is a very clever feature that not only makes up the length, but it also adds further strength to the base of the sections across the pole and decreases the section overlap, which brings the pole back to its true stated length – clever stuff!
"The butt sections also include some clever precision markers that make accuracy when fishing on slopes or when you want to fish past your feed with precision incredibly simple and most importantly, accurate! The main sections where you're constantly taking the pole apart also feature Middy's Dome Top Protection System caps, which stop you from splintering the end of the sections when coupling up quickly and makes fishing at speed much more efficient.
"The pole is super-strong and will be at home on any commercial venue in the UK. Shipping in and out is a dream thanks to the finish on the pole, even with wet hands, and the balance is brilliant for a pole at this price point.
"Up to 14.5 metres the XI20-3 is an unbelievable piece of kit, the pole is light, stiff, responsive and handles brilliantly and offers the angler who doesn't fish at 16 metres very often the opportunity to have a 16m pole in their rod bag as an option without the cost of most models.
"My final verdict on the XI20-3 pole from Middy is that this is an unbelievable pole for the money!
HOW TO ENTER
For your chance to win a Middy Reactacore XI20-3 16m pole worth £1,359.97, simply answer the following question. Good luck!