Winter F1 Fishing - Darren Cox
Winter Delicacies
Winter can be cold and horrible at times, but when the weather is kind and conditions are good, the fishing can be outstanding. There aren't many fish that are as accommodating as F1s at this time of year either, whatever the weather.
Most of our best commercial fisheries up and down the country are full of them, and that's where a lot of angler's head to for reliable winter returns, especially in matches.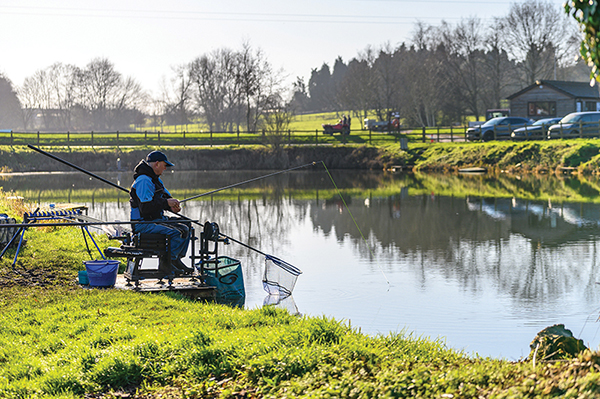 To highlight my point, I have come to Moorlands Farm Fishery near Kidderminster. This fishery was one of the very first of its kind so many years ago and set the standard for commercial fisheries nationwide.
Great friend and top bagger Grant Albutt is now the owner of Moorlands. It's quite fitting as he was one of the anglers you had to beat all those years ago. The work he has done on the fishery is unbelievable, and match attendances are growing again rapidly.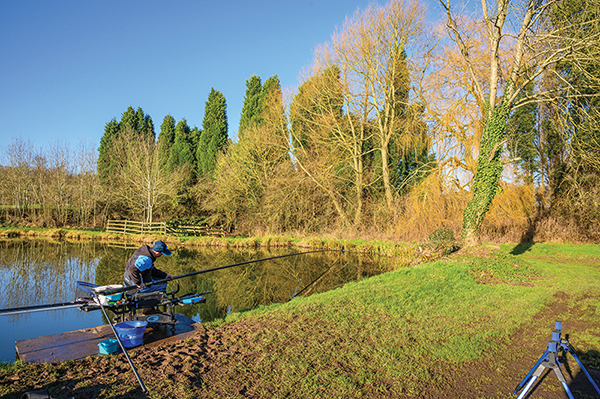 F1s are now a major feature in all the lakes at Moorlands and offer that security of more chance of good sport in winter. I have sat on a lovely swim on Moors Pool today.
When I arrived there was 'cat ice' all over the pool, but the temperature rocketed by the time I started and with no wind and beautiful sunshine, I had the most perfect day to fish. Grant also assured me that the fish would still feed despite the very cold water from the ice and overnight frost.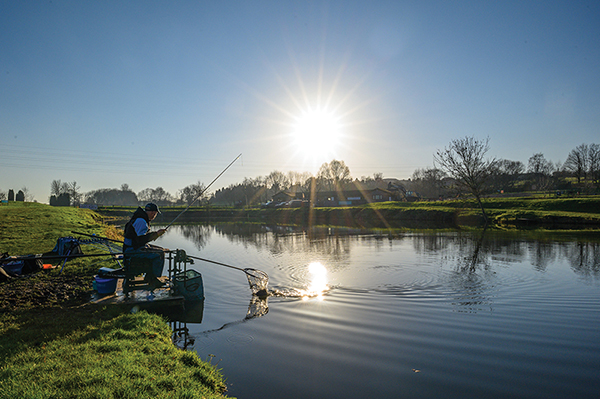 With such perfect conditions for presentation, I set my stall out for a delicate approach. Good conditions don't always add up to good fishing; bright skies, no wind, clear cold water don't really scream out fantastic fishing.
We also know how fickle F1s can be in terms of the way they feed and the bites you can get from them, so it was important that I used the conditions to my benefit.
With flat calm 'mirror' conditions, my thoughts immediately went towards a very delicate presentation approach. For sure the fish would be wary, so I needed to counter and respect this by fining down my rigs to suit.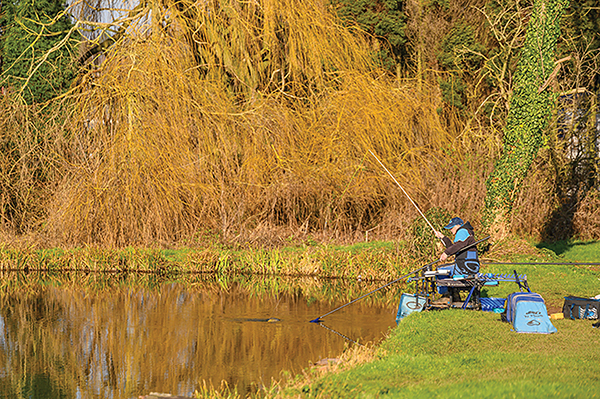 One of the major factors for catching more F1s is offering them a rig with the least amount of resistance. Get the rigs right and you will get a lot more bites and they will also be a lot more positive.
Such calm conditions offer you the ability to be even more sensitive, and dotting down my floats on all rigs to an absolute pimple is a priority today.
First, I need to cover all depth options, and today I have covered three depths. Because I am on the end of the lake, I can fish to the right-hand bank. I set up a margin line 14.5 metres to my right in two feet of water. I can feed this sparingly with micros and maggots so if the fish move in later in the session, I should be able to prolong my catch period.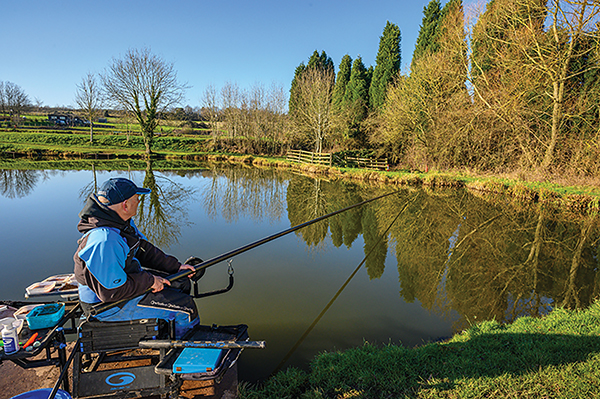 If I don't cover that depth option, I may lose all contact with the fish later if they suddenly want to be in that depth. Today I didn't fish long enough into the session to catch here, but in a match, I would certainly hope for a few more F1s or bonus carp late in the match.
The rig for this line on these kinds of days is not a conventional margin rig. The water is very clear and flat calm so any fish that come into the margins will be wary.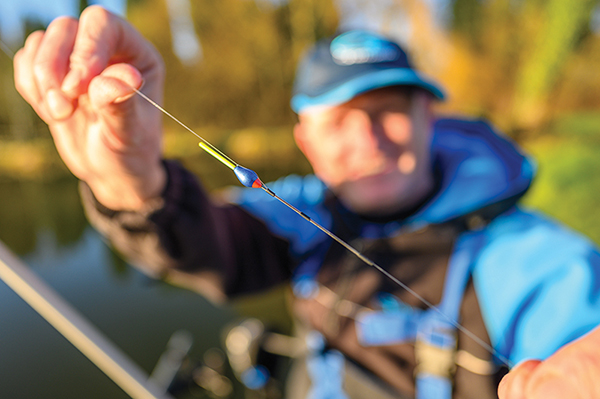 A 0.10g DCC41 is ideal for this as its 1.5mm antenna can be dotted down and you can spot the 'bolt under' bites easily from lines to prevent any mishaps from spooking or foul hooking fish. With maggots as hook bait the hook sizes still need to be small and I opt for a size 18 Silvers Winter Carp tied to 0.10mm hooklength. Elastics for this rig are 1.8mm Garbolino Fighter Hollow, which is very forgiving and a perfect match for this line and hook size.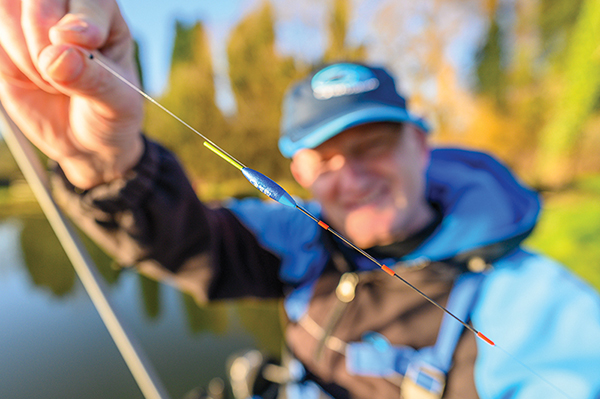 The other two depths today are my main concern in deeper water, and both are set up with exactly the same Garbolino DCC32 slimline body style float, shotting, line and hooks with the above 1.8mm elastic.
One swim is plumbed at 13.5 metres and is in the main depth of the lake out in open water and is about five feet deep. This rig has a 0.20g float tied to 0.14mm Garbolino Super Soft line with a strung-out bulk of No10 shot, 0.10mm hooklength and a size 18 Garbolino Silvers Winter Carp hook. These are perfect in sizes 18 and 20 for F1s in winter with fine wire and long points, ideal for maggots.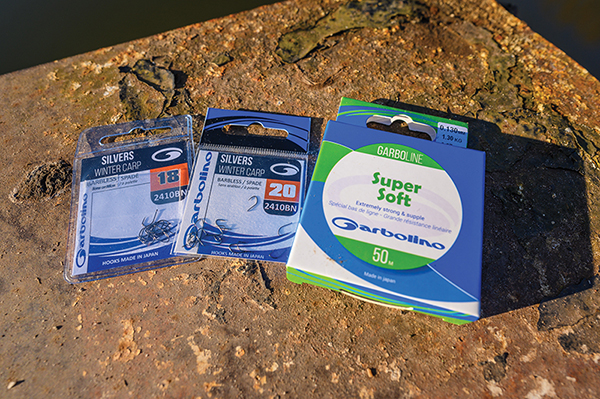 The other line I plumb up is on a slightly shallower plateau to my right, towards the right-hand bank, before it goes up the ledge. This is around four feet deep here and a lovely alternative depth out of the way of my main line. I also set up a lighter 0.10g version of the DCC32 for this line if required.
One important point about these rigs is that I can move my shot around if required. I feel the fish are likely to be on or near the bottom today, but I can always turn the rigs into a slow falling option to see if they have come off the bottom.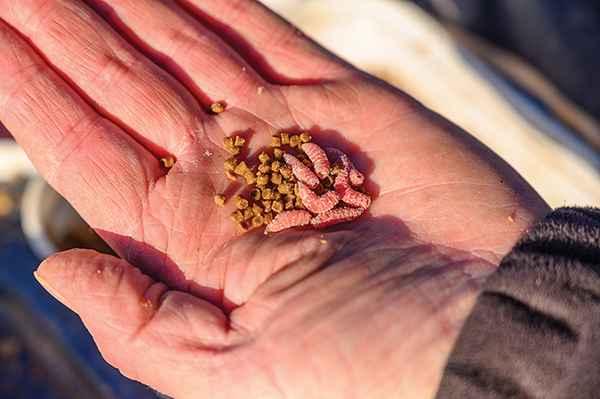 My main approach today is most definitely maggots, backed up with a few micros to hold the fish in the swim that little bit longer. F1s love maggots and the secret is to feed as little as you possibly can, as regularly as you can.
Once you get the first bite you can work on things. I started the session by feeding all three lines with a tiny amount of particles, literally 10 to 12 maggots and a few micros.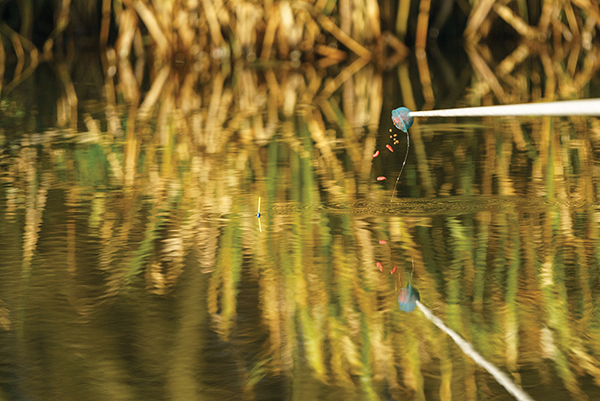 I needed to get a bite to then work on things, with the objective of getting a bite on at least two of the lines. This way I figured the best way to work my way through the session would be to catch two fish on each then switch to the other.
I would trickle a tiny few particles every time I shipped out on one of the lines, and really nurture them carefully.
After 20 minutes I got my first bite on my open water line, then followed quickly by another huge F1! I caught several over the next 40 minutes but could tell there were more fish than I was getting proper bites from.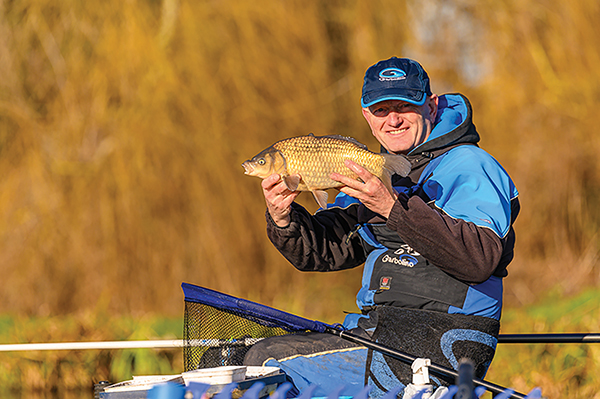 A switch to the four feet line got me a couple of instant fish, but with it being a little shallower I decided to feed a small amount and then leave it to settle again. Back on to my first line and I caught two fish in two put ins.
This became the pattern I needed to follow catch two fish, feed it and then go onto the other line, and repeat the process throughout the session. It worked perfectly and I stopped getting those frustrating blank spells. I fed every time I shipped out yet probably fed only a quarter of a pint of maggots all day.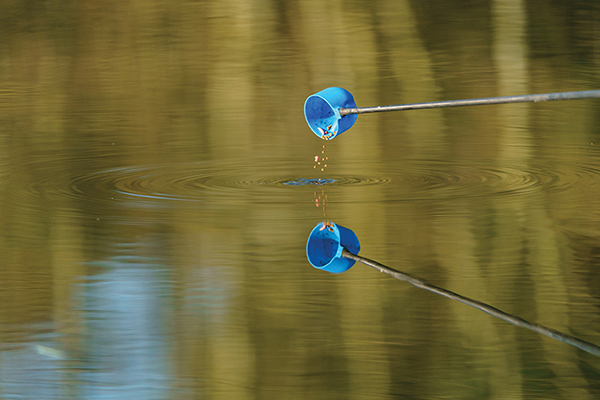 It was amazing to see the tiny indications that you get on the float in these perfect conditions, and it helps you not only see more bites but understand when there are fish in the swim as the float lifts or sways left or right.
These are all indicators to tell you when to get ready for a real bite, when to feed again, when to be patient, and when to lift and drop the rig to entice a bite. When there is a ripple on the water, I imagine we only see a tiny fraction of these tell-tale signs.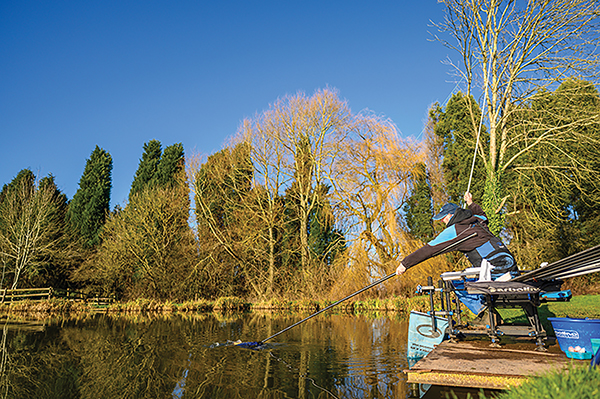 Had I needed to, I would have set up a new line to my left or pushed further out to keep fish coming. F1s have a habit of abandoning a line suddenly for no reason, even though they appear happy and feeding well.
They often respond better when you set up a new line. Maybe it is something to do with the mess they make in the swim, or just the clarity of the water means they eventually spook away with the commotion hooked fish make.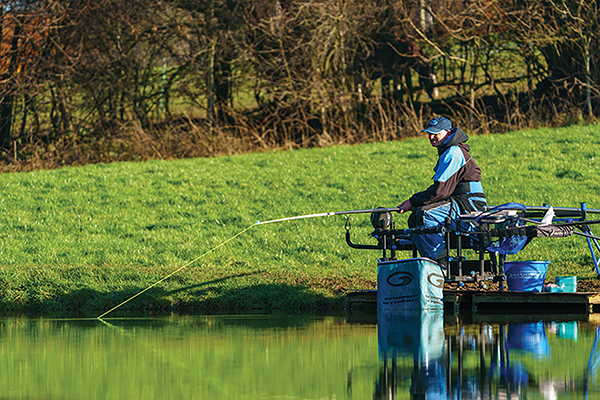 Don't be afraid to set up several new lines if necessary. The fish will often tell you when it's time to do this as you drop back on to a line and it doesn't produce as quickly as it previously did. Then it's time to change.
Making the most of perfect conditions, whatever species you are targeting is paramount. Light pole rigs are critical and produce so many more positive bites in situations like today. Dotting them down to a pimple and using bristle grease when necessary, gives you the best presentation, and offers the least resistance to fish. Rotating and resting multiple lines is key to maintaining your catch rate throughout the day and setting up new lines is often very necessary.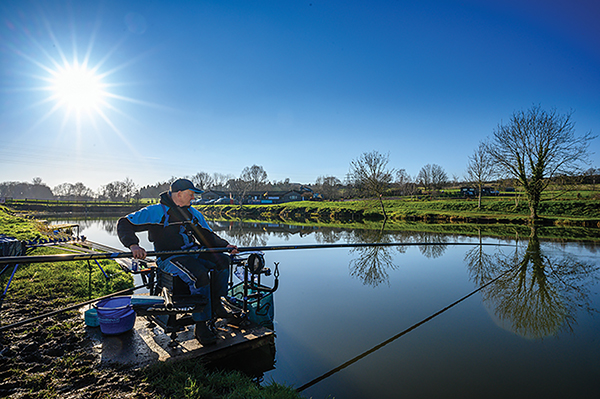 Follow these few simple guidelines wherever you fish and you can be sure you will catch a lot more on the right swims, and it is also so rewarding especially when you feel the conditions may be against you.
Today has been the perfect example with 17 huge, hard earned F1s in ridiculously bright conditions.